Dandruff Deconstructed is reader-supported. All reviews are independent and any products reviewed are purchased by the site owner. To help fund this model, some of the links on the site are affiliate links. If you decide to make a purchase from one of these links, this site will receive some commission. At no cost to you. It helps keeps this place running. Learn more
Ingredients

Wash

Scent

Price
Summary
Nurture My Body Everyday Fragrance-Free Shampoo is an excellent gentle option for sufferers of a dry irritated scalp. The absence of any noteworthy irritants or allergens combined with the expert formulation of anti-inflammatory moisturizing ingredients makes an excellent change from the usual harsh surfactants and other toxins that lead to a vicious cycle of irritation and inflammation.
They've managed all of this in a shampoo that foams and washes well.
It's not particularly cheap, but this is simply one of the finest dry scalp shampoos out there.

Founded by a former aesthetician who was made ill by the chemicals in the products she was working with, Nurture My Body make beauty products and claim make to prioritize organic ingredients that are safe, gentle, and nourishing for the body. It is their stated ambition to formulate without harmful chemicals. To do this they use ingredients made from plant-derived ingredients beneficial for sensitive and dry scalps.
I love their intentions. But do they make products as good as they talk about them?
The shampoo we're looking at today is called the Everyday Shampoo from Nurture My Body. The shampoo is claimed to be a great and gentle option for all hair types. The label states the shampoo is free of sulfates, parabens, GMOs, artificial colors and fragrances, and is gluten-free and cruelty-free.
But is this the all natural shampoo you've been looking for?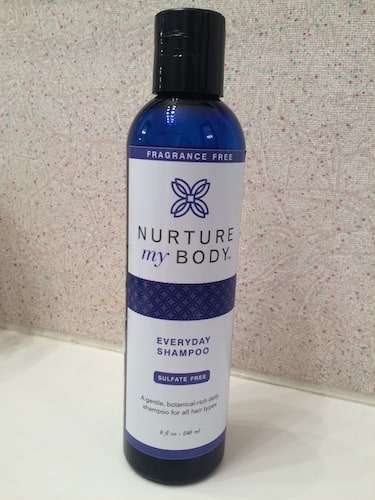 Bottled in BPA-free plastic that's blue in color to combat UV ray damage, the shampoo comes with a clean and elegant appearance. The shampoo itself is clear with a slight brown tint to it—what we assume is the blend of herbal extracts.
The shampoo isn't made with any added fragrances, including essential oils, so it has a soapy scent, almost like a bubble solution. It's not great smelling, but it's not offensive either.
I really like how this shampoo washes. It suds up easily, and was very easy to wash out, leaving no residue behind. It made my skin feeling very soft, and not dry. The gentle foaming agents and herbal extracts used allow the shampoo to gently clean without stripping the hair and scalp of all its moisturizing oils.

So it's a great wash. What's in it?
There are quite a few ingredients used in this shampoo, but they seem to mostly consist of botanical extracts.
The ingredients are:
Decyl Polyglucose – a mild non-ionic surfactant used in baby shampoos and other sensitive skin products. Many natural personal care companies use this cleanser because it is plant-derived, biodegradable, and gentle for all hair types
Lauryl Polyglucose – a gentle cleaning agent derived from coconut and palm kernel oil.
Cocos Nucifera (Coco de Cream) – coconut cream is a great moisturizer but 85% of the oils are actually food for the Malassezia yeast associated with Seborrheic Dermatitis. Without knowing the exact amount its hard to recommend or not recommend this on the strength of that alone. But it's something for sufferers of seb derm to bear in mind.
Chondrus Crispus (Seaweed) Extract – rich in vitamin B-1, B-2, B-3, B-6 and B-12, seaweed extract is also a natural anti-inflammatory.
Tussilago Farfara (Coltsfoot) Infusion – traditionally applied to the skin to treat skin problems such as inflammation, eczema and stings
Stellaria Media (Chickweed) Infusion – contains anti-inflammatory properties used to treat various ailments
Urtica Dioica (Nettles) Infusion – has antioxidant properties that encourage hair growth
Equisetum Arvense (Horsetail) Infusion – has anti-fungal, antimicrobial and anti-inflammatory properties
Ulmus Fulva (Slippery Elm) Infusion – bathing or washing infectious skin conditions such as boils, abscesses, acne, or other afflictions with Slippery Elm is soothing
Althaea Officinalas (Marshmallow Root) Infusion – topical treatment for burns and wounds
Symphytum Officinale (Comfrey Root) Infusion – has anti-inflammatory properties when applied externally
Calendula Officinalis (Pot Marigold) Infusion – has been applied topically to heal bruises, reduce swelling, soothe rashes, eczema and control dandruff
Chamomilla Recutita (Chamomile Flowers) Infusion – has anti-inflammatory properties when applied externally
Avena Sativa (Oatstraw) Infusion – helpful in treating skin conditions such as eczema, rashes or other skin irritations.
Hippophae Rhamnoides (Sea Buckthorn) CO2 – considered a valuable topical agent in treating burns and healing wounds. Is also food for the yeast associated with seb derm. Like the coconut oil, without knowing the exact amount it's hard to recommend or not recommend this on the strength of that alone. But it's something for sufferers of seb derm to bear in mind.
Citrus Paradisi (Grapefruit) Extract – has anti-bacterial properties
It's rare to find a shampoo that doesn't have any contact allergens or toxins in the formula, but Nurture My Body has done just that with their Everyday Shampoo that's fragrance-free. The company is true to their word – they've expertly formulated a non-irritating shampoo using an innovative blend of unique ingredients.
If you suffer from mild to moderate dry scalp, redness, and flakiness, you should be able to find relief with the soothing, nourishing ingredients found in this shampoo. And if you don't have hair or scalp issues you're concerned about, the Everyday Shampoo is a wonderful daily hair cleanser you can feel good about.
First Class MChem in Chemistry
A master of chemistry, a product formulation expert and a regular reviewer on this site. Megan wishes to remain partially anonymous so she can be candid about her employer's and competitor products.