Dandruff Deconstructed is reader-supported. All reviews are independent and any products reviewed are purchased by the site owner. To help fund this model, some of the links on the site are affiliate links. If you decide to make a purchase from one of these links, this site will receive some commission. At no cost to you. It helps keeps this place running. Learn more
Salicylic Acid is the single most popular active ingredient in dandruff shampoos on the market today. An astonishing 24% of the shampoos we've reviewed contain the ingredient. That's almost 1 in 4! And the reasons for that are – it's effective and it's incredibly versatile.
It's so effective that it's still listed on the World Health Organization's List of Essential Medicines, is an FDA-approved treatment for seb derm and psoriasis and salicylic acid shampoos are an incredibly popular option to treat dandruff caused by both seborrheic dermatitis and scalp psoriasis.
We love this ingredient when used at the right time for the right condition. And, as you'd probably expect with so many variations, some of the shampoos are best in class, whereas others have been as bad as it gets.
After completing approximately 100+ hours of research, and speaking to four board-certified dermatologists, we're in a unique position to name the best salicylic acid shampoos on the market today.
What's in his article:
The Winner
Dead Sea Spa Magik Mineral Shampoo
Dead Sea Spa Magik Mineral Shampoo is a worthy winner of our best salicylic acid shampoo.
The shampoo is a unique formulation containing a combination of zinc pyrithione and salicylic acid.
Zinc Pyrithione is a gentle, well-tolerated, antifungal agent found in many dandruff shampoos. It's used primarily to treat mild cases of seborrheic dermatitis.
Salicylic Acid is on the other hand used in shampoos, creams, and ointments mainly for its keratolytic effects – the ingredient causes the epidermis to shed more easily, helping to remove dry and flaky skin [4]. You'll often see salicylic acid referred to as an exfoliator – and it's added to dandruff shampoos to help shift existing buildup.
Salicylic Acid and Zinc Pyrithione complement each other so well because Salicylic Acid can soften the existing build-up on your scalp and help the Zinc Pyrithione penetrate the scalp more effectively [5].
Dr. Matthew Zirwas, a board-certified dermatologist and founder of Bexley Dermatology in Bexley, Ohio, prefers shampoos that contain multiple active ingredients. He told us, "Compounded shampoos that contain multiple active ingredients work much better than regular shampoos."
Aside from the active ingredients, Dead Sea Spa has chosen some innovative help ingredients that really made this shampoo stand out.
The surfactants are extremely gentle. And while Dead Sea Spa isn't sulfate-free, the sulfate used is Sodium Coceth Sulfate. The good news is that Sodium Coceth Sulfate is an extremely gentle surfactant often see it used in baby cleansers, gels, and cleaners.
In addition to Sodium Coceth Sulfate, the shampoo contains Sodium Beeswax (aka beeswax soap). This ingredient is derived from beeswax and acts as both an emulsifier and a cleaning agent. The beauty of sodium beeswax is that it provides the same antiviral, anti-inflammatory, and antibacterial properties of beeswax while helping to moisturize and strengthen the skin defense barrier.
The shampoo also contains a number of extracts including:
Chamomile – is often used as a natural treatment for itchy skin caused by dry skin or eczema
Linden flower – an antioxidant that locks moisture into the skin. It's also an astringent, balancing your scalp's natural sebum production. It can also calm an irritated, itchy scalp.
Rooibos – an antioxidant that helps fight free radicals in the skin. These same antioxidants help soothe irritations caused by sunburn, eczema, or dryness of the skin. Rooibos also contains AHAs and zinc. AHAs are a great exfoliator that helps get rid of older layers of skin cells. Zinc is an antifungal agent.
It must also be noted that these extracts contain fragrances. Some of these fragrances may be too much for a sensitive scalp, so pay attention if you're fragrance-sensitive.
Washing with this shampoo is a pleasure. The liquid is a lightly scented thick white liquid that foams well. Our reviewer said their hair felt great after the shampooing with lots of bounce and volume. It didn't feel like a medicated shampoo at all, and more like a high-end salon shampoo.
Aside from the fragrances, our only gripe with this shampoo is the addition of Cocamidopropyl Betaine, a secondary surfactant that has the dubious distinction of being awarded the Contact Allergen of the Year by the American Contact Dermatitis Society in 2004.
While no shampoo is perfect for everyone, Dead Sea Spa has done an outstanding job in formulating a unique, highly intelligent shampoo
We simply can't recommend this shampoo highly enough.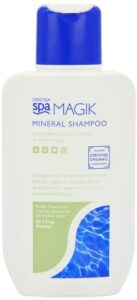 Dead Sea Spa Magik Mineral Shampoo

Dead Sea Spa Magik Mineral shampoo is a worthy winner of our best salicylic acid shampoo. It looks and washes like a premium product but doesn't have a price tag to match. Dead Sea Spa has formulated a shampoo lacking many of the harsh chemicals you often find in dandruff shampoos. They have instead added extracts of chamomile, linden flower, rooibos, and beeswax to create one of the most innovative dandruff shampoo formulations we've ever seen. Just steer clear if you're sensitive to fragrances.


The Runner Up
Vichy Dercos Anti-Dandruff Sensitive Shampoo
Vichy is a cosmetics company of some repute in the world of female skincare and not in the world of shampoos. However, this sensitive skin dandruff shampoo is simply outstanding.
The shampoo is sulfate-free, paraben-free, and colorant free but contains a combination of Piroctone Olamine and Salycic Acid to control dandruff. Piroctone Olamine is an anti-fungal ingredient that, in recent studies, has been shown to be more effective than the far more established Zinc Pyrithione when used in combination with Salicylic Acid.[9]
Instead of sulfates, Vichy has added a number of gentle cleaning agents which our reviewer said left their hair feeling, "absolutely fantastic".
No doubt the addition of Bisabolol helped with this. Bisabolol is an anti-inflammatory that helps to calm and soothe your skin. It can help the skin to absorb other active ingredients more effectively. It's found in chamomile and has been used for centuries for its skin-healing properties.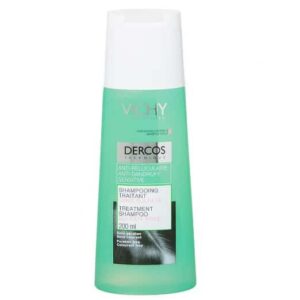 Vichy Dercos Anti-Dandruff Shampoo for Sensitive Scalp

One of the best and mildest shampoos out there for seb derm sufferers with sensitive skin. SLS-free, paraben-free, colorant free with an absolutely outstanding choice of active and inactive ingredients. There are still two or three chemicals in there that some may find irritating. Otherwise, this would have been a five-star winner of this year's award.


The 10 Best Salicylic Acid Shampoos
---
---
---
---
---
---
---
---
---
---
If you haven't seen your favorite shampoo listed, chances are we have and it can be found if you check out all our salicylic acid reviews.
If there are shampoos of interest that we haven't reviewed then please drop us a note – we'll be delighted to look into it!
How we chose the winners
All our reviewers are experts in their field, be that product formulation, pharmacy or haircare.
They assess the primary purpose of the dandruff shampoo, by examining the active ingredients present in the formulation. These active ingredients are designed to control specific types of dandruff and we'll explain what those are.
Our reviews will also assess the rest of the formulation, deconstructing the shampoos into their constituent parts and describing the key ones in detail.
In addition, we warn of the presence of any one of over 100 ingredients that can potentially itch, irritate and even cause dandruff. A significant number (~90%) of these chemicals have never been tested for their effect on human health. Many of these chemicals are known to have adverse effects on our skin and one of these adverse effects is dandruff.
Unlike most review sites, our reviewers personally try every shampoo they review and they also assess how the shampoo washes, how it smells, and look at the price point in their market. These may be medicated shampoos, but that doesn't mean we want to compromise on a little bit of luxury!
What we won't do is tell you if the shampoo will work for you. Our responses to the ingredients are highly personal, so we just couldn't do that.
What we will do is explain, in layman's terms, the purpose of the shampoo and what condition it is designed to alleviate.
What is salicylic acid?
What is salicylic acid?
Salicylic acid is an intriguing ingredient, being a chemical precursor to 'acetylsalicylic acid' – more commonly known as aspirin. The watery bark sap of the willow tree (Salix alba) contains high concentrations of salicylic acid, which can be refined to make aspirin.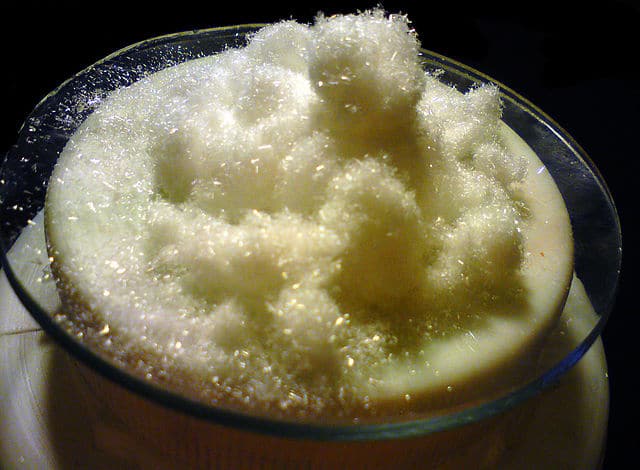 For the past 120 years, aspirin has been used as a painkiller and anti-inflammatory, but now is more commonly used as an antiplatelet in the secondary prevention of cardiovascular disease [2]. The discovery of aspirin in the late 19th Century by the pharmaceutical company Bayer led to the creation of a new class of medications, the 'non-steroidal anti-inflammatory drugs' (NSAIDs). Research into the pharmacological mechanism of aspirin underpins our current understanding of inflammatory pathways, for which John Robert Vane, Sune Bergström, and Bengt Ingemar Samuelsson were awarded the 1982 Nobel Prize in Medicine [3].
What does salicylic acid do when added to a shampoo?
While salicylic acid is very closely related to aspirin, they don't have the same roles in the treatment of scalp conditions. Salicylic acid is used in shampoos, creams, and ointments mainly for keratolytic effects and local anti-inflammatory action. Keratolytic agents cause cells of the epidermis to shed more easily, helping to remove dry and flaky skin [4]. You'll often see salicylic acid referred to as an exfoliator.
The keratolytic effects of salicylic acid are also used in certain products to increase the penetration of other ingredients. This can be necessary for dermatological conditions, where plaques and thickened skin prevent steroids from being absorbed into tissue – reducing efficacy [5].
And it's this flexibility that makes it the single most widespread active ingredient on the market today. It can be combined with virtually any other active ingredient to increase the efficacy of the other active ingredient (although not with calcipotriene – more about this soon).
Does salicylic acid make hair grow faster?
Interestingly a study published in 2022 tested a salicylic acid shampoo (also containing panthenol and niacinamide) on alopecia patients – it proved a significant increase in hair growth and thickness within 24 weeks of use [11].
In theory, salicylic acid may be helpful for preventing hair loss as it can significantly reduce itching which may damage the hair follicle. It's important to follow the manufacturer's instructions as to how long to leave the product on the scalp – strong salicylic acid formulas may weaken the hair shaft and increase hair breakage.
When should I use a salicylic acid shampoo?
Salicylic Acid is commonly used to help combat dandruff caused by scalp psoriasis and seborrheic dermatitis. If you've been diagnosed by a medical professional to have either of these conditions, chances are they'll recommend this or a similar treatment at some stage.
It's such an important healthcare treatment that:
Dr. Ben Barankin, a Toronto-based board-certified dermatologist at the Toronto Dermatology Centre, recommends its usage when he told us, "For mild-moderate dandruff, my preferred over-the-counter dandruff ingredients include: zinc pyrithione, selenium sulfide, ketoconazole, tar, and salicylic acid".
How effective is salicylic acid in treating dandruff caused by seborrheic dermatitis?
For a long time, seborrheic dermatitis was seen as a condition caused by excessive growth of skin cells ('hyperproliferation), explaining the characteristic symptoms: flaky skin, itchiness, and greasy skin. This rationalized the use of salicylic acid in shampoos. It's now better understood that Malassezia yeasts play a role in the underlying condition, and so antifungal treatments are more useful first-line options (e.g. ketoconazole, selenium sulfide) [6]. With their potency/suitability for severity of symptoms based on this graph [12]
Salicylic acid possesses mild antifungal properties [7] which are highly unlikely to offer complete resolution and treatment of seb derm, but the keratolytic effects can help to remove flaky skin. The salicylic acid softens the existing build-up while the anti-fungal can help prevent any further build-up.
In addition, salicylic acid softens and 'solubilizes intercellular cement' the glue which clumps old, dead skin cells together. This increased shedding enhances the penetration of anti-dandruff actives like selenium sulfide amplifying their effectiveness. Studies comparing anti-dandruff shampoos with and without salicylic acid notice formulas with salicylic acid give better outcomes for the reduction of itching and scalp scaling [13].
Nizoral (a 2% ketoconazole shampoo) is considered a gold standard in anti-dandruff care however can be aggressive and inappropriate for sensitive scalps. A study published in the Journal of Dermatological Treatment in 2002 tests a 3% salicylic acid shampoo also containing 1.5% ciclopirox olamine (an anti-fungal) against Nizoral. Results show both formulas are equally effective significantly improving dandruff symptoms after 29 days of use. Only the salicylic acid shampoo gave itch relief [14].
Does salicylic acid help scalp fungus?
Salicylic acid has a mild inhibitory effect on certain funguses including the Malassezia furfur yeast seen to grow in excess in cases of seborrheic dermatitis [14].
It's unlikely that monotherapy of salicylic acid only will bring about complete resolution of moderate to severe cases of seb derm.
What percentage of salicylic acid is good for dandruff?
Salicylic acid may be used up to a concentration of 3% in anti-dandruff shampoo. Most published studies proving the effectiveness and benefits of salicylic acid, and antifungal shampoos use salicylic acid in concentrations of 2-3%.
How effective is salicylic acid at treating scalp psoriasis?
Scalp Psoriasis is an auto-immune condition causing the hyperproliferation growth of skin cells affecting about 2-3% of the population [15]. In a regular skin cycle skin, the turnover of skin cells takes about a month. If you have psoriasis, it can happen within a few days.
As a result, a number of raised plaques or patches of thick, scaly skin appear on various parts of your body.
The keratolytic properties of salicylic acid can help to soften and remove flaky skin with its use for 8 to 16 weeks shown to be effective for mild to moderate psoriasis [16].
In severe cases of psoriasis, treatment is often combined with a topical steroid – the salicylic acid added to help penetration of the steroid – the scaly build-up can prevent the steroid from entering the skin efficiently.
NOTE: if using calcipotriene to treat psoriasis you should avoid salicylic acid shampoos and wash products – calcipotriene is inactivated by salicylic acid [16].
What is a safe amount of salicylic acid?
The USFDA mandates that it can be considered a medicine if used in 1.8 to 3 percent concentrations in shampoo.
EU cosmetic regulations conclude salicylic acid can be safely used 'in a concentration of up to 3,0 % for rinse-off hair products and up to 2,0 % for other products'.
How often should I wash with a salicylic acid shampoo?
To use a dandruff shampoo, or any shampoo for that matter, shampoo, you should always follow the instructions on the label.
This isn't always as straightforward as it sounds. For example, Dead Sea Spa provides no guidance on frequency but instead recommends that you, "Apply to wet hair, massaging into scalp and hair. Rinse well. For best results follow with Spa Magik Hair Magic serum or Conditioning Scalp Mud."
Neutrogena, on the other hand, recommends, "For best results, use at least twice a week or as directed by a doctor."
So we asked a doctor for guidance.
Dr. Matthew Zirwas recommended trying a shampoo for, "at least a month because if your old shampoo had ingredients that were causing a dandruff-like rash of their own, it will take 4-8 weeks for that ingredient to work its way out of your body after you start the new stuff."
For some further clarity, Dr. Ben Barankin, told us, "For mild-moderate dandruff, I recommend daily shampooing, and ideally alternating 3 shampoos, each with active anti-dandruff ingredients."
And if it doesn't work, board-certified dermatologist Adam J. Friedman, MD, FAAD, assistant professor of dermatology and director of dermatologic research, Albert Einstein College of Medicine explains via the AAD, "For most people, dandruff does not require medical attention. However, sometimes the flaking and itching that appears like dandruff is actually a medical condition, such as seborrheic dermatitis, psoriasis, fungal infections of the scalp, or eczema. If you continue to have symptoms after using a dandruff shampoo, consult a board-certified dermatologist."
By visiting a board-certified dermatologist, you can be properly diagnosed and be prescribed stronger medication than you can pick up at the pharmacy. As Dr. Ben Barankin says, "for moderate to severe cases of dandruff, a steroid shampoo or leave-in lotion can be prescribed. A prescription ciclopirox olamine lotion is often a nice option."
How long should I leave a salicylic acid shampoo on my scalp?
Again, you should always follow the manufacturer's recommended guidelines. For example, Neutrogena recommends that you leave T-Sal on your scalp for a few minutes. Any shorter than a few minutes and you may not receive the full benefit of the keratolytic effects. Much longer and you can dry your skin and cause increased hair breakage..
What are the risks of using salicylic acid?
Salicylic acid shampoos are generally well-tolerated but should be avoided in those with a history of aspirin allergy. Only a very small amount of salicylic acid is absorbed into the bloodstream when applied to healthy skin. But this figure increases around 150 times when the skin is damaged (although this figure is for creams, and so will be lower for rinse-off shampoos). Toxicity has been reported, but these cases are typically associated with other contributory factors [8].
Systemic absorption is unlikely to result in any harm but reinforces that the lowest effective quantity should be used for the least amount of time. Typically in scalp conditions, this means using a medicated shampoo for two to four weeks, but exact recommendations vary by formulation and brand. Prolonged use of a keratolytic agent can also cause dry skin due to reduction/over-exfoliation of the skin barrier – worsening symptoms – so excessive use should be avoided.
Can I use salicylic acid when pregnant?
In October 2018 salicylic acid was classified as a CMR2 which stands for Category 2 reproductive toxicant. The EU Committee on Consumer Safety (SCCS) is still of the opinion that concentrations up to 0.5% (the amount used for preservative purposes in leave-on products) are safe for consumer use even in light of this re-classification.
It was reiterated by the Scientific Advisory Group on Chemical Saftey in January 2022 that since the re-classification of salicylic acid as a CMR2 the SCCS has not concluded that concentrations of 2% in leave-on cosmetic products and 3% in wash-off cosmetic products are safe for use when pregnant.
NOTE: A Category 2 CMR is suspected to be toxic for reproduction based on 'limited evidence from humans or animal studies'. This is versus Category 1B which is presumed and Category 1A which is confirmed.
The FDA classifies salicylic acid as a pregnancy category C drug meaning Risk cannot be ruled out. There are no satisfactory studies in pregnant women, but animal studies demonstrated a risk to the fetus; the potential benefits of the drug may outweigh the risks [17].
Salicylic acid is fairly unique in its dermal penetration, other organic acids like lactic acid are noted to have limited dermal penetration whereas 9-25% of salicylic acid under occlusion may be absorbed through the skin [18].
Interestingly sizeable studies looking at the outcomes of pregnant women taking low doses of acetylsalicylic acid (asprin) found, 'no increase in the baseline risk of adverse events, such as major malformations, preterm birth, or low birth weight' [19].
Aspirin may also be used positively during pregnancy to 'reduce the high risk of recurrent pregnancy loss in women with antiphospholipid antibodies' – these are antibodies that attack healthy tissues [20]. For this reason, It is 'recommended that if salicylic acid is used to treat patients who are pregnant, the area of coverage should be limited'.
Can I use salicylic acid when breastfeeding?
There are very few studies and reports on the safety of cosmetics when breastfeeding, let alone specific studies on salicylic acid. The main concern is the systemic absorption of salicylic acid and its potential incorporation into breast milk which may affect a baby's growth and development.
The WHO lists topical salicylic acid as acceptable during breastfeeding as significant absorption and appearance in breast milk is unlikely.
What shampoos contain salicylic acid?
Our ten favorites are listed on this page. However, we have reviewed many others which you can find on our salicylic acid category page.
References
[1] EMC. (2015). Capasal Therapeutic Shampoo. [Accessed: 12/3/17] www.medicines.org.uk
[2] Vane, J. R., & Botting, R. M. (2003). The mechanism of action of aspirin. Thrombosis Research, 110(5), 255-258.
[3] Nobel Assembly of Karolinska Institutet. (1982). Press Release: The Nobel Prize in Physiology or Medicine 1982. [Accessed: 12/3/17] www.nobelprize.org
[4] Fluhr, J. W., Cavallotti, C., & Berardesca, E. (2008). Emollients, moisturizers, and keratolytic agents in psoriasis. Clinics in Dermatology, 26(4), 380-386.
[5] Williams, A. C., & Barry, B. W. (2012). Penetration enhancers. Advanced Drug Delivery Reviews, 64, 128-137.
[6] DeAngelis, Y. M., Gemmer, C. M., Kaczvinsky, J. R., Kenneally, D. C., Schwartz, J. R., & Dawson, T. L. (2005, December). Three etiologic facets of dandruff and seborrheic dermatitis: Malassezia fungi, sebaceous lipids, and individual sensitivity. Journal of Investigative Dermatology Symposium Proceedings. Vol. 10, No. 3, pp. 295-297.
[7] da Rocha Neto, Maraschin, Di Piero (2015). Antifungal activity of salicylic acid against Penicillium expansum and its possible mechanisms of action.
[8] Madan, R. K., & Levitt, J. (2014). A review of toxicity from topical salicylic acid preparations. Journal of the American Academy of Dermatology, 70(4), 788-792.
[9] Lodén M., Wessman C. (2000). The antidandruff efficacy of a shampoo containing piroctone olamine and salicylic acid in comparison to that of a zinc pyrithione shampoo. Int J Cosmet Sci. 2000 Aug;22(4):285-9
[10] Pina Bozzo, Angela Chua-Gocheco, MD, and Adrienne Einarson, RN (2011). Safety of skin care products during pregnancy. Can Fam Physician. 2011 Jun; 57(6): 665–667.
[11] Kim, HT., Park, HS., Kim, YM. et al. Double-blind randomized placebo-controlled study of the efficacy and safety of hair loss prevention shampoo containing salicylic acid, panthenol, and niacinamide in alopecia patients. Toxicol. Environ. Health Sci. 14, 173–185 (2022).
[12] McGrath, J.A., Murphy, G.M. The Control of Seborrhoeic Dermatitis and Dandruff by Antipityrosporal Drugs. Drugs 41, 178–184 (1991).
[13] RA Squire & K Goode (2002) A randomised, single-blind, single-centre clinical trial to evaluate comparative clinical efficacy of shampoos containing ciclopirox olamine (1.5%) and salicylic acid (3%), or ketoconazole (2%, Nizoral ® ) for the treatment of dandruff/seborrhoeic dermatitis, Journal of Dermatological Treatment, 13:2, 51-60, DOI: 10.1080/095466302317584395
[14] Gu RL, Wang SQ. Clinical study on treatment of facial seborrheic dermatitis with intense pulsed light combined with 30% supramolecular salicylic acid. Clinics (Sao Paulo). 2020 Nov 11;75:e1875. doi: 10.6061/clinics/2020/e1875. PMID: 33206755; PMCID: PMC7603169.
[15] Madhulika Pradhan, Krishna Yadav, Deependra Singh, Manju Rawat Singh,
Topical delivery of fluocinolone acetonide integrated NLCs and salicylic acid-enriched gel: A potential and synergistic approach in the management of psoriasis,
Journal of Drug Delivery Science and Technology, Volume 61,2021,102282,ISSN 1773-2247, https://doi.org/10.1016/j.jddst.2020.102282.
[16] Chat VS, Kearns DG, Uppal SK, Han G, Wu JJ. Management of Psoriasis With Topicals: Applying the 2020 AAD-NPF Guidelines of Care to Clinical Practice. Cutis. 2022 Aug;110(2 Suppl):8-14. doi: 10.12788/cutis.0573. PMID: 36219602.
[17] Trivedi MK, Kroumpouzos G, Murase JE. A review of the safety of cosmetic procedures during pregnancy and lactation. Int J Womens Dermatol. 2017 Feb 27;3(1):6-10. doi: 10.1016/j.ijwd.2017.01.005. PMID: 28492048; PMCID: PMC5418954.
[18] Lee KC, Korgavkar K, Dufresne RG Jr, Higgins HW 2nd. Safety of cosmetic dermatologic procedures during pregnancy. Dermatol Surg. 2013 Nov;39(11):1573-86. doi: 10.1111/dsu.12322. Epub 2013 Oct 29. PMID: 24164677.
[19] Bozzo P, Chua-Gocheco A, Einarson A. Safety of skin care products during pregnancy. Can Fam Physician. 2011 Jun;57(6):665-7. PMID: 21673209; PMCID: PMC3114665.
[20] Hamulyák EN, Scheres LJ, Marijnen MC, Goddijn M, Middeldorp S. Aspirin or heparin or both for improving pregnancy outcomes in women with persistent antiphospholipid antibodies and recurrent pregnancy loss. Cochrane Database Syst Rev. 2020 May 2;5(5):CD012852. doi: 10.1002/14651858.CD012852.pub2. PMID: 32358837; PMCID: PMC7195627.