Dandruff Deconstructed is reader-supported. All reviews are independent and any products reviewed are purchased by the site owner. To help fund this model, some of the links on the site are affiliate links. If you decide to make a purchase from one of these links, this site will receive some commission. At no cost to you. It helps keeps this place running. Learn more

With cooling relief shouting at our eyes from RE-fresh Scalp Care Anti Dandruff Shampoo's front label, we're intrigued by it's 90% naturally derived claims and promises of 0% silicones, paraben, and dyes.
Can this be a kind, gentle anti-dandruff shampoo that's relieving, natural and safe even for sensitive scalps? Is it among our best dandruff shampoos?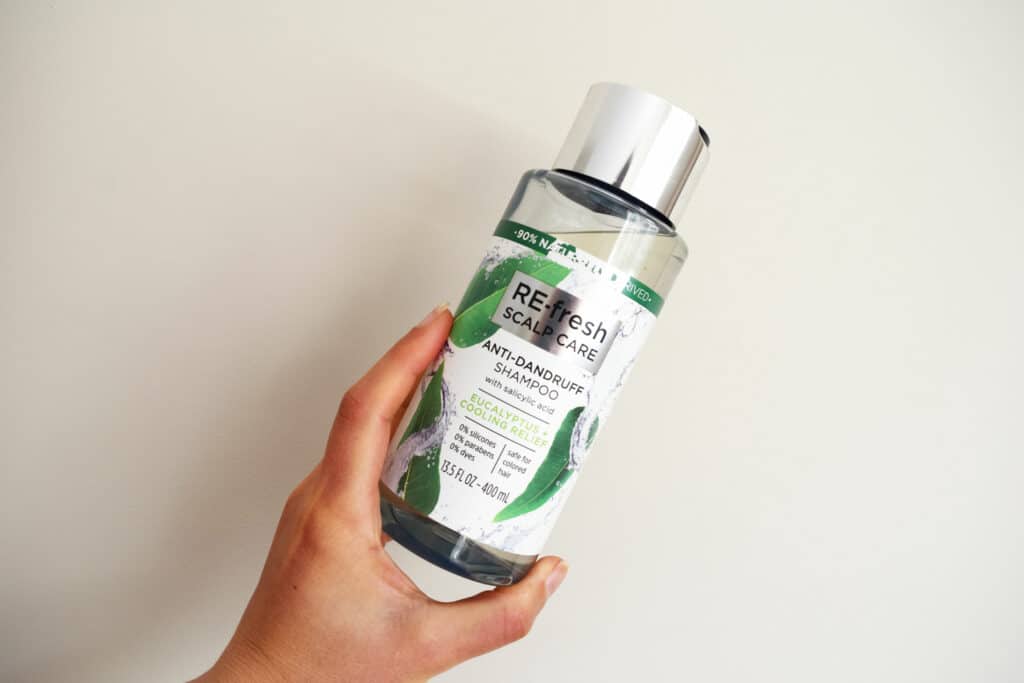 We're keen to find out. Our investigation starts with – who is Re-fresh Scalp Care? Do they know what they're talking about when it comes to the science of dandruff?
Launched in 2019, it's an easy find to discover who now owns RE: fresh scalp care – we're scrolling to the bottom of their website, and… there it is… we see the Unilever logo…
Unilever is one of the world's biggest fast-moving consumer goods companies. They have many regulating authorities holding them accountable – this is great news.
Unilever is also the parent of other hair and scalp care brands like Dove, TIGI, Timotei (the one with the moaning rainforest adverts), and Thermasilk. There's a wealth of science know-how behind the scenes.
Unfortunately, this doesn't guarantee that RE: fresh scalp care will help you get clear from dandruff.
The promise RE-fresh Scalp Care makes is that this will be an enjoyable dandruff-treating experience. One you will look forward to as opposed to one that feels like a chore.
This is the ethos of RE-fresh Scalp Care.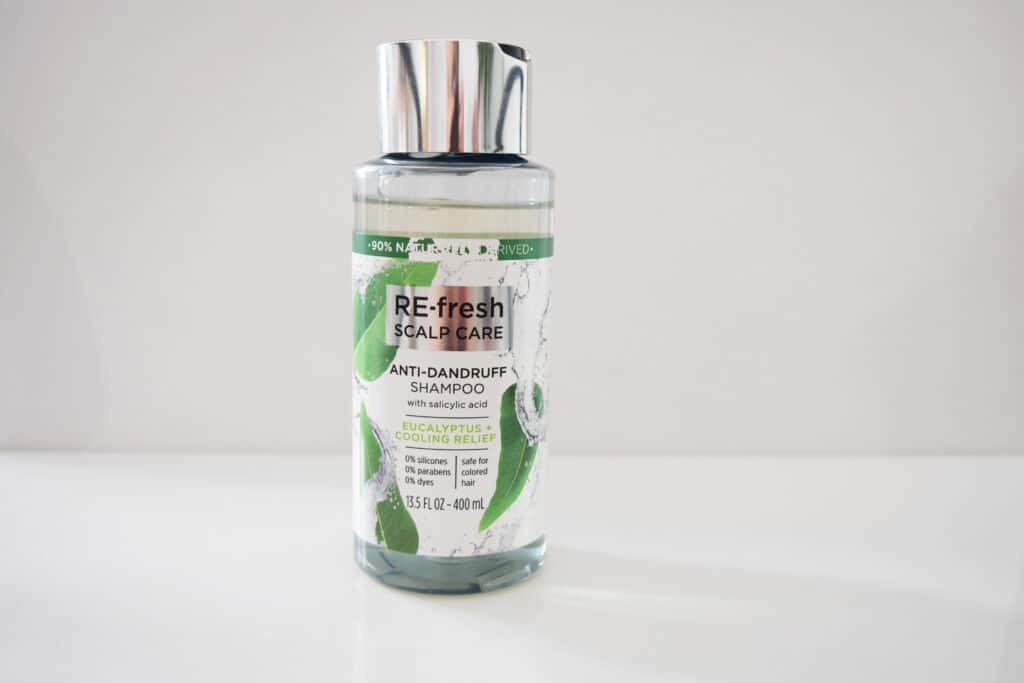 Is this Anti-Dandruff Shampoo effective? Will it relieve you of embarrassing dandruff flakes? We start at the beginning – with the first appearances.
We had a delivery problem with our first bumper-sized 400ml bottle of RE-fresh Scalp Care's Anti-Dandruff Shampoo. The second in a row here at DD Towers!
Its clear, transparent bottle arrives to us in a vacuum-sealed bag… however it's already leaking – and impressively empties its entire contents into our testing shower overnight.
We get a replacement and are excited when the new, modern-looking bottle arrives leak-free.
What we love about Re-fresh Scalp Care's simple design is its easy-to-use flip-top cap that's also impressively sized. Great for morning showers with blurry eyes.
As we peel off the safety sticker preventing the flip-top cap from opening in transport – we're excited to see the 'pampering' experience that's inside (while also slightly hesitant because usually pampering means fragrance and fragrance means irritation).
If you've struggled to use smelly coal tar anti-dandruff shampoos – you will not struggle to use RE-fresh Scalp Care Anti Dandruff Shampoo – it greets us with a sweet lime-like scent reminding us of lime candy we used to eat as a kid in the…. cough…. 90s.
A swift turn to the back label tells us RE-fresh Scalp Care Anti Dandruff Shampoo is a 2% salicylic acid shampoo. One of our favorite and most popular dandruff shampoo active ingredients.
Salicylic acid is allowed at a maximum of 2% in leave-on products. Re-fresh are using a moderate to strong concentration for the exfoliating and mild antibacterial benefits of salicylic acid. The back label also notes – 'Other Information: product contains menthol'… more about this soon.
As the clear, normal-looking shampoo liquid escapes its sturdy cylinder bottle we enjoy a wash experience that has great foam, great spreadability, and a consistent easy rinse. It's a good shampoo experience – it's also heavy on scent especially if you like a hot shower.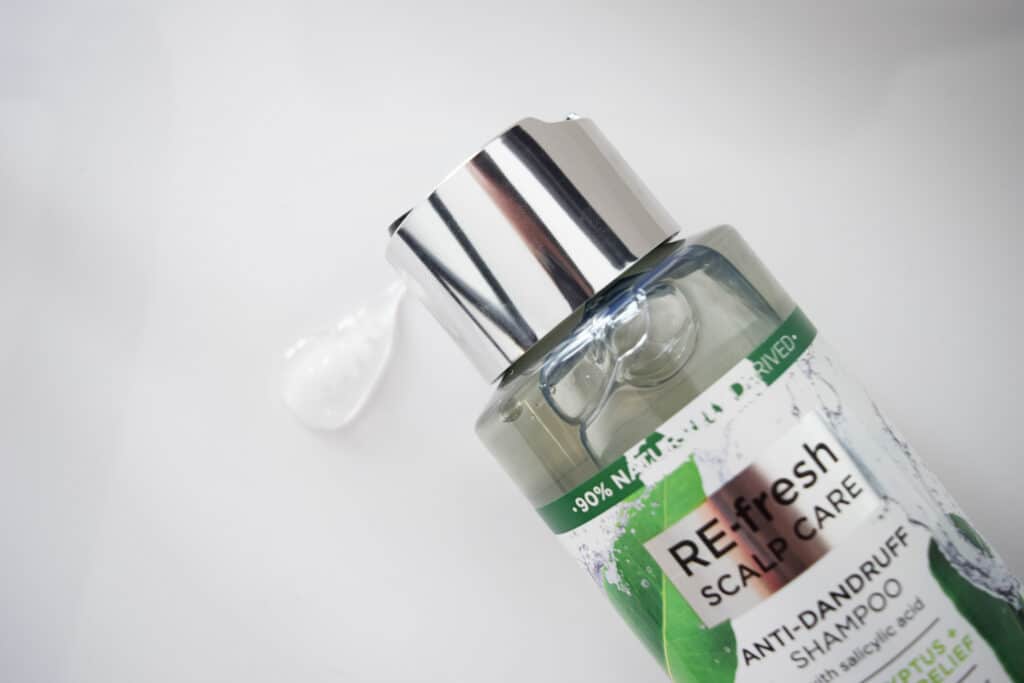 At this point, it smells like a mix of lime and aftershave.
With in-shower performance checked – it's time to investigate the formula of RE-fresh Scalp Care Anti Dandruff Shampoo. Can RE-fresh Scalp Care Anti Dandruff Shampoo get you clear from dandruff?
Salicylic acid is a go-to in the anti-dandruff world because it's a very effective chemical exfoliant that can soften and dissolve scalp flakes before they become visible.
Salicylic acid is also expert at dissolving into oil – if you have a traditional oily scalp form of dandruff – Re-fresh may be a great option.
Here's what science tells us about salicylic acid and dandruff;
When 3% salicylic acid is combined with 1.5% ciclopirox olamine (an anti-fungal) it significantly improved dandruff symptoms after 29 days of use while also showing, 'a significant reduction in the itching of seborrheic dermatitis' (ref).
2% salicylic acid (when combined into a shampoo with 2% sulfur – another anti-fungal active) is studied to be effective at reducing scalp scaling – it makes sense – salicylic acid is an exfoliant (ref).
Another science study shows 2% salicylic acid combined with 0.75% piroctone olamine (anti-fungal active) and used twice weekly for 4 weeks is 'highly effective in reducing the dandruff' (ref).
Salicylic acid is a popular co-active in anti-dandruff shampoos because it's known that – 'Salicylic acid, which solubilizes the stratum corneum intercellular cement, enhances effectiveness by improved penetration of drugs.' (ref)
In translation – salicylic acid softens the skin so dead skin cells may shed before they become clumpy flakes. In doing this the scalp more easily absorbs other active ingredients e.g. anti-fungals.
The same paper published in The Journal of Drugs in 2012 shows us this effectiveness chart for common anti-dandruff actives;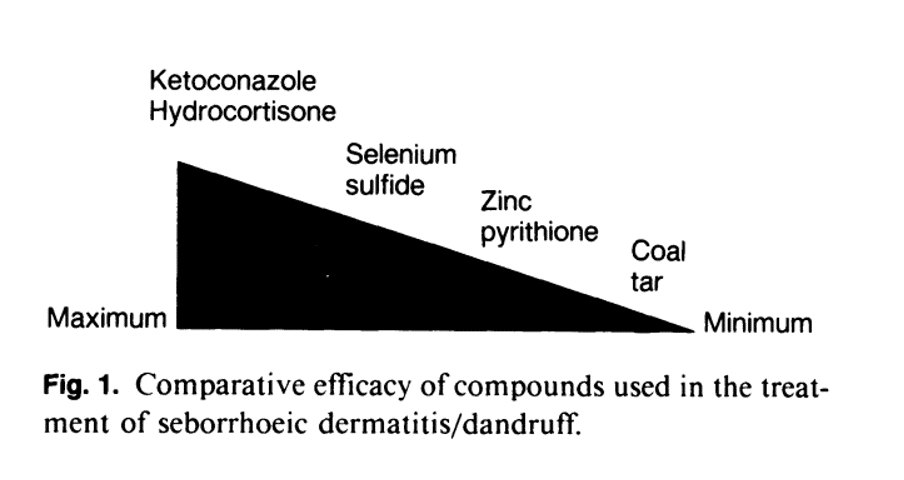 You will notice salicylic acid is not featured. Salicylic acid is not a primary anti-dandruff active. It has only mild antibacterial benefits. What salicylic acid shampoos like Re-fresh Scalp Care's salicylic acid shampoo do is provide symptom-free relief in between treatments.
This is an up-keep shampoo for oily scalp dandruff or shampoo for mild flaking – the first signs of dandruff.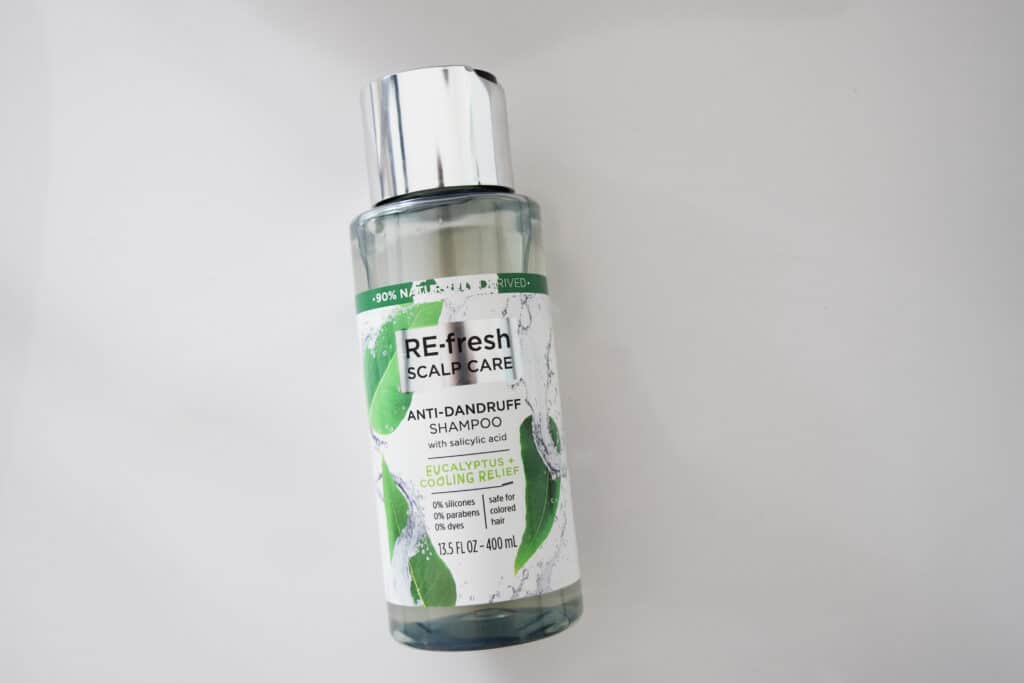 Now we've got that sorted – it's time to look at the overall formula – this is crunch time.
WARNING: RE-fresh Scalp Care Anti Dandruff Shampoo is not for sensitive scalps – the ingredients list reads like a who's who of common irritants and allergens.
It contains;
Menthol – a counter-irritant that provides a cooling effect. But note that it does this by being irritating to the skin. It can help to reduce symptoms of itchiness by diverting attention to the cooling effect
Fragrance – a source of many irritants and allergens
Essential oils – a source of many irritants and allergens of which some must be listed on the ingredients list – on Re-fresh Scalp Care's ingredients list we see – Citral, Hexyl Cinnamal, Limonene, Linalool.
RE-fresh Scalp Care Anti Dandruff Shampoo may be a fragrant pampering experience but it's not for those with sensitive scalps.
Other ingredients to be aware of;
Sodium Laureth Sulfate – SLS is the top cleansing active in this shampoo – it's the most commonly used in store-bought shampoos but can be irritating for sensitive scalps
Cocamidopropyl Betaine – another cleansing active that a small percent of the population have allergy to
Salix Alba (Willow) Bark Extract – an astringent that can make your scalp feel less oily – but can be irritating for sensitive scalps
---
The Bottom Line
RE-fresh Scalp Care Anti Dandruff Shampoo is for a niche of people who do not (in any way) have a sensitive scalp and who are looking for an up-keep anti-dandruff shampoo to use in-between anti-fungal dandruff shampoo treatment. RE-fresh Scalp Care Anti Dandruff Shampoo will make a great choice for these people.
There is an overabundance of shampoos catering to this niche. It's highly competitive and the question for Unilever is, are they offering enough to differentiate from the many, many other shampoos out there that are catering to this market?
The question for DD readers is, does it offer enough? Expect a great wash, a good-smelling shampoo but some pretty harsh ingredients. If your scalp can handle it, go for it. For me personally, it's a nope.