Dandruff Deconstructed is reader-supported. All reviews are independent and any products reviewed are purchased by the site owner. To help fund this model, some of the links on the site are affiliate links. If you decide to make a purchase from one of these links, this site will receive some commission. At no cost to you. It helps keeps this place running. Learn more
Review
Summary
Shea Moisture Apple Cider Vinegar Anti-Dandruff Shampoo is a feel-good exfoliating scalp shampoo to help relieve embarrassing flaky scalp symptoms. An exfoliating benefit given by its 3% concentration of salicylic acid which studies prove can be highly effective for reducing itchiness on an oily scalp. We recommend Shea Moisture Apple Cider Vinegar Anti-Dandruff Shampoo for mild cases of oily scalp dandruff or as a between treatments shampoo for moderate to severe dandruff.
Comments Rating
( reviews)

Shea Moisture Apple Cider Vinegar Anti-Dandruff Shampoo with Salicylic Acid is made by a company called, you guessed it – Shea Moisture. Having over 800, 000 Instagram followers makes them one of the most popular companies we've reviewed here on Dandruff Deconstructed. I think you know from experience – popular doesn't mean an anti-dandruff shampoo works. With a natural label, promises for stronger, healthier hair, and the ultimate guarantee to fight the symptoms of dandruff we're as intrigued as you to find out if this stuff works.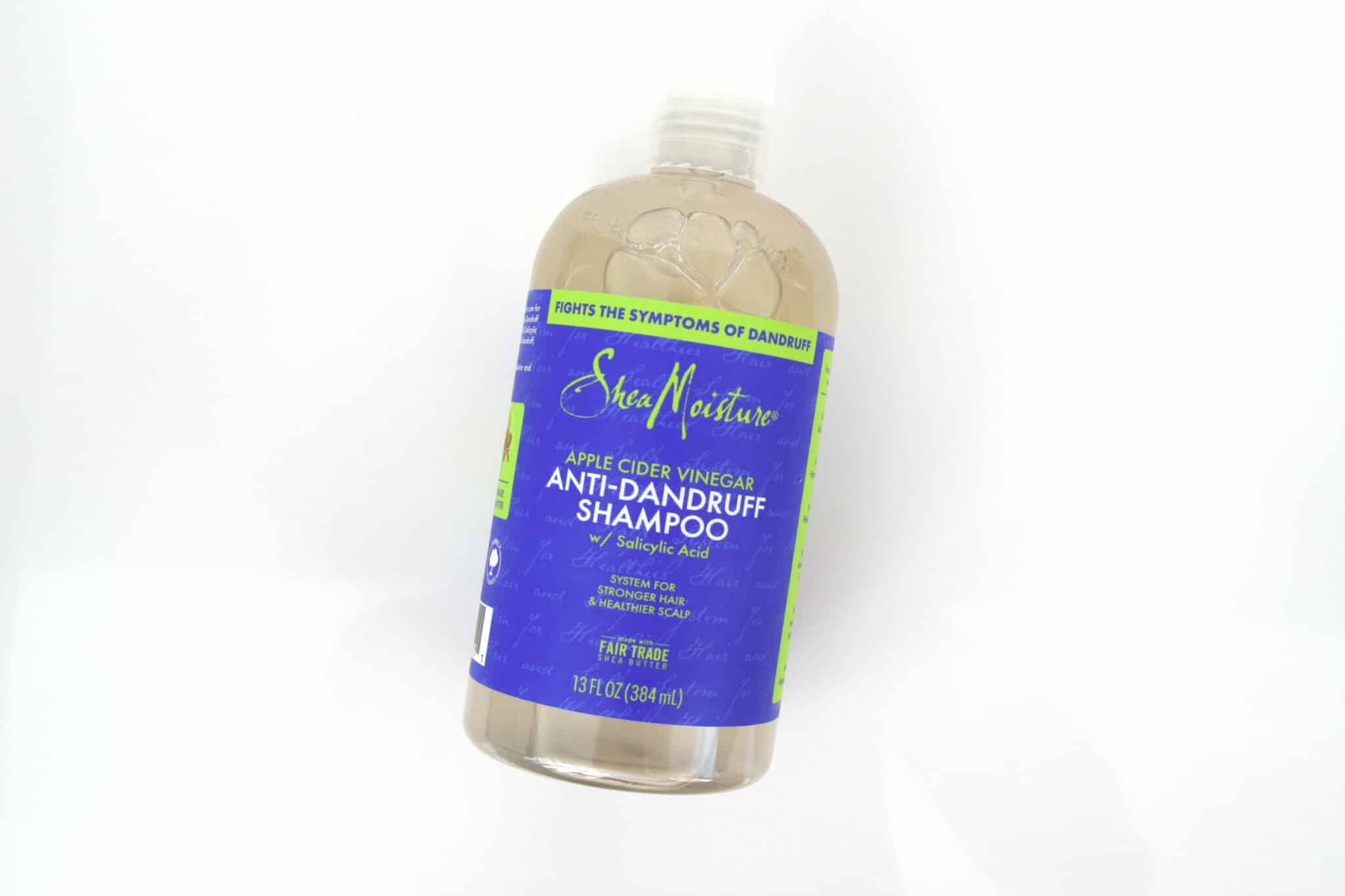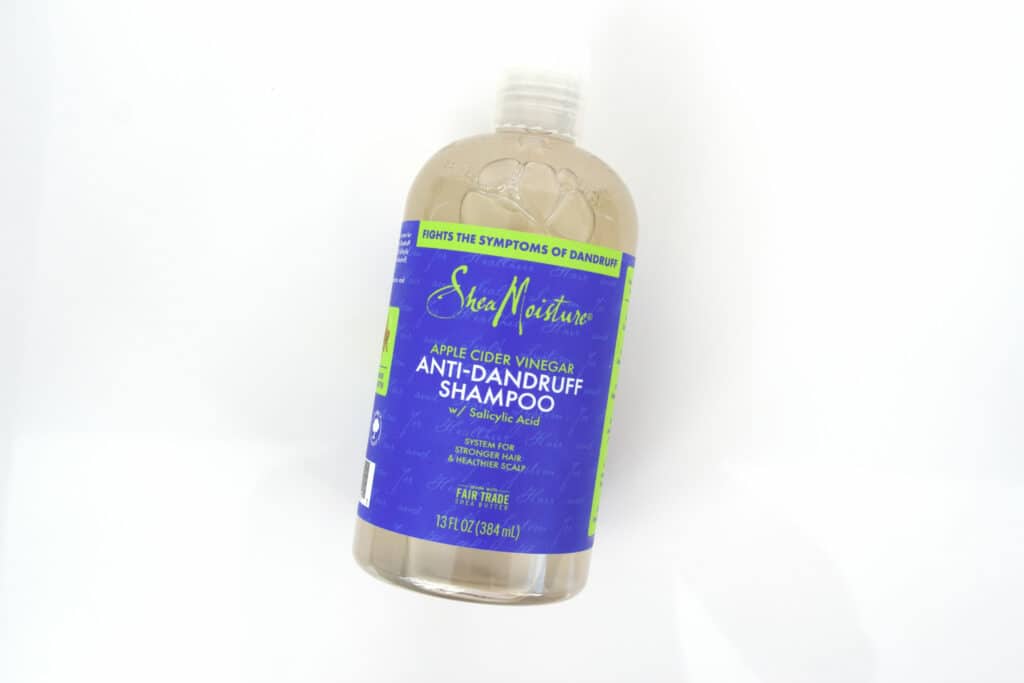 First stop, who are Shea Moisture, and should you trust them with your dandruff-prone scalp?
Interestingly as we search the full name of this Apple Cider Vinegar Anti-Dandruff Shampoo the Shea Moisture website does not reach the first page of Google. Instead, we get shopping results for Target, Walmart, Amazon, and more. I find the website link on the back label and type it into Google nervously waiting to see how legitimate Shea Moisture is. I'm impressed. Shea Moisture has a beautiful website and an extensive product portfolio ranging from haircare to skincare for babies, kids, men, and women.
Shea Moisture's very first webpage hints that Shea Moisture is a company specializing in the care of black hair. Founded by 'Sofi Tucker, a pioneering mother of four and entrepreneur' in 1912 in Sierra Leone – the company has been bought by Unilever – one of the biggest consumer goods companies in the world.
Unilever promised to 'honor [Sofi Tuker's] vision by continuing to formulate with Shea Butter handcrafted by women in Africa. With every purchase you show support of our mission to reinvest back in our communities.'
I can safely say Shea Moisture is legitimate, so now's time to look at the product itself. Can Shea Moisture Apple Cider Vinegar Anti-Dandruff Shampoo with Salicylic Acid help you get rid of embarrassing dandruff symptoms? We start at the beginning – with the first appearances.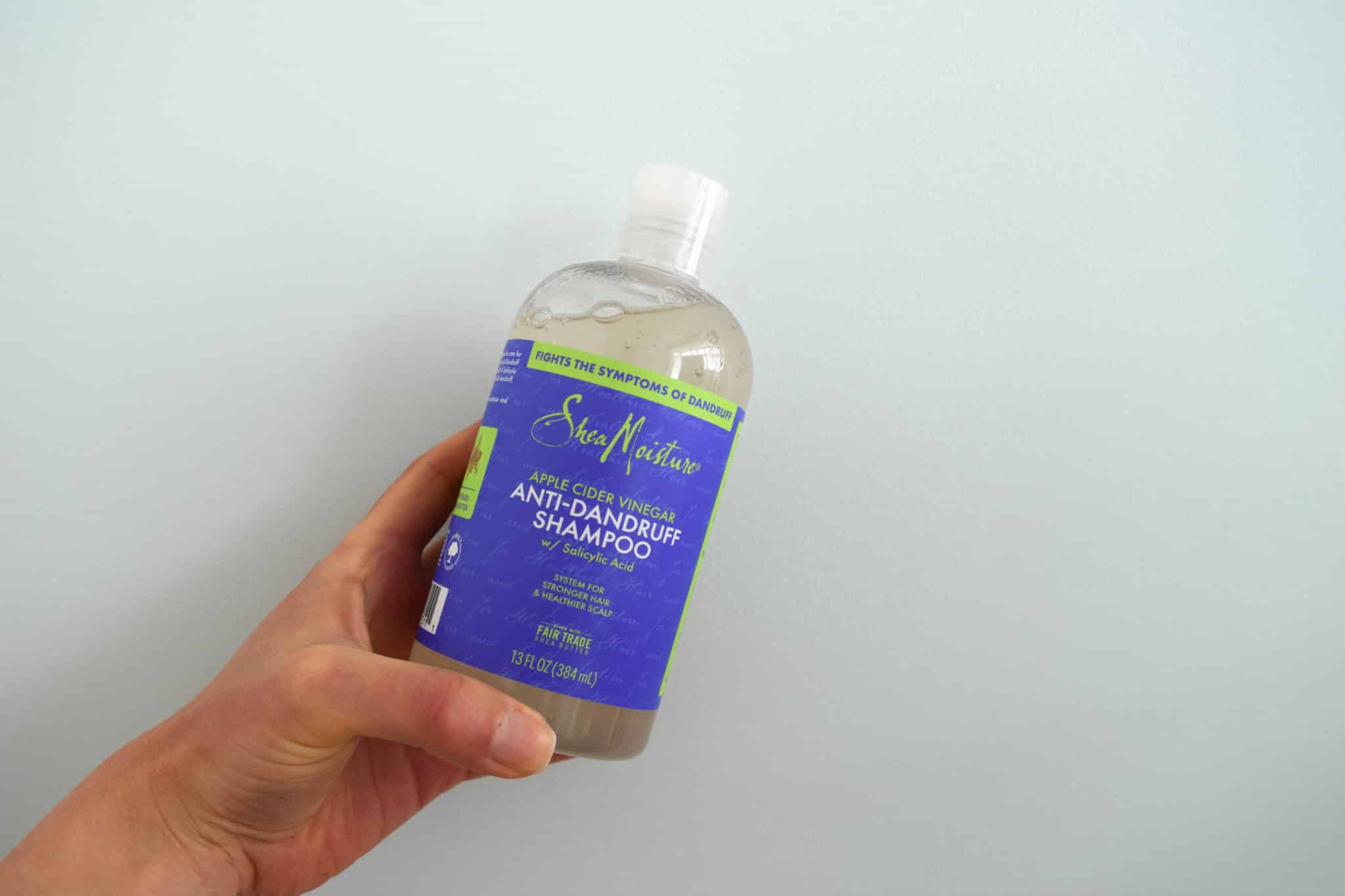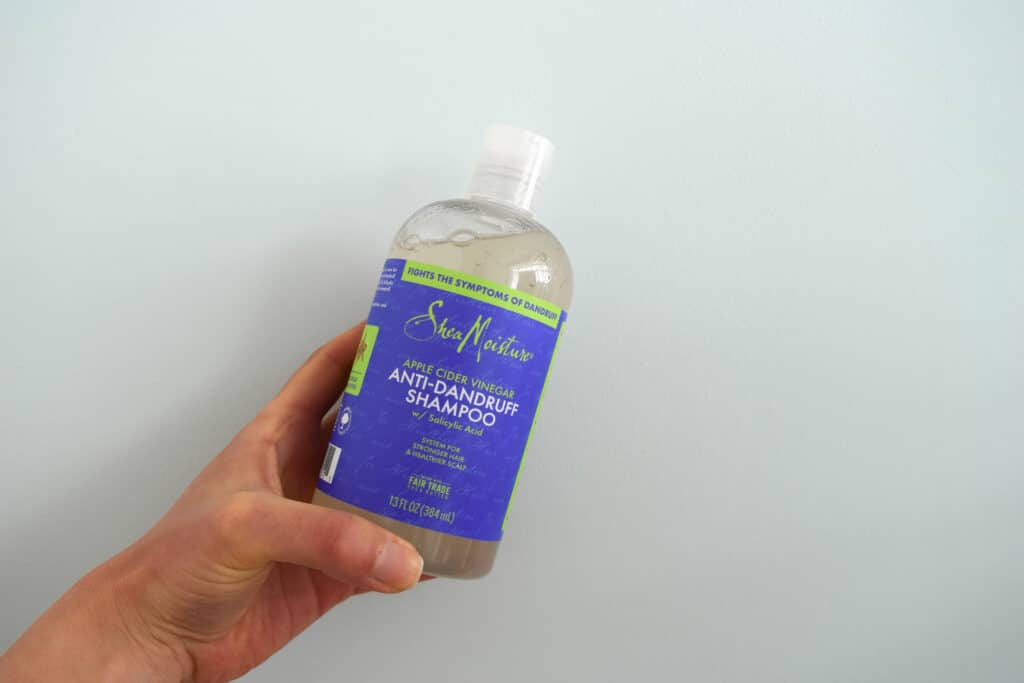 Our Shea Moisture Apple Cider Vinegar Anti-Dandruff Shampoo arrives in a carefree transparent bottle. It's simple and well-designed. There's no major expense put into extra box packaging or a fancy pump. I instantly see it promises to be made with fair trade shea butter and on a turn to the back label I see the key active ingredient – salicylic acid – listed at 3%. A very high loading for salicylic acid – more about how this active works to fight your dandruff soon.
With a flip-top lid, double sealed inside, Shea Moisture's Apple Cider Vinegar Anti-Dandruff Shampoo arrives safely and is easy to dispense. It smells lovely – although we know a nice smell is not always lovely for our scalps. I can't quite put my finger on the scent but it's nice. Not floral, not citrusy – somehow like powdered, sweet shea.
The pearl-like liquid also promises to be free from sulfates, parabens, phthalates, mineral oil, and petrolatum. It's a luxuriously thick feeling shampoo that's very effective for removing grease and scalp oils. An anti-dandruff shampoo aimed at those with oily scalp dandruff, not to be used by those with a dry, itchy, irritated scalp.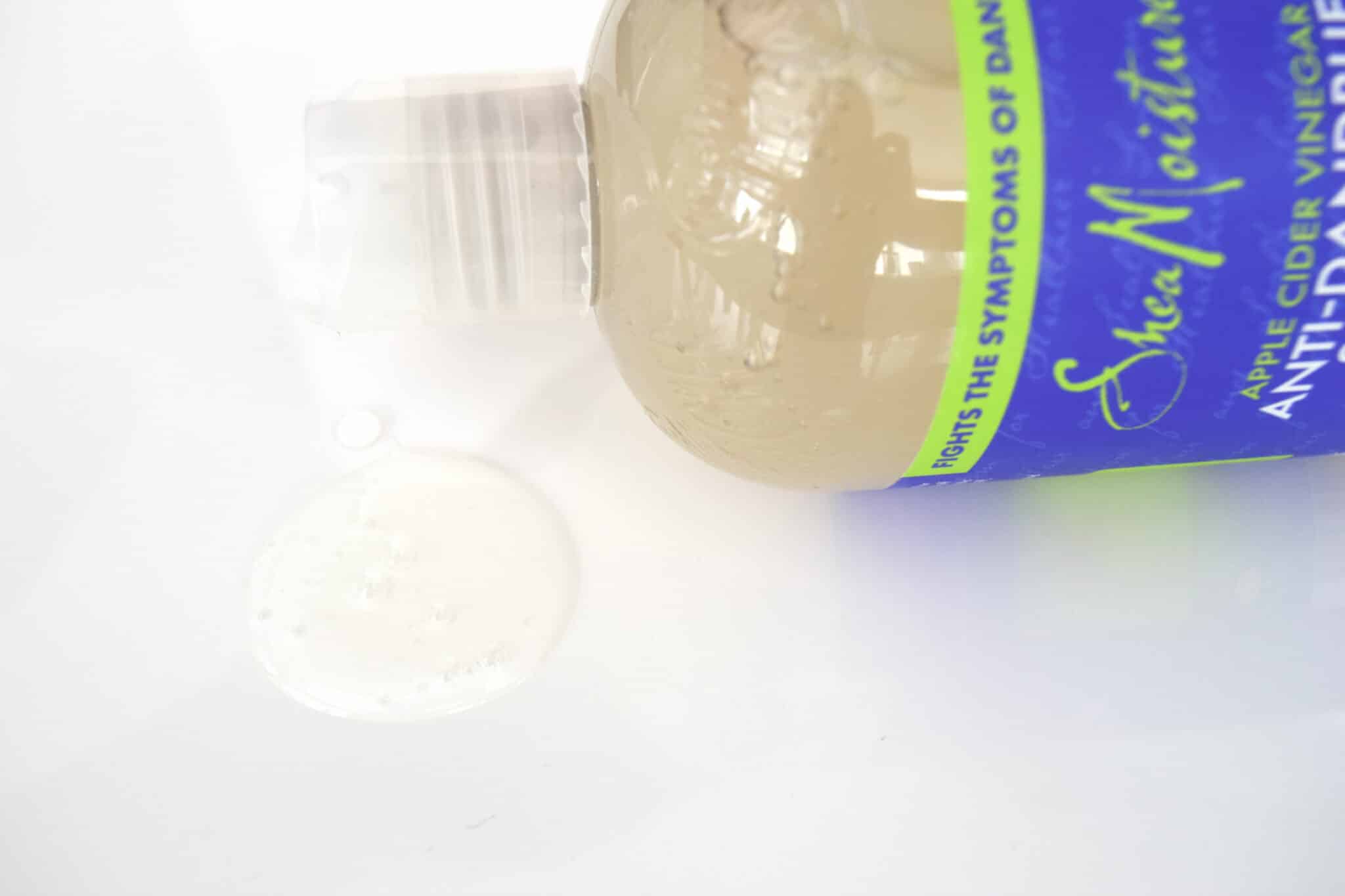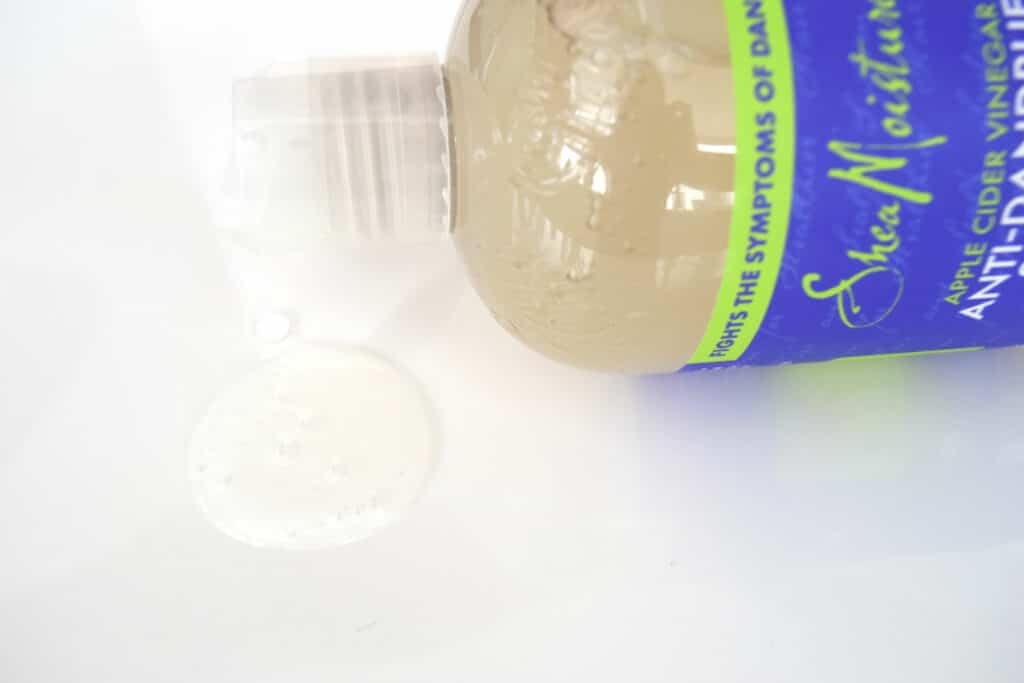 Warning: if you use Shea Moisture Apple Cider Vinegar Anti-Dandruff Shampoo on a dry, itchy scalp it's likely to make your symptoms worse long term.
Now to that key anti-dandruff active ingredient – salicylic acid. Does Shea Moisture Apple Cider Vinegar Anti-Dandruff Shampoo with Salicylic Acid work?
I love US shampoo labeling because active ingredients are listed separately from the main ingredients list. You see this in the section labeled as 'Drug Facts' – just like in this photo of the Shea Moisture anti-dandruff shampoo.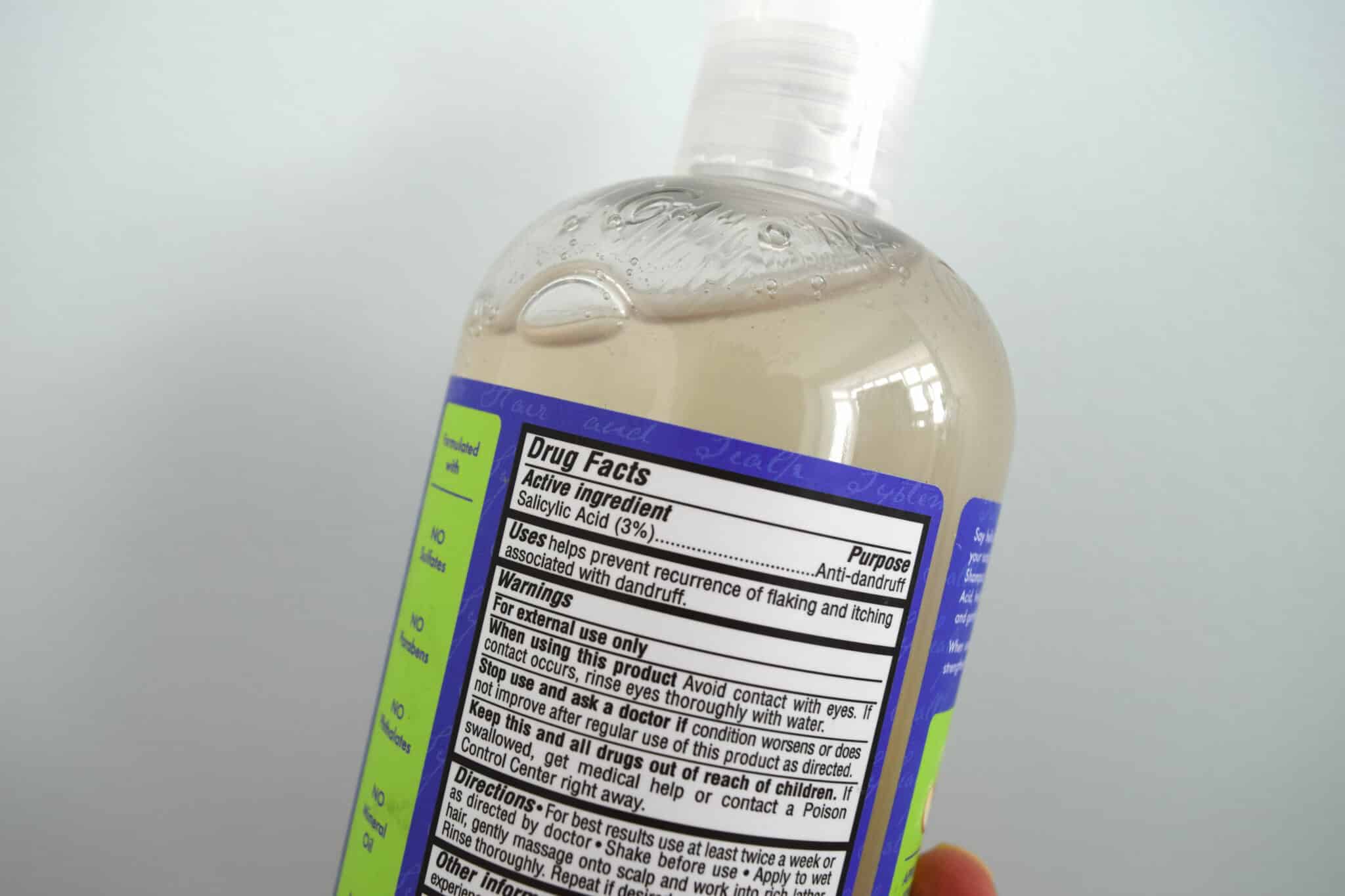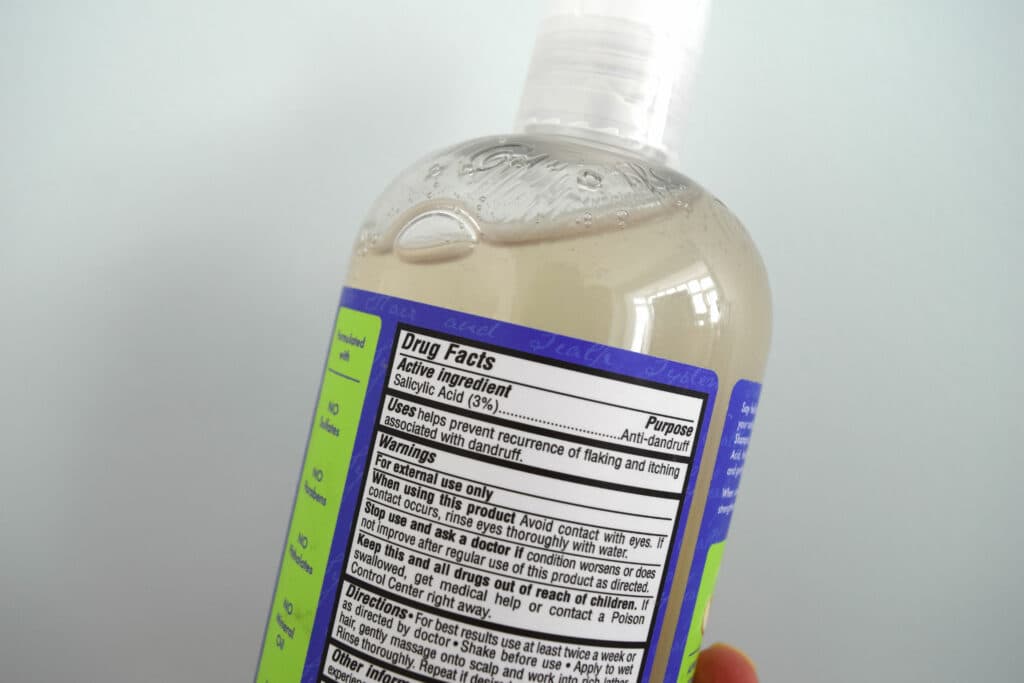 It's mandatory that this label also tells us exactly how much of this 'drug' is in the shampoo – Isn't that wonderful? Shea Moisture are using 3% Salicylic Acid. This is the maximum amount of salicylic acid allowed in wash-off products (it's 2% for leave-on products).
Salicylic acid is technically a keratolytic active – simply meaning it exfoliates your scalp. An especially helpful benefit for reducing visible scalp flakes.
Here's what published science tells us about Salicylic Acid's ability to fight dandruff;
Note: many dandruff studies use Salicylic Scid in combination with antifungal actives like Ketoconazole or Zinc Pyrithione.
Studies testing shampoos with only salicylic acid;
A study published in 2022 tested a shampoo containing salicylic acid (along with panthenol and niacinamide – Shea Moisture also contains niacinamide) on alopecia patients – it proved a significant increase in hair growth and thickness with 24 weeks of use.
Select studies testing salicylic acid's effectiveness against dandruff in combination with anti-fungal actives;
A study published in the Journal of Dermatological Treatment in 2000 tested a 3% salicylic acid shampoo also containing 1.5% ciclopirox olamine (an anti-fungal) against Nizoral – a 2% ketoconazole shampoo. Results show both shampoos significantly improved dandruff symptoms after 29 days of use. Only the salicylic acid shampoo ' showed a significant reduction in the itching of seborrheic dermatitis'.
A study published in the Journal of Cosmetic Science in 2000 tested a shampoo containing piroctone olamine (0.75%) combined with salicylic acid (2%) versus a 1% zinc pyrithione shampoo. 'The subjects were treated twice weekly with the shampoos for almost 4 weeks' – the study finds 'both shampoos were highly effective in reducing dandruff'. The authors also note – 'the combination of piroctone olamine and salicylic acid appeared to be slightly more effective than zinc pyrithione in reducing the severity and area affected by the scaling' – likely because salicylic acid is a leave-on exfoliating liquid which causes an increase in scalp exfoliation and a softening and dissolving of dead skin flakes.
An age-old 1987 clinical trial of 2% salicylic acid and 2% sulfur shampoo proved a significant reduction in scalp scaling.
Our thoughts: Salicylic acid can help to manage and reduce visible flaking plus reduce itchy dandruff symptoms on an oily scalp. As a solo ingredient, salicylic acid is not likely to be effective in the reduction of moderate to severe seborrheic dermatitis. However, it is a firm favorite among scalp psoriasis sufferers.
What about the overall formula of Shea Moisture Apple Cider Vinegar Anti-Dandruff Shampoo? If you have mild dandruff or an itchy scalp – will this salicylic acid shampoo work for you?
What we love;
What we love a lot less;
Menthol – a counter-irritant that causes irritation to induce a cooling effect. The bottle itself warns of this 'product contains menthol. If you experience discomfort, please stop using – if you have a sensitive scalp this is not for you
Fragrance – to give this shampoo that powdered sweet shea scent – the fragrance can be irritating to sensitive scalps but helpfully this fragrance does not contain listable allergens
Shea Moisture Apple Cider Vinegar Anti-Dandruff Shampoo is an effective exfoliating shampoo for all but hyper-sensitive scalps. With high potential to reduce embarrassing flaky scalp symptoms of dandruff, we recommend it for mild cases of dandruff, or as an in-between treatment shampoo for moderate to severe dandruff.
The site owner. I founded, and have ran this site for too many years now.
I have extremely sensitive skin, have suffered from seb derm for all my adult life and this site is my way of doing something about it.
Check out my sister site at safehouseholdcleaning.com