Dandruff Deconstructed is reader-supported. All reviews are independent and any products reviewed are purchased by the site owner. To help fund this model, some of the links on the site are affiliate links. If you decide to make a purchase from one of these links, this site will receive some commission. At no cost to you. It helps keeps this place running. Learn more
Summary
If your babe's crusty cradle cap's only getting worse, it's time to try a leave on treatment – one which doesn't leave your baby's scalp looking like a grease ball. Enter Bioderma's ABDderm Babysquam keratoregulating cream a 14 ingredient formula made from sensitive, moisturizing, soothing and barrier building ingredients.
Useable 7 days a week with no fragrance or harsh preservatives, Bioderma's ABDderm Babysquam keratoregulating cream respects, repairs and conditions away baby's crusty cradle cap.

If your babe's crusty cradle cap's only getting worse it's time to take action. Out of all the products available to you, leave on treatments are the absolute best.
Why?
Because very simply they have longer to help your baby's scalp.
Shampoos wash off, oil treatments like almond or olive oil are too greasy to leave on for long – plus oil is the key suspected cause of cradle cap, so why use more?
Enter Bioderma's ABDderm Babysquam keratoregulating cream for cradle cap.
Don't worry we'll be explaining what keratoregulating means very soon.
Pick up a 40ml tube of Bioderma's cradle cap treatment cream and you're about to use a fragrance-free formula made-up from non-greasy moisturizers, anti-inflammatories, skin barrier builders and more.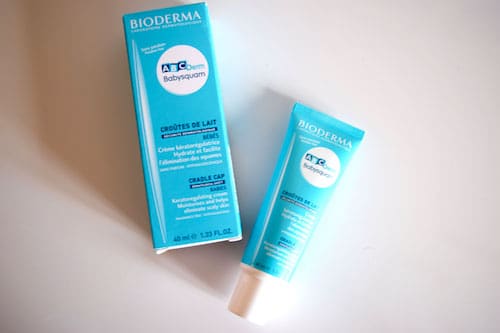 At 14 ingredients Bioderma's ABDderm Babysquam is simple, but is it effective? Can you trust Bioderma with the care of your babe's scalp? Let's take a look…
Bioderma – unlike some of the other brands we review here at DD are extremely well known. We've already reviewed their Node P And Node DS dandruff shampoos for adults and were very impressed by both.  If you live in the UK, France or Europe you're 99% likely to have seen Bioderma skincare on a drugstore shelf. This is a company with some serious pedigree.
Naming themselves as a pioneer since the 1970's Bioderma see their outlook and philosophy as unique because they place biology at the heart of dermatology. It's where their name comes from bio for biology and derma which is the scientific word for skin.
By studying healthy skin, Bioderma formulates products to help struggling skin re-claim great skin health. With a team of 1000 employees and large research facilities in France – they sure have the infrastructure and expertise to make skin healthy again.
Bioderma checkout, now what about their ABDderm Babysquam keratoregulating cream for cradle cap? What will first appearances bring you?
Order a tube of Bioderma's ABDderm Babysquam keratoregulating cream and you'll receive an extremely professional looking 40ml nozzle tube housed inside a protective outer box. The ABCderm branding makes it visually clear this cream is for little people and the instructions which we'll speak more about soon – are straightforward and concise.
On unscrewing the tube cap – which is extremely easy, you'll find a fine nozzle applicator allowing for careful and strategic dosing.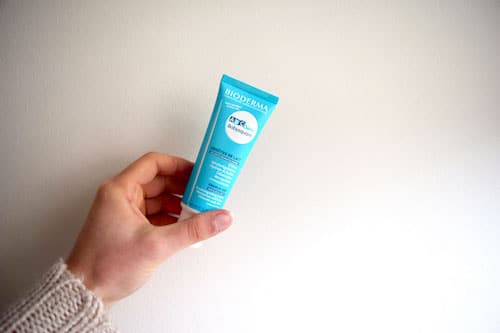 First appearances meet our DD standards, now what about use? How does Bioderma's ABDderm Babysquam cream perform when 'lightly massaged' into skin?
A quick glance at the use instructions give you an easy to follow 2 steps;
Apply to your baby's cradle cap massaging gently
Leave for 30 minutes and wash with a mild shampoo
You will find the ABDderm Babysquam cream exits its 40ml tube looking exactly like a facial cream… and as you'd expect from a facial cream the white to off-white formula is easily absorbed. As a fragrance-free formula what you smell is the ingredients used, it's non-distinct and only sniff-able if you get in close.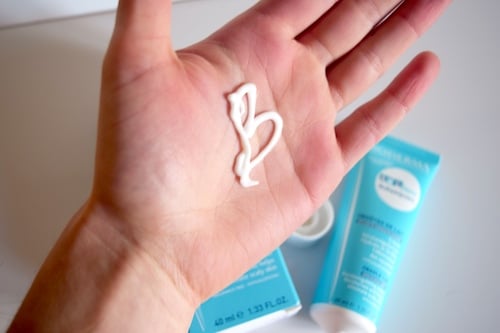 Now the final step – washing with a mild shampoo. Bioderma most likely recommends this not to remove the cream itself but to wash away your baby's cradle cap crust. Once the creams absorbed and put to work, all that's needed is a little washing to help set-free flaky cradle cap crust.
But how does Bioderma's ABDderm Babysquam cream work? Does it work? Can your baby's cradle cap really be resolved with Bioderma's Babysquam cream?
Bioderma's 14 ingredient formula relies on 2 types of ingredient;
Skin barrier normalizing ingredients – ingredients which can help re-establish a healthy skin barrier
Emollients – ingredients which intensively moisturize and soften skin
Note: Bioderma call their cradle cap treatment cream a keratoregulating cream because they use skin barrier normalizing ingredients which are able to regulate away crusty cradle cap by establishing a healthy skin barrier. Keratin is the predominant protein all skin's made from.
In our first camp – Skin barrier normalizing ingredients, we have 2 primary actives;
Galactoarabinan
Di-C12-13 Alkyl Malate
Galactoarabinan might sound like an alien but is in actual fact is an ingredient extracted from the American larch tree.
Used in skincare Galactoarabinan can;
Reduce skin's water loss
Restructure skin's barrier
Work as an anti-inflammatory – useful as inflammation worsens cradle cap
Enhance skin's moisture retention
Provide soothing action
While there aren't many independently published studies supporting Galactoarabinan's efficacy for cradle cap there are many patents which list out Galactoarabinan (aka arabinogalactan) as an effective soothing and skin barrier repairing agent – for example here, here and here.
Di-C12-13 Alkyl Malate is also a lesser known ingredient, however, a sneaky peek at supplier data tells us it's;
Together both Galactoarabinan and Di-C12-13 Alkyl Malate will help soften away your baby's crusty cradle cap with an intensive yet non-greasy condition, soothing action and the bonus of regulating overactive sebum making hair follicles.
An activity partnered by a helping handful of emollients;
Glycerin – a humectant which locks water into skin
Shea butter extract – skin conditioning active
Isoamyl Cocoate – light emollient
Note: Extra benefits – ABDderm Babysquam cream's is preserved with the mildest possible preservatives – most aren't officially recognized as preservatives, this is how mild they are.
While some emollients like almond oil or olive oil feel extremely greasy and sticky, the emollients used in Bioderma's ABDderm Babysquam cream are lightweight, non-greasy and easily absorbing.
Revolutionary.
Skip the Vaseline, skip the almond oil and try Bioderma's ABDderm Babysquam cream.