Dandruff Deconstructed is reader-supported. All reviews are independent and any products reviewed are purchased by the site owner. To help fund this model, some of the links on the site are affiliate links. If you decide to make a purchase from one of these links, this site will receive some commission. At no cost to you. It helps keeps this place running. Learn more
Ingredients

Wash

Scent

Price
Summary
Tired of testing out cradle cap shampoos which just don't budge your babe's crusty dry scalp? Then you need a cradle cap shampoo with active ingredients proven to work. Enter Babe Laboratorios Paediatric Cradle Cap Shampoo a 4 active ingredient formula including 0.5% scalp softening salicylic acid plus a boosting active able to make your 0.5% dose work harder than its quantity would usually dictate. For use 2 to 3 times a week, the gentle shampoo formula cleanses carefully, treats sensitively and works simply.


Some cradle cap shampoos are sensitive skin-friendly but contain zero well-proven active ingredients. Other cradle cap shampoos like Babe Laboratorios Paediatric Cradle Cap Shampoo are sensitive skin-friendly and also contain very helpful doses of proven cradle cap actives. 0.5% salicylic acid, 1% calendula extract, hair conditioners and 4% of something called an undecylenic acid derivative – we'll explain the science behind all 4 soon.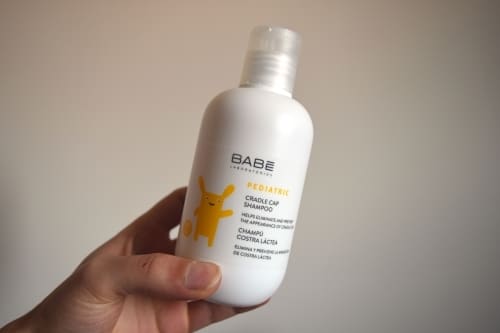 But before we get to what's inside your Babe Laboratorios bottle, it's time to start at the very beginning – with the company who formulate it. Are they credible?
Babe Laboratorios are a relatively young company that have enjoyed quick success. Founded in 1994 by 2 pharmacists their formulas are now available in over 40 countries across the globe. Headquartered in Spain with giant R&D facilities, the Babe Laboratorios teamwork towards making safe simple dermo-cosmetic sunscreen, skincare, haircare, body care and pediatric care products.
Babe Laboratoires checkout, now what about their Paediatric Cradle Cap Shampoo? What can you expect when your bottle arrives through the post?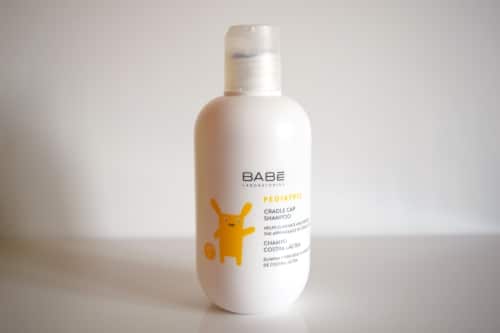 Coming in a sturdy yet compact 200ml white bottle, Babe Laboratorios Paediatric Cradle Cap i
s simply packaged and modestly branded. In fact, you'll find zero cardboard waste here. Instead, your Babe Laboratorios bottle will arrive in a cellophane wrap also with an inner protective seal inside of the childproof flip top cap.
The white soft-touch bottle is easy to use, with its sizing being perfect to dose one-handed – ideal for your baby's bath time.
Simple, usable and unassuming. Next stop: How does the inside formula match up to in wash performance?
With a delicate squeeze exits a clear, slightly viscous liquid that is unscented and free from fragrance – a bonus for your babe's sensitive scalp. As Babe Laboratorios usage directions state – you apply a small amount of formula onto a pre-wetted scalp, leaving for a few minutes before rinsing thoroughly. Rather than bubbling, Babe Laboratorios Paediatric Cradle Cap Shampoo creates a significant yet delicate no-bubble foam – almost cream like in appearance.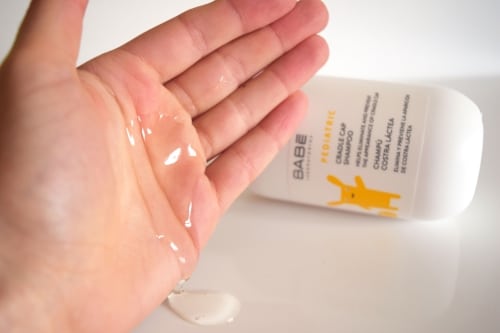 Note: Bubbles are not equal to shampoo performance, they merely help you spread a shampoo formula further.
With easy spreadability and great wash out, your babe's scalp really will feel instantly soothed and softened. The perfect effect for crusty cradle cap skin.
Babe Laboratorios Paediatric Cradle Cap Shampoo is speeding through all of our Dandruff Deconstructed tick boxes, however the most important is still to come – the inside formula.
Does it work?
Will Babe Laboratorios Paediatric Cradle Cap Shampoo effectively treat and resolve your babe's crusty cradle cap? Do the active ingredients work?
As stated on their website, Babe Laboratorios Paediatric Cradle Cap Shampoo relies on a combination of 4 active ingredients;
• Undecylenic Acid Derivative 4%
• Hair Conditioners 2.20%
• Calendula 1%
• Salicylic Acid 0.50%
NOTE: Babe Laboratorios openly share the percent of all active ingredients used in their formulas – which is extremely refreshing and enormously helpful for deciding effectiveness.
The most well-known and proven cradle cap ingredient Babe Laboratorios use in their Paediatric Cradle Cap Shampoo formula is salicylic acid. A keratolytic ingredient which simply means an ingredient that can soften and dissolve away flaky, dry skin. You can think of salicylic acid like a no-scrub exfoliant.
As an active ingredient, salicylic acid also has anti-bacterial benefits, a perfect combination for the treatment of cradle cap – a skin condition thought to be caused and worsened by an overgrowth of a skin yeast called the Malassezia yeast. We often forget that cradle cap is Seborrheic Dermatitis in infants. Simply your baby's scalp is beginning to make more oil which in turn encourages the over-growth of somewhat irritating yeast and bacteria – the result – crusty cradle cap.
Salicylic acid used in doses from 0.5% to 2% is well known to help treat hyperkeratotic disorders of the skin i.e. where skin needs to be exfoliated more quickly.
It also helps antifungal agents to penetrate the skin more easily.
Think of it as an exfoliator, softener and amplifier.
Inside of the Babe Laboratorios Paediatric Cradle Cap Shampoo formula, salicylic acids cradle cap softening benefits are amplified by the addition of 4% undecylenic acid derivative known on the shampoo ingredients label as undecylenamido MEA-sulfosuccinate.
This ingredient not only helps protect skin but can also hold active ingredients close to the skin for longer i.e. once you wash away a small amount persists allowing other active ingredients to be more effective. Supplier studies show this undecylenic acid derivative can boost the effectiveness of a well-known anti-fungal agent called zinc pyrithione. In fact, it can do this so well, the overall amount of anti-dandruff active can be reduced for the same anti-dandruff effect.
Which reading in between the lines means although Babe Laboratorios Paediatric Cradle Cap Shampoo formula contains a low and mild dose of salicylic acid, its benefits are likely greater than its concentration.
The final 2 actives on Babe Laboratorios formula list are hair conditioners which are evident and self-explanatory alongside 1% calendula extract. A helpful cradle cap partner for healing, soothing and protective anti-oxidant benefits.
Babe Laboratorios Paediatric Cradle Cap Shampoo has a host of fantastic ingredients for softening away your baby's cradle cap. But is there anything in the bottle you should be concerned about?
In short – no not really. Which is surprising to say for a treatment shampoo.
You'll find no fragrance, no harsh preservatives, no SLS and no colorants.
The only 1 ingredient of note is sodium laureth sulfate, which is sometimes linked to irritation. However, in Babe Laboratorios Paediatric Cradle Cap Shampoo formula this ingredient is part of a 2 ingredient pre-mix manufactured by a company called Evonik. Trademarked as REWOPOL® SB CS 50 B and found on the ingredients list as Disodium PEG-5 Laurylcitrate Sulfosuccinate (and) Sodium Laureth Sulfate, it is considered an extremely mild cleansing composition specially designed for baby shampoos. While these benefits are described by the ingredient manufacturer, there would be no benefit in white lies.
In addition, the salicylic acid can dry skin out if used too frequently. Unlike some other cradle cap shampoos, Babe Laboratorios have gone for gentle versions of regular seb derm active ingredients. Meaning it will be stronger but requires more care and attention. This is a medicated shampoo.
Overall Babe Laboratorios Paediatric Cradle Cap Shampoo has some great actives for helping soften and remove your baby's crusty, irritating cradle cap.
We highly commend Babe Laboratorios formula.