Dandruff Deconstructed is reader-supported. All reviews are independent and any products reviewed are purchased by the site owner. To help fund this model, some of the links on the site are affiliate links. If you decide to make a purchase from one of these links, this site will receive some commission. At no cost to you. It helps keeps this place running. Learn more
For centuries tea tree oil has been used to treat a wide variety of skin and scalp conditions. It is an immensely popular active ingredient in skin products and is increasingly being used as an ingredient in anti-dandruff shampoos – over 10% of the shampoos we've reviewed contain this ingredient.
In order to understand what this ingredient is and how it works, we spoke to 3 manufacturers of products containing tea tree oil to find out more about this naturally occurring, wildly popular ingredient.
What's in this article:
What Is Tea Tree Oil?
Tea tree oil is an essential oil, meaning it is an oil containing the "essence" of the plant it is extracted from. It is used in many cosmetics due to its medicinal effects and its characteristic smell.
Traditional and alternative medicines have used tea tree products for its reported anti-microbial and anti-inflammatory products. Still, to this day it is used for these properties in shampoos and creams.
The ingredient comes from a small tree native to Australia called 'Melaleuca alternifolia'. The Bundjalung aborigines of northern New South Wales were the first people to have been recorded using the ingredient medicinally [1]. The leaves from the Melaleuca alternifolia tree were traditionally crushed and applied to wounds as an early healing cream. Or they were heated and the vapors inhaled in to treat coughs and colds. They even used an infusion of the leaves to treat sore throats.
Researchers investigating the traditional uses of tea tree oil also heard stories of 'healing lakes'. Into these lakes, leaves from the Melaleuca alternifolia plant fell in and decayed, releasing the tea tree oil into the water, giving health benefits to those who entered the water.
Clearly, the tea tree plant has long been a highly valued plant for its medicinal properties, but what is it that gives the plant its properties?
Tea tree oil is mostly comprised of a group of chemicals called 'terpene hydrocarbons', the most important of which is called 'terpinen-4-ol' [2]. There have been lots of small scale studies to understand the role of tea tree oil in treating certain conditions, with the first research starting back in the early 20th Century.
In the 1920s, Arthur Penfold, a chemist working at the University of New South Wales published his research comparing tea tree oil with other commonly used antimicrobials. He and his team found that it was the terpinen-4-ol that gave the oil its benefits [3].
As Honeydew Product's Hair Care Expert, Nate Masterson told us, "tea tree oil has been used for centuries to treat skin conditions and heal the body. The presence of terpinen-4-ol, which is a compound known to act as an antimicrobial and antifungal substance, means that tea tree oil can be used topically on the skin to prevent infection and promote your body's healing process."
In 1989, the first in-depth study was carried out on tea tree oil [4]. Analyzing over 800 unique samples of the oil, it was found to contain over 100 unique components.
Depending on the sample taken, there can be quite a significant variation in the levels of each component in the oil. This led to the 'International Organisation for Standardisation' to give specified limits for the 14 most common components. This standardization means that the oil should be more or less equivalent wherever it comes from, whether you buy it from North America, Australia or Europe.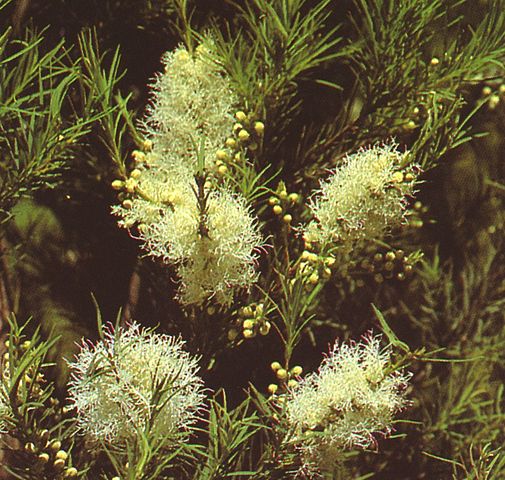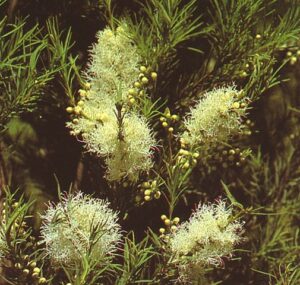 How Effective is Tea Tree Oil?
Tea tree oil has been studied for a range of conditions, including acne, tinea, dandruff, nail infections and oral candidiasis [5]. Laboratory tests have investigated its potential for treating bacterial infections such as Staphylococcus aureus. It has even been studied for infections that are resistant to antibiotics, such as MRSA, although no clinical trials have been done [6].
It's adaptability that makes it such a popular ingredient.
Australian Bodycare told us that they use tea tree oil in their products because, "it effectively heals, cleanses and protects skin and hair. Natural Tea Tree Oil is known for its powerful antibacterial and antifungal properties and has been known to the aboriginals through generations."
Geoff Kerouac, one of the founders of Friendly Soap, echoed these sentiments and uses tea tree oil in their shampoo bars because, "of its antiseptic, antibacterial and anti-fungal properties."
In scalp conditions, which is what we are here for, tea tree oil has a range of potential uses:
Seborrheic Dermatitis
Tea tree oil has been shown to be an effective antifungal treated in a range of laboratory studies. This includes treating Malassezia yeasts, which are thought to be the cause of seborrheic dermatitis.
Nate Masteron explained to us why Honeydew Products use it in their anti-dandruff shampoos, "the antifungal properties present in tea tree oil means that it can fight seborrheic dermatitis from the root cause. Adding a few drops of tea tree oil to your regular shampoo or investing in a natural shampoo that contains tea tree oil as the active ingredient, can alleviate dandruff and nourish the hair."
In a trial from the University of Western Australia studying the effectiveness of various antifungal agents, tea tree oil was shown to be the second most effective treatment. Ketoconazole was the most effective, followed by tea tree oil, then miconazole and econazole [7]. The authors concluded that tea tree oil could be an effective alternative to ketoconazole. However, it is important to note that no human trials have been done to confirm this.
A study in humans was carried out to look at the effects of tea tree oil on people with mild or moderate dandruff. Here, 126 patients were treated with placebo or a 5% tea tree oil shampoo. The tea tree oil shampoo gave a 41% improvement in overall dandruff, compared to just 11% with placebo. There weren't any adverse events reported either from the study, leading the authors of the study to hypothesize that the tea tree oil likely played a role in these benefits. One drawback from this study was that it did not compare other first-line treatments, such as ketoconazole [8].
Scalp Psoriasis
Psoriasis is a chronic inflammatory disease that can affect any part of the skin; in scalp psoriasis, is localized to the scalp. In psoriasis, there is an accumulation of skin cells, leading to scaly, itchy patches. There have not been any trials investigating tea tree oil for this condition. However, in a study where 27 volunteers were injected with histamine to stimulate an inflammatory response, tea tree oil was able to effectively control the inflammatory symptoms compared to paraffin oil. This was a small trial that did not evaluate the role of topical corticosteroids such as hydrocortisone, one of the major treatments for scalp psoriasis [9]. It is therefore hard to say how well tea tree oil compares in this situation.
Dry Scalp
There are many different causes of a dry scalp, such as sensitivities to certain hair products, excessive hair washing or hair dryer use, as well as a range of different medical conditions. The antimicrobial and moisturizing properties of tea tree oil in the typical 5% shampoos make it a useful and effective treatment for managing the symptoms of a dry scalp.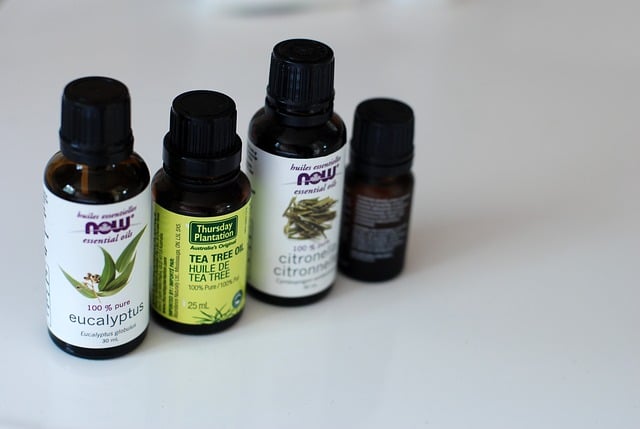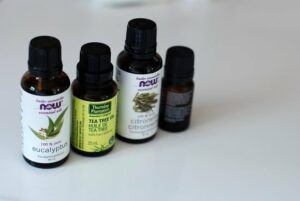 What Are The Risks With Using Tea Tree Oil?
A 2006 review article published in the journal 'Food and Chemical Toxicology' noted that tea tree oil is toxic if swallowed. In 2003, 787 cases of tea tree oil poisoning were reported in the United States. The majority of these cases were due to children drinking concentrated oil. There weren't any reported deaths, although the patients needed immediate medical attention [10].
Most clinical studies did not include patients with previous allergic reactions or skin diseases. This makes it more difficult to evaluate the risks of skin irritation in people with more sensitive skin. Nevertheless, tea tree oil products are generally well tolerated, although the risk of reactions is greater at concentrations above 5% [11]. Higher concentrations are also more likely to irritate the eyes [12]. Those with eczema are more likely to have reactions, although the irritation usually resolves after stopping the product [11].
Importantly, the manufacturing process can affect how likely tea tree oil is to irritate the skin. If the manufacturers do not properly protect it from heat and the air, different components in the oil can oxides and become more likely to be irritant to the skin [12].
Tea tree oil is generally considered a safe and effective treatment at concentrations of up to 5%. While pure tea tree oil is available, this is more likely to irritate the skin and eyes.  That said, tea tree oil should not be used on babies under the age of 6 months old.
References
[1] Hart, P. H., Brand, C., Carson, C. F., Riley, T. V., Prager, R. H., & Finlay-Jones, J. J. (2000). Terpinen-4-ol, the main component of the essential oil of Melaleuca alternifolia (tea tree oil), suppresses inflammatory mediator production by activated human monocytes. Inflammation Research, 49(11), 619-626.
[2] Shemesh, A., & Mayo, W. L. (1991). Australian tea tree oil: a natural antiseptic and fungicidal agent. Aust J Pharm, 72, 802-803.
[3] Penfold, A. R., and R. Grant. (1924). The germicidal values of the pure constituents of Australian essential oils, together with those for some essential oil isolates and synthetics. J. R. Soc. 58:117-123
[4] Brophy, J. J., Davies, N. W., Southwell, I. A., Stiff, I. A., & Williams, L. R. (1989). Gas chromatographic quality control for oil of Melaleuca terpinen-4-ol type (Australian tea tree). Journal of Agricultural and Food Chemistry, 37(5), 1330-1335.
[5] Hammer, K. A., Dry, L., Johnson, M., Michalak, E. M., Carson, C. F., & Riley, T. V. (2003). Susceptibility of oral bacteria to Melaleuca alternifolia (tea tree) oil in vitro. Oral microbiology and immunology, 18(6), 389-392.
[6] Dryden, M. S., Dailly, S., & Crouch, M. (2004). A randomized, controlled trial of tea tree topical preparations versus a standard topical regimen for the clearance of MRSA colonization. Journal of Hospital Infection, 56(4), 283-286.
[7] Hammer, K. A., Carson, C. F., & Riley, T. V. (2000). In vitro activities of ketoconazole, econazole, miconazole, and Melaleuca alternifolia (tea tree) oil against Malassezia species. Antimicrobial agents and chemotherapy, 44(2), 467-469.
[8] Satchell, A. C., Saurajen, A., Bell, C., & Barnetson, R. S. (2002). Treatment of dandruff with 5% tea tree oil shampoo. Journal of the American Academy of Dermatology, 47(6), 852-855.
[9] Koh, K. J., Pearce, A. L., Marshman, G., Finlay‐Jones, J. J., & Hart, P. H. (2002). Tea tree oil reduces histamine‐induced skin inflammation. British Journal of Dermatology, 147(6), 1212-1217.
[10] Hammer, K. A., Carson, C. F., Riley, T. V., & Nielsen, J. B. (2006). A review of the toxicity of Melaleuca alternifolia (tea tree) oil. Food and chemical toxicology, 44(5), 616-625.
[11] Carson, C. F., Riley, T. V., & Cookson, B. D. (1998). Efficacy and safety of tea tree oil as a topical antimicrobial agent. Journal of Hospital Infection, 40(3), 175-178.
[12] Scientific Committee on Consumer Products. (2008). Opinion on tea tree oil. [Accessed: 20/2/17] www.europa.eu