Tea tree oil is an immensely popular active ingredient in dandruff shampoos.
It's been used for centuries to treat many skin and scalp problems.
We've reviewed a number of tea tree shampoos over the years. As ever, it's safe to say that the quality varies wildly. Some shampoos will strip paint while others are gentle enough to use daily…
Before we look at our favorite tea tree shampoos, in true dandruff deconstructed style, we'll look at what tea tree oil is, how it works, the risks of using it and what it's designed to treat. Allowing you to make your own educated decision if this is the active ingredient for you.
What's in this article:
What Is Tea Tree Oil?
Tea tree oil is an essential oil that can be found in a wide variety of cosmetics. These products are typically formulated as shampoos or creams and are thought to improve the symptoms of various skin conditions. The oil has a long history of use in traditional and alternative medicine, with reports of antimicrobial and anti-inflammatory effects.
Tea tree oil is mostly comprised of 'terpene hydrocarbons', with most of the medicinal effects attributed to 'terpinen-4-ol' [1]. Over the past decade, many small-scale studies have evaluated the role of tea tree oil in different conditions, and tried to determine the exact mechanisms underpinning its activity.
Tea tree oil is derived from the small, narrow-leaved tree 'Melaleuca alternifolia'. The tree is native to Australia with the first medicinal use recorded over 100 years ago, with the Bundjalung aborigines of northern New South Wales [2]. The Bundjalung people crushed the leaves and applied them to wounds and skin ailments, or inhaled the volatile fumes to treat coughs and colds. There is also evidence that a tea tree oil infusion was made to improve the symptoms of sore throats.
Researchers evaluating the traditional uses of tea tree oil have discussed a powerful oral history passed on by generations, telling of 'healing lakes' in which Melaleuca alternifolia have fallen and decayed. The use of tea tree oil was not widely adopted in Australia until the 1920s when N. Penfold a chemist working at the University of New South Wales published evidence comparing the effects to other commonly used antimicrobials [3].
In 1989, continuing a strong tradition, chemists at the University of New South Wales conducted the first in-depth analysis of tea tree oil [4]. The study analyzed over 800 unique samples and found that the oil contained over 100 unique components. There can be significant variation between samples, and so the 'International Organisation for Standardisation' set limits for the 14 most common components. This means that if you buy tea tree oil in North America or Europe, the composition should be roughly equivalent.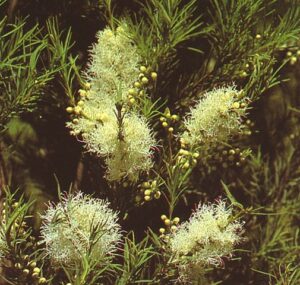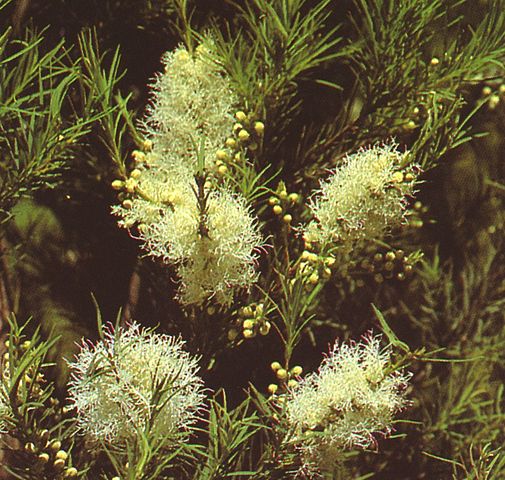 How Effective is Tea Tree Oil?
The role of tea tree oil has been evaluated in various conditions, including acne, tinea, dandruff, nail infections, and oral candidiasis [5]. The oil has also been the subject of laboratory studies in resistance bacteria, such as MRSA and Staphylococcus aureus, although no clinical trials have been conducted [6]. In scalp conditions, tea tree oil has a range of potential uses:
Seborrheic Dermatitis
Several laboratory studies have shown that tea tree oil is an effective antifungal against Malassezia yeasts – thought to be responsible for the symptoms of seborrheic dermatitis.
A study published in 2000 by researchers at The University of Western Australia compared the activity of different antifungal agents on Malassezia yeasts [7]. The study found that ketoconazole was the most effective, followed by tea tree oil, with miconazole and econazole generally less effective – although susceptibility varied depending on the yeast. The authors concluded that tea tree oil may be a suitable alternative to ketoconazole, but no human trials have been conducted to date.
Another study published in 2002 assigned 126 participants with mild or moderate dandruff to two treatment groups: 5% tea tree oil shampoo or placebo [8]. The tea tree oil group showed a statistically significant overall improvement of 41%, compared to 11% for placebo, without adverse effects. The study hypothesized that the antifungal effects of tea tree oil likely played a role, but notably the study didn't compare the effects to other first-line treatments (e.g. ketoconazole).
Scalp Psoriasis
Scalp psoriasis is a chronic inflammatory condition, caused by the accumulation of inflammatory cells. No trials have evaluated the role of tea tree oil in the condition, but one 2002 study injected 27 volunteers with histamine to imitate an inflammatory response [9]. The study found that tea tree oil effectively improved symptoms compared to paraffin oil. The small trial did not evaluate the role of topical corticosteroids (e.g. hydrocortisone) – one of the first-line treatment for scalp psoriasis.
Dry Scalp
A dry, itchy scalp can be caused by sensitivities to hair products, excessive hair washing, hair dryer use, low humidity and a variety of medical conditions affecting the skin such as allergies and infections. It is often accompanied by scalp irritation, itching and redness.
Because it has antimicrobial and moisturizing properties, and it helps alleviate itching sensations, the typical five-percent concentration of tea tree oil in shampoo products can be beneficial in managing dry scalp.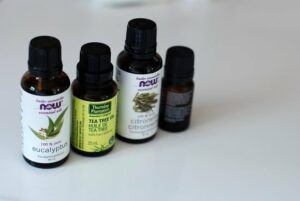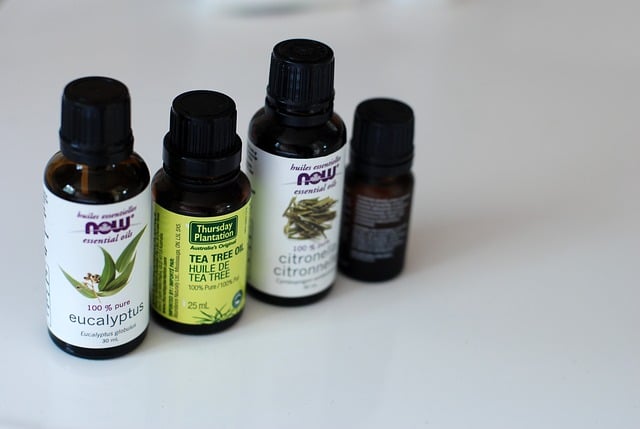 What Are The Risks With Using Tea Tree Oil?
A 2006 review article published in 'Food and Chemical Toxicology', looked the available evidence for the safety of tea tree oil [10]. It noted that tea tree oil was toxic if swallowed, with 787 reported cases of tea tree oil poisoning identified in the United Stated in 2003. Most of these cases were children drinking the concentrated oil, with no deaths reported – although immediate medical intervention was necessary.
It's difficult to evaluate the risk of skin irritation after tea tree oil application because most clinical studies exclude participants with previous allergic reactions or skin diseases. Studies that have been conducted note that tea tree oil-containing cosmetics are generally well tolerated, with more reactions at concentrations above 5%. Certain individuals are more likely to experience adverse reactions – for example, those with eczema – but the irritation typically resolves on withdrawal of the product [11].
A 2008 review by the European Commission 'Scientific Committee on Consumer Products', noted that manufacturers must protect tea tree oil products from the air and heat [12]. Once the components oxidize, they are more likely to irritate the skin. The review also noted that at concentrations above 5%, tea tree oil is more likely to induce skin and eye irritation.
Essentially, tea tree oil in topical solutions such as shampoos is considered safe and effective in concentrations of up to 5%. However, pure tea tree essential oil and hair products containing tea tree oil may cause skin and eye irritation.
It should not be used on babies under the age of 6 months old
References
[1] Hart, P. H., Brand, C., Carson, C. F., Riley, T. V., Prager, R. H., & Finlay-Jones, J. J. (2000). Terpinen-4-ol, the main component of the essential oil of Melaleuca alternifolia (tea tree oil), suppresses inflammatory mediator production by activated human monocytes. Inflammation Research, 49(11), 619-626.
[2] Shemesh, A., & Mayo, W. L. (1991). Australian tea tree oil: a natural antiseptic and fungicidal agent. Aust J Pharm, 72, 802-803.
[3] Penfold, A. R., and R. Grant. (1924). The germicidal values of the pure constituents of Australian essential oils, together with those for some essential oil isolates and synthetics. J. R. Soc. 58:117-123
[4] Brophy, J. J., Davies, N. W., Southwell, I. A., Stiff, I. A., & Williams, L. R. (1989). Gas chromatographic quality control for oil of Melaleuca terpinen-4-ol type (Australian tea tree). Journal of Agricultural and Food Chemistry, 37(5), 1330-1335.
[5] Hammer, K. A., Dry, L., Johnson, M., Michalak, E. M., Carson, C. F., & Riley, T. V. (2003). Susceptibility of oral bacteria to Melaleuca alternifolia (tea tree) oil in vitro. Oral microbiology and immunology, 18(6), 389-392.
[6] Dryden, M. S., Dailly, S., & Crouch, M. (2004). A randomized, controlled trial of tea tree topical preparations versus a standard topical regimen for the clearance of MRSA colonization. Journal of Hospital Infection, 56(4), 283-286.
[7] Hammer, K. A., Carson, C. F., & Riley, T. V. (2000). In vitro activities of ketoconazole, econazole, miconazole, and Melaleuca alternifolia (tea tree) oil against Malassezia species. Antimicrobial agents and chemotherapy, 44(2), 467-469.
[8] Satchell, A. C., Saurajen, A., Bell, C., & Barnetson, R. S. (2002). Treatment of dandruff with 5% tea tree oil shampoo. Journal of the American Academy of Dermatology, 47(6), 852-855.
[9] Koh, K. J., Pearce, A. L., Marshman, G., Finlay‐Jones, J. J., & Hart, P. H. (2002). Tea tree oil reduces histamine‐induced skin inflammation. British Journal of Dermatology, 147(6), 1212-1217.
[10] Hammer, K. A., Carson, C. F., Riley, T. V., & Nielsen, J. B. (2006). A review of the toxicity of Melaleuca alternifolia (tea tree) oil. Food and chemical toxicology, 44(5), 616-625.
[11] Carson, C. F., Riley, T. V., & Cookson, B. D. (1998). Efficacy and safety of tea tree oil as a topical antimicrobial agent. Journal of Hospital Infection, 40(3), 175-178.
[12] Scientific Committee on Consumer Products. (2008). Opinion on tea tree oil. [Accessed: 20/2/17] www.europa.eu