Dandruff Deconstructed is reader-supported. All reviews are independent and any products reviewed are purchased by the site owner. To help fund this model, some of the links on the site are affiliate links. If you decide to make a purchase from one of these links, this site will receive some commission. At no cost to you. It helps keeps this place running. Learn more
Getting rid of dandruff is, for many of us, a lifetime's vocation.  There is currently no cure for dandruff caused by either scalp psoriasis and seborrheic dermatitis.  Even dry skin is likely to recur if you are susceptible to it.
But the news isn't all bleak. It's relatively straightforward to control dandruff once you know the root cause.
If like me, you suffer from dandruff you're likely to have been in a situation where you need to control a breakout. Quickly. You know the times… You have a date, an interview, whatever. You just need to your dandruff under control as fast as possible. In some cases – immediately.
You know how that makes you feel, right?  Embarrassed. Nervous. Helpless.
What should you do?
Well over the course of a lifetime, I've managed to compile a number of simple and easy techniques to get rid of, or indeed hide my dandruff. I say hide because that's all you need sometimes. If you hide your dandruff from who you want to hide it from, then to that person you're dandruff free. Over the years I've often found myself turning to the fashion rather than the medical industry in an effort to control my dandruff.
You'll be amazed at the number of techniques…
How to hide or get rid of dandruff quickly
1. Wear light-colored clothing
Probably my favorite technique if I'm suffering a breakout.  If you think about it, you rarely (if ever) notice dandruff on someone's scalp.  You notice it in their hair and on their clothing.  Wearing light-colored clothing will help hide your dandruff.
2. Wear a hat, cap or scarf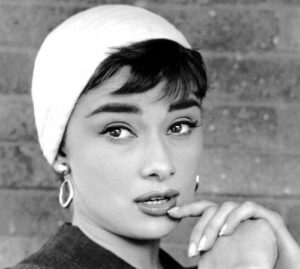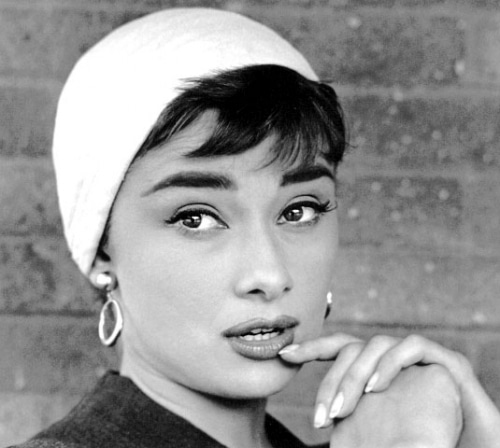 I wish I looked good in hats.  It doesn't matter whether it's a trilby, a bowler or a baseball cap.  I look terrible.  I've yet to try a scarf but I doubt I could pull it off as well as these ladies.  Check out the Glamorous Housewife if you want to know how to wear one with vintage panache.
3. Wear a wig
It's not for everyone but if you can pull it off, wearing a wig is probably the ultimate quick fix for dandruff.  It's also more fashionable now than in decades.  See for yourself how good and natural a wig can look.
4. Use a good hairbrush
Brushing is good for your dandruff in more ways than one.  For one, regular brushing will help evenly distribute your sebum and hair oils.  Brushing will also help clean your hair and scalp by picking up pieces of buildup, skin or dirt from the hair.
There are two types of brush I'd recommend.  If you have long hair then a boar bristle brush is ideal.  Remember though, if you have thick hair try to buy one with large spacings between the bristles.
On the other hand, if you have short hair I'd go for a nylon ball tipped smaller plastic brush.
Or even better…
5. Use a scalp brush
While a boar bristle brush helps clean your hair while evenly distributing the oils on your hair, a scalp brush does likewise with your scalp.  As well as helping distribute your sebum, a scalp brush will invigorate your scalp by removing flakes, build up and dirt.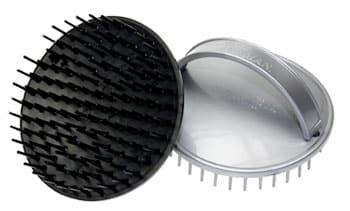 And it feels oh so good!
6. Restyle your hair
Or better still, cut your hair short!  There's less hair for your dandruff to cling on to.  If you don't fancy getting the shaver out, style your hair so there's no parting.  Pull it back, brush it forward or plait it.
Just hide your scalp.
7. Moisturize your scalp
i. Shea Butter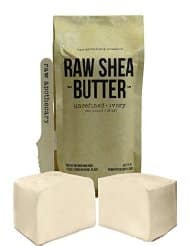 Popular in both Africa and Asia, shea butter has been used for centuries as a natural moisturizer and medicine.  Raw shea butter is essentially fat extracted from the shea nut, a species native to Africa.  The American Sea Butter institute have a grading system for this fat where A is considered totally unrefined and is the premium product.  If you suffer from a dry scalp there are few better moisturizers.  It's far from perfect though…
The butter is high in oleic acid.   This is unfortunate for Seborrheic Dermatitis  sufferers.  An excess of oleic acid on the scalp can trigger an outbreak.
If you do suffer from seb derm then I would look to other moisturizers instead.
ii. Hair mask
One incredibly interesting approach to conditioning your scalp is to use a mask.  Hello Hair have created a mask specifically designed to help combat dry scalp.  Composed of a number of oils, this hair mask is left on for 30 mins or more and is said to, assist in the management of dandruff and dry, flaky scalp issues.
Look out for a review in the coming weeks.
iii. Medicated scalp moisturizer
Eucerin Urea Scalp Treatment is a leave-on treatment for dry scalps.  This urea based treatment is applied by adding a few droplets to the scalp.  The immediate sensation is relief followed by a moisturized scalp.
I love this stuff.
Expect a review in the coming weeks.
8. Use a dandruff shampoo
Not the quickest of fixes, you van expect to be largely dandruff free in a month if you use the right shampoo
Margaret Weeds, Odylique plant expert and formulator had this to say about a good dandruff control regime.
1 Choose a gentle, non-sulphate shampoo.  Strong detergents are known to cause an irritated, flaky scalp allowing easier entry for microbes and other chemical irritants, perpetuating the cycle. A shampoo that carries a natural or organic certification will guarantee freedom from common irritants and may have the added benefits of soothing and healing plant ingredients such as aloe vera, chamomile and antifungal tea tree.

2 Avoid washing hair every day. A gentle low foaming shampoo will clean well and help balance sebum production without stimulating an over-dry scalp to flake more or an oily one to produce excess oil.  Aim to extend shampooing to every 3-4 days refreshing in between with a dandruff-busting herbal rinse.

3 Apply an intensive overnight treatment to kick-start the relief of a dry, flaky, irritated scalp. Brush out any loose flakes with a non-metallic brush, then sparingly apply a rich herbal balm, (those containing calendula or sea buckthorn are ideal) directly onto the scalp using fingertips. Cover head with a shower cap or protect pillow and in the morning shampoo once or twice as necessary to remove excess and follow with a balancing rinse. Repeat weekly until condition improves.

Balancing herbal rinse: To about a pint of warm water add 1tsp cider vinegar (or 1/2tsp lemon juice) and a total of 2-3 drops of essential oil  – soothing lavender for a dry irritated scalp, antimicrobial tea tree for an oily scalp or yeast infection or a combination of the two. Use after shampooing or between shampoos.

Margaret Weeds, Odylique plant expert and formulator
9. Treat your dandruff naturally
There are a number of natural treatments for dandruff.  Don't write these off either; natural remedies have been in use for centuries.  It could be argued that scalp and skin sensitivity issues are on the rise and nobody can tell me that the sheer quantity of untested chemicals we use in our personal care products hasn't contributed.
10.  Not washing at all
The extreme solution.  Not one I've tried admittedly.  But this is a growing movement of people who have stopped washing completely.  Many of which claim it cured their dandruff problem within a month.
11. Cut down your hair product usage
If you use too many products you will eventually suffer from product build up.  A good clarifying shampoo can occasionally be your friend but you're better off cutting down product use altogether for a more sustainable approach to managing your build up.
13. Use a blow dryer
With a comb loosen up any flaky patches on the scalp. With a brush and a blow dryer, on high setting,  blow the flakes out of the hair starting at the base, blowing out to the tips. The heat will activate oils and give a healthy shine and volume also. After you've blown all the visible flakes out, style as usual!

Syndee Nealy Master Hair Stylist at Recklysss Beauty Hair & Makeup Studio
14. Get out in the sun more
UV light from both natural and artificial sources helps to control the yeast that causes seborrheic dermatitis.  UV light is also considered the original psoriasis treatment.
Speak to your doctor or dermatologist about phototherapy treatment if it's a treatment you wish to pursue.
On the other hand, many UV Combs and lamps are appearing on the market.  UVB treatment, in particular, can help both dermatitis and psoriasis.
i. Vitamin D
Another advantage of using natural sources is the other benefits you get from sunlight; vitamin D in particular.  If you live in an area with little sunlight (yoohoo Britain!!) then top up on the Vitamin D supplements.
15. Visit your dermatologist
Last and by no means least, if you are suffering from chronic or persistent dandruff then please talk about it with your doctor or dermatologist.  These guys have access to prescription treatments that are more powerful than we buy OTC.
These people are the experts.