Review :: Body Shop Ginger Anti-Danduff Shampoo
Ingredients

Wash

Scent

Price
Summary
This shampoo does perform. If you suffer from Seb Derm then it will likely help control your condition. If you're vegetarian or against animal testing and suffer from dandruff then this is an ideal choice. Unfortunately it does contain some harsh fragrances which really soured the experience for us at DD towers. Such a needless addition have made this shampoo unusable for so many.

The Body Shop is a success story I'm sure you're all aware of. The late Anita Roddick opened a shop in 1976 selling products that contained only natural ingredients. It was a concept that resonated with the public as, by 1984, they were a publically listed global brand with stores in 19 countries. L'Oreal bought the business in 2006 and The Body Shop there are now over 2500 stores in 60 countries. Their products are still animal cruelty free and vegetarian but a quick scan of the ewg shows their Vitamin E Moisture Serum scores an eye-watering 8 out of 10 hazard rating containing parabens, fragrances, caustic soda and a whole host of other allergens. Times have changed…
The Body Shop are still to be commended for the transparency of the ingredients in their products.  Indeed, this remains a core value of the business confirmed by a quick browse to any of the product pages on their website.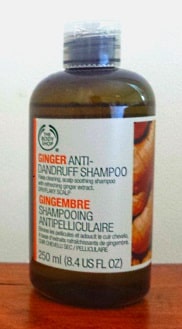 The shampoo is quite a runny, clear liquid with a faint scent of ginger.  For some reason I expected ginger to be the overwhelming scent here but it clearly isn't.  The foam was decent and I didn't need to use too much. I say decent, it did feel a bit like a health shop shampoo, but a good one.
The active ingredient is Piroctone Olamine which is an excellent anti-fungal agent for seborrheic dermatitis sufferers. The shampoo also contains sodium salicylate – another anti-fungal agent that also acts as a preservative. Clever! Most importantly, Body Shop Ginger Anti-Dandruff Shampoo did control my dandruff.  Very well I might add. What was more impressive was the condition of my hair two and three days after washing. It was noticeably softer than normal and had a real bounce to it. I was more than impressed. The addition of Panthenol to the shampoo would certainly have contributed towards this. Panthenol makes for an excellent conditioner and I only wish more shampoos would use it.
Which leads me to the other ingredients.  The list below shows that the Body Shop remain admirably transparent about the ingredients.  What's more impressive is they actually articulate why they have added these ingredients!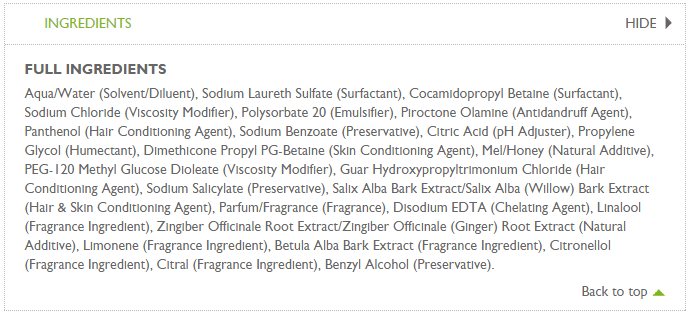 Source : http://www.thebodyshop.co.uk/bath-body-care/haircare/ginger-anti-dandruff-shampoo.aspx
What perhaps they aren't so transparent about is why they listed some of the ingredients.  For example, Limonene, Citral and Citronellol are all fragrances that The Body Shop are obliged to list by EU law and are all known contact allergens. Citronellol is particularly harsh and I am amazed they've added it to one of their shampoos. The shampoo also contains a type of alcohol that can dry your hair and scalp and well as irritate. In addition the company have added Cocomidopropyl Betaine which is an allergen that seems almost ubiquitous in shampoos these days.
For a shampoo that performs so well and for a company of The Body Shops repute, it seems such a shame that they've added so many needless contact allergens in there. The ingredients don't enhance the performance of the shampoo in any way, and rather make it smell nice or last longer. There are other better alternatives out there these days. Cost is the most likely reason why they haven't pursued other avenues. The lack of awareness in the general public as to what the ingredients actually do is another. Manufacturers typically add this stuff because it's cheap to do so and few people pay attention.  People, rightly or wrongly, typically trust brands.  In this case, The Body Shop haven't fully repaid that trust in my opinion.