Dandruff Deconstructed is reader-supported. All reviews are independent and any products reviewed are purchased by the site owner. To help fund this model, some of the links on the site are affiliate links. If you decide to make a purchase from one of these links, this site will receive some commission. At no cost to you. It helps keeps this place running. Learn more
Ingredients

Wash

Scent

Price
Summary
Kérastase's bain anti-pelliculaire has 2 great actives (Zinc pyrithione and Salicylic acid) helping to treat existing dandruff flakes and prevent the Malassezia yeast from forming more.
The formula is easy to use un-arguably leaving hair with the salon-finish Kérastase is known for, however the accompanying ingredients reveal a not so carefully chosen cleansing system, partnered with several known allergens.
A+ for salon quality wash.  C- for ingredients.
Must try harder!

The Kérastase bain anti-pelliculaire or, in plain English, anti-dandruff shampoo uses a dual action system of two active ingredients; the anti-fungal zinc pyrithione and dry skin softening salicylic acid. A shampoo that promises to treat seborrheic dermatitis for those with both oily or dry hair. And promises to do so without the use of silicones – ingredients that promote a smooth finish because they deposit themselves on the surface of your hair.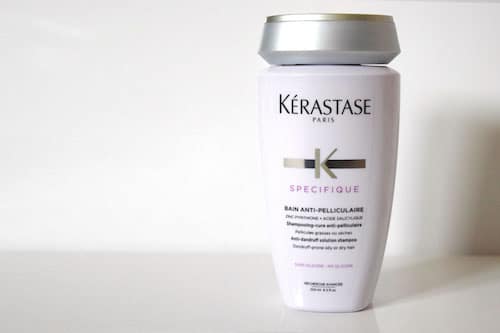 Not bad promises for an anti-dandruff shampoo, so exactly who are Kérastase and should you entrust them with your anti-dandruff needs?
Kérastase is a French founded haircare brand owned by L'Oréal. They're a brand you won't see at your local chemist and that's because all Kérastase products are targeted as salon professional treatments. Which leads nicely into their tagline – Very Personal Care for Exceptional Hair. A company who by self-declaration are 'dedicated to hair beauty & well-being'. L'Oréal are a consumer product giant, so you'd expect their anti-dandruff range to have significant research and investment behind it.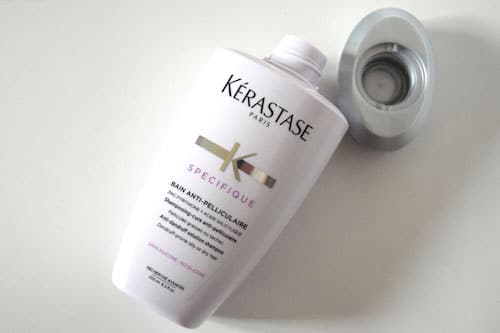 Before we dive into the depths of Kérastase's anti-dandruff ingredients list, let's begin with first appearances.
As the bottle arrives, first impressions are sturdy. The 250ml anti-dandruff shampoo comes in a reassuringly weighty bottle. The chunky lid swivels off and there's a neat pull off tab ensuring the contents of the bottle are fresh with the guarantee of no leakage before use. Unlike most shampoos the lid is not attached by flip-cap to the bottle, it makes things a little more fussy, but nothing that can't be handled by balancing the lid on top of your shower tap controls.The in wash use is great. The
The in wash use is great. The bain anti-pelliculaire, anti-dandruff shampoo comes out the consistency of a mighty conditioner and its scent is subtle yet florally reassuring – a double-edged sword we'll be discussing very soon! A regular dose of the Kérastase bain anti-pelliculaire shampoo, spreads very well, it's truly an ease to work up a lather, a fact that no doubt contributes to its great wash out performance. The formula is nourishing enough that short and long hair types alike could easily use this anti-dandruff shampoo without a follow-up conditioner.That's the look and feel sorted, now onto the best bit – the ingredients.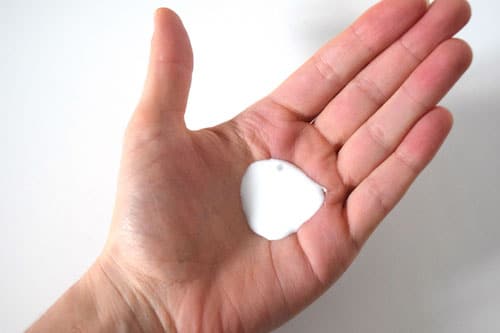 That's the look and feel sorted, now onto the best bit – the ingredients.
Kérastase bain anti-pelliculaire ingredients list is elusive, you pretty much have to purchase the product (unless you're reading this review!) to view it.
The anti-dandruff system works with 2 active ingredients;
1. Zinc pyrithione – an anti-fungal active known to target the Malassezia yeast overgrowth present in conditions of dandruff.
2. Salicylic acid – an anti-bacterial, keratolytic, helping to soften dead skin cell build-up and therefore avoiding the formation of dry flakes.
With these 2 active ingredients, the Kérastase bain anti-pelliculaire formula looks set to tackle both the cause and effects of dandruff. Salicylic acid will get to work immediately to soften dandruff flakes and zinc pyrithione will gradually diminish your populations of Malassezia yeast perturbing your dandruff in the long-term. Although you wash out the carrier formula, significant quantities of the active ingredients will remain in contact with your scalp. With over 50 years use in the treatment of dandruff, zinc pyrithione can surly lay claim to gold-star status. Studies show in part, its advanced efficacy is due to the creation of an anti-fungal reservoir on your chosen treatment area. The low solubility of zinc pyrithione ensures gradual release and therefore long-lasting treatment.
Overall a great combination of active ingredients. But active ingredients are not a tell-all, the accompanying helpers are just as important.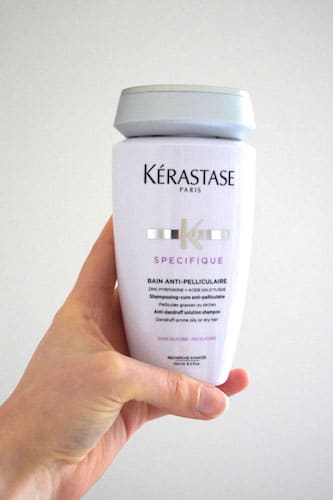 Let's take a look at some worthy of mention…
1. Sodium laureth sulfate (SLES), Sodium lauryl sulfate (SLS)
These are surfactant ingredients, they're responsible for the foaming and cleansing ability of the Kérastase bain anti-pelliculaire, anti-dandruff shampoo. They're very effective. Too effective and highly irritating.
2. Fumaric acid (and guar hydroxypropyltrimonium chloride)
At first look, we were intrigued by a possible 3rd active in the Kérastase bain anti-pelliculaire formula. Fumaric acid is an anti-microbial with immune cell regulating properties. Derivatives of the ingredient are used in the treatment of psoriasis. Very interesting. However, on closer inspection and a trawl of ingredient supplier databases tells that Fumaric acid is included in the formula as a consequence of another ingredient – guar hydroxypropyltrimonium chloride. This ingredient is a highly conditioning, viscosity builder. It's responsible for this anti-dandruff shampoo looking and feeling like a conditioner. This ingredient adheres well to skin and hair to create a highly conditioned end result (the reason this shampoo doesn't need silicones to create silky hair!). This ingredient is only available in mixture with fumaric acid (it's like buying baking powder that's already a pre-made mixture of baking soda and an acid based raising agent). A dive into the ingredient data sheet tells us it's included at less than 2.5%, meaning if this shampoo uses the recommended use level of 1-1.5% guar hydroxypropyltrimonium chloride, they'll be less than 0.037% fumaric acid in the formula. It looked interesting but turns out this ingredient is a consequence of the conditioning effect.
3. Linalool
Linalool is one of the 26 EU listed contact allergens. It's included in the formula as a consequence of the fragrance (our double edged floral sword) and listed separately because by law it has to be. Allergens are best avoided if you have dandruff or suffer from dry scalp and seb derm. It's a shame the Kérastase bain anti-pelliculaire formula contains this.
3. Methylisothiazolinone
A preservative winning contact 2013's allergen of the year award from American Contact Dermatitis Society. Again, an ingredient you'd like to avoid when having an irritated scalp condition.
The helping ingredients in Kérastase's bain anti-pelliculaire formula turn out to be not so helpful. Great for in-use ease, poor for irritated scalp care.
If you have a sensitive scalp and are looking for a zinc pyrithione/salicylic acid combination shampoo, Dead Sea Spa is still the gentlest formulation we've reviewed. However, it doesn't quite offer the salon quality wash this shampoo offers.
First Class MChem in Chemistry
A master of chemistry, a product formulation expert and a regular reviewer on this site. Megan wishes to remain partially anonymous so she can be candid about her employer's and competitor products.