Dandruff Deconstructed is reader-supported. All reviews are independent and any products reviewed are purchased by the site owner. To help fund this model, some of the links on the site are affiliate links. If you decide to make a purchase from one of these links, this site will receive some commission. At no cost to you. It helps keeps this place running. Learn more
Ingredients

Wash

Scent

Price
Summary
The L'Oreal Elvive PhytoClear Anti-Dandruff Shampoo has a very effective combination of keratolytic salicylic acid and anti-fungal, malassezia treating piroctone olamine. Where the actives give, the accompanying formulation takes away. A host of allergens, irritants and sensitizers. It's pretty on the pennies but a pain for sensitive scalps.


In a questionably fetching dark green bottle L'Oreal's Phytoclear anti-dandruff soothing shampoo relies on 2 well-researched anti-dandruff actives – salicylic acid and piroctone olamine… and one other not so well researched anti-dandruff active – tea tree oil.
It's essentially a multi-active ingredient approach in a bumper 500ml bottle with an extremely purse-friendly price tag.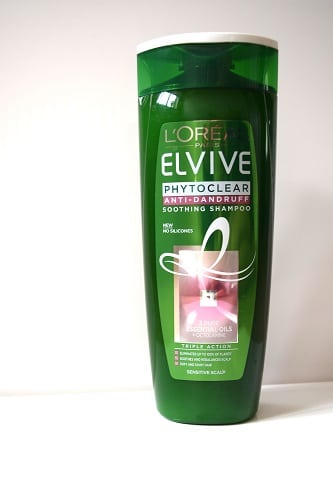 Can you really have your cake and eat it? Will L'Oreal's Phytoclear anti-dandruff shampoo banish dandruff effectively? Let's start at the beginning…
L'Oreal are a cosmetics company – they make body lotions, mascaras, nail varnish, perfume and shampoos. They are the largest cosmetics company in existence – they own La Roche-Posay, Vichy, The Body Shop, Kiehl's and more. Their aim in all endeavors is to 'provide the best in cosmetics innovation to everyone around the world'. Although L'Oreal does not specialize in the treatment of the scalp, they absolutely invest well in their research and development facilities. In 2015 investment stood at €794M – a figure which by now, is sure to have risen.
L'Oreal certainly has the means to make their Phytoclear anti-dandruff shampoo a revelation – can it match up?
The sturdy 500ml bottle is exactly what you'd expect if you've ever previously used a L'Oreal Elvive shampoo or conditioner. If it's not broken, why fix it? The shampoo is easy to open, easy to dispense and with a flip-top cap – easy to reseal.
You won't be dropping this shampoo lid anytime soon.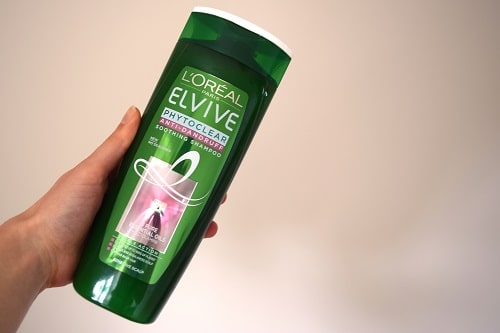 The bottle gives an effortlessly controllable dose and the anti-dandruff shampoo presents itself as a pale blue liquid with a pearlized consistency sitting firmly in-between shampoo and conditioner. With an on-pack promise of '3 pure essential oils', you can take a bet on a refreshing in-shower scent. A sharp yet sweet smell evolved around the use of tea tree oil. An awakening scent, that is potentially not so great for dandruff-prone scalps – more about this soon.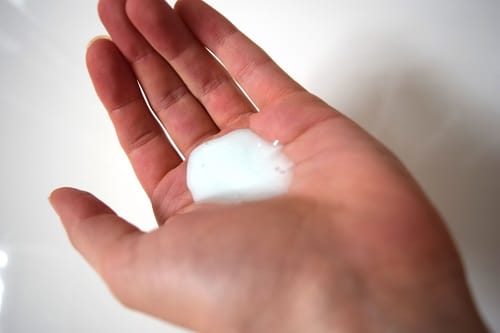 Now we've opened it, next is using…
The L'Oreal Elvive, PhytoClear anti-dandruff soothing shampoo lathers and rinses to match the performance of any of their other L'Oreal Elvive products. It lathers supremely, spreads well and washes out with ease. You couldn't ask for more.
So, what about what's in the bottle? What about the active (and un-active) ingredients?
Supporting the Phytoclear anti-dandruff promise we have 2.5 active ingredients, which are in order of quantity as per the ingredients list;
Salicylic acid – a dead skin softener (keratolytic) with anti-microbial properties
Tea tree leaf oil – an essential oil with noted anti-bacterial and antifungal properties
Piroctone Olamine – a sensitive anti-fungal active replacing the commonly used zinc pyrithione
After looking at the label, the above list might leave you confused. Claimed on the pack as an octolamine treatment, the named active is a fancy marketing slogan most probably derived from 'piroctone olamine'.
Now we have the 'science but not science' marketing terms covered, on to the real-life active ingredients…
Salicylic acid is an acid, but not one you should be scared of. Although acid brings to mind sensations of pain, salicylic acid, in fact, has a pH very similar to skin, which itself is also slightly acidic. Salicylic acid is a very effective keratolytic meaning it will soften and dissolve visible and dry patches of dandruff. It will also go on to prevent the formation of more, softening the skin in such a way that it can no longer leave you with snowy shoulders.
Studies have shown that a 4 week treatment with an anti-dandruff shampoo containing 2% salicylic acid alongside 0.75% piroctone olamine is even more effective than the traditional go-to of 1% zinc pyrithione. Judging the order of ingredients on the Phytoclear anti-dandruff shampoo label, quantities look like a promising match.
Second in line we have tea tree leaf oil. Tea tree oil is a naturally occurring ingredient renowned for its anti-septic properties. This makes it of potential use when treating dandruff due to the overgrowth of malassezia yeast. When populations of malassezia yeast fall, dandruff recedes.  Tea tree oil is an anti-dandruff ingredient giving with one hand and taking away with the other – more about this soon.
Finally, to top (or bottom) our list of anti-dandruff actives, we have piroctone olamine – a next-generation anti-fungal treatment looking set to phase out the traditionally used zinc pyrithione. Its combination here with salicylic acid tackles and reduce populations of malassezia yeast with dual action; piroctone olamine reduces existing populations of lipophilic malassezia yeast and salicylic acid dissolves away scalp flakes that help bread future populations of malassezia yeast.
A fabulous combination with a questionable addition of tea tree oil. But why? Why may tea tree oil be a questionable anti-dandruff active?
When you have dandruff, seb derm or psoriasis you have a sensitive scalp. Your dandruff, seb derm or psoriasis may also be active because you inherently have a sensitive scalp i.e. your dandruff flakes are caused by contact allergy – an allergic reaction which occurs when your scalp or skin comes into contact with allergens.
Tea tree oil, along with the advertised Phytoclear '3 essential oil blend' comes with a significant list of allergens;
Limonene
Menthol
Linalool
Geraniol
Citronellol
Hexyl Cinnamal
Each of the above-listed ingredients is not added to this anti-dandruff shampoo separately but included as a consequence of the 3-essential oil blend.
Essential oils are well-known allergen sources – ingredients that have a very small molecular weight and are therefore able to effectively and deeply penetrate the skin, where they often cause inflammation and irritation. Allergens are best avoided when treating serious cases of dandruff, seb derm or psoriasis.
The list of questionable ingredients does not stop here, we also have…
Enough has been said about sulfates but SLES is considered a gentler alternative to the infamous SLS.
Coco-betaine is almost ubiquitous in shampoos these days – and was unfortunate enough to win the 2004 contact allergen of the year award from the American Contact Dermatitis Society.
These ingredients are responsible for the impressive cleanse, foam and spread of the Phytoclear shampoo.  However, they are not particularly well-chosen ingredients for sensitive, dandruff-prone scalps.   They lack imagination.
This shampoo is a bit of a mess.  A fabulous looking combination anti-dandruff shampoo with a unique choice of active ingredients.  Let down by the not so fabulous accompanying formulation.