Dandruff Deconstructed is reader-supported. All reviews are independent and any products reviewed are purchased by the site owner. To help fund this model, some of the links on the site are affiliate links. If you decide to make a purchase from one of these links, this site will receive some commission. At no cost to you. It helps keeps this place running. Learn more
Ingredients

Wash

Scent

Price
Summary
Jason Normalizing Tea Tree Treatment Shampoo uses a blend of tea tree essential oil, grapefruit extract, and other nourishing substances to slough away a dry, flaky scalp and help condition dry skin. However, with the addition of a some pretty nasty of contact allergens – in particular the fragrances – this shampoo isn't as gentle or "natural" as you may have hoped.
Try it out if you do not react negatively to perfumes.
However, there are far gentler tea tree alternatives out there.

Jason Tea Tree Normalizing Shampoo is a therapeutic formula designed to treat a dry, flaky scalp and cleanse away flake build-up.
Launched in 1959, Jason takes pride in creating personal care products that are made without harsh chemicals. We've already reviewed their dandruff relief shampoo and, while we loved aspects of the shampoo, we were disappointed to see so many fragrances added.
In this particular shampoo, the main active ingredient is tea tree, a natural anti-bacterial and anti-fungal essential oil that is very effective at balancing the scalp surface.
For a company with this heritage – we were really looking forward to having a closer look.
How it Looks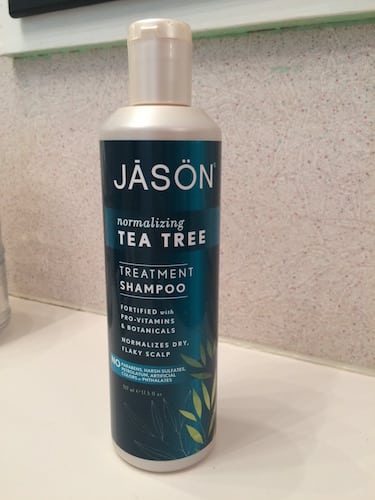 The shampoo arrived neatly packaged and wrapped, and the bottle itself looks a  little more upscale than most of the other shampoos we've reviewed.
The attractive teal label, leaf motifs, and font give the impression of "trendy health-food store shampoo."
What really stood out – and we really like this – is that Jason is generous when it comes to providing information on their products, with descriptive titles and blurbs.
How it Smells
You can definitely smell the tea tree oil in this shampoo, which itself has a
woodsy, musky scent. It has a slight chemical-y smell to it which may be a bit too strong for
sensitive noses.
How it Feels
The shampoo itself is clear, slimy and slippery, and lathers into an opaque suds. It feels very smooth and is easy to spread around.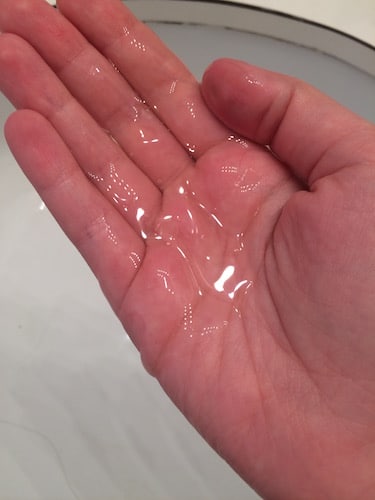 How it Washes
The shampoo made my hair feel soft and clean – however, my scalp did end up feeling a little bit dry and slightly taut after washing.  Some of you may want to use a conditioner. That said, compared to some of the coal tar shampoos I've smeared on my head, it was excellent.
The Ingredients
Jason Tea Tree Normalizing Shampoo focuses on the essential oil tea tree for the therapeutic properties. Tea tree, also known as Melaleuca, is a natural compound found in a shrub native to Australia that is known for its high concentration of anti-bacterial and anti-fungal properties. These qualities are the ones responsible for removing bad bacteria and fungi on the scalp, and since dandruff is essentially a form of fungal infection, it can help rid the scalp of dry flakes and normalize the natural balance.
This shampoo also uses grapefruit extract, another anti-bacterial and anti-fungal, to get rid of dry flakes and dandruff.
The nourishing, conditioning ingredients in this shampoo are wheat germ oil, an oil extracted from the germ of a wheat kernel. Wheat germ oil is very high in vitamin E, a nourishing agent for the hair, scalp, nails, and skin. Most of the gluten in wheat germ oil is usually taken out during the refinery process, but small traces may still be present and is something you will want to be careful of if you are celiac or have a gluten sensitivity.
Other herbal and botanical skin conditioning ingredients in this shampoo are algae extract, aloe leaf juice, calendula flower extract, chamomile flower extract, horsetail leaf extract, hops extract which is also naturally anti-microbial and astringent to clear away dandruff, sage extract, and nettle leaf extract.
Another thing I love about this shampoo is their approach to surfactants. They've used a lot. But only a little of each. The theory being, most of us can cope with small amounts of irritants. If you're sensitive to an ingredient, you'll typically have a threshold whereby, if you're exposed to the ingredient beyond the threshold, you'll react.
Using multiple surfactants at low doses lowers the risk of reactions significantly, versus using only one or two at higher doses.
I can only applaud Jason for taking this approach and I genuinely hope other manufacturers are watching.
Does it contain any nasties?
While the Tea Tree shampoo from Jason may emit the chemicals like parabens, it doesn't skip out on a whole boatload of contact allergens and irritants.
The shampoo contains Cocamidopropyl Betaine, an irritant awarded contact allergen of the year in 2004.
Other contact allergens include Tocopheryl Acetate (conditioning agent), Benzyl Alcohol (preservative), Phenoxyethanol (preservative and fragrance), and Potassium Sorbate (preservative).
But yet again, Jason has gone to town with the fragrances. Some of them are so harsh, they have to be listed separately in the EU. They are so likely to irritate, the EU won't allow them to be hidden under the generic "Fragrance" label you see on most shampoos.
These ingredients include Benzyl Benzoate, Benzyl Salicylate, Hexyl Cinnamal, Hydroxycitronellal, and Hydroxyisohexyl 3-Cyclohexene Carboxaldehyde.  Some of these are as bad as it gets. If you're sensitive to fragrances, give this shampoo a wide berth.
Conclusion
We were hoping the Jason Tea Tree Treatment Shampoo would have delivered a gentler formula, but it's a shame they had to counteract many of the healing ingredients with the needless fragrances. The alcohols used may also be drying for many users and may be the reason why we felt the shampoo left our skin feeling a bit dry and taut after washing.
We wish we could have liked this shampoo more, but with the plethora of irritating ingredients and drying alcohols, we can't feel confident recommending this product to readers.
If you do not react to any of the contact allergens we listed, and don't have overly dry hair, you may want to give this shampoo a try.
However, there are far gentler tea tree shampoos out there.
As well as being a licensed hair stylist, Lauren is a trained cosmetologist who understands the biology and anatomy of the scalp and of hair.
She understands the conditions that can cause dandruff and wants to help others achieve beautiful, healthy hair.