We may still not understand all of the 10000+ chemicals present in coal tar, it may have been used since biblical times to treat skin conditions, and it may have recently undergone a cancer scare causing the product to briefly disappear from our shelves, but coal tar remains on the World Health Organization's List of Essential Medicines, is an FDA approved treatment for seb derm and psoriasis and is still a much loved and much used active ingredient.
After reviewing 107 (and counting) shampoos, doing literally hundreds of hours of research in the process we've selected DHS Fragrance-Free Coal Tar Shampoo as our favorite shampoo that contains this most enigmatic of ingredients.
It's one of the most gentle dandruff shampoos we've ever reviewed period.  The shampoo contains a 0.5% coal tar concentration and uses gentle surfactants in a very minimalist gentle formula.
Scalp 18 Coal Tar Shampoo ran it extremely close and is our second favorite coal tar shampoo.  It's a stronger formulation than the DHS shampoo containing a 2% coal tar concentration.  It also contains almost 3 times as many ingredients – many of them fragrant essential oils.  If you're not sensitive to fragrances, it could be a better shampoo for you.
— Our reviewers test and recommend all the shampoos to help you find your best dandruff shampoo.  If you make a purchase by clicking one of our links, we may earn some commission.  We must stress that our reviews are completely independent and our reviewers are unaware of any of these commission agreements
What's in this article:
The 9 Best Coal Tar Shampoos
Below is a selection of our favorite and best-formulated coal tar shampoos we've yet reviewed.
How we chose the winners
All our reviewers are experts in product formulation, haircare, qualified pharmacists or haircare experts.
They assess the primary purpose of the dandruff shampoo, by examining the active ingredients present in the formulation.  These active ingredients are designed to control specific types of dandruff and we'll explain what those are.
Our reviews will also assess the rest of the formulation, deconstructing the shampoos to their constituent parts and describe the key ones in detail.  In addition, we warn of the presence of any one of over 100 ingredients that can potentially itch, irritate and even cause dandruff themselves.  A significant number (~90%) of these chemicals have never been tested for their effect on human health.   Many of these chemicals are known to have adverse effects on our skin and one of these adverse effects is dandruff.
Unlike most review sites, our reviewers personally try every shampoo they review and they also assess how the shampoo washes, how it smells and look at the price point in their market.    These may be medicated shampoos, but that doesn't mean we want to compromise on a little bit of luxury!
What we won't do is tell you if the shampoo will work for you.  To understand that, you have to understand how to control your dandruff.
What is coal tar?
Coal tar has been used medicinally for thousands of years, and it provides an effective but inexpensive treatment option for sufferers of various skin and scalp conditions.
It is a by-product of coal, created by distilling coal at extremely high temperatures.
The resulting crude coal tar is a dark brown thick liquid with a "characteristic" odor (it stinks basically).  Included on the WHO Model List of Essential Medicines, it is considered an important healthcare agent and has been for many years. It is one of only two ingredients approved by the USFDA for over the counter treatment of psoriasis.
How coal tar reduces symptoms of psoriasis and seborrheic dermatitis is not completely understood. There are as many as 10,000 different chemicals in coal tar, only ~5,000 of them are really understood.  It really is a mysterious substance on so many levels. It has proven anti-fungal properties, antiseptic properties, anti inflammatory properties and it also seems to normalize keratin growth on the skin and reduce the formation of scales.
We have compiled a full article on coal tar if you want to read more of this unique ingredient.
Coal Tar Composition
Coal tar comes in two forms in shampoos; crude or in a solution.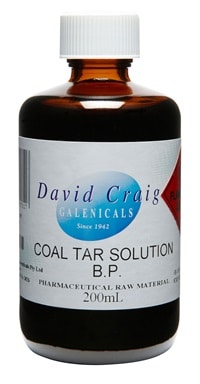 Crude or raw coal tar is generally considered the most effective form of the substance. However, many shampoos these days use a coal tar extract.  This refined form of coal tar is cleaner, doesn't smell as bad, is more practical for home use but symptom improvement may take longer.
It's quite often in shampoos these days to see coal tar mixed with other ingredients e.g. Salicylic Acid to enhance their performance.
Coal tar concentrations between 0.5 and 5 percent are considered effective and safe.  Manufacturers will often have to add 5 times that amount of coal tar solution for it to be as effective as crude coal tar.  Psoriatrax, for example, add 25% Coal Tar Solution and label that as equivalent to 5% Coal Tar.
It is worth noting that stronger isn't necessarily better when it comes to coal tar.  Quite the opposite in fact.  A recent study suggests that a 1% coal tar solution is more effective than a 5% solution when treating mild to moderate psoriasis.
How safe is it to use?
There's been a number of controversies over coal tar in recent decades.
Coal tar contains as many as 10,000 different chemicals, but only about half of these have actually been identified. The composition of coal tar also varies with coal type and origin. Many people have expressed concern over the unknown components that could be potential carcinogens or cancer-causing substances.
In the 1990s, studies appeared apparently linking coal tar exposure to cancer in animals.
A number of countries including the EU, China and Taiwan banned the use of coal tar in cosmetics as a result of these findings.
Polytar, one of the most popular coal tar shampoos at that time, was completely withdrawn.  Coal tar medications started to disappear from the shelves.
However further research found that coal tar in low doses wasn't linked to cancer.
This prompted the EU to overturn their own ruling.
Despite its 75-year history of documented use without any clear evidence of increased cancer risk in low doses, some skepticism remains. Formulations containing more than five percent crude coal tar are listed as carcinogenic by the World Health Organization. California still insist that coal tars treatments are labeled, Warning: This product contains chemicals known to the state of California to cause cancer.
Some of the controversies may be related to the questionable safety of using coal tar in the production of sealant products and in other industrial settings; these problems are not relevant to the use of weak coal tar solutions in shampoo formulations.
Possible Side Effects of Coal Tar Shampoos
Although most people do not experience significant side effects, coal tar shampoos may cause skin irritation or rashes that were not present before treatment. Mild stinging upon application is also possible, especially when gel and solution products are used.
Because coal tar can increase sensitivity to sunlight, skin treated with coal tar products should be protected from ultraviolet rays to avoid irritation and sunburn.  The American Academy of Dermatology recommends that you protect your scalp from the sun by wearing a hat when outdoors and seeking shade whenever possible if you use a coal tar shampoo.
The same organization advises that tar shampoos can discolor blonde, grey or light-colored hair.
Coal Tar For Treating Psoriasis
Psoriasis.org explains that psoriasis is a condition of the immune system that can cause skin symptoms like itching, flaking, scaling and a rapid buildup of skin cells that creates raised plaques. Coal tar has demonstrated its ability to reduce inflammation and slow the growth of skin cells to restore the skin's normal appearance while helping to reduce uncomfortable symptoms.
Despite its age, coal tar remains extremely popular and effective for sufferers of mild to moderate scalp psoriasis.  There are steroid treatments available on prescription but the popularity of coal tar never seems to wain.  The effects of coal tar on psoriasis may even be enhanced when the substance is used in conjunction with ultraviolet light therapy.
Coal Tar For Treating Seborrheic Dermatitis
Although the root cause of Seborrheic Dermatitis is still unknown, recent research suggests seb derm to be associated with a type of fungus called Malassezia furfur. Symptoms include itching, scaling, rash and ring-shaped patches of dry, pink skin. The antifungal properties of coal tar are believed to be the primary reason that it reduces symptoms of the common skin condition. In a clinical study, coal tar demonstrated its ability to inhibit the growth of 52 Malassezia strains.
However, there are other more modern treatments for seb derm which seem to be more precise and more effective at combatting the symptoms associated with seb derm.  Piroctone Olamine, Ketoconazole and Selenium Sulfide are three active ingredients that tend to be more widely used in recent years.