Dandruff Deconstructed is reader-supported. All reviews are independent and any products reviewed are purchased by the site owner. To help fund this model, some of the links on the site are affiliate links. If you decide to make a purchase from one of these links, this site will receive some commission. At no cost to you. It helps keeps this place running. Learn more
We may still not understand all of the 10000+ chemicals present in coal tar, it may have been used since biblical times to treat skin conditions, and it may have recently undergone a cancer scare causing the product to briefly disappear from our shelves, but coal tar remains on the World Health Organization's List of Essential Medicines, is an FDA approved treatment for seb derm and psoriasis and coal tar shampoos are still a much-loved treatment for dandruff caused by both seborrheic dermatitis and scalp psoriasis.
After reviewing 107 (and counting) shampoos (doing literally hundreds of hours of research in the process), and speaking to four board-certified dermatologists, we finally reached a conclusion on what the best coal tar shampoos are on the market today.
The Winner
DHS Fragrance-Free Coal Tar Shampoo is our favorite shampoo that contains this most enigmatic of anti-dandruff active ingredients and truly deserves the accolade of "Best Coal Tar Shampoo".
The shampoo contains a 0.5% coal tar concentration and uses gentle surfactants in a very minimalist gentle formula. While 0.5% coal tar is way below 5% you'll see in some shampoos, stronger isn't necessarily better. In fact, a recent study suggests that a 1% coal tar solution is more effective than a 5% solution when treating mild to moderate psoriasis.
In addition, this is one of the gentlest shampoos we've reviewed.   The ingredient list is minimal, with only 7 ingredients in total.  Two of these ingredients are surfactants; Sodium Laureth Sulfate and Cocamidopropyl Hydroxysultaine.  So while it isn't sulfate-free, we're talking two relatively gentle but high-performing cleaning agents all the same.  The other ingredients are salt, citric acid, and an emulsifier.
Washing with this shampoo is better than most coal tar shampoos. And, while no coal tar shampoo has a particularly pleasant aroma, DHS has done a good job in formulating a coal tar shampoo with a relatively decent(ish) smell.
If you have a sensitive scalp we simply can't recommend this shampoo highly enough.

DHS Fragrance Free Tar Shampoo
An outstanding shampoo formulated by an outstanding company. A 0.5% coal tar formulation in a fragrance-free formula makes this the gentlest coal tar shampoo we've yet reviewed

The Runner Up
Scalp 18 Coal Tar Shampoo ran our winner extremely close and is our second favorite coal tar shampoo.
The manufacturer, Art Naturals, is one of our favorite shampoo manufacturers.  This is a company who values quality ingredients and transparency in what they do.
The Scalp 18 Coal Tar shampoo is a stronger formulation than the DHS shampoo, containing a 2% coal tar concentration. It also contains almost 3 times as many ingredients – many of them fragrant essential oils.  Unlike DHS, this shampoo is sulfate free, using instead a combination of gentle surfactants.  Interestingly the company has added a number of moisturizing ingredients such as Aloe Vera, Panthenol, and Argan Oil.  Tea Tree Oil gives the shampoo antifungal properties while the addition of Peppermint Oil and Rosemary oil adds scalp cooling and anti-inflammatory properties.
These essential oils do come at a price – they contain fragrances. But if you're not sensitive to fragrances, this could be a better shampoo for you.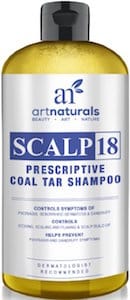 Scalp 18 Coal Tar Shampoo is on sale now
Scalp 18 is a 2% coal tar formulation, and contains fragrant essential oils to offset the unique coal tar aroma. It washes and smells as well as any coal tar shampoo we've tested and is formulated with a unique combination of gentle surfactants and fragrant essential oils. It's an outstanding shampoo

In Third Place
Capasal
takes a slightly different approach, combining coal tar with salicylic acid and coconut oil.
Salicylic Acid is keratolytic, and will gently soften and exfoliate your skin. It can help increase the penetration of the other ingredients if you have existing build-up on the scalp and is another ingredient certified by the FDA to treat psoriasis and seb derm.
Coconut Oil, on the other hand, is a moisturizer that can soothe the scalp.
Combining these three ingredients is a stroke of genius as far as we're concerned.
It would be a guaranteed gold medal winner of our best coal tar shampoo too, but the company has added two sulfates and coco betaine to the formula.
In spite of this, Capasal is a superb shampoo and if the other two don't quite work for you, this is definitely the third-best coal tar shampoo we've reviewed.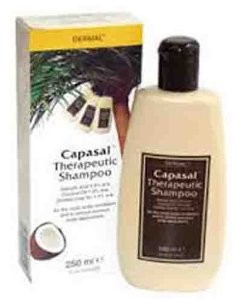 Capasal Shampoo is on sale now
Capasal is a combination shampoo, combining coal tar, salicylic acid and coconut oil in a unique highly targetted shampoo for mild to moderate scalp psoriasis sufferers. It would have likely been a winner if the formula didn't contain so many harsh surfactants, but that aside this is still an outstanding shampoo.

What's in this article:

The Best Coal Tar Shampoos
Below is a selection of our favorite and best-formulated coal tar shampoos we've yet reviewed.
How we chose the winners
All our reviewers are experts in product formulation, haircare, qualified pharmacists, or haircare experts.
They assess the formulation of the shampoo, deconstruct the shampoos into their constituent parts, and describe the key ones in detail. In addition, they highlight the presence of any one of over 100 ingredients that can potentially itch, irritate and exasperate your condition.
Unlike most review sites, our reviewers personally try every shampoo they review and they also assess how the shampoo washes, how it smells, and look at the price point in their market. These may be medicated shampoos, but that doesn't mean we want to compromise on a little bit of luxury!
We applied these same principles when choosing our best coal tar shampoo.  For example, the winner is one of the gentlest dandruff shampoos we've reviewed.  It's not perfect, but compared with the others it washed slightly better and the fact that it was fragrance-free gave it another edge.  That's not to say it's the best coal tar shampoo for you.  For example, Scalp 18 shampoo contains slightly more coal tar but is fragrance heavy.  They're both outstanding shampoos, so we eventually chose the gentlest formulation.
Coal Tar Shampoos
What is coal tar?
Coal tar is a much loved, much-used treatment that has been used medicinally for thousands of years. Despite its usage, there's still an air of mystery with this ingredient. For example, it contains over 10,000 chemicals [8], of which only 50% have been identified [9].
That said, it's such an important healthcare treatment that:
It's included on the WHO Model List of Essential Medicines.
Board-certified dermatologist, Debra Jaliman MD, is a fan.  She explained to us, "Coal tar can give you relief from itching and dry scalp. Coal tar extract helps with the winter dry scalp and it continues to work even hours after you have rinsed it off. It also helps those who have trouble with psoriasis and seborrheic dermatitis of the scalp."
How is coal tar made?
A 'tar' can be made from burning 'organic' (living) materials under high pressure. This forms a dark, sticky residue comprised mainly of hydrocarbons and related compounds. The first medicinal use of 'pine tar' was described by the Ancient Greek physician Hippocrates [11]. Coal tar has been applied to skin conditions for over 2,000 years, but the treatment was formally recognized in the 1600s. Since this time, tars obtained from coal, pine, beech, birch, and juniper have been used to treat scabies to sarcoidosis (with varying success) [12].
In the past 100 years, the use of tars has become more selective. A significant development in the 1920s was the highly effective combination of coal tar and ultraviolet therapy for psoriasis [13].
Despite historical use, a range of modern therapies often replace coal tar:
Emollients
Vitamin D preparations (e.g. calcipotriol)
Dithranol / salicylic acid
Corticosteroids
Combination 'psoralen' and UVA-radiation (PUVA)
Immunosuppressants
[Note: In Ancient Greece, 'pine tar' was called 'asphalt'. Confusingly this is not the same as modern 'asphalt'.]
But despite its age and the advent of much more focused modern medicines, coal tar is still an FDA-approved treatment for dandruff, seborrheic dermatitis, and psoriasis and remains a tremendously popular and effective treatment.
What is in coal tar?
Coal tar doesn't have a definitive composition. Every batch has a slightly different formulation, based on the type of coal, temperature, distillation, and many other factors. This is unlike most other modern medicines and seems contrary to evidence-based medicine; how can a product that can't be replicated be reliably studied?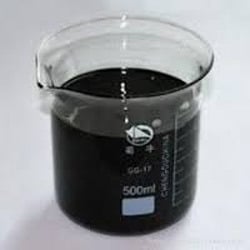 What we do know is that 'crude coal tar' contains over 10,000 compounds. This is then refined further into a solution to remove any harmful products, for example, ammonia derivatives. The resulting mixture is then formulated into creams, ointments, soaps, or shampoos (1-40% coal tar). At this stage, other active ingredients can be added [14]:
Calamine
Coconut oil
Dithranol / salicylic acid
Sulfur
Zinc oxide
What does coal tar do?
Much like the unknown composition of coal tar, we don't really know how it works, just that it does.   As Dr. Jaliman explains, "Coal tar causes the skin to shed dead cells from its top layer and slow down the growth of skin cells. This lessens the dryness of the scalp and helps with dandruff."   Coal tar slows the growth of skin cells as it is keratolytic.
It's for this reason that Radha Mikkilineni, M.D., board-certified dermatologist at Sadick Dermatology, NYC, "usually reserves use of coal tar for recalcitrant cases. But it acts by reducing the thickening of the scalp in a poorly understood manner whereby the keratinization and differentiation of the scalp skin (causing the plaques and scaling) is suppressed."
In addition to being keratolytic, coal tar has proven anti-fungal [1] properties, antiseptic properties, and anti-inflammatory [2] properties. It also seems to normalize keratin growth on the skin and reduce the formation of scales.
The huge number of compounds likely have synergistic effects, not all of which are well-studied [15]. Coal tar formulations have been shown to have effects listed in Table 1.
| | |
| --- | --- |
| Mechanism | How This Helps |
| Suppresses DNA | Psoriasis is caused by excessive growth ('hyperproliferation') of the upper skin layer, forming 'plaques'. By suppressing DNA activity, excessive growth is reduced helping to treat the condition. |
| Antimicrobial | Coal tar has antibacterial, -fungal, and -parasitic activity. This helps to treat any infections that complicate skin conditions. |
| Antipruritic (stops itching) | Itching causes many of the problems associated with skin conditions. Preventing this can improve long-term and day-to-day symptoms. |
| Anti-inflammatory | Counteracting the body's inflammatory response can treat many skin conditions and improve symptoms. |
| Photosensitizing | UV-radiation improves psoriasis. Coal tar sensitizes the skin to light, making therapy more effective than either used alone. |
Table 1. List of possible mechanisms for coal tar in skin conditions.
What does coal tar smell like?
In a word, unpleasant. More modern coal tar shampoos manage to alleviate a lot of the smell. Shampoos like Capasal combine coal tar with coconut oil and have done an excellent job in masking the smell. But there's no getting away from it – it smells uniquely bad and the smell alone puts many off.
On the other hand, my grandmother swore by her coal tar soap. Her logic being – anything that smelled that bad had to be good for you. There's nothing as strange as folk…
What is a coal tar shampoo made of?
Coal tar is added to shampoos in two forms; crude or in a solution.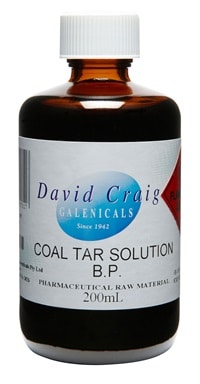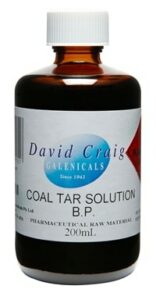 Crude or raw coal tar is generally considered the most effective form of the substance. However, many shampoos these days use a coal tar extract. This refined form of coal tar is cleaner, doesn't smell as bad, and is more practical for home use but symptom improvement may take longer.
Coal tar is often mixed with other active ingredients e.g. Salicylic Acid [14] to enhance the overall performance of the shampoo.
The FDA maintains that OTC products with coal tar concentrations between 0.5 percent and 5 percent are safe. This is crude coal tar – manufacturers will often have to add 5 times that amount of coal tar solution for it to be as effective as crude coal tar. Psoriatrax, for example, add 25% Coal Tar Solution and label that as equivalent to 5% Coal Tar.
It is worth noting that stronger isn't necessarily better when it comes to coal tar shampoo. Quite the opposite in fact. A recent study suggests that a 1% coal tar solution is more effective than a 5% solution when treating mild to moderate psoriasis [3].
How does coal tar help psoriasis?
Psoriasis.org explains that psoriasis is a condition of the immune system that can cause skin symptoms like itching, flaking, scaling, and a rapid build-up of skin cells that creates raised plaques.
Much of the evidence for coal tar comes from the study of its effects on scalp psoriasis. Advocates say it helps can reduce inflammation and slow the growth of skin cells to restore the skin's normal appearance while helping to reduce uncomfortable symptoms. Coal tar applied to the scalp overnight may be particularly useful to remove thick plaques [16].
This isn't to say it benefits everyone. A UK NICE review in 2017 found that coal tar shampoos were only marginally more effective than placebo [17]. In modern scalp psoriasis treatment, coal tar shampoos are mostly reserved for maintenance therapy, with corticosteroids or vitamin D formulations first-line for acute flares.
Despite its age and the discovery of other active ingredients, coal tar remains extremely popular and effective for sufferers of mild to moderate scalp psoriasis. There are steroid treatments available on prescription but the popularity of coal tar never seems to wane. The effects of coal tar on psoriasis may even be enhanced when the substance is used in conjunction with ultraviolet light therapy.
How does coal tar help dandruff and seborrheic dermatitis?
Although the root cause of Seborrheic Dermatitis is still unknown, recent research [7] suggests seb derm is associated with a type of fungus called Malassezia furfur. Symptoms include itching, scaling, rash, and ring-shaped patches of dry, pink skin. The antifungal properties of coal tar are believed to be the primary reason that it reduces symptoms of common skin conditions. In a clinical study [1], coal tar demonstrated its ability to inhibit the growth of 52 Malassezia strains.
However, active ingredients such as Piroctone Olamine, Ketoconazole, and Selenium Sulfide tend to be more widely used in recent years.
That said, 4% coal tar shampoos have been shown to be equally as effective as ketoconazole 2% in a study of 274 participants [19]. Coal tar shampoos are also better tolerated, associated with less skin and eye irritation, dry skin, and itching.
How does coal tar help atopic dermatitis?
in the past 50 years, coal has been widely recommended to help with the symptoms of atopic dermatitis. Very few clinical studies have evaluated the efficacy of coal tar in atopic dermatitis but the antipruritic (anti-itching) effects are the main reason for use. The strong smell and clothes-staining properties make 'crotamiton' or 'urea' preferable first-line alternatives [20].
How to use a coal tar shampoo
To use a coal tar shampoo, you should always follow the guidance provided on the label. The label should legally inform you how often to use the shampoo and how long you should leave the shampoo on your scalp.
For example, DHS recommends using their tar shampoo, "at least twice a week or as directed by a physician" for best results. Whereas Psoriatrax recommends that you, "use daily until symptoms disappear. Usually 3-5 days."
We asked Dr. Ben Barankin, a Toronto-based board-certified dermatologist at the Toronto Dermatology Centre, for his advice, and he told us, "For mild-moderate dandruff, I recommend daily shampooing, and ideally alternating 3 shampoos, each with active anti-dandruff ingredients."
Dr. Matthew Zirwas, board-certified dermatologist and founder of Bexley Dermatology in Bexley, Ohio, recommended trying a shampoo for, "at least a month because if your old shampoo had ingredients that were causing a dandruff-like rash of their own, it will take 4-8 weeks for that ingredient to work its way out of your body after you start the new stuff."
And if it doesn't work, board-certified dermatologist Adam J. Friedman, MD, FAAD, assistant professor of dermatology and director of dermatologic research, Albert Einstein College of Medicine explains via the AAD, "For most people, dandruff does not require medical attention. However, sometimes the flaking and itching that appears like dandruff is actually a medical condition, such as seborrheic dermatitis, psoriasis, fungal infections of the scalp, or eczema. If you continue to have symptoms after using a dandruff shampoo, consult a board-certified dermatologist."
By visiting a board-certified dermatologist, you can be properly diagnosed and be prescribed stronger medication than you can pick up at the pharmacy. As Dr. Ben Barankin says, "for moderate to severe cases of dandruff, a steroid shampoo or leave-in lotion can be prescribed. A prescription ciclopirox olamine lotion is often a nice option."
What are the risks of using coal tar shampoo?
Although most people do not experience significant side effects, the WHO states that coal tar shampoos may cause skin irritation and on rare occasions allergic sensitization is possible. They also recommend that a coal tar shampoo should not be applied to inflamed, broken or infected skin.
Because coal tar can increase sensitivity to sunlight, skin treated with coal tar products should be protected from ultraviolet rays to avoid irritation and sunburn. The American Academy of Dermatology recommends that you protect your scalp from the sun by wearing a hat when outdoors and seeking shade whenever possible if you use coal tar shampoo.
Longer-term use of coal tar can cause dry skin, burning sensations or rashes, and photosensitivity. If used as a shampoo, the texture or color of hair may be altered although this is usually reversed once stopped [21].
Can coal tar cause cancer?
There have been a number of coal tar controversies in recent decades.
Coal tar contains as many as 10,000 different chemicals, but only about half of these have actually been identified. Many people have expressed concern over the unknown components that could be potential carcinogens or cancer-causing substances.
In the 1990s, studies appeared apparently linking coal tar exposure to cancer in animals [4]. A number of countries including the EU, China, and Taiwan banned the use of coal tar in cosmetics as a result of these findings.
Polytar, one of the most popular coal tar shampoos at that time, was completely withdrawn. Coal tar shampoos started to disappear from the shelves.
However, four important studies appeared to suggest there is no or low risk:
Maughan, et al. (1980) [12a]

25-year follow-up study of 426 participants; combination coal tar and UV therapy; no significantly increased risk of skin cancer

Pittelkow, et al. (1981) [13a]

25-year follow-up study of 280 participants; combination coal tar and UV therapy; no significantly increased risk of skin cancer

Jones, et al. (1985) [14a]

Observational study of 719 participants; many coal tar formulations; no significantly increased risk of cancer

Fiala, et al. (2006) [15a]

Observational study of 23 participants; combination coal tar and UV therapy; short-term increase in genotoxic exposure although unclear clinical relevance
The more recent studies prompted the EU to overturn its own ruling. The FDA maintains that there is no scientific evidence that the tar in OTC products is carcinogenic. In addition, an article in the Journal of American Academy of Dermatology in 2009 attempted to set the record straight by stating that there was 'no cancer danger using coal tar to treat skin'.
Despite its 75-year history of documented use without any clear evidence of increased cancer risk in low doses, some skepticism remains. Formulations containing more than five percent crude coal tar are listed as carcinogenic by the World Health Organization. California still insists that coal tars treatments are labeled, Warning: This product contains chemicals known to the state of California to cause cancer.
Some of the controversies may be related to the questionable safety of using coal tar in the production of sealant products [10] and in other industrial settings; these problems are not relevant to the use of weak coal tar solutions in shampoo formulations.
Coal tar concentrations between 0.5 and 5 percent are considered effective and safe. Manufacturers will often have to add 5 times that amount of coal tar solution for it to be as effective as crude coal tar. Psoriatrax, for example, adds 25% Coal Tar Solution and labels that as equivalent to 5% Coal Tar.
It is worth noting that stronger isn't necessarily better when it comes to coal tar. Quite the opposite in fact. A recent study suggests that a 1% coal tar solution is more effective than a 5% solution when treating mild to moderate psoriasis [16].
Can I use a coal tar shampoo when pregnant?
NICE recommend that coal tar should be avoided completely in the first trimester. The FDA echoes this and urges caution is using in the second or third trimester. The reason is that, although data is very limited, coal tar has been associated with spontaneous abortions, congenital disorders, and teratogenicity in animal studies.
Can I use a coal tar shampoo when breastfeeding?
Alternate treatments are preferred due of the potential toxicity of coal tar to the breastfed infant. Coal tar applied topically to maternal skin can result in pyrene absorption by the infant, probably by skin-to-skin or skin-to-mouth contact with the mother.[26]
Where can I buy a coal tar shampoo?
The great news is that coal tar is available OTC in the USA, EU, UK, Australia, and New Zealand. The FDA maintains that coal tar concentrations between 0.5 to 5 percent are safe to use in an OTC shampoo. This means you can pop into your local pharmacist and buy a range of shampoos. Or you can purchase the shampoos via this site and help fund us!
You can also be prescribed a coal tar shampoo. Don't expect anything stronger, however, as this list from NICE shows, all of the recommended treatments are available OTC.
Unfortunately, we are currently seeing shortages of coal tar treatments, and finding a regular supply of your favorite shampoo is easier said than done.
Why is coal tar shampoo hard to find?
Over the past decade, coal tar shampoos have become increasingly hard to find. The aforementioned cancer scare had a major impact as many manufacturers shied away from coal tar altogether. Even after further studies found that the links between coal tar and cancer were unfounded, there is still a shortage of manufacturers making coal tar shampoos. The pharmaceutical companies are accrediting this to two things:
the cost of the specialist equipment
the shortage of the natural elements
Dedicated, specialist equipment is needed to comply with MHRA guidelines.   This makes it incredibly tough for smaller companies that use the same processes and equipment for making multiple products.   They can't do this with coal tar.  Storage is also an issue for smaller manufacturers as the raw materials can be highly combustible in bulk.
On top of all that, there is a shortage of raw materials.
That said, the coal tar market is growing, to the tune of a quarter of a billion dollars a year. Driven largely by the healthcare sector. So it looks like coal tar shampoos will be with us for many years yet!
References
[1] Nenoff, P., Haustein, U. F., & Fiedler, A. (1995). The antifungal activity of a coal tar gel on Malassezia furfur in vitro. Dermatology, 191(4), 311-314.
[2] Zeichner, J. A. (2010) Use of Topical Coal Tar Foam for the Treatment of Psoriasis in Difficult-to-treat Areas. J Clin Aesthet Dermatol. 2010 Sep; 3(9): 37–40.
[3] Goodfield M1, Kownacki S, Berth-Jones J. (2004) Double-blind, randomised, multicentre, parallel group study comparing a 1% coal tar preparation (Exorex) with a 5% coal tar preparation (Alphosyl) in chronic plaque psoriasis. J Dermatolog Treat. 2004 Jan;15(1):14-22.
[4] Pion IA, Koenig KL, Lim HW. (1995) Is dermatologic usage of coal tar carcinogenic? A review of the literature. Dermatol Surg. 1995 Mar;21(3):227-31.
[5] Roelofzen JH, Aben KK et al. (2010) No increased risk of cancer after coal tar treatment in patients with psoriasis or eczema. J Invest Dermatol. 2010 Apr;130(4):953-61. doi: 10.1038/jid.2009.389. Epub 2009 Dec 17.
[6] Cosmetic Ingredient Review Expert Panel. Final safety assessment of Coal Tar. Int J Toxicol. 2008;27 Suppl 2:1-24. doi: 10.1080/10915810802244405.
[7] Thomas Berk, MD and Noah Scheinfeld, MD. Seborrheic Dermatitis. (2010) P T. 2010 Jun; 35(6): 348–352.
[8] N.J. Lowe J. Breeding M.S. Wortzman The pharmacological variability of crude coal tar (1982)
[9] G. Maiganga et al. Physicochemical Characterization of Coal Tar Produced by Pyrolysis of Coal (2017) Journal of Minerals and Materials Characterization and Engineering
Vol.05 No.05(2017), Article ID:78984
[10] B. J. Mahler et al. Coal-Tar-Based Pavement Sealcoat and PAHs: Implications for the Environment, Human Health, and Stormwater Management. (2012) Environ Sci Technol. 2012 Mar 20; 46(6): 3039–3045.
[11] Cowden, A., & Van Voorhees, A. S. (2008). Introduction: History of psoriasis and psoriasis therapy. In Treatment of Psoriasis, pp.1-9.
[12] Thami, G. P., & Sarkar, R. (2002). Coal tar: past, present and future. Clinical and Experimental Dermatology, 27(2), 99-103.
[13] Goeckerman, W. H. (1931). Treatment of psoriasis: Continued observations on the use of crude coal tar and ultraviolet light. Archives of Dermatology and Syphilology, 24(3), 446-450.
[14] Habif, T. P. (2015). Clinical Dermatology. Elsevier Health Sciences.
[15] Paghdal, K. V., & Schwartz, R. A. (2009). Topical tar: back to the future. Journal of the American Academy of Dermatology, 61(2), 294-302.
[16] SIGN. (2010). Diagnosis and management of psoriasis and psoriatic arthritis in adults. |Available from: www.sign.ac.uk
[17] NICE. (2012). Psoriasis: assessment and management. Last updated: September 2017. |Available from: www.nice.org.uk
[18] Nenoff, P., Haustein, U. F., & Fiedler, A. (1995). The antifungal activity of a coal tar gel on Malassezia furfur in vitro. Dermatology, 191(4), 311-314.
[19] Davies, D. B., Boorman, G. C., & Shuttleworth, D. (1999). Comparative efficacy of shampoos containing coal tar (4.0% w/w; Tarmed™), coal tar (4.0% w/w) plus ciclopirox olamine (1.0% w/w; Tarmed™ AF) and ketoconazole (2.0% w/w; Nizoral™) for the treatment of dandruff/seborrhoeic dermatitis. Journal of Dermatological Treatment, 10(3), 177-183.
[20] Smith, E. B., King, C. A., & Baker, M. D. (1984). Crotamiton lotion in pruritus. International Journal of Dermatology, 23(10), 684-685.
[21] Bruner, C. R., Feldman, S. R., Ventrapragada, M., & Fleischer Jr, A. B. (2003). A systematic review of adverse effects associated with topical treatments for psoriasis. Dermatology, 9(1).
[22] Maughan, W. Z., Muller, S. A., Perry, H. O., Pittelkow, M. R., & O'Brien, P. C. (1980). Incidence of skin cancers in patients with atopic dermatitis treated with coal tar: a 25-year follow-up study. Journal of the American Academy of Dermatology, 3(6), 612-615.
[23] Pittelkow, M. R., Perry, H. O., Muller, S. A., Maughan, W. Z., & O'Brien, P. C. (1981). Skin cancer in patients with psoriasis treated with coal tar: a 25-year follow-up study. Archives of Dermatology, 117(8), 465-468.
[24] Jones, S. K., Mackie, R. M., Hole, D. J., & Gillis, C. R. (1985). Further evidence of the safety of tar in the management of psoriasis. British Journal of Dermatology, 113(1), 97-101.
[25] Fiala, Z., Borska, L., Pastorkova, A., Kremlacek, J., Cerna, M., Smejkalova, J., & Hamakova, K. (2006). Genotoxic effect of Goeckerman regimen of psoriasis. Archives of Dermatological Research, 298(5), 243-251.
[26] Goodfield M1, Kownacki S, Berth-Jones J. (2004) Double-blind, randomized, multicentre, parallel group study comparing a 1% coal tar preparation (Exorex) with a 5% coal tar preparation (Alphosyl) in chronic plaque psoriasis. J Dermatolog Treat. 2004 Jan;15(1):14-22.
[27] Butler DC, Heller MM, Murase JE. Safety of dermatologic medications in pregnancy and lactation: Part II. Lactation. J Am Acad Dermatol. 2014;70:417.e1–10. [PubMed: 24528912]