Dandruff Deconstructed is reader-supported. All reviews are independent and any products reviewed are purchased by the site owner. To help fund this model, some of the links on the site are affiliate links. If you decide to make a purchase from one of these links, this site will receive some commission. At no cost to you. It helps keeps this place running. Learn more
Ingredients

Wash

Scent

Price
Summary
Calling all sensitive scalp sufferers, if you haven't yet found an anti-dandruff shampoo your scalp can tolerate, you haven't yet found Sebclair shampoo. A piroctone olamine, Malassezia yeast quelling formula with extremely mild yet highly effective cleansers, accompanying scalp hydrators, flake fighters and natural anti-inflammatories. No fragrance, no essentials oils, no allergens. Sebclair shampoo really does stand out in our anti-dandruff crowd.

Have a sensitive, irritated case of dandruff caused by seb derm or dry scalp? Yes? Then you may just have found the perfect anti-dandruff shampoo for you. With an ultra-clean ingredients list, a new-age dandruff fighting active (piroctone olamine) and plenty of scalp moisturizers, Sebclair shampoo at first glance promises to be a standout pick.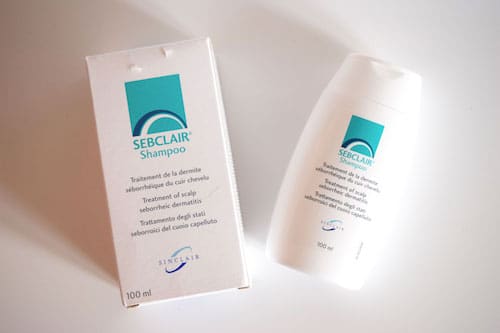 But before we get carried away, let's start at the beginning. Who makes Sebclair shampoo?
Sebclair shampoo for dandruff and seb derm was prior to 2016 owned by a pharmaceutical company called Sinclair. To this day bottles of Sebclair shampoo – like the one we've tested today still bear the logo of Sinclair.
At this moment, however, Sebclair shampoo is owned by a company called Alliance Pharma. In 2016 Alliance Pharma purchased over 25 health brands from Sinclair, leaving Sinclair to specialize in volumizing facial aesthetics. Goodbye Sinclair, hello Alliance Pharma – a publically owned pharmaceutical company whose vision is to breathe life into medicines around the world.
Founded in 1996 and fostered by healthcare giant Novartis, Alliance Pharma now own over 90 specialty brands. With such prominent backing Alliance Pharma and their Sebclair shampoo can absolutely be trusted with your sensitive seb derm, dandruff affected scalp.
We recently reviewed a cream of theirs and we were very impressed…
Box number 1 ticked. Now, what about the shampoo itself?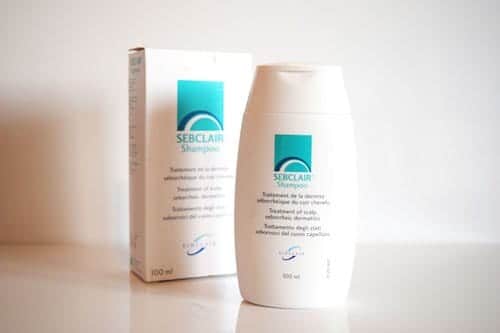 Arriving in a medicinal looking box with clean and clear branding, the 100ml bottle of Sebclair shampoo is a neat size to keep in your everyday dandruff fighting arsenal. The flip top capped bottle is relatively easy to open, the formula has a low indistinctive scent and the shampoo's easily dispensed with a soft squeeze. Branded with multi-lingual descriptions on the bottle, the inner leaflet gives clear usage instructions;
Apply Sebclair shampoo on damp hair and massage gently. Leave to act for some minutes and rinse. Use 2/3 times a week or according to necessity.
When following the Sebclair shampoo's usage instructions here's what to expect…
You'll want to use a decently sized dollop of shampoo, the creamy liquid lathers with small bubbles meaning it takes a little more time to spread/work on your scalp. With no added fragrance and no ingredients added to cause a sensation on your scalp, you almost wouldn't know Sebclair shampoo was in action – great news for sensitive scalps. On washing out the Sebclair shampoo rinses well, leaving hair feeling thoroughly cleansed.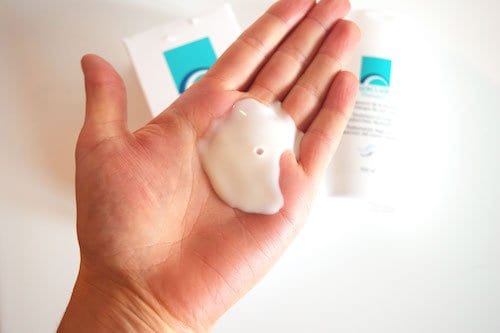 Now onto the ingredients, do they work? Are they going to be effective for you? Should you be wary of any potential allergens, irritants or sensitizers?
The Sebclair shampoo formula combats seb derm primarily through it's one active ingredient;  piroctone olamine. Piroctone Olamine is an anti-fungal targeted at reducing your scalp population of Malassezia yeast.  Too much of this Malassezia yeast on your scale will cause dandruff-like symptoms in seb derm sufferers.  When their populations are reduced, dandruff symptoms subside.
As a standalone dandruff fighter, piroctone olamine is considered an able for everyday use active being much gentler than traditional ketoconazole or selenium sulfide shampoos. Meaning for mild to moderate seb derm, Piroctone Olamine is a reliable active.
Studies prove it. After 4 weeks use a 0.75% formula of piroctone olamine was highly effective at reducing dandruff. While other studies show a 1% formula of piroctone olamine is effective in reducing oiliness of your scalp, increasing hair thickness and reducing hair shedding. Perfect benefits for seb derm and dandruff prone scalps.
Pro-tip: If your sensitive scalp has more than a mild to moderate case of seb derm or dandruff, consider Sebclair shampoo an in-between everyday use up-keep.
Now, what about the other ingredients in Alliance Pharma's Sebclair shampoo? Are they friendly to sensitive scalps?
A complete standout of the Sebclair shampoo formula is the first ingredient listed– usually, you'll find water, in the Sebclair shampoo you'll find sorbitol. Sorbitol is a humectant aka an active which attracts water to itself. When such an ingredient's near your scalp, skin can be hydrated and soothed.   Great news for dry scalp sufferers. It's also an ingredient used to break down biofilms.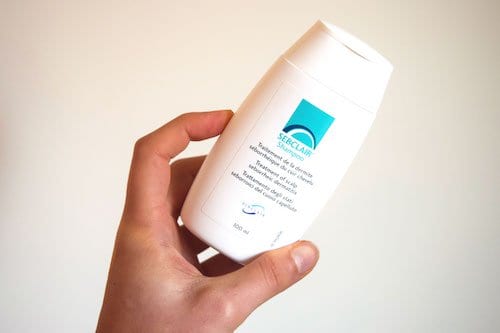 The formula is also SLS free – more great news for sensitive scalps. Instead the cleansing ingredients Sebclair shampoo uses are;
Disodium Laureth Sulfosuccinate – mild
Cocamidopropylamine Oxide – hair conditioning, very mild – also a foam booster
Decyl Glucoside – mild and gentle
Sodium Peg-7 Olive Oil Carboxylate – mild
Sodium Sunflowerseed Amphoacetate – mild
Did you see all those mild marks? Sebclair shampoo for dandruff really does stand on the shoulders of most other formulas. The cleansing ingredients are all perfect for sensitive scalps, have no significant ingredients likely to cause contact dermatitis and this shampoo still washes oily hair and scalps extremely well.
Also of note, you'll  find:
Grape extract – anti-inflammatory, antioxidant
Lactoferrin – an anti-microbial with immune-regulating properties
Liquorice root extract – a skin conditioner helpful in reducing flaky dry skin, anti-irritant, anti-inflammatory
Telmesteine – anti-inflammatory often used to treat dermatitis
And on top of this Sebclair uses an ultra-mild, natural preservative system, no essential oils, no fragrance, no parfum and no allergens.
Bottom line: If you have an extremely sensitive scalp but suffer from dry scalp or mild/moderate seb derm,  Sebclair shampoo is the embodiment of your perfect remedy.
First Class MChem in Chemistry
A master of chemistry, a product formulation expert and a regular reviewer on this site. Megan wishes to remain partially anonymous so she can be candid about her employer's and competitor products.