Dandruff Deconstructed is reader-supported. All reviews are independent and any products reviewed are purchased by the site owner. To help fund this model, some of the links on the site are affiliate links. If you decide to make a purchase from one of these links, this site will receive some commission. At no cost to you. It helps keeps this place running. Learn more
Ketoconazole is probably the single most effective active ingredient on the market for seborrheic dermatitis sufferers.
It doesn't work for everyone.  No active ingredient does.  But there's a reason why it's a first-line treatment in both the USA and Europe for treating seb derm.  And that reason is – it's one of, if not the, most effective active ingredients [9] out there.
Yet despite it being so effective, only 4% of the shampoos reviewed contain the ingredient. Making it the rarest, along with selenium sulfide, established anti-dandruff active ingredients.
In order to find the best ketoconazole shampoo on the market today, we spoke to four board-certified dermatologists for their guidance,  and have put in literally hundreds of hours worth of research, reviewing over a hundred dandruff shampoos in the process.
In this article, we'll also look at what ketoconazole is, how it works and what the major side effects are.
Giving you the tools you need to make an educated decision on whether this is the ingredient for you, and help you choose your own favorite ketoconazole shampoo.
What's in this article:
The best ketoconazole shampoos
Designed to treat
Seborrheic Dermatitis

Boots are a UK retail pharmacist similar to Walgreens or CVS in the USA. Walgreens and Boots are actually strategic partners (whatever that actually means). Boots have developed their own 2% Ketoconazole shampoo which is a cheaper alternative to Nizoral. Although it does contain a number of harsh ingredients, it's definitely worth a look if you want a cheaper alternative. Expect a review in the coming months.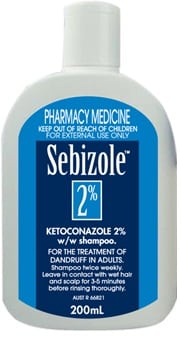 Sebizole 2% Ketoconazole Shampoo
Designed to treat
Seborrheic Dermatitis

Sebizole is another 2% ketoconazole shampoo available in Australia and New Zealand. I have to admit, I don't know much about this shampoo yet as I haven't yet reviewed it.
The ingredients are Sodium laureth sulfate, Cocamide DEA, sodium lauryl sarcosinate, PEG -150 distearate, hydrochloric acid, Germall II (preservative), Herb Flower fragrance, erythrosine sodium, purified water.
When I get my hands on a bottle expect a review!
If you can't find the shampoo you're looking for, chances are we've already reviewed it.
If not, please let us know in the comments below which shampoos you'd like us to take a look at!
How we chose the winners
All our reviewers are experts in their field, be that product formulation, pharmacy or haircare.
They assess the primary purpose of the dandruff shampoo, by examining the active ingredients present in the formulation. These active ingredients are designed to control specific types of dandruff and we'll explain what those are.
Our reviews will also assess the rest of the formulation, deconstructing the shampoos to their constituent parts and describe the key ones in detail.
In addition, we warn of the presence of any one of over 100 ingredients that can potentially itch, irritate and even cause dandruff themselves. A significant number (~90%) of these chemicals have never been tested for their effect on human health. Many of these chemicals are known to have adverse effects on our skin and one of these adverse effects is dandruff.
Unlike most review sites, our reviewers personally try every shampoo they review and they also assess how the shampoo washes, how it smells and look at the price point in their market. These may be medicated shampoos, but that doesn't mean we want to compromise on a little bit of luxury!
What we won't do is tell you if the shampoo will work for you. Our responses to the ingredients are highly personal, so we just couldn't do that.
What we will do is explain, in layman's terms, the purpose of the shampoo and what condition it is designed to alleviate.
What is ketoconazole?
Ketoconazole is an imidazole derivative, broad-spectrum antifungal. In the UK, a 2% shampoo is available to buy from pharmacies for treating seborrheic dermatitis or dandruff as several brands (Ketopine, Nizoral). If your symptoms are severe, your doctor might want to prescribe the shampoo to monitor the condition.
Dr. Ben Barankin, a Toronto based board-certified dermatologist at the Toronto Dermatology Centre, recommends it's usage when he told us, "For mild-moderate dandruff, my preferred over the counter dandruff ingredients include: zinc pyrithione, selenium sulfide, ketoconazole, tar and salicylic acid".
When ketoconazole is used as a shampoo it's not absorbed into the bloodstream, and so the antifungal effects are localized to the scalp [1]. It works by inhibiting enzymes necessary for a fungus to synthesize steroids in the cell membrane. This leads to the cells becoming 'leaky' – unable to correctly regulate electrolytes – causing them to break down.
Who Invented It?
The oral formulation of ketoconazole was developed by Janssen Pharmaceuticals in Belgium – the company behind other well-known drugs such as Imodium and Daktarin!
Ketoconazole was first discovered in 1976 and for the first 10 years, it was applied orally.  Relatively soon after it was relatively quickly replaced with less toxic alternatives that didn't have as many drawbacks [3]:
Absorption varied by individual
It couldn't penetrate the brain for more serious infections
It resulted in gastrointestinal side effects and liver toxicity
Several important drug interactions were discovered
In 2013 due to the risk of liver toxicity, the UK Medicines and Healthcare Products Regulatory Agency (MHRA) formally recommended suspending the license for oral ketoconazole, advising doctors to discuss alternatives with patients [4]. This recommendation specifically excluded topical formulations (e.g. shampoos, creams), because they are not readily absorbed into the bloodstream.
Ketoconazole shampoos have been shown to be effective against a range of fungus and yeast species. These are known to cause several scalp conditions, and so your doctor may prescribe ketoconazole shampoo if your symptoms are consistent with an underlying fungal infection – without needing to send a sample for microbiological testing. Common species susceptible to ketoconazole are summarized below [5]:
Fungus
Yeast
T. rubrum

T. mentagrophytes

T.tonsurans

M. canis

M. audouini

M. gypseum

E. floccosum

P. ovale (Malassezia)

P. orbiculare

C. albicans

C. tropicalis

 
How effective is ketoconazole at treating dandruff
Ketoconazole is one of the few active ingredients to be listed as an official anti-dandruff treatment both in the UK and the USA.
The reason it's so widely recommended is that it's proven to be effective, particularly when treating seb derm.
Board certified dermatologist Brent Thomas Goedjen M.D., founder of Live Oak Dermatology in Roswell, GA explains further, "Part of the mechanism behind seborrheic dermatitis is thought to be an inflammatory immune reaction (resulting in redness, itching, flaking) to an otherwise resident yeast that becomes overly represented on the skin.
Antifungal shampoos such as ketoconazole are useful to regulate the yeast population and therefore reduce in part the trigger for the skin inflammation. Ketoconazole is helpful for this purpose and as a generic is well covered with most insurance plans.
Some people also think the antiandrogenic effects of ketoconazole might reduce sebum production also when applied topically.".
Seborrheic Dermatitis
Numerous studies demonstrate its efficacy in treating seb derm. Among them, a 2015 Cochrane Review identified 51 studies covering over 9000 participants and found those using a ketoconazole shampoo were 31% less likely to have recurrent symptoms within four weeks compared to placebo [6]. The analysis also found that ketoconazole was more effective than ciclopirox, and as effective as steroids – with significantly less adverse effects.
A very recent study published in 2018 [8] showed a 2% ketoconazole shampoo to dramatically improve symptoms of seb derm over 30 days of use – when used once every 3 or 4 days.
Due to the overwhelming success of these studies, Ketoconazole is on the FDA's approved list of dandruff treatments and in the UK, the National Institute for Health and Care Excellence (NICE) recommend 2% ketoconazole as a first line treatment for seb derm on the scalp. This recommendation is backed by the British Association of Dermatologists.
Dr. Caren Campbell, board-certified dermatologist and founder of Caren Campbell MD Dermatology is a fan. "I love ketoconazole shampoo for a variety of conditions from dandruff aka seborrheic dermatitis of the scalp and beard and tinea versicolor on the chest and back. Both are conditions caused by an overgrowth of the normal yeast that lives on our skin.  Ketoconazole helps reduce the number of those organisms on the skin.
I love it simply because it's effective and its affordable so it's often my first line treatment – sometimes in combination with a topical steroid solution.."
Scalp psoriasis
Scalp psoriasis is an inflammatory condition, not typically associated with an underlying fungal infection. The first-line treatment for scalp psoriasis is a short course of corticosteroids. In the 1980s several studies showed that oral ketoconazole could be of some benefit in treating the condition, but the significant adverse effect profile and efficacy of corticosteroids prevented further research [7].
Where can I buy it?
The 1-percent ketoconazole products such as Nizoral are available over the counter. The stronger two-percent shampoo must be prescribed by a doctor in the USA. However, in countries like the UK or much of Europe, it is available OTC.
Personally, I think it's about time the US followed suit…
Common brand names of ketoconazole shampoos
Ketoconazole is sold under a number of brand names including:
How often should I use a ketoconazole shampoo?
To use a dandruff shampoo, or any shampoo for that matter, shampoo, you should always follow the instructions on the label.
Nizoral's instructions are extremely explicit:
Wet hair thoroughly.
Apply a small amount of Nizoral Dandruff Shampoo to your and massage into a lather.
Leave the lather on your scalp for 3 – 5 minutes.
Rinse thoroughly.
Use every 3 or 4 days for 2 – 4 weeks.
If your scalp has not cleared within 4 weeks, speak to your doctor or pharmacist.
To keep your scalp clear and to prevent dandruff returning, use Nizoral Dandruff Shampoo once every 1 – 2 weeks. If you stop using Nizoral Dandruff Shampoo altogether, your symptoms may become a problem again.
Unfortunately, not all shampoos are as prescriptive as this. For example, Regenpure is a bit vaguer:
Apply a generous amount of shampoo to wet hair and massage it into the scalp. Leave the shampoo for three to five minutes and then rinse the shampoo.  Regenepure DR shampoo is suitable for everyday use.  Because of the 1% Ketoconazole, your hair can feel dry when you use the shampoo every day. You can then choose to reduce the frequency (3-4 times per week) and to not wash your hair on the other days. Use a condtioner if desired, preferably Regenepure biotin conditioner.
We looked a little further afield.  The European Commission's Scientific Committee on Consumer Safety recommends leaving the shampoo on for 5-10 minutes before rinsing and applied every 2 to 3 days. But they also caveat this by saying that this can vary by brand, and depends on any other ingredients in the shampoo.
So we asked a doctor for guidance.
Dr. Matthew Zirwas, a board-certified dermatologist and founder of Bexley Dermatology in Bexley, Ohio recommended trying a shampoo for, "at least a month because if your old shampoo had ingredients that were causing a dandruff-like rash of their own, it will take 4-8 weeks for that ingredient to work its way out of your body after you start the new stuff."
For some further clarity, Dr. Ben Barankin, told us, "For mild-moderate dandruff, I recommend daily shampooing, and ideally alternating 3 shampoos, each with active anti-dandruff ingredients."
And if it doesn't work, board-certified dermatologist Adam J. Friedman, MD, FAAD, assistant professor of dermatology and director of dermatologic research, Albert Einstein College of Medicine explains via the AAD, "For most people, dandruff does not require medical attention. However, sometimes the flaking and itching that appears like dandruff is actually a medical condition, such as seborrheic dermatitis, psoriasis, fungal infections of the scalp, or eczema. If you continue to have symptoms after using a dandruff shampoo, consult a board-certified dermatologist."
By visiting a board-certified dermatologist, you can be properly diagnosed and be prescribed stronger medication than you can pick up at the pharmacy. As Dr. Ben Barankin says, "for moderate to severe cases of dandruff, a steroid shampoo or leave-in lotion can be prescribed. A prescription ciclopirox olamine lotion is often a nice option."
What are the risks with using it?
When used as a shampoo ketoconazole is very well tolerated, not associated with the harmful effects of the oral formulation. In a review of 22 clinical trials covering over 2800 participants, no adverse effects had an incidence of over 1% [2]. The most common reactions occurred in 1 in every 100-1000 people:
Dry skin
Rash
Irritation
Abnormal hair texture
The shampoo can cause irritation to the eyes, and so if accidental contact happens, they should be immediately bathed. Certain individuals are more susceptible to adverse reactions, and so a trial of selenium sulfide, zinc pyrithione, piroctone olamine, ciclopirox olamine, coal tar, salicylic acid, tea tree or any of the other active ingredients known to help dandruff may be more suitable alternatives.
References
[1] Faergemann, J., Borgers, M., & Degreef, H. (2007). A new ketoconazole topical gel formulation in seborrhoeic dermatitis: an updated review of the mechanism. Expert opinion on Pharmacotherapy, 8(9), 1365-1371.
[2] EMC. (2015). Pinewood Healthcare: Ketoconazole 2% w/w Shampoo. [Accessed: 28/2/17] www.medicines.org.uk
[3] Gupta, A. K., Daigle, D., & Foley, K. A. (2015). Drug safety assessment of oral formulations of ketoconazole. Expert Opinion on Drug Safety, 14(2), 325-334.
[4] MRA. (2013). Oral ketoconazole: do not prescribe or use for fungal infections—risk of liver injury outweighs benefits. [Accessed: 28/2/17] www.gov.uk
[5] Van Cutsem, J. (1983). The antifungal activity of ketoconazole. The American journal of medicine, 74(1), 9-15.
[6] Cochrane Library. (2015). Antifungal treatments applied to the skin to treat seborrhoeic dermatitis. [Accessed: 28/2/17] www.cochrane.org
[7] Farr, P. M., Marks, J., Krause, L. B., & Shuster, S. (1985). Response of scalp psoriasis to oral ketoconazole. The Lancet, 326(8461), 921-922.
[8] Chaijan MR1, Handjani F2, Zarshenas M3, Rahimabadi MS4, Tavakkoli A1. (2018) The myrtus communis L. solution versus ketoconazole shampoo in treatment of dandruff: A double blinded randomized clinical trial.
[9]Piérard-Franchimont C1, Goffin V, Decroix J, Piérard GE. (2002) A multicenter randomized trial of ketoconazole 2% and zinc pyrithione 1% shampoos in severe dandruff and seborrheic dermatitis.Skin Pharmacol Appl Skin Physiol. 2002 Nov-Dec;15(6):434-41.
Master of Pharmacy
Ethan graduated a number of years ago after studying pharmacy in the UK, and is now a practicing pharmacist by day.
By night he writes the most stunning articles on a whole range of pharmaceutical subjects both here, and on our sister site at safehouseholdcleaning.com