Dandruff Deconstructed is reader-supported. All reviews are independent and any products reviewed are purchased by the site owner. To help fund this model, some of the links on the site are affiliate links. If you decide to make a purchase from one of these links, this site will receive some commission. At no cost to you. It helps keeps this place running. Learn more
Ingredients

Wash

Scent

Price
Summary
Almost world class and a very interesting concept, Skinchanted Peek a Poo really ought to be called "Nearly No Poo".

The no poo movement is something that has really resonated with us over the years.  For the uninitiated, the entire no-poo movement was based on cleaning your hair with natural household products rather than the chemical-laden synthetic shampoos we see today.   While we have searched high and low for the most gentle of these chemical shampoos, the no-poo movement found innovative ways to clean their hair using e.g. water only, dissolved baking soda,  diluted vinegar, honey and various oils e.g. coconut oil.
I've observed with interest the explosion of this movement, and even contributed with a study into anti-dandruff no poo.  It's one of my favorite pieces of work.  People can now genuinely, and this is scientifically proven, control their dandruff using natural ingredients only.  Another huge advantage of no poo is that chemical shampoos tend to strip your hair of natural oils (sebum).  No poo treatments, in theory, will leave your sebum intact.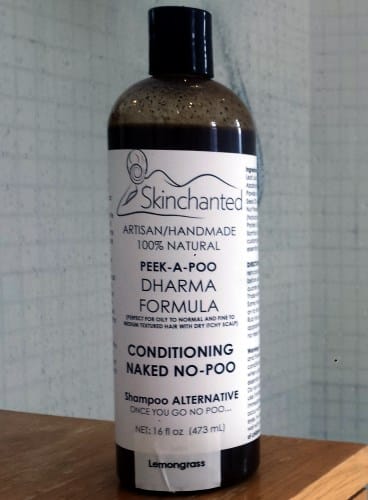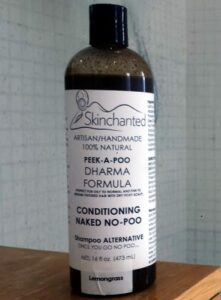 Which brings me nicely into this review.  Skinchanted have developed an entire range of commercial no-poo treatments.  We reviewed the Dharma formula as it is specifically designed for dry scalps, but the ingredients are so similar in the range this review could really apply to any of them I imagine.  Commercial no-poo approaches have tended to fail primarily because a person has access to all the no-poo ingredients they need to make their own treatments.  In addition, a manufacturer will have to add preservatives to their formulas to give them any kind of shelf life.  Typically these preservatives are synthetic chemicals of some sort, which tends to put the purists
These no-poo treatments are applied and rinsed like regular shampoo.  Unlike regular shampoo, they do not foam.  For some e.g. my partner, this will be really off-putting.  I actually didn't mind this at all.  This particular formula was a deep red color and quite watery.  I had to use quite a bit to clean all of my hair, and I have pretty short hair.  My partner had to use quite a lot.  Although the smell wasn't entirely unpleasant, it wasn't great either.  It reminded me of fermenting fruit, which perhaps it is!  I also had lemongrass essential oil added to my bottle, to see if the anti-fungal properties would control my seb derm.  Them smell of crushed lemongrass was pretty prominent.  One other thing, the liquid is filled with, I presume, seeds.  My partner hated this but I didn't mind at all – I guess they help exfoliation and I don't mind my treatments to be kinda earthy.  There's a hippy in here somewhere.
Anyhow, rinsing was fine although again my partner had trouble (her hair is long and thick) and she used a regular shampoo to wash the no poo out.  If you have to do this, you're missing the point…
My hair didn't feel squeaky clean as the bottle promised.  Which indicates my sebum remained intact.  And overall my experience was positive.   This treatment will clean your hair.  It will probably, and I say probably for a reason, help your dry scalp too.  It is unlikely to control anything but the weakest cases of seb derm though.   You have to dig into the ingredients to understand why.
The shampoo is made up of the following ingredients:
Aloe Barbadensis (Aloe) Leaf Juice – a natural moisturizer and skin soothing agent found in a wide number of cosmetics
Sapindus Mukorossi (Soapnut) Berries – an extremely gentle cleansing agent used in tradtional medicie to treat eczema and poriasis.  I'm guessing it was the the seeds of these berries that I noticed in the treatment.
Azadirachta Indica (Neem) Leaf Powder – Neem is a tree found in the Indian subcontinent and has been literally thousands of years to treat a wide variety of skin conditions. The neem leaf has been shown to demonstrate immunomodulatory, anti-inflammatory, antihyperglycaemic, antiulcer, antimalarial, antibacterial, antiviral, antioxidant, antimutagenic and anticarcinogenic properties.
Acacai Concinna (Shikakai or Wild Turmeric) Nut Powder – used by certain factions of the no poo movement to clear dandruff
Lactobacillus Ferment (Natural Preservative) – a natural preservative that inhibit bacterial growth
Hydrolyzed Soy Protein – Normally added to foods as a flavor enhancer, I'm guessing its also added as a preserving agent of some sort
Glycerin – you've probably used this or seen it used in cooking.  Glycerin is a thick neutral odourless sweet transparent liquid.
Azadirachta Indica (Neem) Seed Oil – a multi-purpose oil much like olive or rapeseed oil.  The oil typically has a high oleic acid content.  Oleic Acid can actually induce an outbreak of seb derm.
Xanthan Gum – a stabilizer, probably added to bind the treatment together.
If that was it then this treatment would be a 5-star dry scalp treatment.  The presence of the neem seed oil makes it tough to recommend to seb derm sufferers.  Anyhow, and rather, unfortunately, the shampoo doesn't stop there.  The company has added one final ingredient:
Potassium Sorbate.
Gah!  Potassium Sorbate is a synthetically produced chemical used in a number of products e.g. MacDonalds Milk Shakes, to prevent mold growth.  It is also a known to cause contact dermatitis in some people.
I can understand the dilemmas the manufacturer of commercial no-poo treatments must be in.  By their very nature, commercially produced no treatments are a compromise.  Commercial products need a shelf life.  Chemicals typically give product shelf life.  Synthetic chemicals = poo.
If the company could find a formulation that doesn't contain synthetic chemicals then they have a potentially world-class treatment on their hands.   Potassium Sorbate aside, the ingredients are both innovative and chosen with great skill and attention.   I'm hopeful this is the first step of a great journey for this company.  However with Potassium Sorbate in there, it really ought to be labeled "nearly no poo".
The site owner. I founded, and have ran this site for too many years now.
I have extremely sensitive skin, have suffered from seb derm for all my adult life and this site is my way of doing something about it.
Check out my sister site at safehouseholdcleaning.com