Dandruff Deconstructed is reader-supported. All reviews are independent and any products reviewed are purchased by the site owner. To help fund this model, some of the links on the site are affiliate links. If you decide to make a purchase from one of these links, this site will receive some commission. At no cost to you. It helps keeps this place running. Learn more
Ingredients

Wash

Scent

Price
Summary
What could be a brilliant idea, Stoppit is let down by the quality of ingredients used in the cream. Essentially applying Stoppit to your head is akin to applying a medicated vaseline to your scalp. It may soothe in the short term but there will be problems if used long term.

Stopitt Medicated Anti Dandruff Hair and Scalp Treatment is hugely popular on Amazon in the USA but hasn't made a real impact outside those borders.  It's designed for seb derm and dry scalp sufferers and isn't a shampoo at all which really piqued my interest.   What exactly is it?
Stopitt comes in a hair gel tub type container and the branding looked like that of a small company.  I don't mean to be disparaging there, I actually prefer to buy from smaller businesses, and it was clear from the branding that Stopitt is manufactured by a small company.
The treatment itself looks like a thick moisturizing lotion.  Much like the old cold creams readers of a certain vintage will remember.  It smelled like Vaseline too.  I wasn't too sure why I was getting so many flashbacks to my grandmother's bathroom and I wasn't feeling too comfortable about it either!
There was a problem though.  I didn't know how to apply it after reading the instructions.   Do I use it in place of a shampoo?  Do I use it after shampooing but rinse out?  Do I leave it in?  I really wasn't sure so I headed over to their website, expecting a wealth of information.  How wrong I was…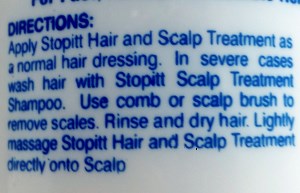 It wasn't until I read a few reviews that I began to understand what people were doing with it.  People seemed to have the most success massaging it into their scalp straight after washing and leaving it in.  Much like you would apply a moisturizer to your skin after washing.  It's a new concept in dandruff treatment for me.  But did it work?
Truth be known, I didn't actually feel too good putting a cream on my wet scalp.  It must be noted that I wasn't actually suffering a breakout at the time.  Some reviewers have mentioned that there was a tangible relief at applying a cold cream on a hot dry itchy scalp, and I can see that.  However, it felt a bit sloppy for me.  I have short hair too.  For those with long hair, it could get messy…
For the next few days, I suffered no perceptible itchiness or breakouts, so that's one plus point for Stopitt.  But would I recommend it?
Honestly speaking, I couldn't recommend it.  It's an interesting concept, especially if you're suffering an itchy breakout, but the ingredients are horrible.
The one active ingredient is Zinc Pyrithione; a generic mild anti-fungal agent that you'll find in Head and Shoulders and thousands of other generic no brand dandruff shampoos.  It works for some people but there are far better active ingredients for seb derm sufferers out there.  The cream is primarily made up of water, petroleum oil, mineral oil, glycerine and wax.  Which explains why this cream smells a little of Vaseline.  Vaseline is essentially petroleum jelly, a by-product of petroleum.   As are mineral oil and petroleum oil.
Long term we recommend that all dandruff sufferers try to avoid products that contain silicone or petroleum oils.  Actually, scratch that.  We recommend that everyone avoid long term usage of hair treatments containing petroleum or mineral oil.  While they aren't contact allergens per se, they aren't water-based substances.  Meaning they will form an oily barrier on your scalp.  This barrier will build up and isn't easily washed off being oil and not water-based.  This oily build-up will clog your pores over time and prevent your scalp from breathing or sweating.  Meaning this product over time will likely give you a dry scalp and cause outbreaks of seb derm or psoriasis if you suffer from those conditions.  This product is essentially one big tub of product build up.
While this is an interesting idea, and one I'd like to see more of, the formulation isn't ideal for long-term usage.  If the concept appeals to you, we'd advise using it sparingly. Which is a shame, the concept really works for us.  We can see real value in applying a cream rather than a shampoo.  Unfortunately, we won't be applying this one.
The site owner. I founded, and have ran this site for too many years now.
I have extremely sensitive skin, have suffered from seb derm for all my adult life and this site is my way of doing something about it.
Check out my sister site at safehouseholdcleaning.com