Dandruff Deconstructed is reader-supported. All reviews are independent and any products reviewed are purchased by the site owner. To help fund this model, some of the links on the site are affiliate links. If you decide to make a purchase from one of these links, this site will receive some commission. At no cost to you. It helps keeps this place running. Learn more
Ingredients

Wash

Scent

Price
Summary
Alpecin have formulated a genuinely innovative shampoo here, the likes of which I've never seen before. The use of 5 active ingredients is controversial but no doubt effective. Unfortunately they've also added some harsh allergens as if to undo their good work. If these allergens were replaced by gentler ingredients they would be onto something very special here. I'm torn between a 3.5 and a 4 as it is but with just a few teaks this could be a 5 star shampoo.
I can only recommend you use this sparingly unless you have skin like a rhinos hide. If you do, lucky you!

Alpecin, like my current favorite dandruff shampoo Sebamed, is a German shampoo. The company is perhaps best known for their caffeine shampoos which are reported to help premature hair loss. This isn't my expertise but the lesser known (but impressively titled) Dandruff Killer Shampoo has had my attention for a while now. The shampoo is reported to have 4 active ingredients. It actually has 5 active ingredients truth be told but Alpecin aren't reporting Benzalkonium Chloride as active for some reason.  The 5 active ingredients are:
Piroctone Olamine: the current darling of the dandruff shampoo world. This anti-fungal agent helps control relatively strong Seb Derm conditions by killing the yeasts associated with the condition.
Zinc Pyrithione: The former darling of dandruff shampoos. The active ingredient is ten a penny in the cheapest own brand dollar store generic shampoos and, weirdly, high-end dandruff shampoos. This ingredient is also an antifungal agent although not as strong as Piroctone Olamine.
Benzalkonium Chloride: The active ingredient that isn't reported by Alpecin to be an active ingredient. If it isn't an active ingredient then Dermax wouldn't be in business today! Benzalkonium Chloride is actually an antiseptic agent that you'll find in hand sanitizers. It works in two ways. Firstly, it loosens dry skin.  Secondly, its antiseptic properties kill germs that can cause the yeast that causes seb derm. Woosh!
Salicylic Acid and Fumaric Acid: These two active ingredients are mild acids that loosen the crusty build up you get from dandruff. The thinking behind this is that it makes existing dandruff easier to wash away. Helping to increase the penetration of the antifungals.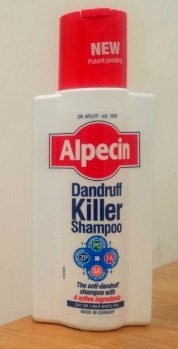 While most shampoos have one, maybe two active ingredients, Alpecin have taken the blunderbuss approach to dandruff control. Literally attacking the germs and flakes from all angles. I have never, ever heard of combining 5 active ingredients before. But does it work?
The shampoo is light blue color.  The same color like a regular toothpaste. This is fashionable in US shampoos these days and is the result of adding food dyes. In Alpecin's case, it's the result of adding a blue and yellow food dye. I'm not a fan of these dyes per say as some people can react to them but fashion is fashion… The foam generated by the shampoo is dense and luxurious and my hair felt very clean and soft afterward. After drying my hair genuinely felt as if I'd used a conditioner. A closer inspection of the ingredients revealed why.
The manufacturers have obviously put a lot of thought into this shampoo:
Allentoin, for example, is a naturally occurring chemical that can be extracted from cow's urine. Although this may sound disgusting, the chemical will help moisturize your scalp, help to heal wounds while loosening dead skin cells. It makes for an excellent but underused addition to dandruff shampoos.
Panthenol is derived from vitamin B5 and helps to prevent your scalp and hair from drying out. Again it is a perfect ingredient in for dandruff sufferers and an excellent substitute for the usual silicones or waxes typically added to shampoos.
Hydroxypropyl Guar Hydroxypropyltrimonium Chloride may sound terrifying but it is actually a very gentle conditioner. So gentle that it's approved for use in ECOCERT Certified cosmetics. The company have also added Vitamin C which helps removes chlorine as you wash. Vitamin E is added as it makes a great preservative.
This is an absolutely fantastic use of ingredients, the like of which I've not seen before.
On the flip side, the company has added one or two contact allergens which made me wince. As well as the obligatory Fragrance, the company have also added DMDM Hydantoin. DMDM Hydantoin is an extremely harsh formaldehyde releaser. Yes, formaldehyde. The stuff they use to preserve corpses.
The shampoo isn't sulfate free either with the addition of Sodium Laureth Sulfate (SLES). SLES isn't considered as harsh as SLS but I typically avoid it if I can.
Sodium Hydroxide is another ingredient I typically look to avoid as it dries my skin out after prolonged usage.
Last, but not least, they have added Cocamidopropyl Betaine which won contact allergen of the year back in 2004 and remains nigh on ubiquitous over a decade later.
The use of 5 active ingredients seems like overkill to me also. I personally prefer the less is more approach by using a single active ingredient shampoo with precision. Two of these ingredients are acids which I personally advise anyone to use sparingly. With these ingredients and allergens, I can't see how the company can advise that the shampoo can be used daily. I wouldn't. However, it's no doubt effective to blitz your scalp like this.  Alpecin is the blunderbuss of dandruff shampoos!
So if you have dandruff but not especially sensitive skin then Alpecin is a shampoo well worth checking out. However if, like me, you have sensitive skin I would use this shampoo very sparingly. Or perhaps try their national counterpart, Seba Med.
Alpecin has formulated a genuinely innovative shampoo here, one which I've never seen before. If the contact allergens were replaced by gentler ingredients they would be onto something very special here. As it is, I can only recommend with caution. I look forward to seeing how this one progresses – with just a few tweaks this could be a 5-star shampoo.
The site owner. I founded, and have ran this site for too many years now.
I have extremely sensitive skin, have suffered from seb derm for all my adult life and this site is my way of doing something about it.
Check out my sister site at safehouseholdcleaning.com