Dandruff Deconstructed is reader-supported. All reviews are independent and any products reviewed are purchased by the site owner. To help fund this model, some of the links on the site are affiliate links. If you decide to make a purchase from one of these links, this site will receive some commission. At no cost to you. It helps keeps this place running. Learn more
Summary
DHS Clear Shampoo is a decent shampoo to use between medicated shampoo washes, or if you are suffering from a dry scalp. We say decent and not great because, although it has only a few ingredients, a significant portion are mild to medium contact allergens. As such, we can't help but be mildly disappointed given the company's previous track record of producing the gentlest shampoos on the market.

DHS aren't a stranger to this site. They are the company responsible for the single highest review score of any shampoo on this site. Their coal tar shampoo is the only 5 our of 5 rated shampoo we've featured, and as well as offering a luxurious wash, it contains none of the 100 or so contact allergens we monitor shampoos for. I have to admit, I was genuinely excited to try this Clear Shampoo. Although it's not strictly a dandruff shampoo, every dandruff sufferer needs to use a non-medicated shampoo as part of their regime. Dry skin, eczema or sensitive skin sufferers need to use as gentle a shampoo as possible. When a manufacturer of the gentlest shampoo we've reviewed releases a shampoo designed for "daily cleansing of hair and scalp", we sit up and take notice.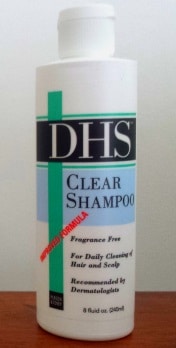 The shampoo itself is clear. Very clear. There isn't the slightest hint of color in there (although after #TheDress I'm not sure I trust my eyes any longer – it was clearly white and gold by the way…).
More noticeable was the lack of smell. There is no smell whatsoever. The bottle says Fragrance-Free but often that means the manufacturers have added chemicals to mask any smells. In this case the shampoo is definitely free of any perfumes or fragrances. Weirdly though, the other ingredients have no perceptible smell at all.
The foam produced by the shampoo is luxurious and thick but the wash didn't leave my hair feeling too soft. Some people have complained that it dried their hair. In my case, it didn't dry my hair as such, but it certainly didn't feel particularly soft afterward. A conditioner may be required for some people.
Which leaves the ingredients. Good news first. There are very few ingredients in the shampoo – only seven in total. I am all in favor of using as few ingredients as possible in any shampoo.  Chances are, fewer people will react to the shampoo. It is perfume free too as we've already established. However, and unfortunately I must add, 3 of the 7 ingredients are known to cause contact dermatitis. None of these are particularly harsh ingredients, but all are rated amber in the ewg database. Benzyl Alcohol is perhaps the most disappointing ingredient in there. For a dry scalp treatment, it is a shame to see an ingredient in there that is known to dry the scalp and hair. This helps explain the many of the reviews complaining of a dry scalp afterward. It also explains why my hair didn't feel particularly soft or conditioned. Cocamidopropyl Betaine is another allergen added which really disappointed. CB is so widespread it won contact allergen of the year in 2013. It's also such an easy ingredient to replace these days. Finally the shampoo isn't sulfate free – the company have added Sodium Laureth Sulfate. Although this is widely considered to be less harmful than SLS, it's still a disappointing addition by this of all manufacturers.
All in all this shampoo is slightly underwhelming. Don't get me wrong, it is a good shampoo and will serve the needs of many many people. However, given the company's track record, it is a genuine disappointment to see these harsh ingredients in there. For most people, this will perform admirably without causing any reactions. But for some, it will dry and irritate the scalp.
The site owner. I founded, and have ran this site for too many years now.
I have extremely sensitive skin, have suffered from seb derm for all my adult life and this site is my way of doing something about it.
Check out my sister site at safehouseholdcleaning.com