Dandruff Deconstructed is reader-supported. All reviews are independent and any products reviewed are purchased by the site owner. To help fund this model, some of the links on the site are affiliate links. If you decide to make a purchase from one of these links, this site will receive some commission. At no cost to you. It helps keeps this place running. Learn more
Review
Ingredients

Wash

Scent

Price
Summary
Dandruff shampoos can wreak havoc on dry, itchy scalps. Sea Magik Mineral Shampoo is different. A calming, hydrating formula with a combination of gentler, anti-dandruff actives. With independent research to back up claims that it's potent, powerful yet still soothing. A great overall formula that's suitable for all but the most hypersensitive or allergy-prone skin types.

Vegan, natural, cruelty-free, ocean-friendly and bottled in sustainable sugarcane packaging. Sea Magik Mineral Shampoo for dry, itchy, irritated scalps has a resume worth of credentials. Although let's be honest – what matters most is does it work? Will Sea Magik Mineral Shampoo save you from an embarrassingly itchy scalp? Does it work for seb derm too?
We start at the beginning. Can we trust the makers of Sea Magik Mineral Shampoo? Who are they?
There's a lot to love here. Sea Magik is a family-founded business now trading as an independently run British spa brand. It all started with Robert, the current MDs dad. Growing up in Hungary as a kid he took fun-filled trips to the natural therapeutic salt lakes with his granddad. He marveled at the skin benefits and wanted to bring their 'wonders' to others. If you visit the Sea Magik website directly you will read 'magical effect on the skin' – we don't believe in magic here but we do believe in science –  and we're delving into this soon.
Being founded in 1981 Sea Magik has surely stood the test of time. Their ethos is 'health through mineral water'. Their 4 key ingredients are water, salt, mud and seaweed. They promise organic plant extracts and minimal synthetics. They boast cruelty-free, 100% vegan and health first status.
Big ticks so far. Now's time to delve into first appearances. What can you expect to arrive at your front door after ordering a bottle of Sea Magik Mineral Shampoo?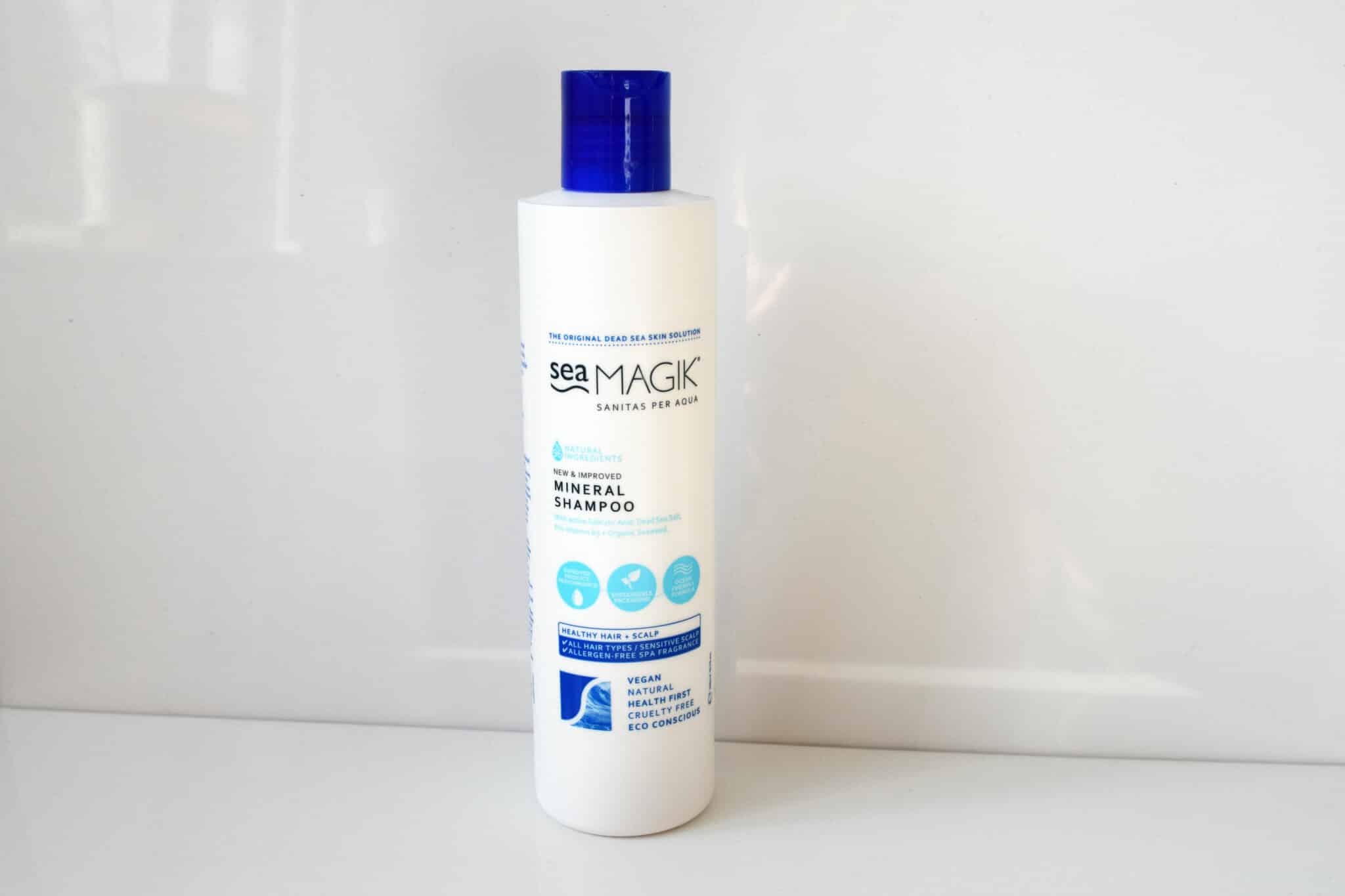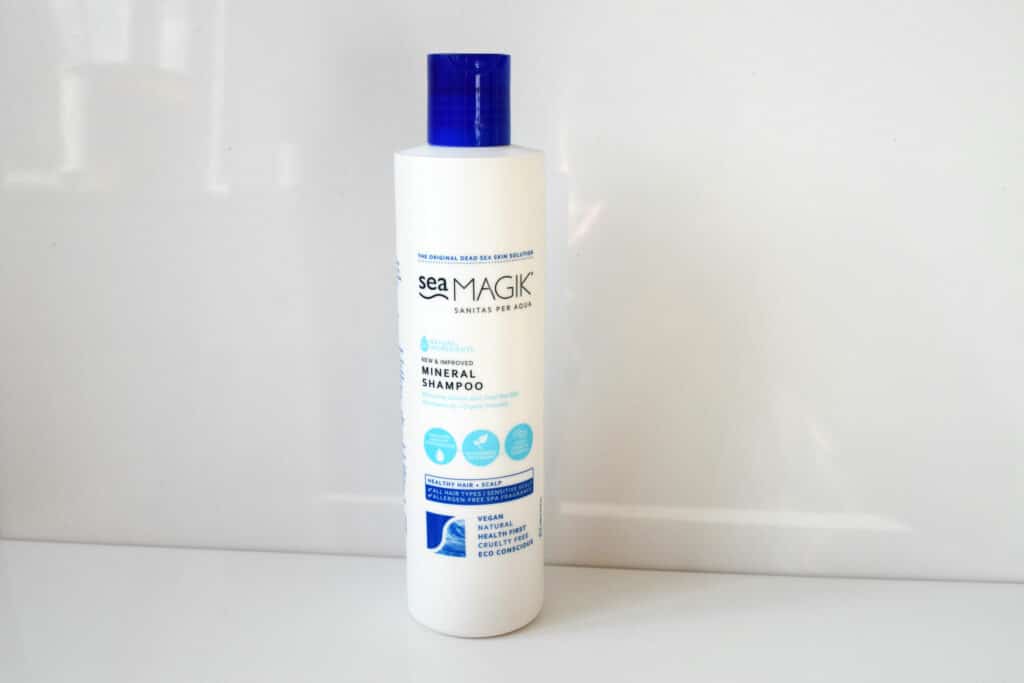 The answer is a sturdy, simple, excess packaging-free 300ml bottle promising you a new and improved formula. The branding is sleek, almost medicinal looking. The words 'Mineral Shampoo' jump out from the start. It's an easy-to-use flip-top bottle with a pleasing soft-touch feel. This one won't be slipping through wet hands.
Talking about wet hands. It's time to get into Sea Magik Mineral Shampoo in-use performance. How does it feel, smell, look and work?
The answer is just like a normal shampoo. Well almost. Sea Magik Mineral Shampoo lathers well although with a mousy foam rather than bubbling suds.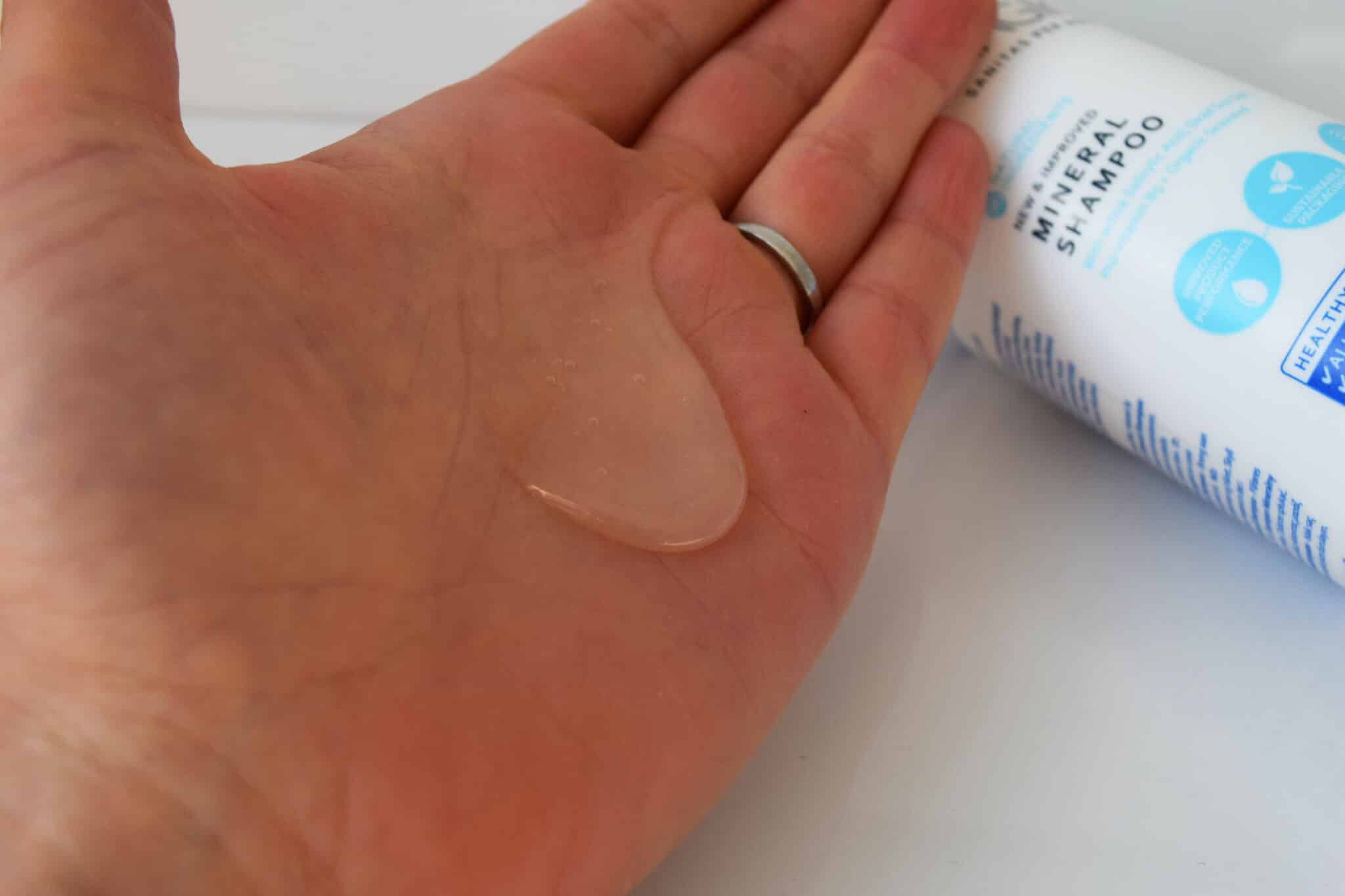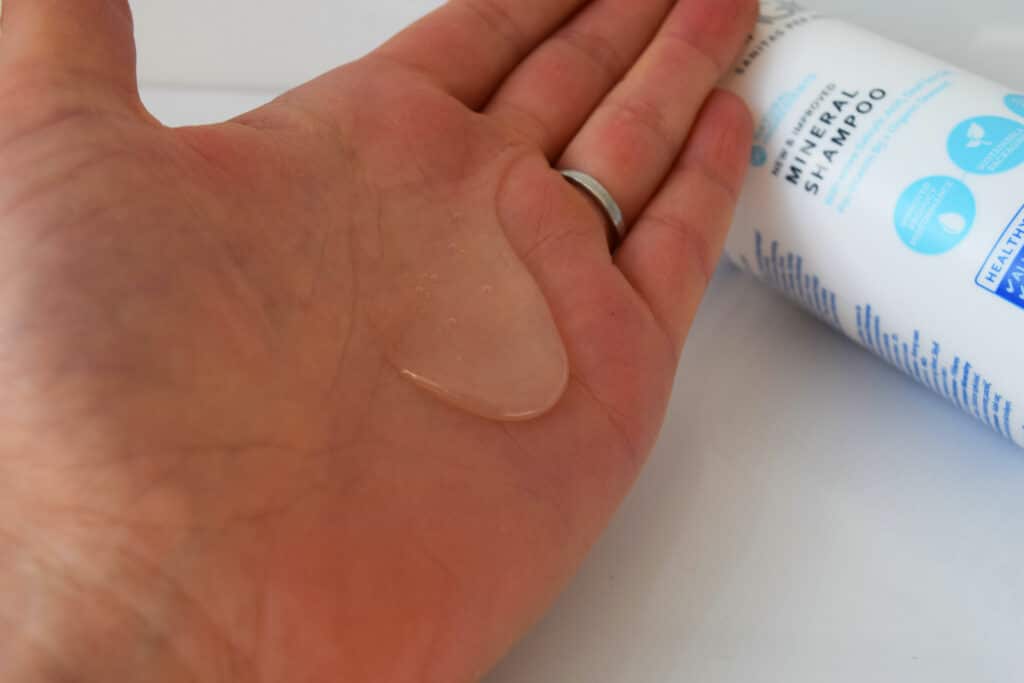 Shock fact – shampoos do not need big bubbles of foam to work well. It's true they can improve product performance by making it easier for you to spread about your scalp, however, there are other, (cleverer) ways to do this.
Sea Magik Mineral Shampoo promises us they will gently cleanse hair, soothe our irritated scalps and after doing both of these tasks, leave us with soft, shiny healthy hair and a hyper hydrated scalp.
I'm going to be honest with you here. Yes Sea Magik Mineral Shampoo does cleanse well (I'm speaking to how gently that is soon) and yes my hair was soft and somewhat shiny – just like I would expect from any decent shampoo. Was it hydrating? Potentially. Slightly.
How effective Sea Magik Mineral Shampoo is at hydrating your scalp is going to depend on how long you like to lather in the shower. Hydrating actives need time to absorb into your skin. If you're washing this shampoo away quickly, hydrating benefits will be minimal.
Note – this is a balancing act. The cleansing surfactants can cause irritation and dryness when left on skin for too long – exactly what we want to avoid.
Last point – Sea Magik Mineral Shampoo is noticeably fragranced. It's a subtle, base-heavy scent that grows in strength as you lather. It might remind you of 'baby'.  There are no sharp citrus tones just a warm, mellow, cozy, comforting scent.
While great for your nose, the fragrance is not always great for a dry, itchy, irritated, dandruff-prone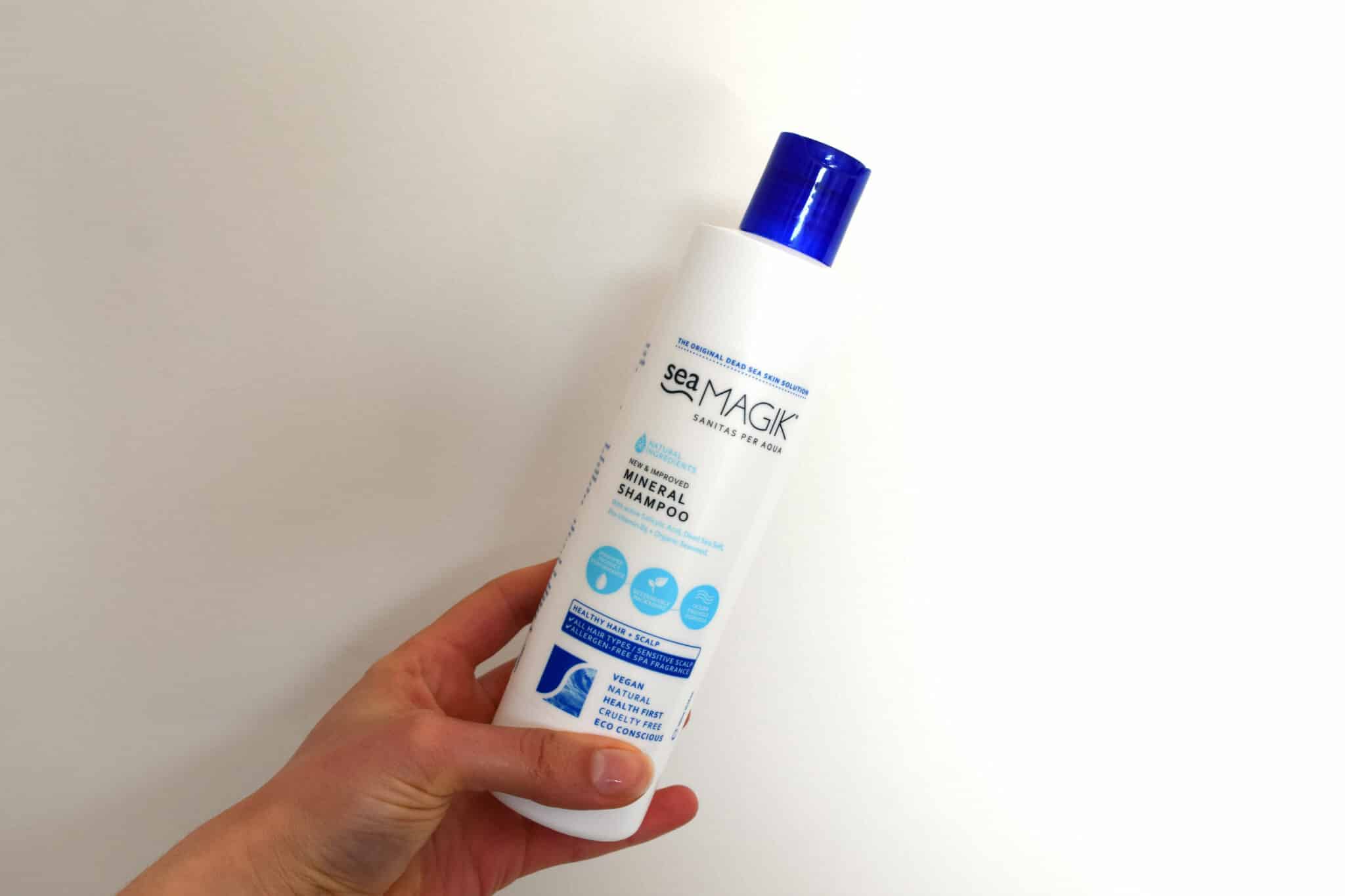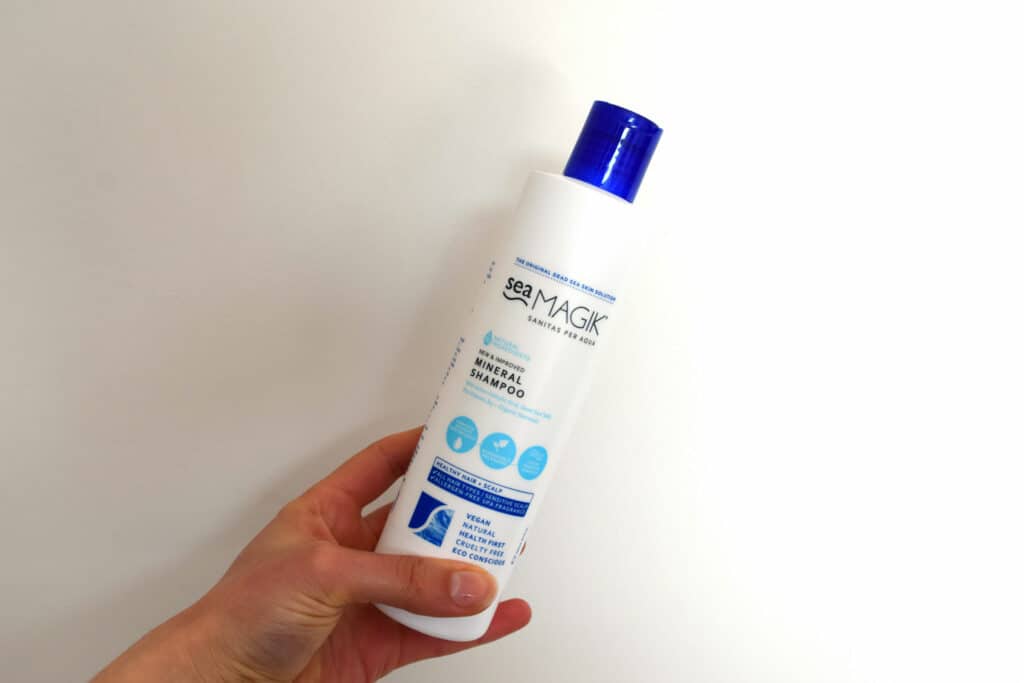 scalp. Especially if the fragrance contains known, legally listable allergens.
We'll be finding out soon if Sea Magik Mineral Shampoo does because right now it's time for us to move onto the flesh. The active ingredients. The inside ingredients. What are they and do they have the potential to help?
Let me list the goodies out for you here, we have in order of amount in the bottle;
Salicylic acid – a leave-on exfoliant which can help soften and break down dead skin flakes, perfect for dry, itchy scalps prone to dandruff-type symptoms. This benefit also allows for other actives to absorb in more effectively as proven in the American Journal of Clinical Dermatology. Salicylic acid doesn't stop here though, adding on mild antibacterial effects – helpful because skin that's dry and flaky is prone to bacterial attack. And mild infections make itchy scalps a whole load itchier.
Piroctone olamine – an anti-fungal which when combined with salicylic acid is proven to be highly effective in the treatment of dandruff. In fact a study published in 2000 showed this end result with just twice weekly use over 4 weeks.
Panthenol aka pro-vitamin B5 – a fantastic goody – in fact, Pantene is solely founded on this active ingredient. Attracts water to your skin and locks it in. Can help to boost your skin cell metabolism for a healthier, happier scalp plus it's also great for super shiny hair.
Glycerin – works a bit like panthenol, attracts water to your skin and locks it in.
Dead sea salt – the 'magic ingredient' – high in magnesium, potassium, and calcium ions all of which are vital for healthy skin. For example, your skin has what's called a calcium gradient, regulating how your skin sheds and replenishes itself. When your calcium gradient gets upset skin health stutters and your scalp can get dry, itchy and flaky. This 2005 study tested 5% dead sea salt baths (15 mins) on volunteers with atopic dry skin and results showed significant improvements in hydration and skin repair.
There's a lot to love about Sea Magik Mineral Shampoo. But are there bad guys in the mix that you should be aware of?
Yes. As with most shampoos, there are a few questionable ingredients. But spoiler alert – overall these are a cause for concern only for the most hyper-sensitive of skin types. We have:
Ammonium lauryl sulfate – the primary cleansing active. Gentler than sodium lauryl sulfate which is commonly found in bog-standard shampoos, however not the most gentle either. It makes Sea Magik Mineral Shampoo as good as a drugstore shampoo in cleansing performance, however, is not ideal for hyper-sensitive scalps.
Cocamidopropyl betaine – the secondary cleansing actives, it's gentle but some people can be allergic – it's a watch out more than a warning.
Fragrance – not ideal, however, this 'spa fragrance' doesn't contain essential oil allergens. If your skin's hyper-sensitive, the inclusion of fragrance may rule out Sea Magik Mineral Shampoo.
Benzyl alcohol– a preservative which is also a known allergen. If you're allergic. Avoid.
So what is the bottom line?
Sea Magik Mineral Shampoo is a great find. It has actives proven to be highly effective at helping heal itchy, dry, dandruff-prone scalps. Also combining these with precious dead sea salt ions shown in several published studies to promote ideal skin health. It's a big tick from us for all but the most hyper-sensitive scalp types.
The site owner. I founded, and have ran this site for too many years now.
I have extremely sensitive skin, have suffered from seb derm for all my adult life and this site is my way of doing something about it.
Check out my sister site at safehouseholdcleaning.com