Dandruff Deconstructed is reader-supported. All reviews are independent and any products reviewed are purchased by the site owner. To help fund this model, some of the links on the site are affiliate links. If you decide to make a purchase from one of these links, this site will receive some commission. At no cost to you. It helps keeps this place running. Learn more
Ingredients

Wash

Scent

Price
Summary
If you're struggling with recurrent itchy dandruff Kelual DS treatment shampoo is the formula for you. An impressive mix of soothing, exfoliating and microbiome balancing active ingredients in an impressively hydrating formula. A benefit likely responsible for its exciting clinical trial results showing a whopping 80% reduction of symptoms of itching.
Comments Rating
( reviews)

Eliminates dandruff with long-lasting results. That's what Kelual DS treatment shampoo is promising us. Not only is this pharmacy favorite a labeled treatment for seborrheic dermatitis, it's also indicated for especially hard to treat cases meaning if you're suffering recurrent dandruff and no matter what shampoo you're trialing, stubborn flakes and itching just won't budge – Kelual DS treatment shampoo could be a revelation. This French-founded formula was France's bestselling pharmacy dandruff shampoo in 2019 – an initial glimpse of gold backing up its claims.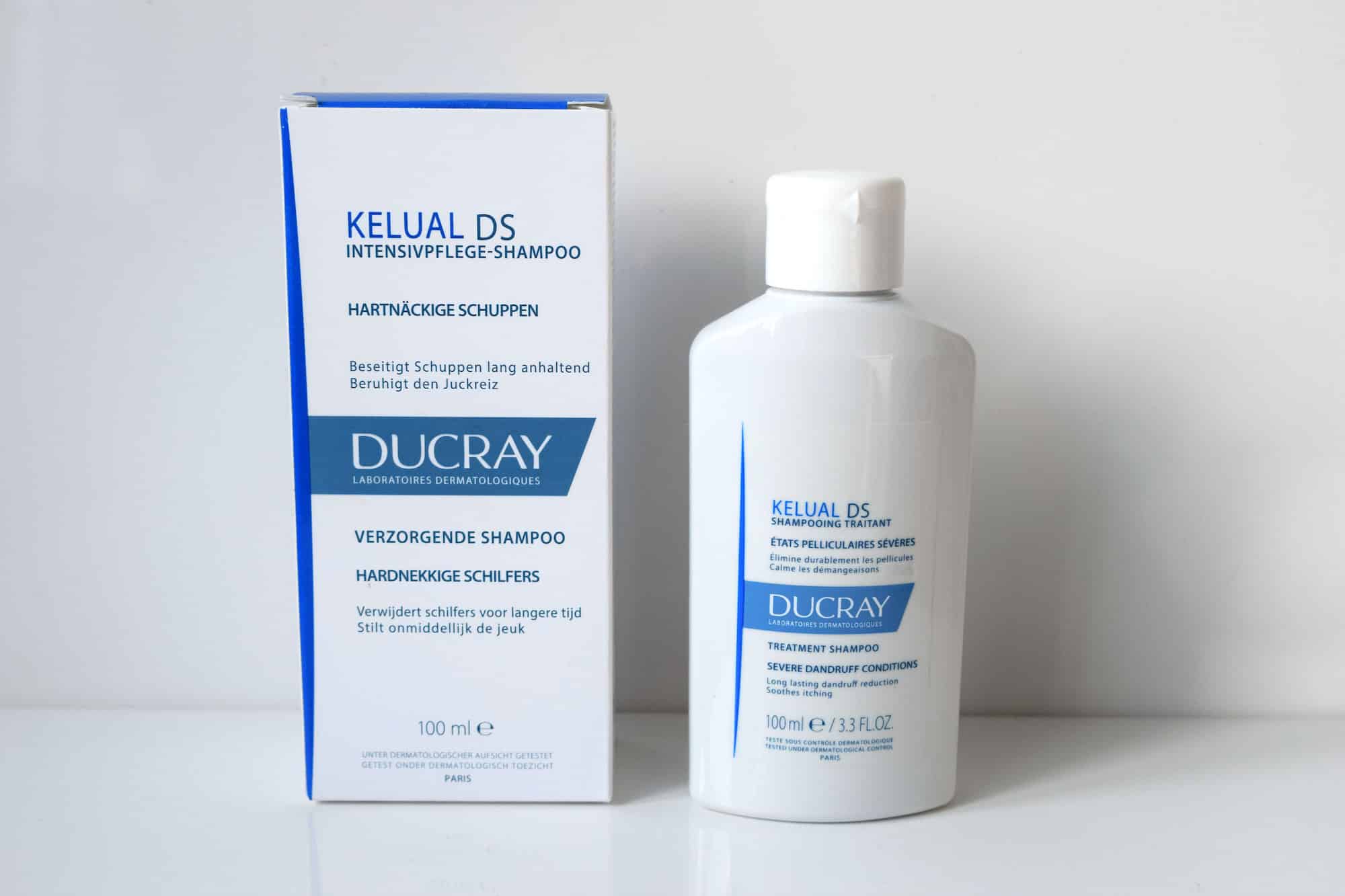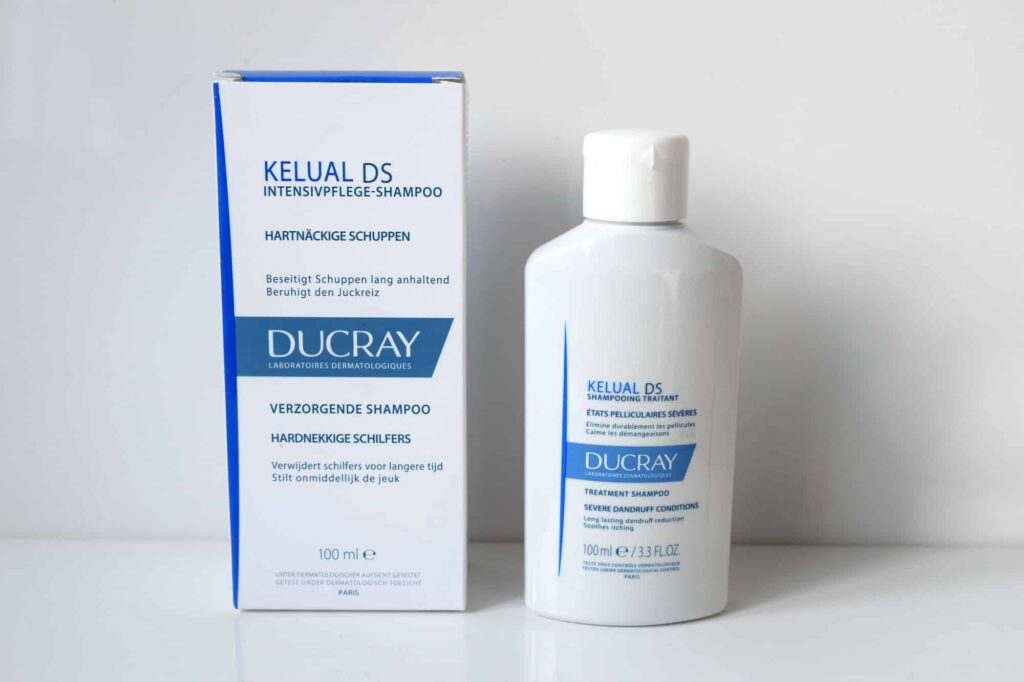 What we're really interested in here is does it work. Does Kelual DS treatment shampoo successfully treat dandruff? To answer we must start at the beginning. Who makes Kelual DS treatment shampoo and can we trust them?
Kelual DS treatment shampoo is made by a family-founded company starting out way back in the 1930s. Branded by the founding hairdresser's surname – Ducray teems with innovation. In fact, this is exactly how the brand got started. Albert Ducray noticed how soap powder shampoos severely damaged and dulled hair. He stumbled onto a big pain point and he provided a solution. A launching range of single-dose shampoos carefully formulated for different hair types.
In the 1960s Ducray went on to be acquired by Pierre Fabre Laboratories, a giant pharmaceutical and cosmetics company with a key commitment to innovation and research. Kelual DS treatment shampoo has a parent company that knows its stuff, and is committed to 'daily life-changing care'. So yes, we can trust them. Phew.
Now onto first appearances. What should you expect when ordering a bottle of Kelual DS treatment shampoo?
What turns up at your door is a moderately sized blue and white box with a 100ml bottle inside. If English is your first and only language then thank goodness you're here reading this review because the Kelual DS box is in French and German – we've got the usage instructions coming up for you soon.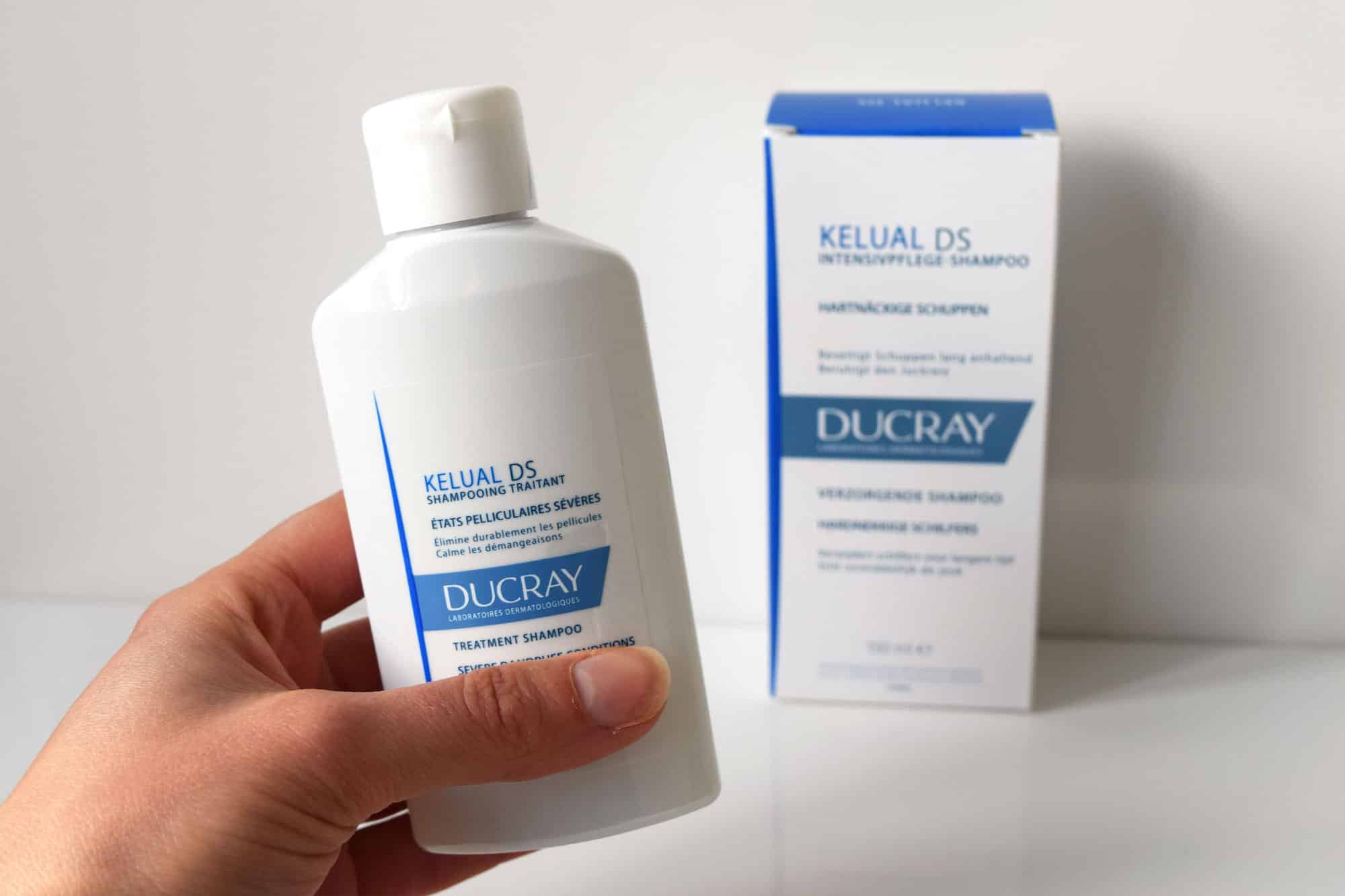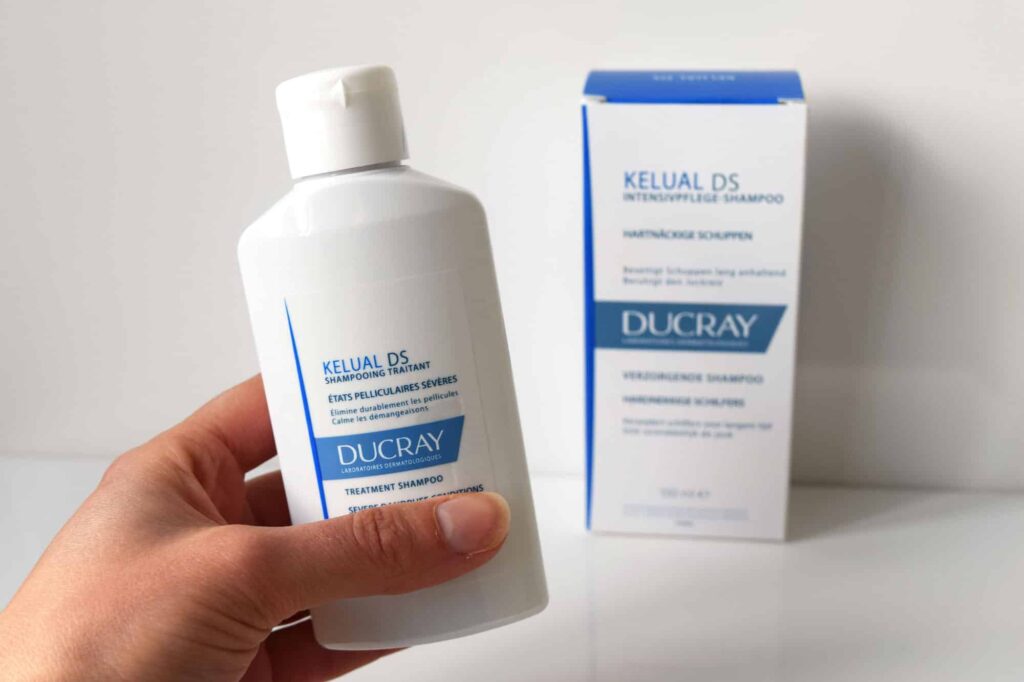 With a language barrier in place, we only have aesthetics here to judge. It feels and looks like a pharmacy brand. Medical, clean looking, no pictures of nature or women washing their hair in a rainforest. The hinged cap's not the easiest to open but it does the job.
So just how do you use Kelual DS treatment shampoo and will you notice a difference between it and a standard bottle of Pantene?
The first thing which hits me is the scent. Yes, this is a medicinal-looking product but no it does not smell bad. There's fragrance in this bottle – more about this soon.
Apply pressure to this dinky 100ml bottle and a clear, gel-like liquid exists. It foams gradually and washes away easily. The scent in use is more medicinal than sniffing from the bottle. In fact, it smells almost like hair removal cream. Out of all the shampoos we've tested Kelual DS treatment shampoo has a marked hydrating effect on the skin. It's impressive for a short contact time product.
Note – we also tested Kelual DS on arm skin which is where we so noticeably saw this marked hydrating effect.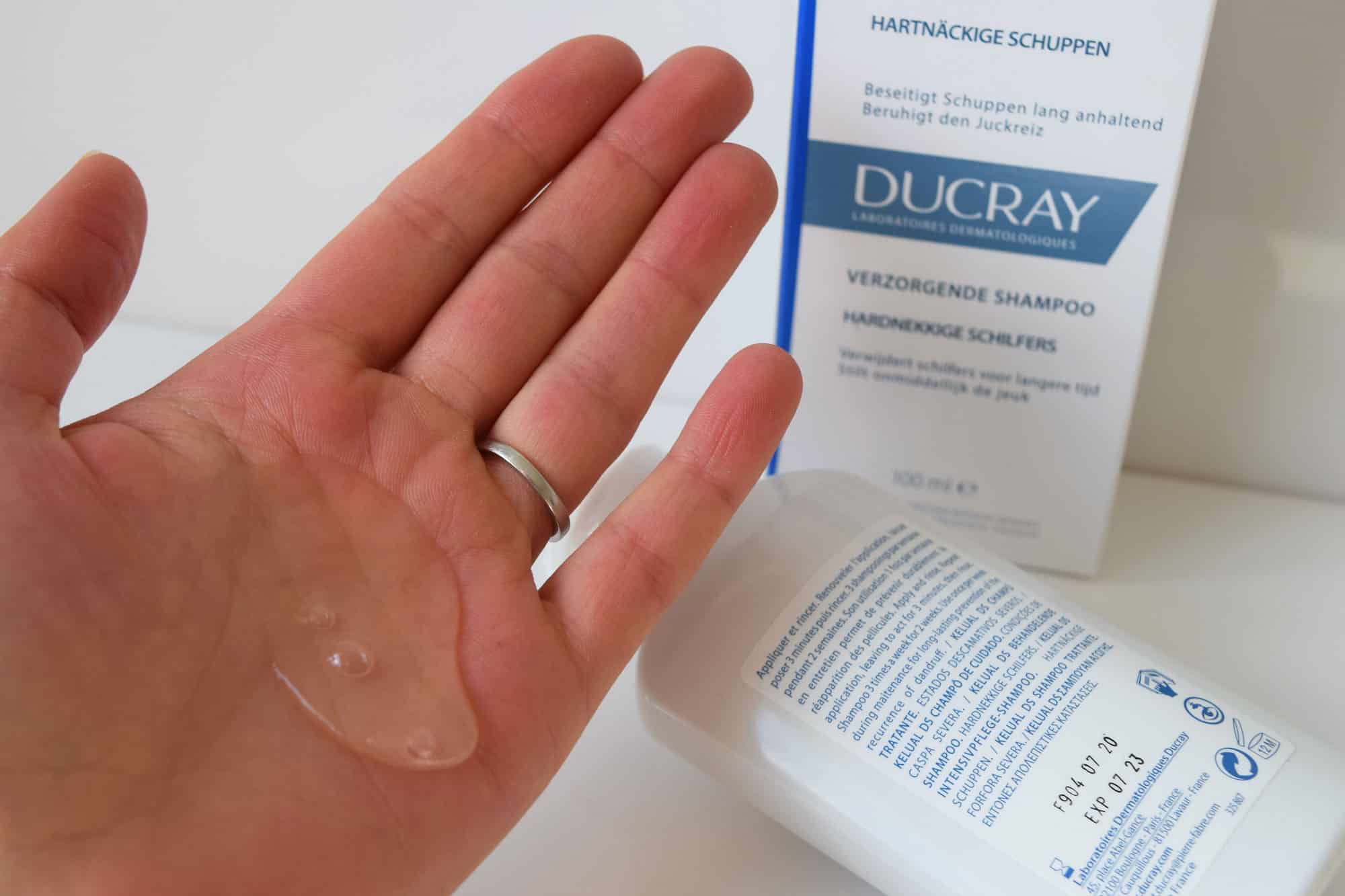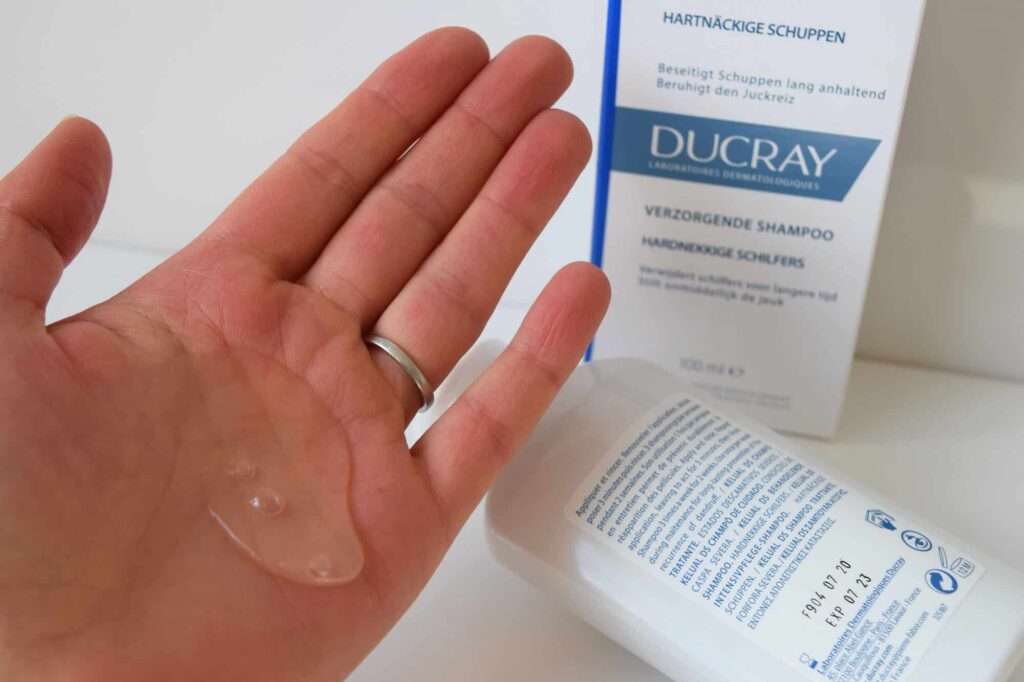 Here are the in-use instructions; To use apply to wet hair then massage and wash out as you would with a standard shampoo. You will want to use 3 times per week for 2 weeks if treating flaring dandruff. Then you move to maintenance treatment of once per week.
It looks great. It performs well in washing. Now what about the active ingredients? Are they science validated? Can they calm, hydrate and repair your dandruff-prone scalp?
First up know this. Ducray performed their own clinical trial on the Kelual DS treatment shampoo. It's a fair sample size of 62 participants – not large but still significant and industry standard. Results where;
A 80% reduction in symptoms of itching
89% reduction in severity of scales
74% improvement in quality of life
Results almost surely in credit to this shampoos stand out hydrating benefits. Courtesy of two going by the names of Acetamide MEA and Lactamide MEA. Both are what's called humectant moisturizers meaning they attract water and lock it into your skin.
Lactamide MEA gets bonus points for being derived from lactic acid – a component of what's called your skin's natural moisturizing factors. Not only can it gently help slough away old, dead, flaky skin cells, it also helps hydrate skin. It's winning in this formula.
But what about deeper routed dandruff symptoms? Ones caused by the change in your skin's microbiome balance – specifically the overgrowth of Malassezia yeasts associated with dandruff. Can Kelual DS treatment shampoo confront and balance these?
Let's take a look.  In this strange smelling formula there are a duo of active ingredients to balance your skin;
So yes, there are active ingredients here that can help confront the microbiome upset your skin is currently suffering from. Heal this and dandruff symptoms will subside long term.
Our final 'goodie' in the formula is known as glycyrrhetinic acid – an extract taken from licorice that is powerfully soothing to the skin.
Kelual DS treatment shampoo is hitting it out of the park right now. However, are there ingredients to be cautious about too?
As with almost all dandruff and itchy scalp shampoos we review here there are a few.
Sodium Laureth Sulfate (SLES) – it's the cleansing active Ducray use in the largest amount.  While SLES is gentler than other's like SLS, it's still not the gentlest. In this formula, there is compensation with hydrating benefits – so any potential side effects will likely be resolved.
Fragrance – you don't need it, it's a nice to have and it can cause upset to allergy-prone skin types. The saving grace here is that it doesn't contain known allergens. If you're sensitive to fragrance however Kelual DS treatment shampoo is not for you.
Bottom line – Kelual DS treatment shampoo packs a potential punch to pesky, recurring dandruff symptoms. A combination of soothing, exfoliating and microbiome balancing actives in an impressively hydrating formula.
It's a winner for us.
The site owner. I founded, and have ran this site for too many years now.
I have extremely sensitive skin, have suffered from seb derm for all my adult life and this site is my way of doing something about it.
Check out my sister site at safehouseholdcleaning.com