Dandruff Deconstructed is reader-supported. All reviews are independent and any products reviewed are purchased by the site owner. To help fund this model, some of the links on the site are affiliate links. If you decide to make a purchase from one of these links, this site will receive some commission. At no cost to you. It helps keeps this place running. Learn more
Tea tree oil shampoos are among the most popular dandruff shampoos on the market today.
Out of the 110 shampoos we've reviewed, Tea Tree Oil is present in 12% of them, making it the second most popular active ingredient in dandruff shampoos (after salicylic acid if you're interested).
co
After completing approximately 80 hours of research, talking to 3 manufacturers of tea tree cosmetic products and asking for further guidance from two board-certified dermatologists, we're in a unique position to name the best in class tea tree oil shampoos on the market today.
The Winner – Maple Holistics Tea Tree Shampoo
Maple Holistics Tea Tree Shampoo is, in our opinion, the best tea tree shampoo on the market today.
It washes incredibly well and feels like a salon shampoo rather than a medicated dandruff shampoo.
It has a very pleasant botanical scent with notes of lavender and tea tree. However, it isn't overpowering and is just enough to smell very pleasant without overwhelming one's nose.
The ingredients are absolutely outstanding. This is one of the gentlest formulations we've yet reviewed. The cleaning agents are well considered and chosen for being effective and gentle. It's free from sulfates and parabens – the lack of sulfates is outstanding considering the shampoo that foams so well.
The company has achieved this by adding a number of cleaning agents in small quantities. Surfactants such as Sodium Lauryl Glucoside Carboxylate, Sodium Cocoyl Isethionate, Sodium Lauroamphoacetate, Sodium Methyl Cocoyl Taurate and Lauryl Glucoside may sound terrifying, but they are actually gentle but luxurious feeling cleansing agents.
Maple Holistics can be rightly proud of this formulation.
Maple Holistics has added a number of conditioning agents such as Botanical keratin, a protein found naturally in our hair and D-Panthenol, an excellent and gentle conditioner for your hair and scalp. These conditioning agents explain why it feels so good to wash with this shampoo.
Maple Holistics has done an outstanding job with this shampoo and if it wasn't for the presence of Cocamidopropyl Betaine, this would have been a sure-fire five out of five. It's one of the best shampoos we've reviewed period, never mind the best tea tree shampoo.
Only those who are extremely sensitive to fragrances need to look elsewhere.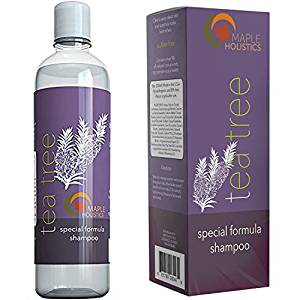 Maple Holistics Tea Tree Shampoo
Maple Holistics has created an excellent dandruff shampoo that leaves out sulfates and parabens and has instead opted for a unique blend of cleaning/conditioning agents and essential oils. If you suffer from mild dandruff and you want to use a natural product you can feel good about, you won't be disappointed with this shampoo.

The Runner Up – Bella B, Bee Gone Cradle Cap Baby Shampoo
Our runner up in this category is actually a baby shampoo. However, Bella is an outstanding shampoo all the same. Yes, it may be designed for cradle cap, but cradle cap is just another name for seborrheic dermatitis on babies.
And as it's suitable for a baby's head, this shampoo is as gentle as they come. Like Maple Holistics Tea Tree shampoo, Bella B, Bee Gone Cradle Cap Baby Shampoo is both sulfate and paraben free, and instead uses a combination of extremely gentle surfactants to wash and foam.
In addition to the cleaning agents, Bella B, Bee Gone Cradle Cap Baby Shampoo contains oatmeal. Oatmeal is an ever more popular addition to cosmetic products. With good reason too. A 2002 published research study [13], tested the soothing, anti-inflammatory effects of oatmeal against skin which was purposefully irritated with a harsh cleanser known as sodium lauryl sulfate (SLS). Results showed oatmeal extracts have a significant counteracting effect. A study from 2015 [14] showed colloidal oatmeal to have anti-oxidant and anti-inflammatory benefits which help treat the persistent itch associated with dry, irritated skin. And this 2016 published study [16] showed oatmeal's ability to help skin restructure itself to that of a healthy skin barrier while also offering pH buffering capacity. Skin pH is extremely important – troublesome skin often has a pH which is too high.
Bella B has also added:
Shea butter, an ingredient known to help nourish and condition skin being an excellent, highly absorbable skin moisturizer with suspected anti-inflammatory benefits.
Vitamin E – the most well tested and well known anti-oxidant, helpful for offering sensitive cradle cap scalps consistent protection.
Aloe vera – an age-old remedy for dry, irritated, upset skin types.
Disappointingly the company have added Fragrance to the shampoo. If you suspect your baby's scalp is sensitive to fragrance, be sure to patch test this formula before use.
In addition, like Maple Holistics, Bella B has added Cocamidopropyl Betaine – a known contact allergen in some people. In fact, it has the dubious distinction of being named the Contact Allergen of the Year in 2004 by the American Contact Dermatitis Society.
The company could have and really should have avoided adding both ingredients. We'd be looking at shampoo nirvana with these two quite needless ingredients replaced.
That said, while disappointed with these additions, we're extremely impressed with this all-natural alternative for regular soothing of your baby's cradle cap. It washes well, the formulation shows imagination and care, and the actives added are a winner.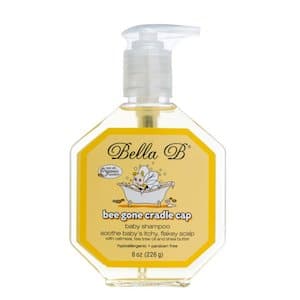 Bella B, Bee Gone Cradle Cap Baby Shampoo
Bella B, Bee Gone Cradle Cap Baby Shampoo may be designed for infants, but its gentle formulation is perfect for sensitive adult scalps. The formulation leaves out sulfates and parabens but instead uses tea tree oil, oatmeal, shea butter and more to help control dandruff and gently restore your skin defense barrier.

In Third Place – Pura Dor Argan Oil Scalp & Dandruff Treatment
Pura just managed the third place ahead of Maple Holistics Sage Shampoo and Honeydew Dandruff Shampoo for Kids. All 3 shampoos scored ⅘ according to our reviewers but Pura D'or has just pipped them to the post due to its outstanding performance in controlling dandruff.
Pura D'or has achieved this performance by combining zinc pyrithione with tea tree oil, and an abundance of carefully selected essential oils, to create a unique formulation.
The shampoo foams and washes well considering it doesn't contain any sulfates. And it leaves your hair felt incredibly soft afterward. Probably on account of Pura D'or adding the argan oil and avocado oil.
This really is premium quality performance.
The only real downside to this shampoo is the sheer quantity of fragrant essential oils the company has used. If you're sensitive to fragrances then steer well clear of this shampoo. It's incredibly fragrance intensive, although none of them artificial.
Our reviewer said at the time that this shampoo is the most interesting and well-designed formulation they have yet seen in a dandruff shampoo – and while we've seen an increasing number of essential oil based shampoos emerge on the market in recent years – Pura D'or is still onto a winner.

Pura Dor Argan Oil Scalp & Dandruff Treatment
Pura Dor Argan Oil Scalp & Dandruff Treatment looks like a premium product. It's priced like a premium product too but true to their word, Pura D'or has really cut down on most of the harsh chemicals you often find in dandruff shampoos. They have instead added tea tree oil, peppermint oil, argan oil, avocado oil and a number of other fragrant essential oils to create one of the most innovative and exciting dandruff shampoo formulations we've ever seen. Just steer clear if you're sensitive to fragrances.

What's in this article:
The 10 Best Tea Tree Oil Shampoos
The 10 best tea tree shampoos on the market today are…
How we chose the winners
All our reviewers are experts in their field, be that product formulation, pharmacy or haircare.
They assess the primary purpose of the dandruff shampoo, by examining the active ingredients present in the formulation. These active ingredients are designed to control specific types of dandruff and we'll explain what those are.
Our reviews will also assess the rest of the formulation, deconstructing the shampoos to their constituent parts and describe the key ones in detail.
In addition, we warn of the presence of any one of over 100 ingredients that can potentially itch, irritate and even cause dandruff themselves. A significant number (~90%) of these chemicals have never been tested for their effect on human health. Many of these chemicals are known to have adverse effects on our skin and one of these adverse effects is dandruff.
Unlike most review sites, our reviewers personally try every shampoo they review and they also assess how the shampoo washes, how it smells and look at the price point in their market. These may be medicated shampoos, but that doesn't mean we want to compromise on a little bit of luxury!
What we won't do is tell you if the shampoo will work for you. To understand that, you have to understand how to control your dandruff.
Tea Tree Oil Shampoos
What is a tea tree oil shampoo?
Tea tree oil shampoos are regular shampoos containing up to 5% tea tree oil.
Tea tree oil is an essential oil that can be found in a wide variety of shampoos or creams and is thought to improve the symptoms of various skin conditions. It's been used for many years too – the first medicinal use was recorded over 100 years ago [2] to treat wounds and skin ailments.
That said, the oil didn't gain widespread recognition until the 1920s when a chemist working at the University of New South Wales published evidence comparing the effects to other commonly used antimicrobials [3].
In 1989, the University of New South Wales conducted the first in-depth analysis of tea tree oil [4] and found that the oil contained over 100 unique components. The 'International Organisation for Standardisation' set limits for the 14 most common components.
This means that if you buy a tea tree oil shampoo in North America or Europe, the composition of the tea tree should be roughly equivalent.
Nate Masteron explained to us why Honeydew Products (who have a shampoo featured in out top en) use it in their anti-dandruff shampoos. "The antifungal properties present in tea tree oil means that it can fight seborrheic dermatitis from the root cause. Adding a few drops of tea tree oil to your regular shampoo or investing in a natural shampoo that contains tea tree oil as the active ingredient, can alleviate dandruff and nourish the hair."
How Effective is a Tea Tree Oil Shampoo?
The European Medicines Agency state that the use of tea tree oil for wounds, insect bites, small boils, athlete's foot and mouth inflammation are based on their 'traditional use'. This means that, although there is insufficient evidence from clinical trials, the effectiveness of these herbal medicines is plausible and there is evidence that they have been used safely in this way for at least 30 years (including at least 15 years within the EU). Moreover, the intended use does not require medical supervision.
That said, tea tree oil has a number of potential uses when treating a number of scalp conditions. Several laboratory studies have shown that tea tree oil is an effective antifungal against Malassezia yeasts – thought to be responsible for the symptoms of seborrheic dermatitis.
A study published in 2000 by researchers at The University of Western Australia compared the activity of different antifungal agents on Malassezia yeasts [7]. The study found that ketoconazole was the most effective, followed by tea tree oil. The authors concluded that tea tree oil may be a suitable alternative to ketoconazole, but no human trials have been conducted to date.
Another study published in 2002 assigned 126 participants with mild or moderate dandruff to two treatment groups: 5% tea tree oil shampoo or placebo [8]. The tea tree oil group showed a statistically significant overall improvement of 41%, compared to 11% for placebo. The study hypothesized that the antifungal effects of tea tree oil likely played a role.
Scalp psoriasis is a chronic inflammatory condition, caused by the accumulation of inflammatory cells. No trials have evaluated the role of tea tree oil in the condition, but one 2002 study injected 27 volunteers with histamine to imitate an inflammatory response [9]. The study found that tea tree oil effectively improved symptoms compared to paraffin oil.
A dry, itchy scalp can be caused by sensitivities to hair products, excessive hair washing, hair dryer use, low humidity and a variety of medical conditions affecting the skin such as allergies and infections. It is often accompanied by scalp irritation, itching and redness. Because it has antimicrobial and moisturizing properties, and it helps alleviate itching sensations, the typical five-percent concentration of tea tree oil in shampoo products can be beneficial in managing dry scalp.
It's this adaptability that attracts so many manufacturers to it when formulating a shampoo.
Australian Bodycare has been developing personal care products since 1992 and they told us that they use tea tree oil in their products because, "it effectively heals, cleanses and protects skin and hair. Natural Tea Tree Oil is known for its powerful antibacterial and antifungal properties and has been known to the aboriginals through generations."
Friendly Soap, A Gold Medalist in the Green Parent Natural Beauty Awards echoed these sentiments and uses tea tree oil in their products because, "of its antiseptic, antibacterial and anti-fungal properties."
How often should I wash using a tea tree oil based shampoo?
To use a dandruff shampoo, or any shampoo for that matter, shampoo, you should always follow the instructions on the label.
This isn't always as straightforward as it sounds.  Maple Holsitics provide no guidance on frequency but instead recommend that you, "Rinse hair, massage quarter-sized amount of shampoo throughout scalp and hair. Allow the therapeutic benefits a few minutes (2-3) to absorb before rinsing. For best results, follow with a nourishing conditioner."
Pura Dor recommends that "For best results use for 3 months. Continue use thereafter."  Which is confusing.  Use for 3 months and then continue to use it?
For some further clarity, we asked Dr. Ben Barankin, a Toronto based board-certified dermatologist at the Toronto Dermatology Centre, for his advice, and he told us, "For mild-moderate dandruff, I recommend daily shampooing, and ideally alternating 3 shampoos, each with active anti-dandruff ingredients."
Dr. Matthew Zirwas, board-certified dermatologist and founder of Bexley Dermatology in Bexley, Ohio, recommended trying a shampoo for, "at least a month because if your old shampoo had ingredients that were causing a dandruff-like rash of their own, it will take 4-8 weeks for that ingredient to work its way out of your body after you start the new stuff."
And if it doesn't work, board-certified dermatologist Adam J. Friedman, MD, FAAD, assistant professor of dermatology and director of dermatologic research, Albert Einstein College of Medicine explains via the AAD, "For most people, dandruff does not require medical attention. However, sometimes the flaking and itching that appears like dandruff is actually a medical condition, such as seborrheic dermatitis, psoriasis, fungal infections of the scalp, or eczema. If you continue to have symptoms after using a dandruff shampoo, consult a board-certified dermatologist."
By visiting a board-certified dermatologist, you can be properly diagnosed and be prescribed stronger medication than you can pick up at the pharmacy. As Dr. Ben Barankin says, "for moderate to severe cases of dandruff, a steroid shampoo or leave-in lotion can be prescribed. A prescription ciclopirox olamine lotion is often a nice option."
What Are The Risks With Using A Tea Tree Oil Shampoo?
The European Medicines Agency Committee on Herbal Medicinal Products [11] state that,
Side effects reported with tea tree oil medicines include skin reactions such as pain, mild itching, burning sensation, irritation, stinging, redness and swelling, and other allergic reactions.
Burn-like skin reactions have been reported rarely (in between 1 and 10 patients in 10,000).
Studies that have been conducted note that tea tree oil-containing cosmetics are generally well tolerated, with more reactions at concentrations above 5%. Certain individuals are more likely to experience adverse reactions – for example, those with eczema – but the irritation typically resolves on withdrawal of the product.
A 2008 review by the European Commission 'Scientific Committee on Consumer Products', noted that manufacturers must protect tea tree oil products from the air and heat [12]. Once the components oxidize, they are more likely to irritate the skin. The review also noted that at concentrations above 5%, tea tree oil is more likely to induce skin and eye irritation.
A 2006 review article published in 'Food and Chemical Toxicology' [10] noted that tea tree oil was toxic if swallowed, with 787 reported cases of tea tree oil poisoning identified in the United States in 2003. But most of these cases were children drinking the concentrated oil, not a shampoo, and no deaths reported – although immediate medical intervention was necessary.
Essentially, tea tree oil in topical solutions such as shampoos is considered safe and effective in concentrations of up to 5%. However, pure tea tree essential oil and hair products containing tea tree oil may cause skin and eye irritation.
It must be noted that Tea Tree Oil shampoos should not be used on babies under the age of 6 months old
References
[1] Hart, P. H., Brand, C., Carson, C. F., Riley, T. V., Prager, R. H., & Finlay-Jones, J. J. (2000). Terpinen-4-ol, the main component of the essential oil of Melaleuca alternifolia (tea tree oil), suppresses inflammatory mediator production by activated human monocytes. Inflammation Research, 49(11), 619-626.
[2] Shemesh, A., & Mayo, W. L. (1991). Australian tea tree oil: a natural antiseptic and fungicidal agent. Aust J Pharm, 72, 802-803.
[3] Penfold, A. R., and R. Grant. (1924). The germicidal values of the pure constituents of Australian essential oils, together with those for some essential oil isolates and synthetics. J. R. Soc. 58:117-123
[4] Brophy, J. J., Davies, N. W., Southwell, I. A., Stiff, I. A., & Williams, L. R. (1989). Gas chromatographic quality control for oil of Melaleuca terpinen-4-ol type (Australian tea tree). Journal of Agricultural and Food Chemistry, 37(5), 1330-1335.
[5] Hammer, K. A., Dry, L., Johnson, M., Michalak, E. M., Carson, C. F., & Riley, T. V. (2003). Susceptibility of oral bacteria to Melaleuca alternifolia (tea tree) oil in vitro. Oral microbiology and immunology, 18(6), 389-392.
[6] Dryden, M. S., Dailly, S., & Crouch, M. (2004). A randomized, controlled trial of tea tree topical preparations versus a standard topical regimen for the clearance of MRSA colonization. Journal of Hospital Infection, 56(4), 283-286.
[7] Hammer, K. A., Carson, C. F., & Riley, T. V. (2000). In vitro activities of ketoconazole, econazole, miconazole, and Melaleuca alternifolia (tea tree) oil against Malassezia species. Antimicrobial agents and chemotherapy, 44(2), 467-469.
[8] Satchell, A. C., Saurajen, A., Bell, C., & Barnetson, R. S. (2002). Treatment of dandruff with 5% tea tree oil shampoo. Journal of the American Academy of Dermatology, 47(6), 852-855.
[9] Koh, K. J., Pearce, A. L., Marshman, G., Finlay‐Jones, J. J., & Hart, P. H. (2002). Tea tree oil reduces histamine‐induced skin inflammation. British Journal of Dermatology, 147(6), 1212-1217.
[10] Hammer, K. A., Carson, C. F., Riley, T. V., & Nielsen, J. B. (2006). A review of the toxicity of Melaleuca alternifolia (tea tree) oil. Food and chemical toxicology, 44(5), 616-625.
[11] Carson, C. F., Riley, T. V., & Cookson, B. D. (1998). Efficacy and safety of tea tree oil as a topical antimicrobial agent. Journal of Hospital Infection, 40(3), 175-178.
[12] Scientific Committee on Consumer Products. (2008). Opinion on tea tree oil. [Accessed: 20/2/17] www.europa.eu
[13] Vié K., Cours-Darne S. et al (2002) Modulating Effects of Oatmeal Extracts in the Sodium Lauryl Sulfate Skin Irritancy Model. Skin Pharmacol Appl Skin Physiol 2002;15:120–124
[14] Reynertson KA, Garay M, Nebus J et al. (2015) Anti-inflammatory activities of colloidal oatmeal (Avena sativa) contribute to the effectiveness of oats in treatment of itch associated with dry, irritated skin. J Drugs Dermatol. 2015 Jan;14(1):43-8.
[15] Ilnytska O, Kaur S, Chon S, Reynertson KA et al. (2016) Colloidal Oatmeal (Avena Sativa) Improves Skin Barrier Through Multi-Therapy Activity. J Drugs Dermatol. 2016 Jun 1;15(6):684-90.