Dandruff Deconstructed is reader-supported. All reviews are independent and any products reviewed are purchased by the site owner. To help fund this model, some of the links on the site are affiliate links. If you decide to make a purchase from one of these links, this site will receive some commission. At no cost to you. It helps keeps this place running. Learn more
Ingredients

Wash

Scent

Price

Puracy's Natural Shampoo is, according to the manufacturer, a plant-based shampoo made for all hair types designed for those wanting an alternative to chemical-rich shampoos.  The thinking is that chemical-rich shampoos end up stripping the hair of its natural oils, leaving it dull and eventually leading to long-term damage.
I have to be honest, chemical-rich is a term I'm not particularly fond of.    All shampoos are chemical rich.   It's what the chemicals actually are that's important.  That said, I like their intentions, if not the working.  And it gets better.
Puracy is a company founded in the USA who are dedicated to creating safe and natural personal care and household products that actually work, are safe for pets and children, and don't break the bank.  Puracy's quality standards include only the best natural ingredients, effective formulas that deliver results, eco-friendly products, American made promises, and an overall safer option that is non-toxic and non-harmful.
In addition to shampoos, Puracy also manufactures household products like hand soap and laundry detergent, baby wash, body lotion, and more. It seems they are aiming to achieve the status as a (nearly) one-stop shop for all things natural you may need in your home.
Their philosophy is something to behold – and couldn't align more with what we've promoting these past few years.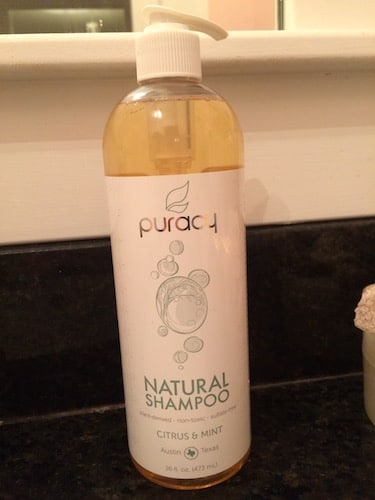 What is the shampoo all about?
The Citrus Mint Natural Shampoo from Puracy is a third-generation product that has apparently been improved to be better foaming, to produce silkier hair, and to improve its moisturizing properties. While it's not a medicated shampoo, its aimed at those who suffer from dandruff caused by a dry scalp.  But, of course, scalp psoriasis or seb derm sufferers need to use a non-medicated shampoo sometimes.  And the gentler, the better as far as we're concerned.
Let's take a look at the shampoo itself… 
The shampoo comes packaged up in plastic wrapping, with a pump nozzle separate that you have to attach yourself. While this attachment is useful, in particular to not having to pick up the bottle and squeeze it in the shower, I did find it somewhat tricky to get the pump nozzle to pop up. The instructions call for turning the nozzle counterclockwise to the left to get it to pop up.
The bottle is very clean and simple looking. It definitely gives you the impression that it's a simple, no-nonsense product that's all about delivering results while staying true to its natural roots. However, take one glimpse at the ingredients and you can see that it's definitely not a simple formula.
The liquid is a clear-yellowish color, made without any added dyes, and has a nice floral smell to it. The scent is almost a bit tropical, and I could definitely pick up the citrus and mint notes.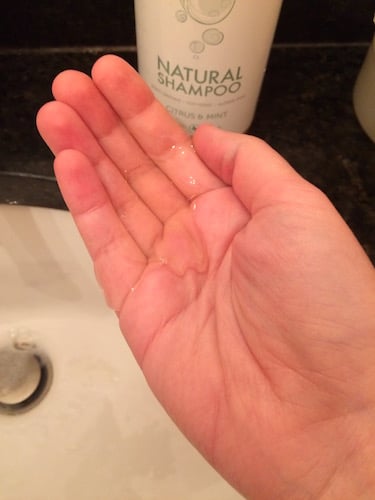 It spreads really easily and suds up quite nicely with a little bit of water. It was really easy to spread around on my skin and hair, and it was very easy to wash off. I barely had to do any sort of scrubbing or rubbing to get it out.
It left my scalp feeling very soft, and I don't think it should be drying, unless you already have very dry hair. It certainly seems to do its job of cleaning and getting rid of any excess oils, and reviews of the shampoo agree with its effectiveness.
The ingredients—are they really all natural and are there any suspicious items we need to be wary of?
Puracy prides itself on creating only the best and most effective natural products for their customers. The Natural Shampoo is made with sulfate-free coconut-based cleansers, Vitamins E and B5, and olive oil-based squalene to reduce static and friction on the hair. They also say that the shampoo is hypoallergenic, vegan, and gluten-free.
Let's review the ingredients…
The full list of ingredients is: Purified Water, Sodium Lauroamphoacetate (Coconut-Based Cleanser), Sodium Methyl Cocoyl Taurate (Coconut-Based Cleanser), Coco-Glucoside (Coconut-Based Cleanser), Cocamidopropyl Hydroxysultaine (Coconut-Based Cleanser), Coco-Caprylate (Coconut-Based Cleanser), Coco Glycinate (Coconut-Based Cleanser), Vegetable Glycerin (Plant-Based Skin Softener), Citric Acid (Plant-Based Preservative), Tetrasodium Iminodisuccinate (Plant-Derived Water Softener), Glyceryl Oleate (Plant-Derived Skin Softener), Squalene (Olive Oil-Based Hair Conditioner), Hydrolyzed Adansonia Digitata (Baobab Tree) Seed Extract, Hedera Helix (Ivy) Extract, Quillaja Saponaria (Soapbark) Extract, Juglans Nigra (Black Walnut Leaf) Leaf Extract, Chamomilla Recutita (Matricaria) Extract, Panax Ginseng (Ginseng) Root Extract, Aloe Barbadensis (Aloe Vera) Leaf Juice, Tocopherol (Vitamin E), Potassium Sorbate (Natural Preservative), Himalayan Pink Sea Salt, Bergamot Essential Oil, Eucalyptus Essential Oil, Peppermint Essential Oil, Gluconolactone (Natural Preservative), Sodium Benzoate (Food-Grade Preservative)
You catch all that? It's kind of a mouthful, and we were a bit surprised when we first saw the long list of ingredients in this shampoo. While we are concerned that, the more ingredients used leaves more room for something to irritate someone's skin, there maybe a reason to this madness.
The ingredients of note in the formulation are:
Sodium Lauroamphoacetate – gentle surfactant and foam booster derived from coconuts
Sodium Methyl Cocoyl Taurate – gentle surfactant and foam booster made from coconut fatty acids
Coco-Glucoside – gentle surfactant made from coconut fatty alcohol and glucose
Coco Glycinate – gentle surfactant/foam booster derived from coconuts
Cocamidopropyl Hydroxysultaine – gentle surfactant, foam booster conditioner
Coco-Caprylate – Emollient/skin conditioning agent
Vegetable Glycerin – humectant and skin softener
Glyceryl Oleate – humectant/skin conditioning agent- plant-derived skin softener
Squalene – hair/skin conditioning agent- olive-oil based skin softener
Tocopherol – Vitamin E – skin conditioning agent
The shampoo also contains a number of plant extracts worth noting:
Tetrasodium Iminodisuccinate—plant-based water softener
Baobab Tree Seed Extract—a plant-based protein harvested from the Boabab tree in Africa. It is very repairing for hair and is highly conditioning.
Ivy Extract—English Ivy is an anti-inflammatory herb that can help reduce any irritation on the scalp and potentially help heal dandruff, dryness and itchiness
Soapbark Extract—Soapbark is a natural cleanser and skin conditioning agent. It is also traditionally used to treat dandruff.
Black Walnut Leaf Leaf Extract—The tannins found in black walnut leaf extract have an astringent effect, which can help to relieve irritation and resolve acne and redness on the skin.
Matricaria Extract—Chamomile extract is very soothing and nourishing, providing many calming benefits to the scalp and hair.
Ginseng Root Extract—A skin conditioning agent and skin protectant.
Aloe Vera Leaf Juice—Aloe leaf juice is incredibly soothing and calming to the skin. Often used to treat burns, aloe leaf juice is full of vitamins, minerals, and other ingredients that are antioxidants and anti-inflammatory.
The shampoo also contains a few essential oils
Bergamot Essential Oil—This essential oil is what delivers the citrus part of the scent. It is a skin smoother and helps to reduce the appearance of scars and marks. It also improves blood circulation, which is essential to growing healthy hair, and helps to prevent the growth of germs and fungi that can cause infections.
Eucalyptus Essential Oil—Eucalyptus is one part of the mint scent of this shampoo. It is a natural wound healer, helping to fight infections, soothe burns, cuts, sores, and speed up healing. It also can help prevent lice with its strong bug repellent and natural pesticide properties.
Peppermint Essential Oil—Peppermint essential oil is a stimulating and invigorating oil. It can help bring oxygenated blood to the scalp, promoting healthy hair growth. Also an antiseptic, peppermint oil can help remove dandruff and lice.
Note – Essential oils typically contain fragrances.  While the shampoo itself has no added fragrances, those sensitive to fragrances should use this with caution – there may still be some fragrance in there.
Incredibly, with all those ingredients, fragrance aside – there's only one ingredient in there known to cause contact dermatitis – Potassium Sorbate –  a preservative used to prevent mold or yeast growth used in many skincare products and foods, even McDonald's Milk Shakes.
So what's the verdict?
This shampoo is a fantastic choice for those who want to use a gentle non-medicated shampoo.  It's been formulated with imagination and a great deal of care, offering a gentle high performing shampoo.  They really do deliver on their promise here.
It' is worth noting that the shampoo contains essential.  While there are no added fragrances in this shampoo, the essential oils contain fragrances.  These can be irritating.
Overall, we think it's a great alternative to the many sulfate-laden shampoos that may help to reduce dandruff on a short term basis, but can lead to damage and irritation down the road.