Dandruff Deconstructed is reader-supported. All reviews are independent and any products reviewed are purchased by the site owner. To help fund this model, some of the links on the site are affiliate links. If you decide to make a purchase from one of these links, this site will receive some commission. At no cost to you. It helps keeps this place running. Learn more
So you think you may have scalp psoriasis?
First things first. If you even suspect you have scalp psoriasis, go and see a doctor or dermatologist.
I'm serious. Even if your condition is mild but especially if your condition is chronic.
Shampoos, in isolation, won't control chronic scalp psoriasis. You'll likely be prescribed far stronger treatments such as a steroid cream. Often in addition to a medicated shampoo.
The shampoo? Well, that's where we come in…
What is scalp psoriasis?
If you've read around the web you'll all sorts of medical literature proclaiming that psoriasis is an auto-immune condition.  But what the heck does that even mean?
It's actually pretty straightforward in theory.  An auto-immune condition is when your body mistakes some specific normal body tissue for something dangerous.  It then goes about trying to combat that "dangerous" tissue.  Psoriasis is no exception.  It occurs when your body mistakes a perfectly normal skin cell for a pathogen i.e. something that contains a  disease.
If you have scalp psoriasis your body will react to the "pathogen" by overproducing skin cells.  It sheds it so quickly your body can't shed it.  We all have a natural cycle of skin regeneration.  We shed skin, we produce replacement skin cells.  For most people,
this shedding is in synch with the regeneration.  However psoriasis sufferers generate more new skin cells than their body sheds.
Over time, the outer skin grows thicker as your body is not shedding cells quick enough.  This results in your scalp becoming inflamed with red patches and brittle silvery scales.
In some cases, a yeast infection can make psoriasis worse and you may also be prone to serborrhoeic dermatitis, a form of dandruff which requires a very different set of treatments.
The condition affects around 1 in 20 adults.  At least half of the people who do have psoriasis have it on their scalp.  Roughly 2 to 3% of the population.
The symptoms of scalp psoriasis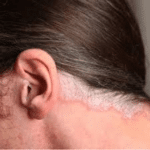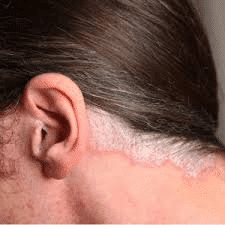 If you suffer from scalp psoriasis, you'll typically have an itchy dry scalp.   Intensely so at times.  You'll often see red patches of inflamed skin.  Some sufferers complain of tightness and soreness around the head. Your dandruff will be silvery and powdery.  It'll form scales on your scalp that are reasonably large in size and brittle to touch.  They are quite distinct from the more granular flakes you'd get from a dry scalp or the yellow oily flakes you'd get from Serborrhoeic Dermatitis.
Your dandruff may also be visible on the scalp; on the forehead, neck or behind the ears.
Again, if you suspect you have scalp psoriasis go and see a professional!  The treatments for psoriasis, dry scalp, seb derm or product build up are totally different.  Your doctor or dermatologist can tell you exactly what you have.  They can also prescribe stronger treatments than aren't available over the counter.  However for many of you the over the counter treatments will really help, and there's no better place to find a good treatment than here!
What triggers scalp psoriasis?
There are a number of known triggers for scalp psoriasis.  In all honesty, scalp psoriasis has more triggers than the OK Corral. Don't worry though, not all of them affect every sufferer.  You should be aware that the following cause outbreaks in some sufferers:
the sun
cold weather
stress
medications (beta blockers, malaria tablets and certain steroids can all trigger psoriasis so tell your doctor of your condition before they prescribe anything)
infections
cuts, scrapes, bites and other skin injuries
tattoos
acupuncture
changes in hormone levels
smoking
band aids or other adhesives on the skin
obesity
poor diet
alcohol
gluten
dairy/eggs
Harsh chemicals on the skin can also trigger an outbreak.   These chemicals may be in your regular shampoo so use something gentle in between outbreaks.  We monitor all our shampoos for over 90 chemicals commonly added to shampoos that cause contact dermatitis so our shampoo search is a good place to start when trying to find your best dandruff shampoo.
How to treat scalp psorasis
UV light is considered to be the original psoriasis treatment. Speak to your doctor or dermatologist about phototherapy treatment if it's a treatment you wish to pursue. Many UV Combs and lamps are appearing on the market.
OTC treatment of scalp psoriasis is best achieved by shampoos containing the active ingredients Coal Tar and/or Salicylic Acid.  As these ingredients can be harsh by themselves, it is also recommended that scalp psoriasis sufferers use these only when required, and use a very mild non-perfumed shampoo in between flare-ups.  The gentler the shampoo the better!  Try not to wash too much otherwise you'll strip your scalp of its natural oils.
Note, for more severe conditions we highly recommend that you visit a dermatologist who will be able to prescribe stronger treatments.
The best shampoos to treat scalp psoriasis
These staff picks are all excellent choices in their own right but be sure to keep checking back as the list just keeps on growing.

Designed to treat Seborrheic Dermatitis, Dry Scalp and Psoriasis
Pharmaceutical Specialties formed in 1974 to "start a company to make better products than were commercially available for people with sensitive skin". And boy, have they achieved it with this Free and Clear shampoo.
What is perhaps surprising on a website dedicated to dandruff treatments is that this isn't a dandruff shampoo at all.
It's rather a "a non-medicated, mild shampoo for sensitive skin and scalp."
That said, we can't use a medicated shampoo all the time, and this is my go to shampoo for those "between" washes.
Read the entire review


---

Designed to treat Seborrheic Dermatitis and Psoriasis
DHS Coal Tar Shampoo is an expertly formulated shampoo containing 0.5% coal tar and is the gentlest coal tar shampoo we've yet reviewed
We can't recommend this product or this company highly enough.
Read the entire review


---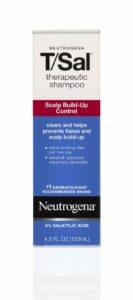 Designed to treat Seborrheic Dermatitis and Psoriasis
Quite simply the best pure Salicylic Acid shampoo we've yet reviewed. The shampoo contains 3% Salicylic Acid combined with a fragrance free, sulfate free and virtually every other nasty ingredient free formulation. It does this and still feels luxurious when washing.
Neutrogena should be exceptionally proud of this top top class shampoo.
Read the entire review


---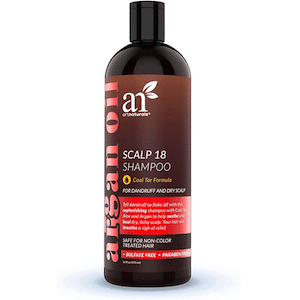 Designed to treat Seborrheic Dermatitis and Psoriasis
Hydrating shampoo formulas don't come around often making Art Naturals Scalp 18 Coal Tar Shampoo a gem. Best for dry, itchy scalp symptoms. Can be used for mild dandruff. Plant-based, sustainable and cruelty-free – an all-round goodie.
Read the entire review


---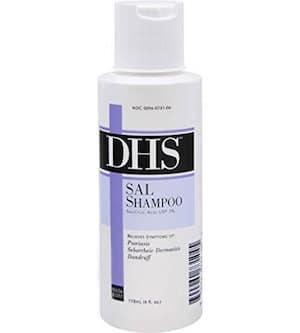 Designed to treat Seborrheic Dermatitis and Psoriasis
DHS Sal Shampoo is a 3% salicylic acid shampoo designed to treat Psoriasis and Seborrheic Dermatitis.
It's an outstanding shampoo that washes well, contains relatively few ingredients, is gentle and won't break the bank.
If you're not sensitive to sulfates and are looking for a good salicylic acid shampoo, this is an excellent performer.
Yet again, DHS have produced a shampoo that we can't recommend highly enough.
Read the entire review


---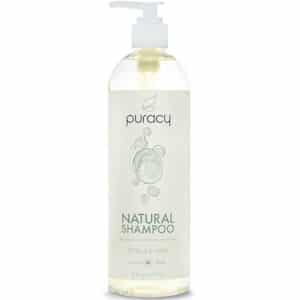 Designed to treat Seborrheic Dermatitis, Dry Scalp and Psoriasis
Puracy Citrus Mint Natural Shampoo offers a great natural alternative to the many sulfate laden shampoos on the market today. Whether you are looking for an everyday use shampoo, or one that you can rotate your medicated dandruff shampoo with, we'd recommend trying the Natural Shampoo.
Because there are essential oils in the formula, we recommend caution to anyone who is sensitive to fragrances, or sensitive or allergic to any of the ingredients.
Otherwise, you're looking at an expertly formulated shampoo that, for once, lives up to the manufacturer's promises.
Read the entire review


---
Designed to treat Seborrheic Dermatitis and Psoriasis
Shea Moisture Apple Cider Vinegar Anti-Dandruff Shampoo is a feel-good exfoliating scalp shampoo to help relieve embarrassing flaky scalp symptoms. An exfoliating benefit given by its 3% concentration of salicylic acid which studies prove can be highly effective for reducing itchiness on an oily scalp. We recommend Shea Moisture Apple Cider Vinegar Anti-Dandruff Shampoo for mild cases of oily scalp dandruff or as a between treatments shampoo for moderate to severe dandruff.
Read the entire review


---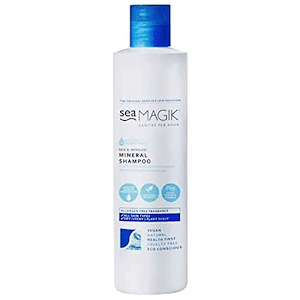 Designed to treat Seborrheic Dermatitis, Dry Scalp and Psoriasis
Dandruff shampoos can wreak havoc on dry, itchy scalps. Sea Magik Mineral Shampoo is different. A calming, hydrating formula with a combination of gentler, anti-dandruff actives. With independent research to back up claims that it's potent, powerful yet still soothing. A great overall formula that's suitable for all but the most hypersensitive or allergy-prone skin types.
Read the entire review


---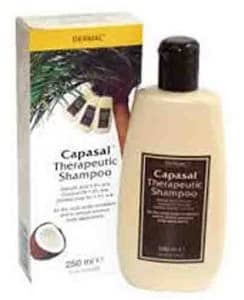 Designed to treat Seborrheic Dermatitis and Psoriasis
Capasal have taken the unique step of combining 1% Coal Tar with 0.5% Salicylic Acid and added coconut oil.
It's perhaps the most original and interesting shampoo formulation we've yet seen
While the shampoo is SLS, fragrance and paraben free there are still a few known contact allergens in there. Unfortunately it smells like a coal tar shampoo too.
That aside Capasal is an excellent shampoo for those who suffer mild to moderate scalp psoriasis.
Read the entire review


---

Designed to treat Seborrheic Dermatitis and Psoriasis
Denorex isn't the gentlest shampoo, but with 3% Salicylic Acid it's as strong as you'll find OTC.
If you don't use it too frequently and you suffer from mild to moderate psoriasis or seb derm, Denorex is very effective treatment.
Read the entire review


---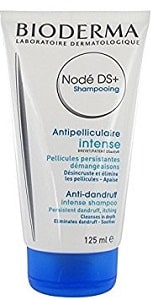 Designed to treat Seborrheic Dermatitis and Psoriasis
Bioderma Nodé DS+ shampoo certainly packs an anti-dandruff punch. Its combination of anti-dandruff actives (Piroctone Olamine and Zinc Pyrithione), with keratolytic Salicylic Acid and anti-inflammatory Sodium Shale Oil Sulfonate are also complimented by several scalp soothing ingredients. A heck of an ingredients list only let down by the use of SLES and one or two other potential irritants.
This shampoo is definitely worth checking out.
Read the entire review


---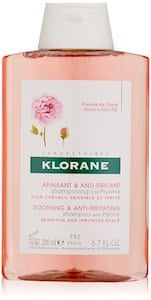 Designed to treat Seborrheic Dermatitis, Dry Scalp and Psoriasis
If you've forever been questioning what shampoo to use to treat your dry scalp, or you're looking for a good gentle alternative to your usual medicated shampoo, then Klorane soothing & anti-irritating shampoo is just the answer. Without feature of traditional actives, the soothing formula has natural anti-inflammatory benefits courtesy of peony extract and significant anti-bacterial benefits thanks to a next-generation cleanser. This is definitely worth checking out.
Read the entire review


---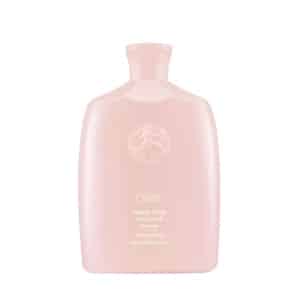 Designed to treat Seborrheic Dermatitis, Dry Scalp and Psoriasis
ORIBE Serene Scalp Anti-Dandruff Shampoo is a fantastic collection of shampooing ingredients targeted at – doing away with flakes. With a 2% maximum dose of salicylic acid accompanied by natural AHAs, ORIBE Serene Scalp Anti-Dandruff Shampoo has huge power to soften and dissolve existing flakes, while also helping to prevent new ones. An anti-dandruff shampoo which will help make your dandruff invisible, while also helping to improve the overall health of your scalp.
If you're sensitive to fragrances then you probably want to look elsewhere, but otherwise, full credit must go to Oribe.
Who would have ever thought it was possible to put the glam into dandruff control. 
Read the entire review


---