Dandruff Deconstructed is reader-supported. All reviews are independent and any products reviewed are purchased by the site owner. To help fund this model, some of the links on the site are affiliate links. If you decide to make a purchase from one of these links, this site will receive some commission. At no cost to you. It helps keeps this place running. Learn more
Ingredients

Wash

Scent

Price
Summary
Looking for a natural alternative to dry scalp care? Want soothing, calming, non-medicinal dandruff maintenance in between those packing-a-punch shampoos? Then Hope's Relief Natural Hair & Scalp Therapy Shampoo is just the thing. Formulated with a quintuplet of natural actives featuring Manuka honey, aloe vera and licorice, you're sure to be soothed, calmed and protected. 

With an impressive yes and no list of natural itchy dry scalp saving ingredients, Hope's Relief Natural Hair & Scalp Therapy Shampoo is a diamond in the rough. Trust us, you don't often find an ingredients list like we're about to detail here. With 5 natural non-clinical active ingredients, Hope's Relief Natural Hair & Scalp Therapy Shampoo could very well be your answer to safely flake-free days.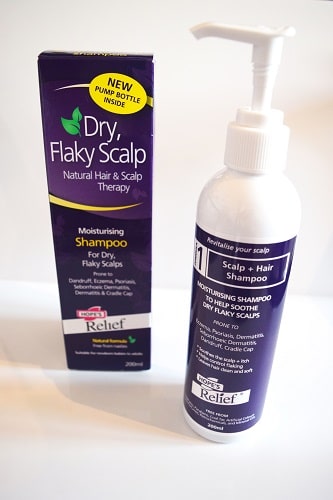 Shall we take a look? We begin at step 1 – company investigation. Do Hope's Relief have a reputation and ethos to make you a credible dry scalp saving shampoo?
Founded in 2006, Hope's Relief wants to 'solve your skin problems… naturally'. The company was sparked by one man's mission to resolve personal eczema – suffering and struggling for over 10 years Malcolm believed he could find a better way… and he did. An approach husband and wife team Malcolm and Julie want to share with you. Having over 30 years' experience in natural products and an award-winning, much talked about natural, steroid-free eczema cream their expansion into dry scalp shampoo's holds ground.
Perfect, so what can you expect after ordering a bottle of Hope's Relief Natural Hair & Scalp Therapy Shampoo?
Professional looking but not medicinal. Smart and clean. Dependable and easy use. On first appearances, you're greeted by a suitably sized 200ml Hope's Relief box boasting a 'natural formula free from nasties'. The box tells you Hope's Relief is a proud supporter of Eczema Association Australia – which is where Hope's Relief are founded. The blurb on the outside also promises to 1) soothe the itch and 2) Control flaking – perfect battle winners for dry scalps caused by eczema, seb derm or dandruff.
Natural activity to be reckoned with. Hopes are high.
Opening the box, you'll discover a white-capped bottle with Hope's Relief well-chosen purple-colored branding. There's also a handy pump supplied.  After deploying the pump into Hope's Relief Natural Hair & Scalp Therapy Shampoo, you have a handy in-shower application.
Note: Do not use as a travel shampoo with the pump in place – it will leak. Save the cap to travel with Hope's Relief shampoo.
The bottle's great, so how does Hope's Relief Natural Hair & Scalp Therapy Shampoo wash?
Now here's where your experience will become a little different. Hope's Relief Natural Hair & Scalp Therapy Shampoo is not your usual shampoo consistency. Being more water-like than shampoo-like, the application can feel a little tricky. A few more pumps are needed to truly feel like you have a good spread on top of your head.
For the benefit of more natural gentle ingredients, consistency may be the compromise but if Hope's Relief Natural Hair & Scalp Therapy Shampoo can work to clear your itchy, flaky scalp, it's a small one to make.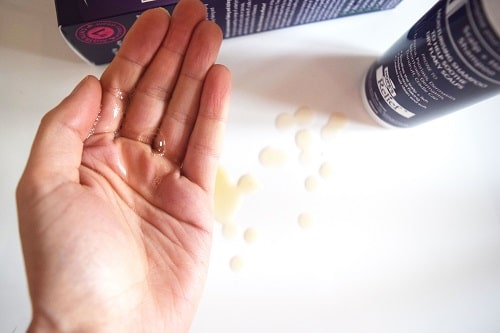 You'll also experience significantly less lather than a typical shampoo.  You will absolutely find yourself using a few more shampoo pumps than usual. A change that could be great for your dry, flaky seb derm affected scalp. Why? Because high foam cleansers tend to contain harsh sulfate type ingredients, which can be extremely drying and irritating to your skin.
Wash performance is great for dry scalps/dry hair types but if you have a classic oily case of seb derm, you will find your hair a little lank, dull and clumpy.
This is definitely a mild cleanser – designed to retain your skin's natural oils.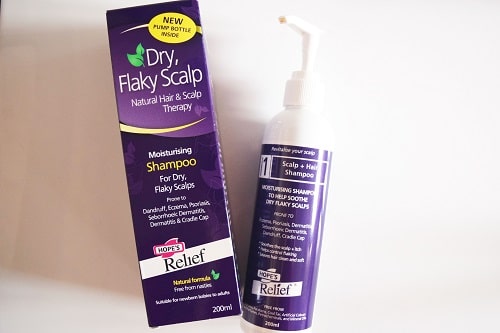 Now onto the most important part. The substance behind the brand – formula. What's in Hope's Relief Natural Hair & Scalp Therapy Shampoo and does it work?
A decidedly different formula Hope's Relief Natural Hair & Scalp Therapy Shampoo relies on a combination of 5 natural actives;
1. Manuka honey NPA 10+
2. Aloe Vera
3. Licorice
4. Gotu Kola
5. Calendula
Are these choices worthy of their place? Do they work? Can they effectively resolve excessive flaking and itching?
We start with Manuka honey, a specific type of honey with known antibacterial benefits.  There's a proven link between Seborrheic Dermatitis and the presence of the Malassezia yeast. Honey can be specifically effective against yeasts helping to control scalp populations. There are also some small-scale studies suggesting honey can help cure conditions of hand eczema, help wounds heal significantly faster, and assist skin against irritation with antioxidant and anti-inflammatory activity.
We can tell a little more about the Manuka honey Hope's Relief use in their Natural Hair & Scalp Therapy Shampoo thanks to the bit at the end – NPA 10+  -which stands for non-peroxide activity, a grading system used to rate antibacterial activity. 10+ is low to medium, a grade used to help maintain healthy, happy skin.
Next up, aloe vera, n extract with a significant history of soothing skin, calming irritation and preventing sensitivity. Published studies tell us, aloe vera may be effective for psoriasis and can help wounds heal and prevent inflammation – effects which often cause itchy, flaky skin. As ingredients go, there are no large-scale studies of proof but then again, for ingredients already well known and not patentable, this is not necessarily an indication of efficacy.
3rd up, a popular skincare ingredient – licorice – which has a complete trophy cabinet of benefits – anti-inflammatory, anti-bacterial, anti-oxidant, anti-fungal and more. Again small-scale studies show 1 and 2% concentrations can be effective in the treatment of atopic dermatitis.
Gotu Kola is another natural with similar although lesser studied benefits. Gotu Kola is an extract from the Asian pennywort. Used significantly throughout Asian history to help heal skin conditions modern science now suggests Gotu Kola can help improve the overall health of skin while also potentially having effectiveness in the treatment of psoriasis.
Our final quintuplet ingredient finisher – Calendula. A highly effective solution for acute dermatitis which anecdotally is used to treat wounds while possessing anti-bacterial and anti-inflammatory properties.
While most of the naturals found in Hope's Relief Natural Hair & Scalp Therapy Shampoo have only small-scale studies, their combined effects are certainly much greater than solo.
But before concluding, there's one more point to look at – the accompanying ingredients. Are they irritating? Can they support Hope's Relief no nasties promise?
Of note there are 3 ingredients that can cause contact dermatitis, which is actually very good for a shampoo formula and of these 3 they are not the big-ugly-baddies. We have;
1. Coco Betaine – an almost ubiquitous cleanser listed by the American Contact Dermatitis Society as allergen of the year in 2013
2. Benzyl Alcohol – a preservative and known allergen.
2. Phenoxyethanol – both a fragrance and a preservative. Unfortunately, it can cause a reaction in some of us.
These ingredients aside, Hope's Relief Natural Hair & Scalp Therapy Shampoo has been formulated with imagination and flair. If you aren't sensitive to the betaine or the alcohol, this is a very nice natural alternative to help find your scalps healthy, happy place.
First Class MChem in Chemistry
A master of chemistry, a product formulation expert and a regular reviewer on this site. Megan wishes to remain partially anonymous so she can be candid about her employer's and competitor products.