Dandruff Deconstructed is reader-supported. All reviews are independent and any products reviewed are purchased by the site owner. To help fund this model, some of the links on the site are affiliate links. If you decide to make a purchase from one of these links, this site will receive some commission. At no cost to you. It helps keeps this place running. Learn more
Ingredients

Wash

Scent

Price
Summary
An impressive dry scalp treatment shampoo with an innovative formulation.
I have to applaud any company that can formulate a shampoo with so few allergens. The fact that it washes so well is marvelous. For those not sensitive to Cocamidopropyl Betaine, Phenoxyethanol or fragrances – this is an excellent shampoo.

Tru Moroccan are a relatively new business who are already highly rated on Amazon having amassed 332 mainly positive reviews at the time of writing. The shampoo is labeled a repair shampoo, and of particular interest to us at DD towers, is the shampoo's effectiveness at treating dandruff caused by a dry scalp.
After ordering I received an email from Tru Moroccan:

Thank you for your order! I just wanted to provide you with the directions for use and ingredients of Tru Moroccan Shampoo.
Tru Moroccan products were created to provide natural, quality hair care that is nourishing and safe for hair, skin and scalp. Tru Moroccan products do not contain harmful Sulfates, Parabens, Surfactants or Silicones.
You will notice that Tru Moroccan products do not lather. Our products are not intended to create lather. Lather is generated in products that contain Surfactants, which are primary chemicals found in detergents and harsh soaps. Even our necessary preservatives are a natural, food grade source. Our products are considered to be of the very best quality in the beauty industry…
This is the first time I have received additional information from a retailer before and I must admit I was highly impressed. It's a surprisingly unique approach to customer relationship management in this industry, and its one I hope to see a lot more of. Before the product even arrived I felt like I had a connection to this company and knew how to use their product.
The bottle looks very modern – salon quality branding.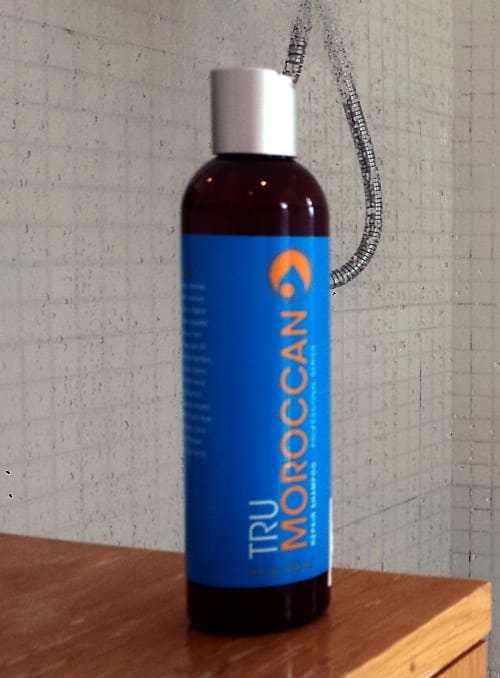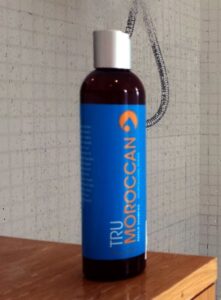 It's worth noting that this isn't a medicated shampoo, and the manufacturer claims to contain only the gentlest ingredients. To a large extent that is true. We monitor every shampoo for 100+ ingredients that can cause contact dermatitis. Tru Morrocan Repair Shampoo contains two. Compared to the majority of the shampoos we monitor this is excellent – typically this is exactly what we are looking for.
The allergens are:
Cocamidopropyl Betaine – in the vast majority of shampoos. Cocamidopropyl Betaine acts as a surfactant but also has the potential to irritate.
Phenoxyethanol – a preservative and fragrance that has the potential to irritate.
Performance wise the shampoo was excellent. This was despite their email claiming that the shampoo doesn't lather. I was expecting a real horrible wash experience that smelled of some organic seaweed mold and was amazed to find the shampoo smelled and felt luxurious. Reverse psychology marketing is a new one on me.
After washing my hair felt soft and shiny and it had a noticeable bounce to it.
Performance wise this is absolutely top notch. I had to take a closer look at the composition of this shampoo.
The shampoo, aside from the Cocamidopropyl Betaine, contains two gentle surfactants to clean the hair:
Alkyl Polyglucosides – an extremely gentle surfactant
Sodium Cocoamphoacetate – which also acts asa skin conditioning agent
In addition, the shampoo contains a number of other extremely interesting ingredients.
Aloe Barbadensis Leaf Juice – a soothing anti inflammatory that is used to treat a vartiey of skin conditions such as sunburn, acne, psoriasis, dry scalp and eczema
Argan Oil – a nut oil with anti-inflammatory and properties. Thje oil is also rich inantioxidants, vitamin A, vitamin E and Omega-6 fatty acids. Sufferers of seb derm should note that this oil is also high in oleic acid – a known irritant for seb derm
Panthenol – vitamin b5. An excellent skin conditioning agent and one of my favourite ingredients in any shampoo
White Willow Bark Extract – has astingent, anti-inflammatory and anti-septic properties when applied topically
Chamomile Flower Extract – contains chemicals that promote relaxation and reduce inflammation
Red Clover Flower Extract – contains anti-inflammatory, UV protective, collagen-boosting and wound-healing properties
Elder Flower Extract -an anti-inflammatory agent that aids in wound healing. Elderflower extract also helps soften and calm the skin.
Caprylyl Glycol – a gentle humatant and skin conditioning agent.
This is one of the most interesting formulations I've seen in a long long time.
One thing worth noting is that plant extracts are often in the form of essential oils. Fragrant essential oils. Some of these fragrances are contact allergens. I'm guessing though. The reason I am guessing is that the labeling is so vague. We simply can't tell what ingredients are in these extracts.
Other than a potential hidden fragrance, I am extremely impressed with the thought that has gone into this formulation. The company has really tried to be innovative with this formulation. It's a completely new formulation and a massive improvement over the last time I looked at it two years ago.
I have to applaud any company that can formulate a shampoo with so few allergens. The fact that it washes so well is marvelous. For those not sensitive to Cocamidopropyl Betaine, Phenoxyethanol or fragrances – this is an excellent shampoo.
The site owner. I founded, and have ran this site for too many years now.
I have extremely sensitive skin, have suffered from seb derm for all my adult life and this site is my way of doing something about it.
Check out my sister site at safehouseholdcleaning.com