Dandruff Deconstructed is reader-supported. All reviews are independent and any products reviewed are purchased by the site owner. To help fund this model, some of the links on the site are affiliate links. If you decide to make a purchase from one of these links, this site will receive some commission. At no cost to you. It helps keeps this place running. Learn more
Following on from our recent post on Sulfate Free Shampoos, we thought it was time to look in detail at another controversial additive commonly found in shampoo – parabens.
There's a growing movement from within the scientific community and among the public to ban the parabens found in cosmetics and shampoos. There is also a lot of misunderstanding and wild speculation as to what parabens actually are and what the risks are with using parabens.
Before we look at our favorite paraben-free shampoos, in true Dandruff Deconstructed style we'll present the facts. Allowing you to make an informed decision on whether to continue to use parabens in your shampoos.
More specifically we'll look at:
What parabens are
The risks of using parabens
What the alternatives are
Then recommend the best paraben-free shampoos we've encountered on the market…
What are parabens?
Parabens, or parahydroxybenzoate esters, are a type of preservative used in shampoo to prevent the growth of microorganisms, such as bacteria, yeast, and mold. Not much is known about how parabens inhibit microorganism growth, but the mechanism is thought to be linked to the disruption of membrane proteins [1].
Are there different types of parabens?
If you look at the ingredient lists on popular shampoos, it's not difficult to find parabens. The six you're most likely to come across, on their own or in combination, are methylparaben; ethylparaben; n-propylparaben; isopropylparaben; n-butylparaben; and benzylparaben. These all have similar names because they are slightly different molecules based on the same structure of 'p-hydroxybenzoic acid'.
While all parabens inhibit microorganism growth, they don't all have the same action on human tissues. Methylparaben has been shown to strongly accumulate in breast tumors and urine, and n-propylparaben in urine [2]. This accumulation is in the nanogram level but combined with weak estrogen effects, forms the foundation for the public, scientific, and regulatory controversy surrounding parabens.
What are the risks of using parabens in my shampoo?
Parabens have been shown to cause irritant rashes in approximately 0.5 to 3.5% of people, and those with previous reactive allergies are most at risk (it should be noted that this figure is lower than other cosmetic preservatives) [3]. By far the most reported concern of paraben use is the 'oestrogenic activity'. This means that parabens can mimic the hormone estrogen, which may lead to increased incidences of breast cancer.
The laboratory evidence for this isn't overly convincing, as parabens have extremely weak oestrogenic effects – approximately 10,000 to 100,000 times weaker than natural estrogen [4, 5]. More concerning is the increased incidence of breast cancers located below the armpit since 1979 [6]. This fact is widely associated with paraben use because the preservative is also found in deodorants and creams which remain on the skin throughout the day – and so may be absorbed into the bloodstream.
The FDA has stated that the risk is unproven and that natural hormone fluctuations or diet have significantly stronger oestrogenic effects than parabens, which isn't an unreasonable position [7]. The European Medicines Agency (EMA) takes the opposite view, and in the absence of convincing safety data, has reduced the maximum concentration of parabens permitted in cosmetics from 0.8% to 0.14% [8].
How can I tell if my shampoo is paraben free?
Many shampoos advertise themselves as paraben free these days ('natural' and 'paraben-free' are not the same thing). If you can't see the full names, then look out for the corresponding E number, for example, methylparaben can be listed as E218. There are plenty of alternatives though.
What are alternatives to parabens?
Preservatives are used to give products longer shelf life. That said, the decaying process is natural and will eventually occur with or without preservatives of any kind. Skin care products do not, and should not, last forever. DHS Tar Shampoo, for example, doesn't explicitly have any preservatives added at all. These shampoos tend to have a shorter shelf life, but personally, that's something I'm prepared for if it means fewer harmful chemicals are added to my skin care products.
That said, there are plenty of alternatives to parabens that have caught our eyes over the years. Pharmaceutical Specialities Free & Clear Shampoo have added a preservative called Disodium EDTA, rated as a 1 hazard score (0 being the lowest) in the ewg skin deep database – and isn't suspected of being an environmental hazard.
There's also a number of natural preservatives you'll see in shampoos these days. These include Tea Tree Essential Oil, Thyme Essential Oil, Grapefruit Seed Extract and Bitter Orange Extract.
Should I use parabens?
Parabens are used in shampoos as preservatives to prevent the growth of bacteria, yeast, and mold – an important quality given required shelf-lives. They can irritate skin in a small percentage of people, but not to a greater level than other cosmetic preservatives. If you suffer from a dry scalp or allergic conditions, then you may want to consider a 'paraben-free' certified alternative.
There isn't any overwhelming evidence that they cause or contribute to the risk of getting breast cancer, although they are weakly estrogenic. The incidence of upper-quadrant breast cancer is increasing, although this correlation isn't necessarily related to paraben use.
The EMA seems to have taken the most logical step in this instance to reduce risk in the absence of convincing evidence – parabens can still be added to cosmetics to prevent microbial growth, but at low enough concentrations to avoid accumulation.
If you're unsure or are prone to reacting to parabens in our shampoos check out the next section…
The best paraben free shampoos
Over the years we've reviewed a number of paraben free shampoos.  Some good, some bad and some are frankly awful.  You can view them all by looking at our dandruff shampoo search.
Our favorites include:

Designed to treat Seborrheic Dermatitis, Dry Scalp and Psoriasis
Pharmaceutical Specialties formed in 1974 to "start a company to make better products than were commercially available for people with sensitive skin". And boy, have they achieved it with this Free and Clear shampoo.
What is perhaps surprising on a website dedicated to dandruff treatments is that this isn't a dandruff shampoo at all.
It's rather a "a non-medicated, mild shampoo for sensitive skin and scalp."
That said, we can't use a medicated shampoo all the time, and this is my go to shampoo for those "between" washes.
Read the entire review


---
Designed to treat Seborrheic Dermatitis, Dry Scalp
BIOM8 Skin Conditioning Oil is now part of my daily skin care routine. It's as simple as that. I have lost count of the number of products I've reviewed over the years and I can count on one hand the number of products that have impacted me on this level.
If you suffer from dry skin, facial seb derm or rosacea I simply can't recommend this product highly enough.
It even makes a good beard oil!
Read the entire review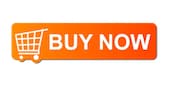 ---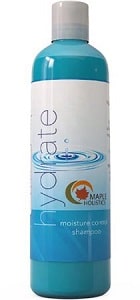 Designed to treat Dry Scalp
Maple Holistics Hydrate Shampoo has been superbly formulated to soothe and moisturize the scalp and hair. The ingredients have been carefully selected to decrease the chance that the product will irritate the skin. Using multiple low dose surfactants is a stroke of genius and only the fact the shampoo contains only one potential contact allergen says it all.
This is as close to perfection as you get in the commercial shampoo world.
I simply can't recommend this highly enough.
Read the entire review


---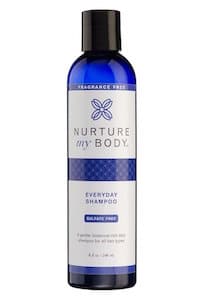 Designed to treat Dry Scalp
Nurture My Body Everyday Fragrance-Free Shampoo is an excellent gentle option for sufferers of a dry irritated scalp. The absence of any noteworthy irritants or allergens combined with the expert formulation of anti-inflammatory moisturizing ingredients makes an excellent change from the usual harsh surfactants and other toxins that lead to a vicious cycle of irritation and inflammation.
They've managed all of this in a shampoo that foams and washes well.
It's not particularly cheap, but this is simply one of the finest dry scalp shampoos out there.
Read the entire review


---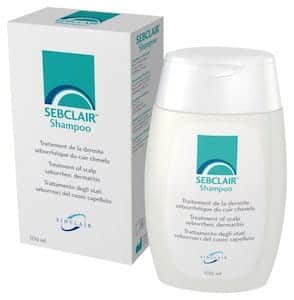 Designed to treat Seborrheic Dermatitis, Dry Scalp
Calling all sensitive scalp sufferers, if you haven't yet found an anti-dandruff shampoo your scalp can tolerate, you haven't yet found Sebclair shampoo. A piroctone olamine, Malassezia yeast quelling formula with extremely mild yet highly effective cleansers, accompanying scalp hydrators, flake fighters and natural anti-inflammatories. No fragrance, no essentials oils, no allergens. Sebclair shampoo really does stand out in our anti-dandruff crowd.
Read the entire review


---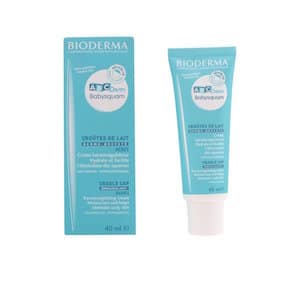 Designed to treat Seborrheic Dermatitis and Cradle Cap
If your babe's crusty cradle cap's only getting worse, it's time to try a leave on treatment – one which doesn't leave your baby's scalp looking like a grease ball. Enter Bioderma's ABDderm Babysquam keratoregulating cream a 14 ingredient formula made from sensitive, hypoallergenic, moisturising, soothing and barrier building ingredients.
Useable 7 days a week with no fragrance or harsh preservatives Bioderma's ABDderm Babysquam keratoregulating cream respects, repairs and conditions away crusty cradle cap.
Read the entire review


---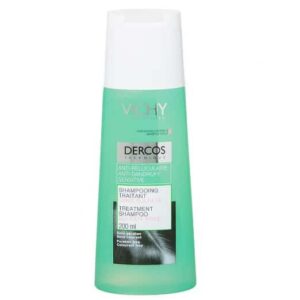 Designed to treat Seborrheic Dermatitis
One of the best and mildest shampoos out there for seb derm sufferers with sensitive skin.
Containing both Piroctone Olamine and Salicylic Acid as well as being SLS free, paraben free, artificial color free this shampoo has an absolutely outstanding choice of active and inactive ingredients.
There are still two or three chemicals in there that some may find irritating. Otherwise this would have been a five out of five performer.
Read the entire review


---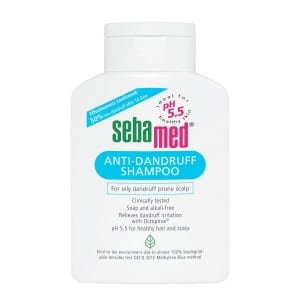 Designed to treat Seborrheic Dermatitis
Sebamed is one of the gentle yet most effective seb derm shampoos available.
The active ingredient is Piroctine Olamine - an excellent anti-fungal agent.
The rest of the shampoo has been formulated with panache.
Read the entire review


---

Designed to treat Seborrheic Dermatitis and Psoriasis
DHS Coal Tar Shampoo is an expertly formulated shampoo containing 0.5% coal tar and is the gentlest coal tar shampoo we've yet reviewed
We can't recommend this product or this company highly enough.
Read the entire review


---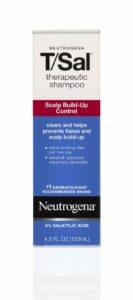 Designed to treat Seborrheic Dermatitis and Psoriasis
Quite simply the best pure Salicylic Acid shampoo we've yet reviewed. The shampoo contains 3% Salicylic Acid combined with a fragrance free, sulfate free and virtually every other nasty ingredient free formulation. It does this and still feels luxurious when washing.
Neutrogena should be exceptionally proud of this top top class shampoo.
Read the entire review


---
If you haven't seen your favorite shampoo listed, chances are we have and it can be found if you check out all our paraben free dandruff shampoo reviews.
References
[1] Freese, E., Sheu, C. W., & Galliers, E. (1973). Function of lipophilic acids as antimicrobial food additives. Nature, 241, 321-325.
[2] Darbre, P. D., & Harvey, P. W. (2008). Paraben esters: review of recent studies of endocrine toxicity, absorption, esterase and human exposure, and discussion of potential human health risks. Journal of Applied Toxicology, 28(5), 561-578.
[3] Cashman, A. L., & Warshaw, E. M. (2005). Parabens: a review of epidemiology, structure, allergenicity, and hormonal properties. Dermatitis, 16(2), 57-66.
[4] Routledge, E. J., Parker, J., Odum, J., Ashby, J., & Sumpter, J. P. (1998). Some alkyl hydroxy benzoate preservatives (parabens) are estrogenic. Toxicology and Applied Pharmacology, 153(1), 12-19.
[5] Blair, R. M., Fang, H., Branham, W. S., Hass, B. S., Dial, S. L., Moland, C. L., … & Sheehan, D. M. (2000). The estrogen receptor relative binding affinities of 188 natural and xenochemicals: structural diversity of ligands. Toxicological Sciences, 54(1), 138-153.
[6] Darbre, P. D. (2005). Recorded quadrant incidence of female breast cancer in Great Britain suggests a disproportionate increase in the upper outer quadrant of the breast. Anticancer Research, 25(3C), 2543-2550.
[7] FDA. (2015). Cosmetics Safety Q&A: Parabens. http://www.fda.gov/Cosmetics/ProductsIngredients/Ingredients/ucm128042.htm [Accessed: 10/11/16]
[8] EMA. (2014). Consumers: Commission improves safety of cosmetics. http://europa.eu/rapid/press-release_IP-14-1051_en.htm [Accessed: 10/11/16]
[9] Von Woedtke, T., Schlüter, B., Pflegel, P., Lindequist, U., & Jülich, W. D. (1999). Aspects of the antimicrobial efficacy of grapefruit seed extract and its relation to preservative substances contained. Die Pharmazie, 54(6), 452-456.
[10] Heggers, J. P., Cottingham, J., Gusman, J., Reagor, L., McCoy, L., Carino, E., … & Zhao, J. G. (2002). The effectiveness of processed grapefruit-seed extract as an antibacterial agent: II. Mechanism of action and in vitro toxicity. The Journal of Alternative & Complementary Medicine, 8(3), 333-340.