Dandruff Deconstructed is reader-supported. All reviews are independent and any products reviewed are purchased by the site owner. To help fund this model, some of the links on the site are affiliate links. If you decide to make a purchase from one of these links, this site will receive some commission. At no cost to you. It helps keeps this place running. Learn more
Ingredients

Wash

Scent

Price
Summary
If you're currently considering using dandruff shampoo to treat your body-wide seb derm, eczema, itchy skin, psoriasis, dermatitis and more – stop right now and grab yourself a Vanicream Z-bar. Free from common irritants, allergens and sensitizers, the 2% zinc pyrithione formula not only cleanses sensitivity but may also help provide relief from your symptoms. A clean, effective formula able to pacify and protect against seb derm and dandruff-like skin conditions.

Dandruff-like symptoms can strike almost anywhere on your body. Your skin can become eternally itchy, your eyebrows can suffer seborrheic dermatitis, your arms creases eczema, your legs/trunk/chest, psoriasis.  That's without considering dry skin is the number one cause of dandruff-like symptoms on the planet.
When seb derm like symptoms strike you – Should you use anti-dandruff shampoo all-over? Can anti-dandruff shampoo be used effectively as a body or face wash?
If you've considered it, stop right now – Vanicream Z-bar could be the exact product your dry skin fighting arsenal needs. A 2% zinc pyrithione cleansing bar, formulated with a skin-friendly anti-dandruff active known to be effective for soothing, healing and quelling populations of the Malassezia yeast we know is associated with seb derm.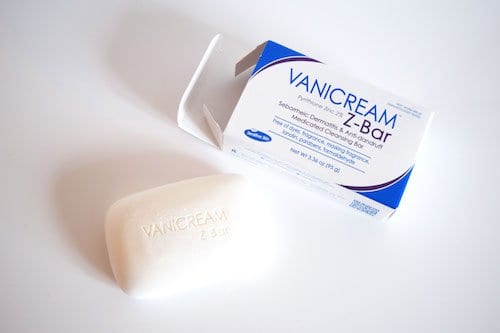 First stop – who make Vanicream Z-bar and can they be trusted?
The story behind the company who make Vanicream Z-bar is a reassuringly interesting one. Founded by 2 pharmacists who whilst working in a hospital had daily contact with frustrated dermatologists. Dermatologists wanting better for their patients and they asked their pharmacist colleagues – can you do it? Can you make a skin treatment free from irritating fragrances, sensitizing preservatives and undesirable dyes?
Can you give us the solution we've been searching for?
To this questions pharmacists Ed Mansfield and Conrad Thompson answered yes – yes we can.
…and so in 1974 Pharmaceutical Specialities Inc. (PSI) was born, a company which would specialize in sensitive skin care products to a standard no other was yet manufacturing to. Since this time, PSI have won the national eczema association seal of acceptance and the skin trust society seal of approval.
We've already reviewed a couple of their products before.  Their sensitive skin shampoo and their zinc pyrithione based medicated dandruff shampoo.  And our verdict on both was – outstanding!
PSI are a company to trust with your sensitive skin. But is their Vanicream Z-bar a hero of their range? What should you expect on first impressions?
Arriving as a 95g cleansing bar, Vanicream Z-bar is carefully packaged in a clean looking box also being protected by an inside plastic sleeve.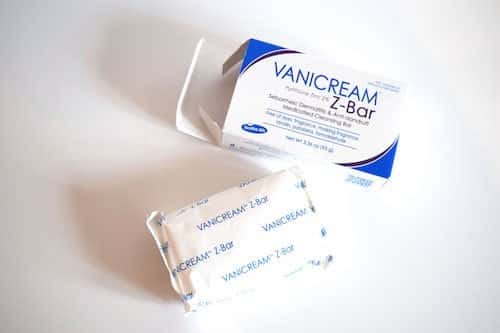 The pack labeling is clear and concise – use Vanicream Z-bar on your face, hands, body and scalp – helps relieve itching, irritation, redness, flaking and scaling associated with dandruff and seborrheic dermatitis.
In fact, visit their PSI's website and you'll also find that Vanicream Z-bar is a helpful treatment for;
atopic dermatitis (eczema)
psoriasis
ichthyosis
winter itch
Removing Vanicream Z-bar from its clean, medicinal looking packet reveals a pure white bar able to fit easily into the palm of your hand.
First impressions checkout. Next stop – in use performance. Is Vanicream Z-bar an ease to use? How will your skin feel after cleansing with Vanicream Z-bar?
A quick rub of Vanicream Z-bar in wet hands speedily evolves a cleansing foam which you can then choose to use anywhere – on your seb derm affected areas, itchy legs, eczema creases or even your dandruff prone scalp – yes really!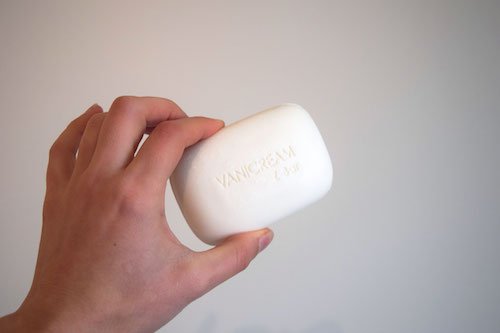 Your skin's left free from post cleansing irritation and sensitivity with a formula which washes off as easily as it is to apply on. The formula truly is as mild and gentle as PSI claim and after use, there's no sticky residue.
Bonus!
Now, what about the active ingredients? Can they live up to Vanicream Z-bar's claim of being able to treat seb derm, dandruff, psoriasis, eczema and more?
The primary and sole active in Vanicream Z-bar is zinc pyrithione – a well-known anti-dandruff fighting active ingredient. However zinc ingredients are not just known to help reduce the flaking and scaling associated with seb derm, they're also known to help reduce your skin's oil production, help your skin heal and calm away sensitivities.
Here's what the science says;
Above is only a handful of the studies completed on the use of zinc and zinc pyrithione. Zinc is a mineral your skin requires and the science is clear – using skincare products containing zinc can have significant benefits for skin.
Now, what about the accompanying ingredients in Vanicream Z-bar, are they also kind to skin? Can they help your skin? Will they leave your skin feeling softened, soothed and moisturized?
PSI are a company who pride themselves on clean formulas free from dyes, fragrance, masking fragrance, lanolin, parabens and formaldehyde. Their selections are designed solely for the benefit of your skin – a promise we can confirm checks out when looking at Vanicream Z-bar's ingredient list.
Here's a selection of some extra helpers and heroes;
Sodium Cocoyl Isethionate – a recognized mild cleansing ingredient
Cetearyl Alcohol – a fatty alcohol that will actually moisturize rather than dry the skin
Sorbitol – a water locking humectant, hydrated skin resists itching, flaking and scaling.  Can also help fight biofilms.
The ingredients aren't perfect.  There are one or two potential irritants or allergens in there:
Propylene Glycol – while this is generally considered a low toxicity ingredient, it can cause severe contact dermatitis in some individuals. It's not clear what makes some people more susceptible, but those with other skin conditions such as eczema seem to be at the highest risk.
Paraffin – a barrier forming occlusive helping protect damaged skin against external irritation.  However, while this is unlikely to cause contact dermatitis, this is water-insoluble, prevents your skin from breathing and can keep sweat locked in.
White Petrolatum – very similar to above, a water insoluble moisturizing barrier
Our conclusion: Vanicream Z-bar makes a fantastic cleansing option for sensitive skin types, eczema prone skin types, seb derm affected skin types and more.
If you have symptoms of dry skin, flaking, redness, itching and irritation – Vanicream Z-bar has ingredients proven to help.