Dandruff Deconstructed is reader-supported. All reviews are independent and any products reviewed are purchased by the site owner. To help fund this model, some of the links on the site are affiliate links. If you decide to make a purchase from one of these links, this site will receive some commission. At no cost to you. It helps keeps this place running. Learn more
Ingredients

Wash

Scent

Price
Summary
If you've forever been questioning what shampoo to use to treat your dry scalp, or you're looking for a good gentle alternative to your usual medicated shampoo, then Klorane soothing & anti-irritating shampoo is just the answer. Without feature of traditional actives, the soothing formula has natural anti-inflammatory benefits courtesy of peony extract and significant anti-bacterial benefits thanks to a next-generation cleanser.
This is definitely worth checking out.


A good shampoo to treat dandruff caused by a dry scalp is surprisingly hard to come by.
And if you require a medicated shampoo, what do you use in between treatments?  Do you revert back to a drugstore original? Use your supermarket brought 2 for 1?
Your up-keep choice is just as important as your medicated shampoo choice. The challenge – most dandruff shampoos focus on just that – dandruff – they're medicated, often potent and sometimes even aggressive – Nizoral we're looking at you.
Klorane soothing & anti-irritating shampoo with peony shakes away the norm. Promising to be a sensitive, irritated scalp friendly formula with natural soothing action – could Klorane soothing & anti-irritating shampoo be dry scalp or up-keep in-between you've been looking for?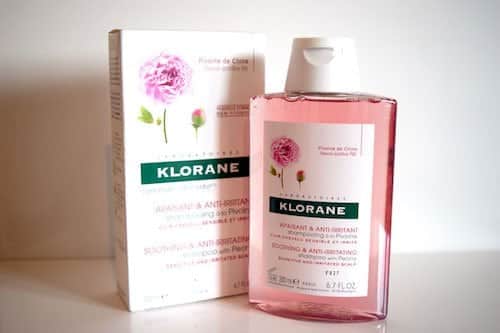 Come take a look…
First stop: Who makes Klorane soothing & anti-irritating shampoo? Can they be trusted with your dandruff prone scalp?
A quick scan of the Klorane packaging tells us, the answer – a company called Pierre Fabre Dermo-Cosmetique make Klorane shampoo. A French founded business with a mission to care for the human body as a whole. You might also recognize some of their more well-known brands – Avene skincare, A-derma and Glytone.
Pierre Fabre Dermatologie claims to be no.1 in Europe for dermo-cosmetics (cosmetics with dermatological aka skincare benefits) and no.2 globally. Their overarching principle – beauty with ethics.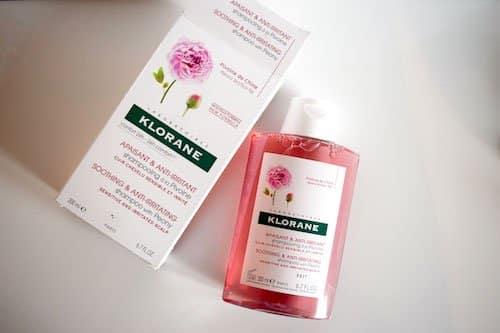 So, Pierre Fabre Dermatologie check-out, they're a well-known company with well-known success. Now, what about the shampoo? How does a bottle of Klorane soothing & anti-irritating shampoo look on arrival?
Channeling a different from the norm aesthetic, Klorane soothing & anti-irritating shampoo communicates a mixture of clinical and holistic/botanical.  The packaging presents as a 200ml bottle contained within a reassuringly branded outer carton. The packaging is sturdy, the bottle transparent and the shampoo a clear, light-rose liquid. With a quick break of the anti-tamper lid seal an easy to use flip top cap is revealed ready for use.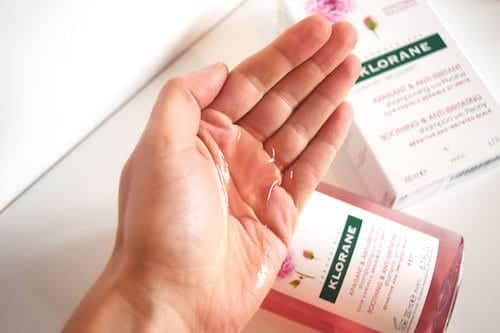 Next question: How does Klorane soothing & anti-irritating shampoo wash? Can you expect great performance?
When using your bottle of Klorane soothing & anti-irritating shampoo it's very unlikely you're going to notice a difference between Klorane and any other shop brought shampoo you've used before.
Great news.
The formula foams well helping spread through your hair, the scent is almost-there and pleasantly floral, the bubbles wash out well with no weighty residue. A formula that feels refreshing, able to balance a combination of dry irritation and over-oily scalp.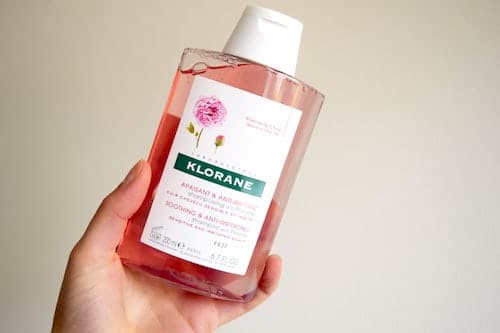 Looks fantastic so far – but – before we get ahead of ourselves, here comes the most important part – what's inside the bottle? Does Klorane soothing & anti-irritating shampoo contain ingredients proven to work?
Having no traditional anti-dandruff ingredients, the efficacy of Klorane soothing & anti-irritating shampoo relies on a combination of 2 ingredients;
Zinc coceth sulfate – a cleansing ingredient
Peony extract aka Paeonia Lactiflora Root Extract – a natural extract
Zinc coceth sulfate is a very interesting ingredient – still protected by a 2015 published patent owned by Pierre Fabre Dermo-Cosmetique.
Note: A patent is a legal document used to protect new inventions. The fact Pierre Fabre Dermo-Cosmetique own this patent means for its lifetime (usually 20 years) no other company can use the discovered ingredient within the context it was discovered for.
This makes the formula of our in question Klorane soothing & anti-irritating shampoo rather unique.
Inside the detail of Pierre Fabre's 2015 accepted patent we can learn all about the claimed benefits of zinc coceth sulfate, for example;
Zinc coceth sulfate has antibacterial benefits – great for helping prevent dandruff caused by Seborrheic Dermatitis
Is especially sensitive to skin – not all cleansing ingredients are
Has excellent cleansing abilities
Is pH 4.5, so is well matched to the average healthy skin pH (dry skin and scalp are associated with higher pH levels)
A quick literature search also reveals;
Although Klorane soothing & anti-irritating shampoo contains no popular anti-dandruff ingredients, the formula is not without activity – and a mild, sensitive skin friendly activity at that. Even better news.
The second ingredient with dandruff prone scalp aiding abilities is peony extract, which you'll see championed on the Klorane box in picture, text and color. Peony extract is associated with many dry, seb derm, dandruff prone benefits;
Anti-inflammatory – aka soothing
Antioxidant
Immune system modulating – it's your immune system which causes areas of red, inflamed sensitivity
In fact, in China peony extract has been used for years to soothe away pain and sickness.
But hearsay isn't enough for us to rely on peony extracts abilities – helpfully published studies also support peony extracts benefits. Specifically, a 2011 completed investigation into peony extract concluding it has both analgesic and anti-inflammatory benefits.
Klorane soothing & anti-irritating shampoo is not only a sensitive scalp friendly shampoo, there are also partnering ingredients with significant anti-dandruff, anti-seb derm, anti-psoriasis or even just dry itchy, irritated scalp benefits.
Final stop: What about the remainder of the formula, is there anything else you should know about before investing in a bottle?
Yes. There are a few ingredients that can potentially cause contact dermatitis:
Sodium laureth sulfate – SLES – a cleansing ingredient – less irritating than SLS, however also not known as a mild cleansing ingredient – shampoo formulas need to be balanced to compensate
Fragrance (parfum) – while there are no listed allergens carried in this fragrance, it is a potential for sensitivity
Sodium Hydroxide – a ph adjuster – the quantities used are tiny but there are some who react to it
Propylene Glycol – a petroleum-based synthetic alcohol.  Acts as a humectant.  Unfortunately, it can also irritate.
Overall the use of SLES is balanced by other extremely mild, skin sensitive cleansers like our talked about zinc coceth sulfate and also coco-glucoside. Take caution only if you know your skin reacts to one of the 3 added extras above. Overall these 3 are not enough to significantly dent our love of Klorane soothing & anti-irritating shampoo – making a great choice for in-between dandruff treatments upkeep.
First Class MChem in Chemistry
A master of chemistry, a product formulation expert and a regular reviewer on this site. Megan wishes to remain partially anonymous so she can be candid about her employer's and competitor products.