Dandruff Deconstructed is reader-supported. All reviews are independent and any products reviewed are purchased by the site owner. To help fund this model, some of the links on the site are affiliate links. If you decide to make a purchase from one of these links, this site will receive some commission. At no cost to you. It helps keeps this place running. Learn more
Ingredients

Wash

Scent

Price
Summary
Vichy Dercos shampoos for oily/dry scalp are a very decent pair of combination shampoos for treating seborrheic dermatitis. It's the first time we've reviewed a Selenium Sulfide/Salicylic Acid shampoo and it's a combination of great promise.
They aren't perfect shampoos though containing fragrance, sulfates, silicones and a few other potential irritants.
If you're looking for a prescription strength formulation available OTC, and you haven't got a particularly sensitive scalp – it's definitely worth checking out.

Vichy Dercos have developed an entire range of shampoos to treat seborrheic dermatitis. We have previously reviewed the excellent sensitive skin shampoo and perennial Dandruff Deconstructed favorite. And in addition, Vichy have a shampoo for dry hair and a shampoo for an oily scalp. It's clear to see, Vichy is a company who understand that yes, you have dandruff and yes, your scalp and hair have other needs.
In this review, we're going to be talking about both of Vichy's anti-dandruff shampoo for dry hair/scalp and oily hair/scalp. Both shampoos have an identical ingredient list, with slightly altered amounts to take special care of your underlying hair/scalp type.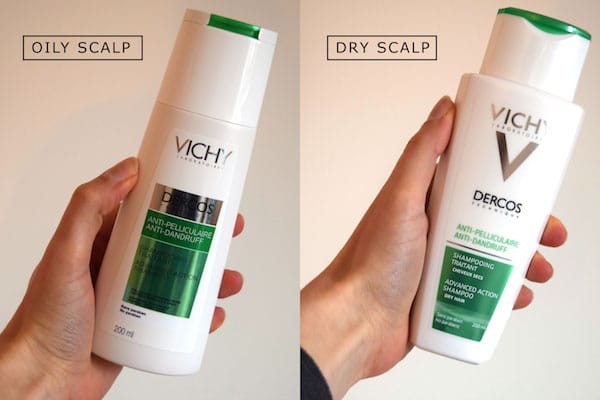 The Vichy Dercos technique formulas rely on a combination of 2 active anti-dandruff ingredients. That's salicylic acid and selenium sulfide. A respectable duo we'll dive into the efficacy of soon.
First, who are Vichy and why should you trust them to treat your anti-dandruff needs?
Vichy is a French founded company who began their product line in body care, trading for the very first time in 1931. 30 years ago Vichy forayed into hair care making a commitment to researching … and I quote from their website, 'scalp, hair care and hair loss'. A powerful trio for the development of anti-dandruff shampoos, which Vichy tell have been, 'specially formulated after years of research and development'.
Now owned by L'Oreal, they certainly have the investment behind them to make something really special.
Both the Anti-dandruff shampoo for dry and oily scalps come in an elegant looking outer carton with a sturdy feeling inner bottle. The packaging communicates a well-designed product of high quality.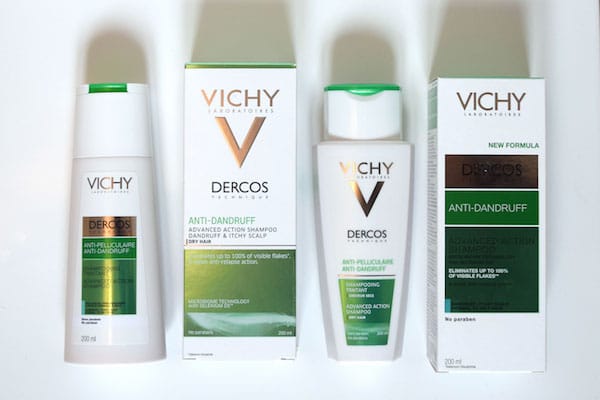 So how exactly does this swish shampoo wash?
Both of these anti-dandruff shampoos are a golden orange color. Probably because selenium sulfide is too.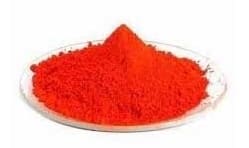 A handy hint to help you use just the right amount at a time. Both shampoos smell like the best kind of Lynx/Axe body spray and their creamy texture makes for an easy application. The foaming and cleansing action are both strong and I felt a faint hint of menthol as I washed. I'm not a fan of menthol typically – it's just one more ingredient in the chemical soup that is a shampoo – but some like it so who am I to judge.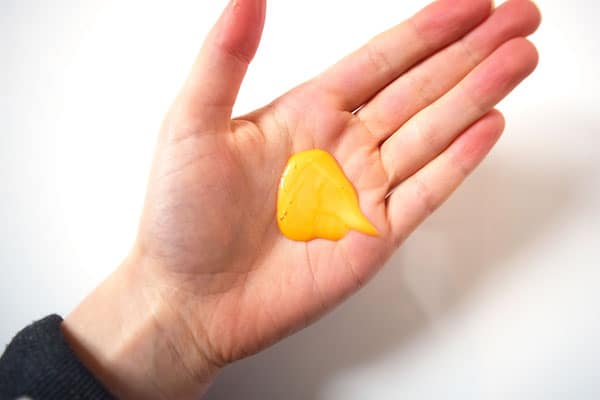 Both shampoos are easy to use, easy to distribute and easy to wash off.
It's worth following the usage advice Vichy give us on their website, which tells you for, 'first application, leave on the hair for 2 minutes, then rinse thoroughly. For subsequent washes, massage into hair, then rinse. Use as a 4-week program.'
Now let's investigate their inner beauty…
Taking a deep dive into the 19 ingredients used in these 2 shampoos. And they look remarkably similar…
Both shampoos are combination shampoos, using both Salicylic Acid and Selenium Sulfide as their active ingredients. It's the first time I've seen these ingredients combined and it's a very interesting combination indeed.
Although the exact amounts aren't given, the fact that both are sold in the USA without prescription implies that selenium sulfide is present at 1%. And given their positions in both ingredients list, it's safe to assume the salicylic acid is approximately the same.
Selenium sulfide is an anti-infective active ingredient that helps to prevent fungus from growing. As seb derm is strongly related to the Malassezia fungus, selenium sulfide is a great choice. It's possibly my favorite ingredient to control my seb derm during a bad breakout.
Salicylic acid compliments this action by adding anti-bacterial benefits alongside an exfoliating effect. Meaning where you once had dry flakes of skin, you'll now have softened flakes that wash away, are invisible to the eye and do not find themselves on the shoulders of your Sunday best.
There is some evidence to suggest that salicylic acid can amplify the effects of the antifungal agent too!
The combination of these 2 ingredients has been found very effective for quickly tackling related fungal infections such as tinea versicolor, which the Malassezia fungus are also thought to cause.
Overall, a great combination!
While it has an excellent combination of active ingredients, the shampoo does have its faults. It's neither Sulfate or Cocamidopropyl Betaine free; using SLES as the primary surfactant and the betaine as the secondary. The presence of these ingredients explains why the shampoo is such a good wash. But, as ever, I wish shampoo formulators would show a bit ambition and deviate from a sulfate/betaine combination. Particularly in dandruff shampoos. Both of these surfactants can irritate. And we dandruff sufferers tend to have sensitive scalps!
The shampoos contain a few skin conditioning moisturizing agents – which explains how pleasant these shampoos are to wash with. Some of the ingredients are new even to me. For example, I've never seen the bizarrely named 2-Oleamido-1, 3-Octadecanediol skin conditioner before. The shampoos also contain other conditioners such as Glycol Disterate and Tocopheryl Acetate. The latter an excellent moisturizer but disappointingly a known irritant.
While we're talking about ingredients that can cause contact dermatitis, these shampoos aren't silicone free; both contain Dimethicone.
In fact, Dimethicone is one of the ingredients of real note in this shampoo. The other being Glycerin. It's these 2 ingredients that make the difference between the oily and dry scalp varieties of these shampoos.
In fact, it's the quantities of these two ingredients that are the difference between the two shampoos.
Glycerin makes a starring role higher up on the ingredients list of Vichy's dry scalp shampoo. It's a well-known moisture attracting ingredient that can be derived from either vegetable or petroleum sources. When on your scalp this ingredient casts a spell over all neighboring water molecules. It's like watching children being drawn to candy. The result is a hydrated scalp that you may no longer be able to describe as dry.
Dimethicone is also higher up on the ingredients list of Vichy's dry scalp shampoo and goes some way to enhancing the effects you'll see with glycerin. Dimethicone general purpose is to provide 'slip' and to film form. Meaning your scalp will be receiving a "second skin" and your hair will be easier to brush.
On the flip side, there's a growing movement of people looking silicone free shampoos these days. Silicone can build up as it's water insoluble. And this build up can irritate or in rare cases even cause contact dermatitis.
So do you recommend them?
Selenium Sulfide is one of, if not my favorite, active ingredient for controlling moderate to severe breakouts of seb derm. Typically I use a 2.5% formulation – but in the USA that's only available using a prescription. So combining 1% selenium sulfide with salicylic acid is a stroke of genius as far as I'm concerned. You're getting a potentially prescription strength shampoo OTC.
They do have their drawbacks, though. They're not free of fragrances, silicones, sulfates or the ever present cocamidopropyl betaine.
To be perfectly honest, I still prefer their shampoo for sensitive scalps to either of these shampoos. It's gentler and uses Piroctone Olamine in combination with Salicylic Acid – and will be just as effective for many sufferers.But this is a very decent shampoo with a unique combination of active ingredients.
But this is a very decent shampoo with a unique combination of active ingredients.
If your scalp isn't particularly sensitive it's definitely worth checking out…
NOTE: The Vichy website shows different ingredients lists to the ones written above that are taken directly from the carton packaging.