Dandruff Deconstructed is reader-supported. All reviews are independent and any products reviewed are purchased by the site owner. To help fund this model, some of the links on the site are affiliate links. If you decide to make a purchase from one of these links, this site will receive some commission. At no cost to you. It helps keeps this place running. Learn more
Review
Ingredients

Wash

Scent

Price
Summary
Hydrating shampoo formulas don't come around often making Art Naturals Scalp 18 Coal Tar Shampoo a gem. Best for dry, itchy scalp symptoms. Can be used for mild dandruff. Plant based, sustainable and cruelty free – an all-round goodie.
Comments Rating
( reviews)

With aloe leaf, tea tree, and borage oil. Nice sounding but can these actives help your dry, itchy, dandruff-prone scalp? And are they in Art Naturals Scalp 18 Shampoo only to naturalize the 'coal tar' formula? It's an age-old remedy and now's time to find out if it works. Should you trust your scalp and hair to Art Naturals Scalp 18 Shampoo? Will this black and red bottle save you from itchy scalp embarrassment?  Is it one of our best coal tar shampoos or, dare I ask, our best overall anti-dandruff shampoos?
We start at the beginning. Who makes Art Naturals Scalp 18 Shampoo and are they experts in scalp care?
We get off to a bumpy start here. The ingredients list on Art Naturals site is wrong. It conflicts with the label on our bottle and it's a different collection of ingredients from that which is listed on other websites. Either the Art Naturals website maintenance team is behind in updating or their Scalp 18 Shampoo's recently gone through reformulation.
Today, many ingredients inside the Art Naturals Scalp 18 Shampoo bottle we have are not listed on their website. Ingredients like coconut oil and hydrolyzed quinoa – important omissions and we'll be explaining why soon.
But back to the beginning, who are Art Naturals and can we trust them? Rocky start aside, Art Naturals tag line is 'set your beauty free', founded on a 'desire to free beauty from high prices, toxic chemicals and all-around bad vibes'. Their overall ethos gets big ticks, plant-based, cruelty-free, sustainable products. We like.
Although let's be clear, Art Naturals are not a research lab. Their formula creation is likely outsourced or relies on guidance from the manufacturers of the active ingredients they use.
So before you make your mind up, let's get into the nitty-gritty first impressions.
On ordering a 473ml bottle of Art Naturals Scalp 18 Shampoo you'll receive a simple, sleek black bottle with dark red branding. A nod to their coal tar formula. With a disc top cap and safety under seal this bottle's easy to use and will not leak during delivery.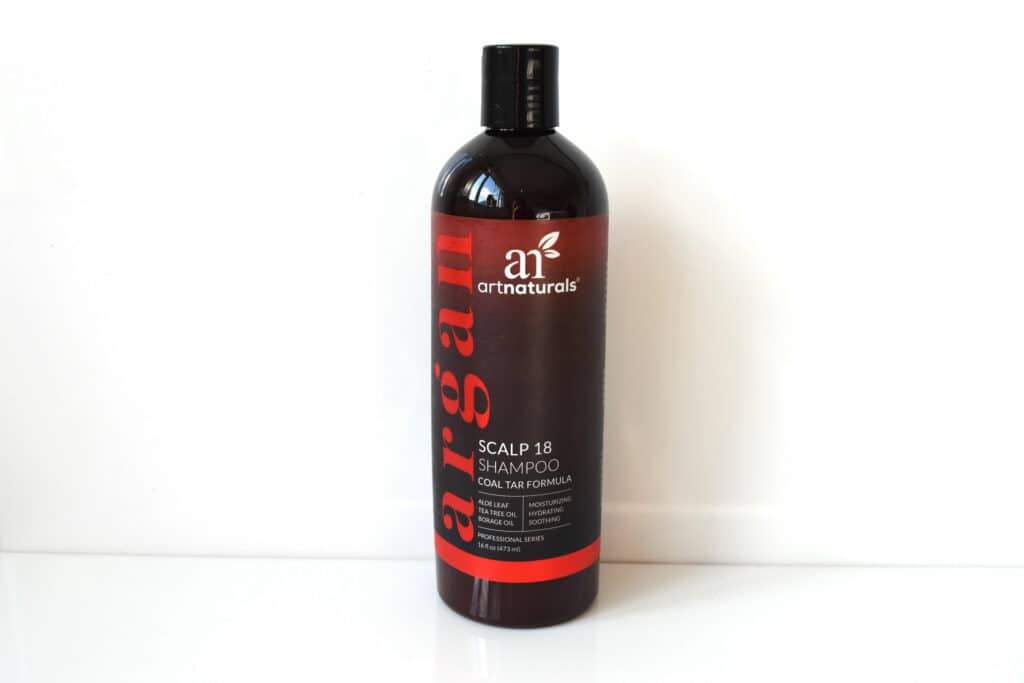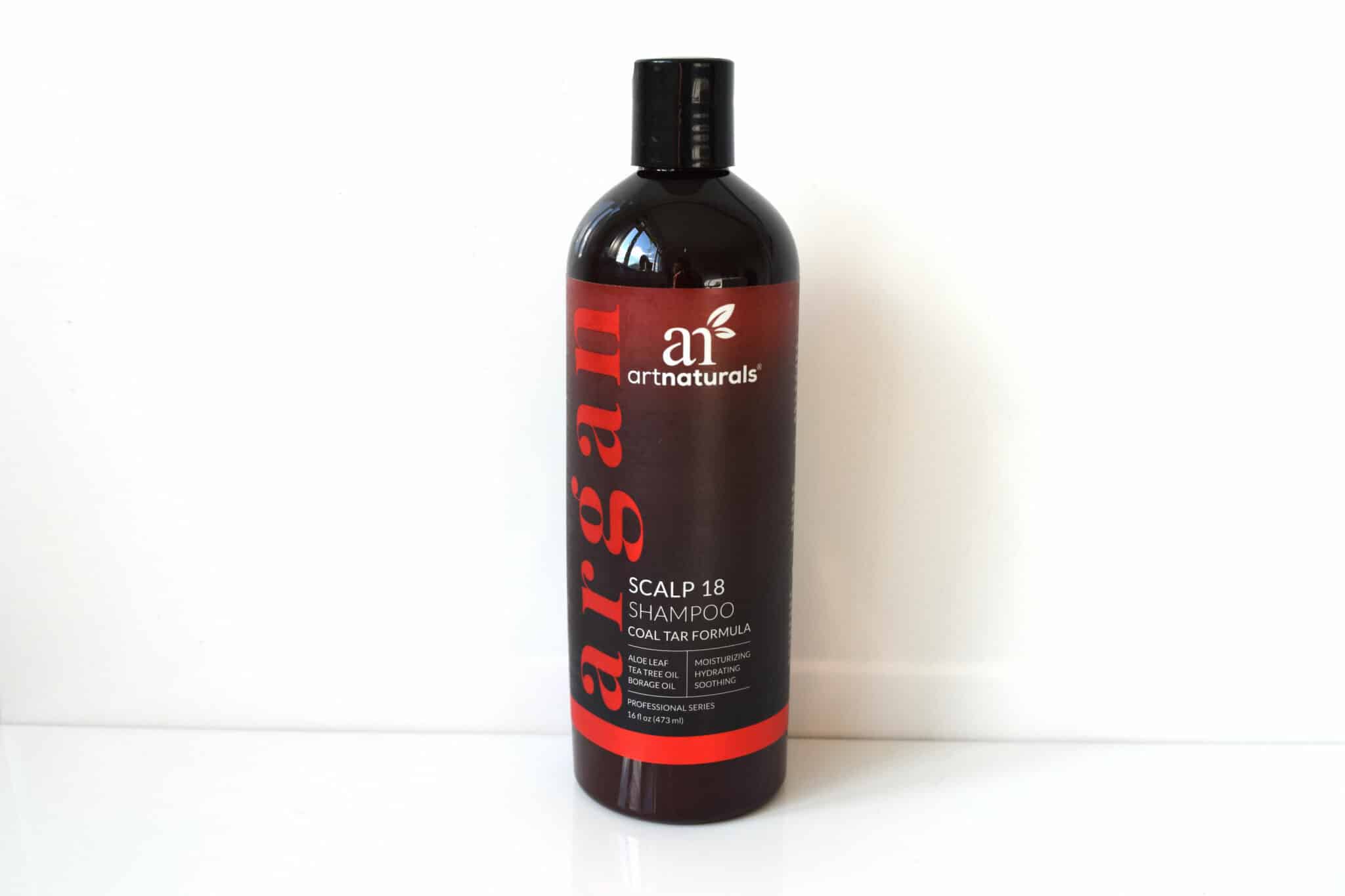 With firm pressure, a milky, slightly yellow shampoo-like consistency fluid exists. The scent isn't unpleasant, you also can't quite put your finger on what it is (a look at the ingredient list tells us peppermint and tea tree oil). Although in use, expect definite whiffs of classic coal tar scent. Art Naturals try to cover it up but coal tar is persistent.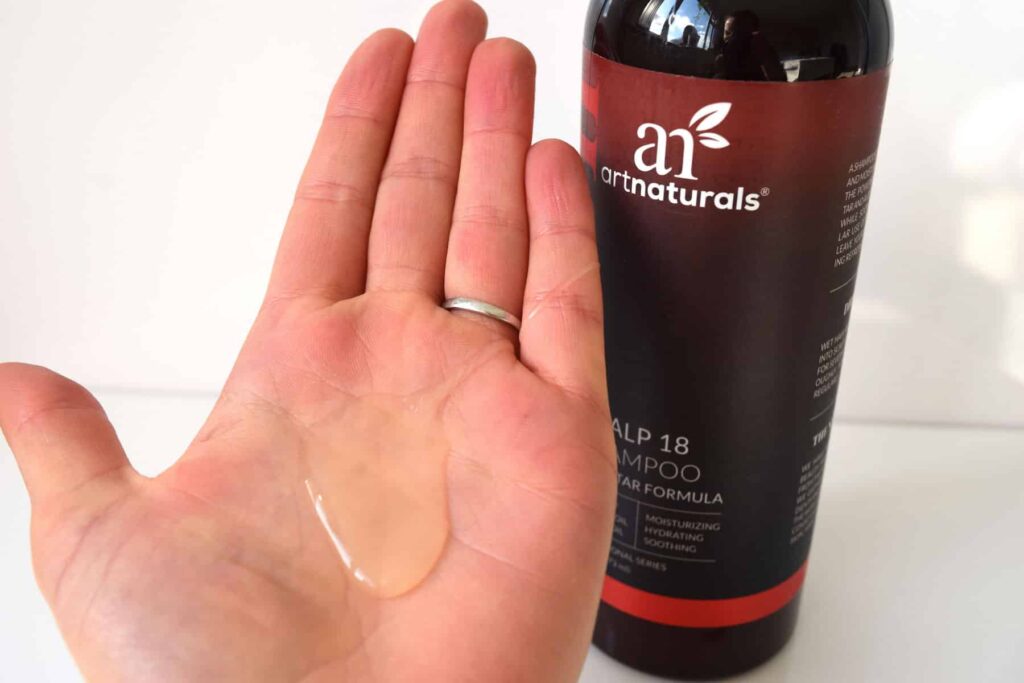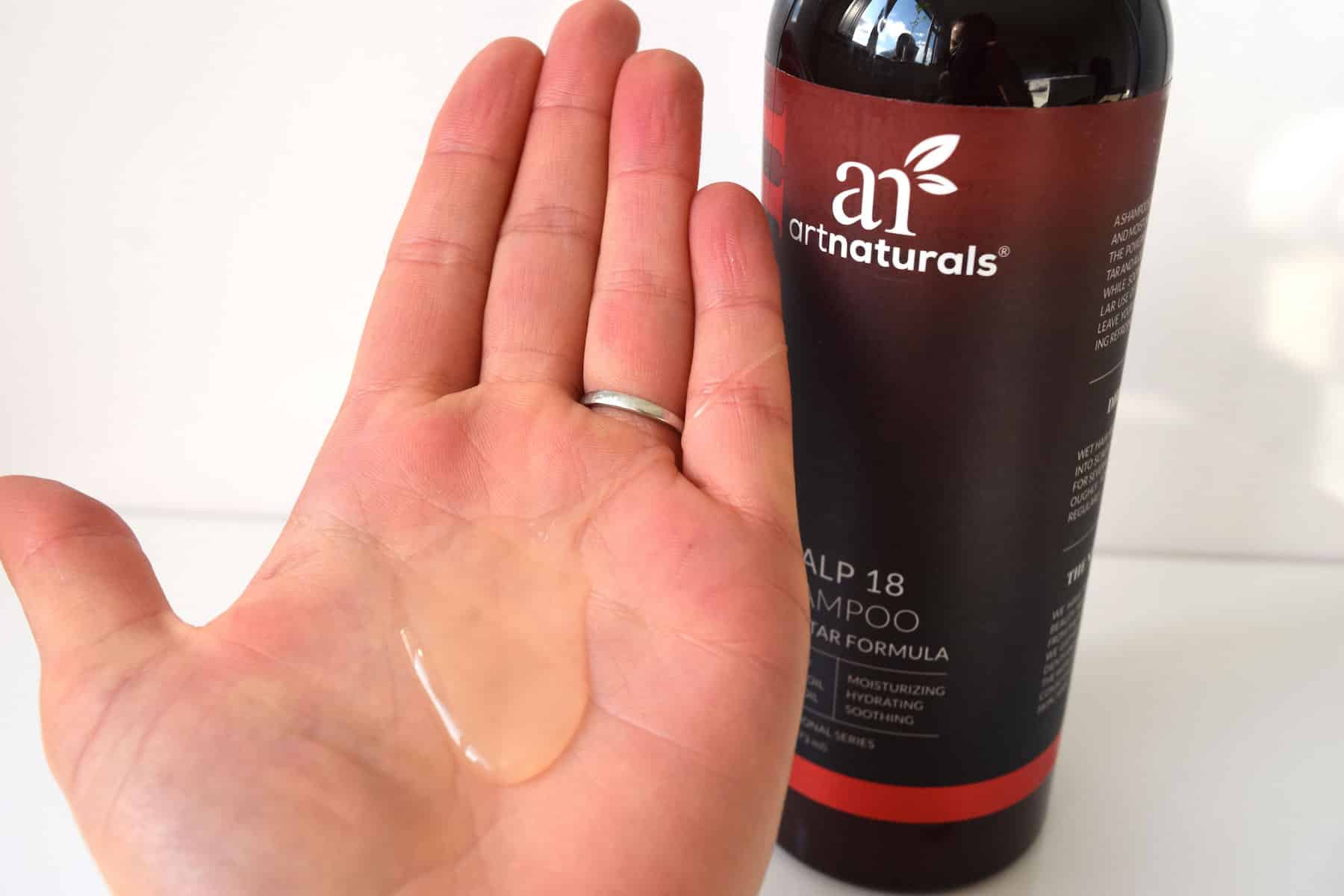 Note; while you can smell coal tar it's not overwhelming in this formula.
In use, performance is no different to a regular shop brought shampoo. Impressive. The formula spreads well, foams and washes out easily. It also leaves skin feeling hydrated – we tested on scalp and arm skin to monitor for drying effects and found the exact opposite. Another huge tick for dry, itchy, flaky scalps.
So, onto the most important piece of our puzzle. What is Art Naturals Scalp 18 Shampoo, Coal Tar Formula made from? Does it contain active ingredients which work? Does it contain actives that could flare your sensitive scalp?
Because this is the most important question. Great actives in a poor formula is what's left you feeling hopeless and helpless in the past.
Let's start with the dry, itchy, dandruff-prone scalp fighting actives. We have in order of concentration;
Propanediol – a humectant moisturizer aka an active which magnetizes water to itself and locks this to your scalp
Polyquaternium-10 – helps make skin and hair smooth
Glycerin – super well-known humectant moisturizer found in most moisturizers and body creams
Panthenol (vitamin B5) – helps hydrate skin
Coal tar – the main dandruff fighter here – more about if it works soon
Aloe leaf juice – can be soothing although there aren't too many scientific studies to prove it
Argan oil – conditioning
Borage oil – conditioning
Coconut oil – conditioning – can also have a mild anti-bacterial effect
Hydrolyzed quinoa – full of protein fragments which can penetrate hair to help protect it, also 'film-forms' on skin and hair to help lock in hydration
Seabuckthorn extract – may have anti-inflammatory benefits aka can be soothing
Note; all ingredients listed after propanediol are found below the preservative Art Natural's use (phenoxyethanol) in their Scalp 18 Shampoo. This means these actives are present in around 1% or below.
Overall there's a fair few naturals just like you'd expect from Art Naturals. We love the collection of humectant moisturizers – these are exactly the types of actives a dry, itchy, dandruff-prone scalp needs.
However, if it's not just dry, itchy scalp you're dealing with, but also diagnosable dandruff – can this formula help?
The key active ingredient in Art Naturals Coal Tar shampoo is, you guessed it – coal tar. What can it do?
A study published in the Journal of Dermatology in 2000 compared a coal tar shampoo (0.5% – notice you don't need a lot) with a non-coal tar formula (2% salicylic acid, 0.75% piroctone olamine and 0.5% elubiol). This study found both can help reduce dandruff symptoms however the non-coal tar shampoo had better efficacy, yielding 'significantly better reduction of Malassezia spp. counts' – the yeast seen to overgrow on dandruff-prone scalps.
A similar study published in 1999 compares 4% coal tar formulas with and without partnering anti-fungal actives like ciclopirox olamine and ketoconazole – results show when coal tar is the only active, the shampoo can help, however, is not as effective in the treatment of dandruff and seborrheic dermatitis.
Bottom line; coal tar likely helps curb an overgrowth of yeast i.e. dandruff, however, is not as effective as known antifungals i.e. ketoconazole. We like this shampoo for dry, itchy scalp symptoms, maybe even mild dandruff, however, it's not the choice for moderate to severe dandruff or seborrheic dermatitis. And to be fair Art Naturals don't claim it to be either.
Also worthy of note is tea tree oil which naturally contains an antiseptic active.
Our final stop – is there anything you should be cautious about in Art Naturals Coal Tar shampoo?
Overall this is a great formula with just a few watch-outs;
Although Art Naturals have worked hard to steer clear of aggressive cleansers like sodium lauryl sulfate, they do use cocamidopropyl betaine – a small percent of the population have allergic reactions – if this Is you – avoid.
Peppermint oil and tea tree leaf oil – both are a mix of natural actives – any fragrant plant oil can cause irritation in sensitive skin types. If this describes you, avoid.
If neither of these do, Art Naturals Scalp 18 Shampoo, Coal Tar Formula is a fantastic choice for dry, itchy scalp symptoms or mild dandruff. It's a gentle, hydrating formula with a pinch of many natural helpers.
If you try it out be sure to tell us how you get on. 
SUMMARY;
Hydrating shampoo formulas don't come around often making Art Naturals Scalp 18 Coal Tar Shampoo a gem. Best for dry, itchy scalp symptoms. Can be used for mild dandruff. Plant-based, sustainable and cruelty-free – an all-round goodie.