Dandruff Deconstructed is reader-supported. All reviews are independent and any products reviewed are purchased by the site owner. To help fund this model, some of the links on the site are affiliate links. If you decide to make a purchase from one of these links, this site will receive some commission. At no cost to you. It helps keeps this place running. Learn more
Ingredients

Wash

Scent

Price
Summary
Do you have an extremely sensitive scalp in need of anti-dandruff help? Do you suffer from mild to moderate seb derm?  Meet your new best friend.  Free & Clear's Medicated Anti-Dandruff Shampoo contains zero allergens, zero irritants, zero sensitizers formula based on 2% zinc pyrithione. An active ingredient able to improve the health of dandruff affected skin while also helping pacify dandruff causing overgrowths of the Malassezia yeast.
I simply can't recommend this shampoo highly enough.

In search of a gentle but effective designed to treat dandruff caused by Seborrheic Dermatitis?
Want anti-dandruff benefits without side effects?
Need a dandruff solution free of irritants, allergens and sensitizers?
You'll be surprised how many anti-dandruff shampoos contain them (!). If yes, yes and yes are your answers, then read our review of Free & Clear's Medicated Anti-Dandruff Shampoo.
This 2% zinc pyrithione shampoo could be just the hero you're waiting for.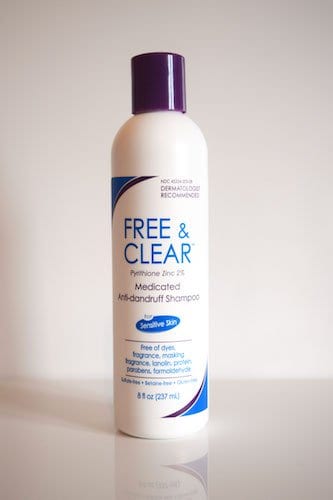 But before rushing out to buy a bottle, let's find out if Free & Clear Medicated Anti-Dandruff truly is the real deal. For starters – who makes it?
The man behind the Free & Clear mirror is 1974 founded Pharmaceutical Specialities INC. Started by 2 hospital-based pharmacists having daily close contact with dermatologists… and they were confronted with 1 constant challenge – finding commercial products suitable for sensitive skin.
In fact, dermatologists began explicitly asking them to do something about it.
"We wanted to avoid chemicals that dermatologists considered undesirable and could be irritating or sensitizing to the skin, such as fragrance, masking fragrance, dyes, lanolin, parabens, formaldehyde and formaldehyde-releasing preservatives. We wanted to use the highest quality ingredients that would conform to this principle."
Launching with well-recognized label Vanicream, Pharmaceutical Specialities INC. (PSI) are also the proud founder of haircare brand Free & Clear sulfate-free, betaine-free and gluten-free solutions.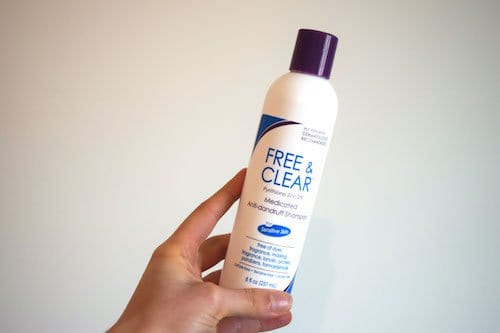 This isn't our first dealings with this company.  We've reviewed their outstanding Free and Clear Shampoo for Sensitive Scalps and have promoted it ever since.  I knew they had a medicated shampoo in the pipeline and have been looking forward to reviewing it ever since.
PSI absolutely check out. This is a company you can trust with your sensitive scalp needs. But does the shampoo formula match up to what's being promised?
After ordering a sizable bottle of Free & Clear Medicated Anti-Dandruff Shampoo you'll find a smart looking disc capped bottle arriving through your mail.
The bottle is smartly designed, the branding is in-between medical and mainstream and the contents come carefully protected with an inner seal i.e. no chance of leakage before use.
Note: Be sure to remove the inner seal before using…  *whoops*
Being excited to test out Free & Clear's Medicated Anti-Dandruff Shampoo you'll find a pure, white lotion like consistency formula with a very slight scent – you'll smell only if putting the bottle underneath your nose.
So what can you expect from Free & Clear's wash performance? Will their zinc pyrithione formula be easy to use or a nightmare to massage in?
Taking a well-portioned dollop of formula, Free & Clear's Medicated Anti-Dandruff Shampoo is considerably easier to use than other popular zinc-based shampoos.
Free & Clear's lotion-like consistency allows good spreadability with a well-designed foaming action allowing for easy rinsing.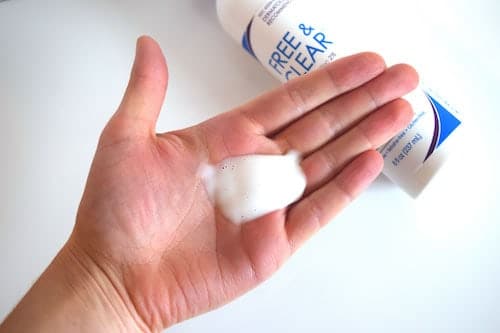 The sulfate and betaine free formula is a fantastic discovery for sensitive scalps in search of an easy to use anti-dandruff solution.
The combination of cleansers in the bottle are also very effective at ridding your scalp and hair of the excess oil associated with seb derm and dandruff.
Note: If you have dry hair, be sure to hyper-focus the formula on your scalp and roots only.
Sounds great so far – but does Free & Clear's Medicated Anti-dandruff Shampoo work? Will zinc pyrithione help make your dandruff go away?
PSI's solo active formula helpfully tells us the exact percent of zinc pyrithione in use – 2%. A high-strength dose.
However, unlike other anti-dandruff actives which can be irritatingly aggressive, zinc is a mineral used by your body to heal, soothe and calm.
Studies tell us;
But our investigation isn't yet over. The inactive ingredients used in anti-dandruff formulas are also very important, especially for sensitive scalps. How does Free & Clear's Medicated Anti-dandruff Shampoo match up?
2 words: Extremely cleanly.
While Free & Clear contains no extracts and has a very simple ingredients list, there are 2 extras worth noting;
Both the ingredients are humectant moisturizers (aka water attracting moisturizers) which can help soothe sensitive scalps while also helping to prevent dry flaking. Panthenol, also known as pro-vitamin B5, is well studied to enhance skin barrier repair while also reducing inflammation and irritation.
Great anti-dandruff co-helpers!
Free & Clear's Medicated Anti-dandruff Shampoo is formulated using one ingredient that may irritate – however, there should be none of that ingredient present in the shampoo post-saponification.  That ingredient is Sodium Hydroxide aka caustic soda.  Soap is made by combining caustic soda and a fat of some sort.  There should be none present in the final formula.  You read that right, there are zero recognized allergens, zero irritants, and zero sensitizers in this formulation post-saponification.
This is absolutely one of the best, if not the best dandruff shampoo I've ever reviewed.
If you have a sensitive scalp in need of effective anti-dandruff help, Free & Clear's Medicated Anti-Dandruff Shampoo is 100% qualified for your job.
Absolutely outstanding.