Dandruff Deconstructed is reader-supported. All reviews are independent and any products reviewed are purchased by the site owner. To help fund this model, some of the links on the site are affiliate links. If you decide to make a purchase from one of these links, this site will receive some commission. At no cost to you. It helps keeps this place running. Learn more
Ingredients

Wash

Scent

Price
Summary
If money is no object and you like average, then this is the shampoo for you. If you want something cheaper and better, you won't have far too look.

Do you ever get Deja Vu? If you don't and want to then I can't recommend reviewing dandruff shampoos highly enough. I was just thinking last week while I was reviewing Zincon, "If I have to review another blue zinc pyrithione shampoo again"…. I blame Head and Shoulders. They are the worlds best-selling shampoo despite having one of the worst shampoos on the market. They are nothing but a success story in relentless marketing and cynical cheap shamp00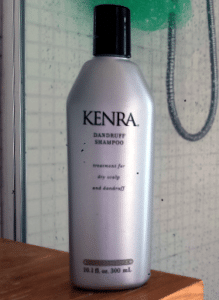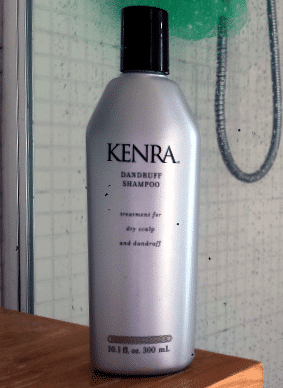 manufacturing. Of course, there are going to be copycats. Most of whom have literally cloned the shampoo look and smell. Selsun Blue tried to compete by being bluer! Most are trying to compete on price. Head and Shoulders is painfully cheap anyway so the ingredients of these shampoos tend to be scrapings from the bottom of the barrel.
You'll win no prizes for guessing that Kenra is a blue zinc pyrithione shampoo. When I found this out I have to admit I let a little scream inside and felt a part of me die. But you have to give these shampoos a chance, you can't judge a book by its cover. It's the contents that count!
Kenra smells and washes reasonably well. Make no bones about it. You can tell within five seconds that it won't be winning any gentle ingredient awards. It really foams and really cleans the hair. Old school. This is real back to basics stuff. Imagine the exact opposite of no-poo or co-washing and you're there. Your hair will squeak after washing and you'll probably need a conditioner afterward.
Bit will it control your dandruff? If you suffer from the mildest forms of seb derm it might. Basically if Head and Shoulders works then this will, it's essentially the same shampoo. However it is a lot gentler at what it does.
Don't get me wrong, this isn't a gentle shampoo per say, it's more gentle than Head and Shoulders though. Which isn't really saying much… It doesn't contain SLS or SLES but it isn't sulfate free. It contains a type of sulfate about two molecules out from SLES. It also contains fragrances and artificial coloring. The only other ingredient to really watch out for is Propylene Glycol; a cheap humectant that is also a known contact allergen.
Overall this is probably one of the most average shampoos I've ever reviewed. It's so extraordinarily ordinary I can't praise or criticize it. Except for one thing. The price. There is nothing, I repeat nothing, in Kenra that justifies $20. Not even the advertising! It's three or four times more expensive than Head and Shoulders for minor improvements. There are far better formulated zinc pyrithione shampoos out e.g. Dead Sea Spa Magik Mineral shampoo that are also less than half the price. If money is no object and you like average, then this is the shampoo for you. If you want something cheaper and better, you won't have far too look.