Dandruff Deconstructed is reader-supported. All reviews are independent and any products reviewed are purchased by the site owner. To help fund this model, some of the links on the site are affiliate links. If you decide to make a purchase from one of these links, this site will receive some commission. At no cost to you. It helps keeps this place running. Learn more
Ingredients

Wash

Scent

Price
Summary
Kérastase Homme Capital Force anti-dandruff shampoo is a great choice for those concerned about anti-dandruff upkeep and hair thinning or hair loss?  With anti-fungal Piroctone Olamine, dry flake softening Salicylic Acid and a handful of hair growth promoters, its formula is really interesting for mild to moderate seb derm or in between upkeep.
It does contain fragrances and a sulfate, so it's not perfect, but its definitely worth a look for those who aren't sensitive to those ingredients.

Anti-dandruff shampoos marketed to men are few and far between. Unisex, yes. For women, yes. Medicinal looking, yes. Kérastase Homme Capital Force Daily Treatment Shampoo kicks this norm out of the water. It's a 1.5 active ingredient anti-dandruff shampoo specifically crafted to look, feel, smell and work like any man would want it to. Formulated with dandruff fighting piroctone olamine and dry flake softening salicylic acid at first glance it's a promising pick for the daily upkeep of mild to moderate seb derm.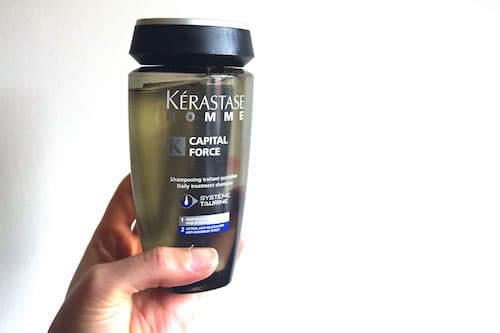 So, who makes this norm bending aimed at men only anti-dandruff shampoo?
You don't have to look far to take an educated guess. See Kérastase on the front label and L'Oreal's address on the back label.
HINT: This is a quick and easy way to learn who makes any anti-dandruff shampoo. By law manufacturers must put a contact address on the back label, 9 times out of 10, this will include their recognizable company name.
L'Oréal is a giant-sized cosmetics company. They make everything from anti-dandruff shampoos to aftershave to skincare. With their current portfolio, they're the largest cosmetics company in every continent.
Established in 1909, Kérastase was born into L'Oréal's extensive portfolio in 1964, a brand whose ethos was salon standard haircare with the best, most effective active formulas.
This isn't actually the first Kérastase shampoo we've reviewed. We were distinctly underwhelmed by their Bain Anti-Pelliculaire we reviewed some months ago. So we're hoping this performs that bit better.
The company check-out. We've looked at them before.  Now, what about the Kérastase Homme Capital Force look and feel?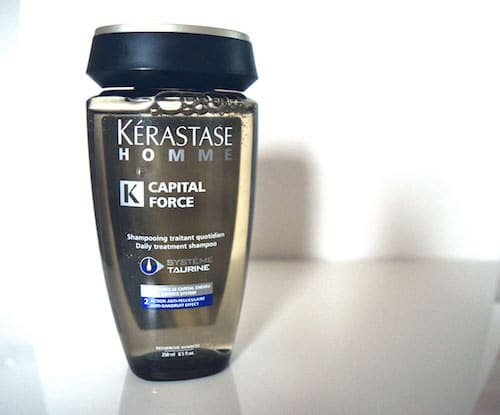 Arriving in a sturdy 250ml bottle, the very manly Kérastase Homme Capital Force anti-dandruff shampoo is a dark grey color with a dual-toned lid. Its appearance looks the part. There's no fuss, its clean looking and smart.
On the front label, you'll see the 2 jobs Kérastase Homme Capital Force shampoo can do for you:
Hair defence
Anti-dandruff effect
Meaning Kérastase is promising you this daily treatment shampoo will help tame dandruff while also helping prevent dandruff's hair thinning side effects. A nod to that.
I'm still unsure why they've marketed those properties specifically to men.  I'm sure they've done their homework and have their reasons, but to be crystal clear, there is nothing in this or any shampoo that is exclusively for men.
Now onto the wash…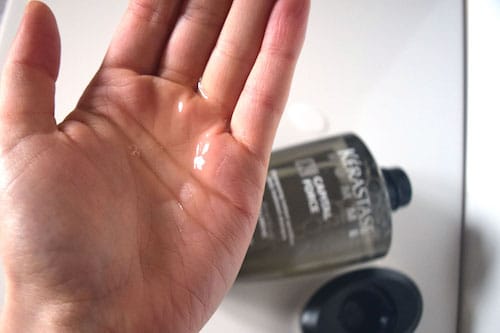 Add the Kérastase Homme Capital Force anti-dandruff shampoo to your daily routine and you really won't see a difference in wash performance. But you might smell it! The clear colored shampoo is easy to lather, spread and wash out. With the formula also smelling like a decently-rounded aftershave. If you're tired of anti-dandruff shampoos that smell medicinal, cheap or foul, Kérastase Homme Capital Force anti-dandruff shampoo is your answer. However, this comes with a catch we'll speak more about soon.
Kérastase Homme Capital Force anti-dandruff shampoo has 2 big ticks, can it earn a third from the ingredients used?
The Kérastase Homme Capital Force formula is created around 2 dandruff taming active ingredients:
Piroctone olamine is an anti-dandruff ingredient claimed to soothe your inflamed scalp, reduce flaking and act against the Malassezia yeast which is thought to propagate Seborrheic Dermatitis.
Scientists don't yet understand the trigger or initial cause of seb derm, however, they do know that all seb derm affected scalps have an overgrowth of the Malassezia yeast. Treating this overgrowth helps reduce and control your dandruff symptoms.
Published study data shows anti-dandruff formulas containing 0.75% piroctone olamine and 2% salicylic acid are slightly more effective than the shop bought standard of 1% zinc pyrithione.
Although we don't know the % of either in the Kérastase Homme Capital Force anti-dandruff shampoo, we do know it contains both of these active ingredients.
It's an active ingredient combination perfect for mild cases of seb derm or for use in between anti-dandruff treatments aimed at moderate to severe dandruff symptoms.
Piroctone olamine also has a great effect on your hair. A 2002 study looked into its influence on hair shedding, hair shaft thickness and anagen hair percent (aka the amount of hair in growth phase) against 2 other popular anti-dandruff ingredients.  These were the results:

Out of all 3 anti-dandruff active ingredients, piroctone olamine stands out as the clear winner.
If you want an anti-dandruff shampoo that's protective against hair thinning, a piroctone olamine formula such as the Kérastase Homme Capital Force will make a great pick.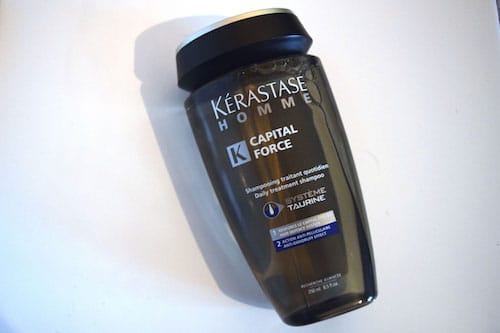 Talking of which, the Kérastase Homme Capital Force anti-dandruff shampoo has one other active ingredients; salicylic acid. Known to scientists as a keratolytic you'll understand how this ingredient works best by its description as an exfoliant. Dandruff is embarrassing because you can see it, salicylic acid helps soften away flakes so your dandruff symptoms aren't visible. It's a great additional ingredient to any anti-dandruff shampoo as it helps improve the performance of the anti-fungal agent.
Now, what about the other 17 on the ingredients list? Are they also kind to your dandruff prone scalp?
On the yes side we have;
Glycerin – a water magnet that will help hydrate your scalp
Polyquaternium-11 – helps condition hair
Taurine – which can help protect hair growth and hair survival
Biotin – aka vitamin H, an active thought to be able to help increase hair growth
On the no side we have;
TEA-Lauryl Sulfate – a sulfate based surfactant that can dry the scalp
Cocamidopropyl Betaine – potential to be allergenic
Hexyl Cinnamal, Limonene, Linalool – listed out allergens found in essential oils
Fragrance – can be irritating to sensitive scalps
Sodium Hydroxide – Lye.  An essential ingredient in creating soaps.  There should actually be none left in the finished product but there are often residual amount remaining.
Overall there are a helpful amount of partner ingredients to help the Kérastase Homme Capital Force anti-dandruff shampoo live up to its promise of hair defense. We have the tested abilities of piroctone olamine paired with both taurine and biotin. If you have dandruff and are concerned about hair thinning or hair loss, this anti-dandruff shampoo will make a perfect companion.
On the no side, we have a handful of potentially irritating, allergenic ingredients, many of which are a consequence of the aftershave type scent of this shampoo. If you have a sensitive, reactive scalp, this may not be the pick for you.
If however, your scalp type is not allergy prone. Enjoy!
Note: 99% of shampoo formulas contain at least a few known irritants and allergens.  I think we have two or three on here with none.
The bottom line is, Kérastase Homme Capital Force anti-dandruff shampoo is a great choice for daily anti-dandruff upkeep.  or men.  And women!
First Class MChem in Chemistry
A master of chemistry, a product formulation expert and a regular reviewer on this site. Megan wishes to remain partially anonymous so she can be candid about her employer's and competitor products.