Dandruff Deconstructed is reader-supported. All reviews are independent and any products reviewed are purchased by the site owner. To help fund this model, some of the links on the site are affiliate links. If you decide to make a purchase from one of these links, this site will receive some commission. At no cost to you. It helps keeps this place running. Learn more
Ingredients

Wash

Scent

Price
Summary
L'Oreal Cool Clear Shampoo for Men is made of a handful of interesting active ingredients; Zinc Pyrithione, Tea Tree Oil and Salicylic Acid and is designed to treat seb derm.
While the combination of those active ingredients shows great potential, the rest of the ingredients do not. It isn't free of fragrance, sulfates and silicones and is far too harsh for anyone with sensitive skin. Which is most seb derm sufferers.
There are far better options out there.


The Cool Clear shampoo from L'Oreal Professional is a part of the men's hair care line, although it must be noted that it can be used by women as well. This is marketing at work here – not science…
The shampoo is a Zinc Pyrithione, Tea Tree and Salicylic Acid combination shampoo.
Zinc Pyrithione and Tea Tree oil are effective anti-fungal ingredients for mild cases of dandruff caused by Seborrheic Dermatitis.
Salicylic Acid is keratolytic – it softens and exfoliates your skin. It's often used to remove warts. When used in conjunction with antifungal active ingredients, it can amplify the antifungal properties by increasing penetration into the skin.
It's an interesting and, as far as I know, a unique combination of 3 very common active ingredients. It definitely piqued my interest.
According to the manufacturer's blurb, it's formulated for all hair types, its high foam texture refreshes the scalp and leaves the hair feeling very clean.
How true are those claims? Read on…
The Shampoo: How it Looks, Smells, and Washes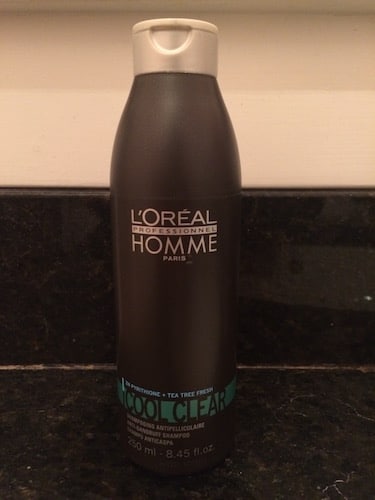 The shampoo bottle looks sleek and modern, which may appeal to the male crowd who prefers darker colors and clean lines. The shampoo itself is an opaque pale blue.
The shampoo smells very masculine, much like a men's cologne. Although it is made with tea tree oil, I couldn't really pick out the tea tree and I believe the strong fragrance masked it. For some, the scent may be a bit too strong, especially women using the shampoo.
The Cool Clear shampoo is very smooth and soft to the touch and is very easy to mix around in my hands. It left my hair and skin feeling very soft, and it suds up very easily. It contains menthol too, which is immediately apparent when applying it to the scalp.
I'd recommend using a conditioner after this shampoo – it really did trip my hair of its oils and left it feeling a bit dry.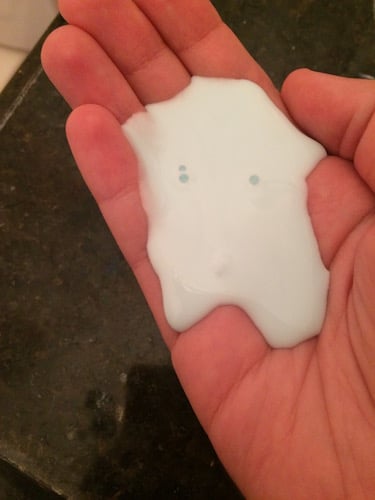 The Ingredients: What's Inside?
The shampoo contains: Water, Sodium Laureth Sulfate, Sodium Lauryl Sulfate, Cocamide MEA, Glycerin, Glycol Distearate, Zinc Pyrithione, Sodium Chloride, Sodium Benzoate, Dimethicone, Carbomer, Salicylic Acid, Menthol, Guar Hydroxypropyltrimonium Chloride, Limonene, Citral, Linalool, Melaleuca Leaf Oil, CI 42090 Blue 1, Sodium Hydroxide, Citric Acid, Parfum/Fragrance.
The Breakdown:
The main two anti-fungal active ingredients in this shampoo responsible for the anti-dandruff effect are Zinc Pyrithione and Tea Tree oil. Both are proven anti-fungal agents effective at targeting the fungus associated with Seb Derm.
Neither are prescription strength and Tea Tree oil, in particular, can cause contact dermatitis in some of us. However, allergies aside, both are perfectly satisfactory at controlling the mildest cases of seb derm. This is the first time I've seen them used in combination, which is quite a surprise considering how widespread they both are.
Salicylic Acid is the final active ingredient in this shampoo. It's used to exfoliate the skin and buff away skin build-up and other impurities. It's commonly used in acne or wart removers. It can amplify the anti-fungal properties of the other active ingredients. Unfortunately, it is potentially irritating, especially for those with sensitive skin.
In addition to the actives, there are a few ingredients to watch out for. For the wrong reasons…
The shampoo isn't sulfate-free and contains both Sodium Lauryl Sulfate and Sodium Laureth Sulfate. SLS and SLES are strong surfactants. While they are effective cleansers and foamers, they do strip your hair of its natural oils and can cause contact dermatitis in some of us.
Cocamide MEA is synthesized from coconut oils and ethanolamine. It is not a natural coconut oil and has a high risk of being contaminated with Cocamide DEA which may be carcinogenic.
Dimethicone is a type of silicone that coats the scalp and can be irritating and cause eczema and psoriasis to become worse.
Sodium Hydroxide, or Lye, is a highly caustic soda that is also highly reactive. It helps to control the pH in shampoos, and can cause irritating reactions in some people.
Blue 1 is an artificial color.  It doesn't have any listed risks for being irritating or allergenic, but it is far from natural. If you're trying to avoid products that are made with artificial colors and dyes, you may want to avoid this shampoo.
Limonene, Citral, and Linalool are all fragrances that can be highly irritating and allergenic for users. They are well known for being strong causes of contact dermatitis.
Parfum/Fragrance is an unknown mixture of fragrances, that, when labeled as simply "fragrance" does not have to be disclosed to consumers. The mixture could be artificial or natural essential oils, but fragrance is one of the most highly irritating ingredients found in shampoos and was allergen of the year in 2007.
If you react strongly to fragrances, I would avoid this shampoo.
Conclusion
L'Oreal Cool Clear for men is essentially 3 active ingredients thrown in with a cheap, unpleasant formulation that lacks flair or imagination.
If you have sensitive skin I would try a gentler shampoo. And believe me, there are plenty.
As well as being a licensed hair stylist, Lauren is a trained cosmetologist who understands the biology and anatomy of the scalp and of hair.
She understands the conditions that can cause dandruff and wants to help others achieve beautiful, healthy hair.