Dandruff Deconstructed is reader-supported. All reviews are independent and any products reviewed are purchased by the site owner. To help fund this model, some of the links on the site are affiliate links. If you decide to make a purchase from one of these links, this site will receive some commission. At no cost to you. It helps keeps this place running. Learn more
Aveda Scalp Benefits Balancing Shampoo
Ingredients

Wash

Scent

Price
Summary
Not a good dandruff shampoo. Not a good dry scalp treatment. Rich in contact allergens. I still don't know what this shampoo is supposed to do! For a premium brand at a premium price you would expect better.

Aveda Scalp Benefits Balancing Shampoo is a purported dandruff shampoo containing no active ingredients.  If you look at their website or on Amazon you'll see a whole load of reviews from customers with seborrheic dermatitis and scalp psoriasis stating in no uncertain terms that this shampoo controlled their dandruff.  This intrigued me.  How have they managed to create a credible dandruff treatment without using a traditional active ingredient?  Have they really, as they claim, mastered the art and science of plant extracts to control something as fundamental as dandruff?
When the product arrived I noticed that it's not actually flagged as dandruff shampoo.  To be honest, from the product description provided by Aveda, it's hard to know what this shampoo is designed to do.  The bottle states that the shampoo balances the scalp.  But that doesn't actually mean anything.  It's pure marketing speak.  The website states that the shampoo promotes a healthy scalp by cleaning down to the root and, more interestingly, cleans excess oils and sebum.  But it isn't a clarifying shampoo.  So what is it?  The reviews intrigued me and, being a seb derm sufferer, I decided to take this shampoo to task over a two-week trial.
Regular readers of this site will know that I have controlled my dandruff using the best seb derm treatments on the market.  My current favorite is Sebamed; an antifungal shampoo that is so gentle I can use it regularly. If I have a bad breakout I'll use Nizoral; probably the strongest seb derm treatment available without a prescription but too harsh to use regularly.  Before the trial commenced my scalp was totally flake-free and my scalp was feeling as good as it can do.  If Aveda scalp benefits could maintain my flake-free scalp then I'd consider the shampoo a resounding success.
The shampoo is relatively expensive and the packaging certainly looked like a premium brand.  As mentioned, there are no active ingredients in this shampoo but that's all I knew about the contents of the bottle.  I decided to blind test this i.e. not check the ingredients until after the trial.  Aveda pride themselves on their flower and plant essences and the shampoo certainly smelt like it too.  It's hard to put my finger on the exact scent but it had hints of herbs and cloves.  Almost medicinal.  The shampoo is light brown in color,  almost like a cooking oil with a similar consistency too.  The wash was excellent with a real luxurious foam.  After the first wash, my scalp felt amazing but unfortunately, this didn't last.  Over the two week period, I washed 4 or 5 times.  After a week my scalp itched after washing and by the end of the two weeks, I was suffering a significant breakout.  You can see the results in the picture.
At the end of the trial my scalp felt genuinely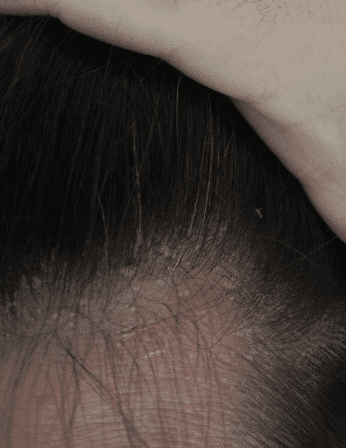 terrible.  I was suffering a pretty significant breakout.  The shampoo had failed and I was astonished when I read the ingredients. True, it is sulfate free as Aveda like to point out.  But aside from the sulfates, they have added 8 known contact allergens to this shampoo.  3 of these allergens are among the most hazardous in the EWG skin deep database.  The fact that 5 of these allergens are fragrances is quite frankly criminal for a shampoo that is marketed to "balance the scalp".  These fragrances serve no practical purpose whatsoever other than making their expensive shampoo smell nice.  An honorable mention must go to the Aveda adding Kathon CG; allergen of the year in 2013 and excluded from virtually all decent shampoos these days.
So after 2 weeks, I'm still none the wiser as to what or who this shampoo is for.  The shampoo clearly doesn't help seborrheic dermatitis as my scalp shows.  The formulation isn't gentle enough to help scalp psoriasis either.  It isn't a clarifying shampoo, or it doesn't claim to be anyway.  And I would never recommend this to a dry scalp sufferer either because of the harsh allergens in there.
The only thing I'm certain about regarding Aveda Scalp Benefits Balancing Shampoo is that it isn't a dandruff shampoo.