Dandruff Deconstructed is reader-supported. All reviews are independent and any products reviewed are purchased by the site owner. To help fund this model, some of the links on the site are affiliate links. If you decide to make a purchase from one of these links, this site will receive some commission. At no cost to you. It helps keeps this place running. Learn more
Ingredients

Wash

Scent

Price
Summary
Looking for a dandruff shampoo which doesn't leave skin or hair feeling stripped and robbed of condition? Then Nyles Naturals anti-dandruff shampoo is the Indian made solution for you. Based on climbazole, this shampoo does show significant promise. Unfortunately there's some potential irritants in here to be aware of, including one particularly nasty one.
If you don't react to these potential irritants then this is an excellent choice for sufferers of mild to moderate Seborrheic Dermatitis.
If you do react – steer well clear. There are plenty of other climbazole shampoos out there to try.

Searching for dandruff shampoos which work can bring you to look wide and far.   Case in point Nyle Naturals anti-dandruff shampoo – an extremely popular brand in India and South East Asia.
Do they know something we don't?
This Indian made natural extracts shampoo finds its anti-dandruff efficacy through a lesser known anti-fungal named Climbazole – an active ingredient designed to combat dandruff caused by Seborrheic Dermatitis.  Despite its relative obscurity, extremely popular with certain sections of the internet and has developed.  However, there are other interesting additions to this shampoo which we've never actually seen before – like yogurt powder.
Will they help grow you a healthy scalp flora?
We're here to find out.
But first, can you trust a bottle of Nyle Naturals anti-dandruff shampoo? Who makes it? Are they a liked company? What's their mission? 
Nyle is 1 brand in a portfolio of products made by a company called CavinKare, their tagline – making lives happier. You may be surprised by their line-up, CavinKare makes everything from food to drinks, from dairy to skincare and from hair dye to anti-dandruff shampoo. It sounds vast, but this is actually very common. Out of all their products, shampoos, hair care and hair dyes make up their largest product range.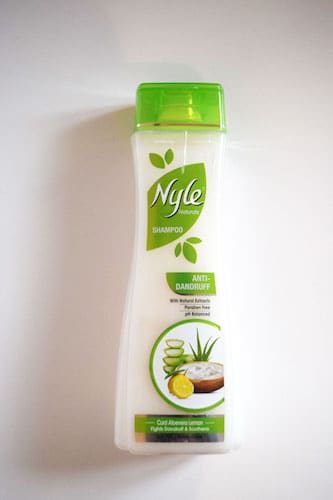 CavinKare's company mission is to 'continuously offer unique products and services what would give customers utmost satisfaction and thereby be a role model'. Judging by that fact we're not living in India and have heard about Nyle anti-dandruff shampoo on the internet grapevine – CavinKare are living truth of this mission. Established in 1983 they're a relatively young company with big successes and even bigger plans.
Here's how they describe their Nyle range, 'Nyle Naturals is a range of Natural and Safe shampoo made from Natural ingredients with years of dedicated research. Every Nyle Shampoo is 100% paraben free and is pH balanced packed with Nature's goodness for your hair.'
A natural solution for dandruff – is it true? Can it work? Let's deconstruct this shampoo from the outside-in…
On ordering a bottle of Nyle anti-dandruff shampoo, you're going to find it arriving in a tightly fitted parcel packed resiliently with reams of brown packaging tape. There's even a small picture of the courier man who sent it. It's authentic and sent directly from the source.
Opening the parcel, the shampoo bottle's a large 400ml size with extra clear packaging tape pinning the top lid making sure there's no leakage in delivery. The Nyle branding's green and nature inspired, the bottles easy to hold and the hinged cap smooth to open. It's far away from medicinal looking anti-dandruff like Nizoral, Selsun 2.5%, Ketmed, Hegor or Ketozolin.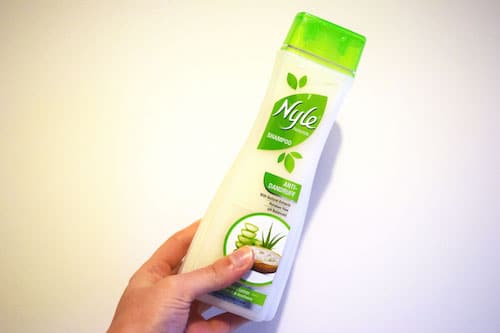 It looks good, but does it wash well?
In one word – yes. Nyle anti-dandruff shampoo is a breeze to use. It lathers quickly, is easily massaged in and washes out cleanly. After use hair feels silky and conditioned aka there's no stripped feeling.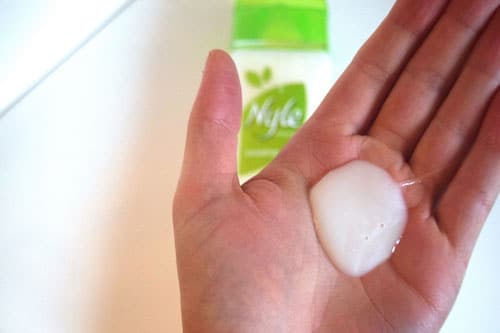 When lathering with Nyle shampoo, you'll find the scent sweet-fresh and citrusy. It's no match for the developed fragrance of Sachajuan Scalp Shampoo, but as any-anti-dandruff sufferer needs to know, the scent is not always kind to your skin.
Now onto the most important bit. Does Nyle Naturals Anti-Dandruff shampoo contain anti-dandruff ingredients which work? Is the formula safe for easily irritated scalps? Can you use it without worry?
The Nyle Naturals dandruff shampoo is focused on 1 key active ingredient – Climbazole. It's an anti-fungal which is also a natural extract. In shampoos like Nyle Naturals, it helps curb your scalp populations of 1 particular fungus associated with dandruff – the Malassezia yeast.
Published study data tells us this;
While you'll mostly find climbazole containing shampoos partnered with other better-tested anti-dandruff actives, the studies tell promising tales for climbazole only shampoos. A well-worth your time trial for cases of mild to moderate dandruff.
Now, what about the partnering ingredients? Is there anything else of help? Is there anything with irritant potential?
Looking through the ingredient list, there are many helpful conditioners, we have;
Aloe vera extract – commonly used to calm and soothe skin
Yogurt powder – helps nourish and soothe skin, with a side benefit of possible pro-biotic potential
Hydrolyzed protein – helps build scalp and hair strength
Panthenol – one of my favorite additions to shampoos as it hydrates and smoothes without irritating or coating your hair or scalp
Stearamidopropyl Dimethylamine – both a gentle surfactant and a replacement for silicones in shampoos.  This is the first time we've encountered this ingredient and I hope it's not the last
Citrus Limon Extract – rich in Vitamins B and C, Carbohydrates and Phosphorus, this extract is a potent antioxidant that cleanses and moisturized the skin, helping to deal with blotchy, greasy skin
That is a huge host of conditioners, no wonder Nyle Naturals antidandruff shampoo leaves hair feeling silky. Now we move onto possible irritants of which we have;
Most anti-dandruff shampoos, unfortunately, have a few irritants and allergens, Nyles Naturals is no different. The trick is to find the ones you personally react to and avoid them.  Which can be easier said than done if the shampoo contains multiple ingredients that can cause contact dermatitis.
On the positive side, SLES is often a less irritating than SLS but the irritation potential still exists. The fragrance used has no separately listed allergens, so it's mostly just got irritant potential and there are several helpful soothers we've mentioned above to help counteract any effects.
It's really the MI/MCI that most disappoints.  This ingredient is particularly nasty if you do react to it.   It has caused an epidemic of cases of contact dermatitis in the past and many manufacturers are moving away from it.  I wish Nyle were one of them as this is an excellent innovative shampoo save this one addition.
It's tough to recommend any shampoo that contains MI/MCI.  And that's a real shame as there's so much potential in this shampoo.  If you have no known reaction or allergy to any of the above, Nyle's naturals anti-dandruff shampoo is well worth a try for cases of mild to moderate seb derm.   If you do react, there are plenty of other Climbazole shampoos you can try.