Dandruff Deconstructed is reader-supported. All reviews are independent and any products reviewed are purchased by the site owner. To help fund this model, some of the links on the site are affiliate links. If you decide to make a purchase from one of these links, this site will receive some commission. At no cost to you. It helps keeps this place running. Learn more
Ingredients

Wash

Scent

Price
Summary
Organix is a popular personal care company that uses fresh, bright colors and catchy descriptions that give the impression that their products are good options for those who want pure, natural ingredients. The Tea Tree Mint shampoo is made for those who deal with a dry, itchy scalp. However, with about a third of the ingredients being known irritants, allergens, and toxins, we don't think this shampoo is nearly as "pure and simple" as they claim. This shampoo is not something we would recommend for anyone with sensitive skin, allergies to any of the ingredients, or who wants a truly natural and non-toxic shampoo.

With a name like Organix and a slogan that says "we're beauty, pure and simple," it's easy to assume that this hair care company is strict about using only safe, natural ingredients in their products.
At Dandruff Deconstructed, we're in the business of getting to the bottom and truth of shampoos and other hair products and seeing if they truly meet up to their message.
Using ingredients like the naturally occurring anti-fungal tea tree oil and stimulating peppermint, we have high hopes for the Hydrating Tea Tree Mint Shampoo from Organix (OGX), and we're here to give you a truthful recommendation for those dealing with dandruff, dry itchy flakes, and an overall distressed scalp.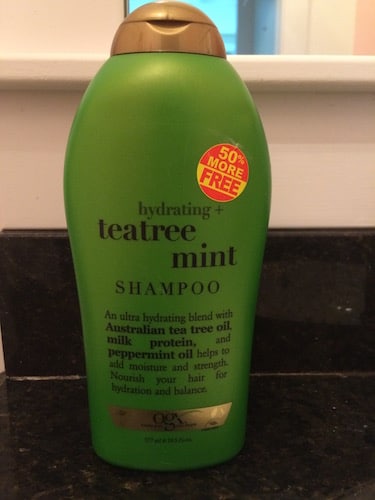 The Shampoo: How it Looks, Feels, Smells, and Washes
How it Looks: The tea tree shampoo from OGX arrived packaged in a nice looking "garden" green bottle. We have to say, the products from OGX are very elegant and stylish looking, giving the impression of a salon-quality shampoo. The shampoo itself is a pale, iridescent blue, which isn't the true representation of any of the ingredients used in the formula. There must be artificial colors involved.
How it Feels: The tea tree shampoo is a gel-like texture and foams up quite easily. It left my hair and scalp feeling soft.  I personally would have no need for a conditioner if I used this shampoo – however, your personal taste may vary there.
How it Smells: The shampoo from OGX smells very minty, as expected, and left my skin smelling very pleasant and fresh. I really enjoyed the smell and would love to carry this scent around with me throughout the day.
How it Washes: The shampoo foams up easily and was easy to wash off. It didn't leave a residue on my skin or left me feeling sticky or dry. Those who deal with a dry, irritated scalp may like how this shampoo makes their hair feel and the softness it gives to their scalp, leaving it feeling nourished.

The Ingredients
Organix describes their Tea Tree Mint Shampoo has having energizing and balancing ingredients, like tea tree and peppermint oil, and milk proteins, to strengthen and moisturize the scalp. Tea tree oil (also known as Melaleuca) is a natural compound found mainly in Australia is a strong anti-fungal and antibacterial agent that's used in many personal care products and even natural cleaning products.
Tea tree oil (also known as Melaleuca) is a natural compound found mainly in Australia.  It's also is a strong anti-fungal and antibacterial agent that's used in many personal care products. The antifungal properties have yielded some decent results in combatting the symptoms of Seborrheic Dermatitis in clinical tests.   The addition of peppermint is interesting.  It's often added to invigorate the scalp, which is great for those suffering from dandruff and a dry scalp because the oil of peppermint can gently exfoliate and slosh away excess dry skin. It's also stimulating and is great for increasing hair growth and increasing the turnover of the skin cells on the scalp to prevent build up.
Hydrolyzed milk protein is the third piece to the trifecta of this shampoo, and is a film-former and moisturizer for the skin. It has a complete amino acid content and can add hydration and elasticity to the skin. It's naturally healing and nourishing for the scalp and hair.
The shampoo is sulfate-free and instead uses a handful of gentler surfactants that may reduce the risk of irritation.  It's an approach we're seeing more and more these days.  Our tolerance of an ingredient is directly linked to the amount of the ingredient we're exposed to.  By using multiple cleansing/foaming agents in smaller doses, we're less likely to react to those ingredients.  We're all for it.
The gentler surfactants used in this shampoo are Sodium C14-16 Olefin Sulfonate, Sodium Cocoyl Isethionate, PPG-2 Hydroxy Coco/Isostearamide, Cocamidopropyl Hydroxysultaine, and Trideceth-12. PEG-120 Methyl Glucose Dioleate is another surfactant, but it isn't as gentle as the others and comes with a high risk of contamination.
Panthenol is used in this shampoo as a natural skin conditioner, which may go some way to explain why my hair felt so soft after washing.  However, the company added few silicone-based conditioners (including Dimethicone and Amodimethicone) that can cause a build-up of product on the scalp and hair. Build-up can irritate the skin over time and cause more issues to come up.
The other ingredients we recommend some vigilance include:
Tetrasodium EDTA, a water-softening chelating agent that's a low-risk allergen
Iodopropynyl Butylcarbamate, a moderately toxic preservative
Cetrimonium Chloride, another preservative with strong evidence for being a toxicant and allergen
Cocamidopropyl Betaine, a surfactant that won "contact allergen of the year award" in 2004
Diazolidinyl Urea, an antimicrobial preservative that releases formaldehyde and is a known human toxicant and allergen.
Perfume – contact allergen of the year 2007
Artificial colors, Yellow 5 (CI 19140), Blue 1 (CI 42090)
Coming from a company that has a slogan of "pure and simple," we don't understand why they would use formaldehyde releasers,  fake colors and fragrance.  They are ultimately so worthless additives, and there are far gentler alternatives out there
Unfortunately, this shampoo seems like a safe, natural option at first glance, but is made up of a weird combination of both gentle ingredients and harmful ones that are known irritants and allergens.
Out of the 29 ingredients, 8 of them are known allergens and irritants.
This shampoo is far from gentle or natural, and we definitely recommend vigilance if you have sensitive skin.  And if you are simply looking for a gentle tea tree shampoo, there are alternatives.
Conclusion
Don't fall for it! Organix uses an alluring name and appealing marketing terms that give the impression that this shampoo and their other products are down-to-earth "pure and simple." But they aren't, and they include too many moderately to highly hazardous ingredients for our liking.
If gentle is what you seek for your shampoo and other personal care products, look elsewhere.
As well as being a licensed hair stylist, Lauren is a trained cosmetologist who understands the biology and anatomy of the scalp and of hair.
She understands the conditions that can cause dandruff and wants to help others achieve beautiful, healthy hair.