Dandruff Deconstructed is reader-supported. All reviews are independent and any products reviewed are purchased by the site owner. To help fund this model, some of the links on the site are affiliate links. If you decide to make a purchase from one of these links, this site will receive some commission. At no cost to you. It helps keeps this place running. Learn more
Ingredients

Wash

Scent

Price
Summary
A strongly cleansing shampoo for anyone suffering from seborrheic dermatitis.
Combining two anti-dandruff active ingredients  – Piroctone Olamine and Tea Tree Oil – Australian Organic Tea Tree Anti-Dandruff Shampoo promises a firm knock-out for sufferers of mild to moderate seb derm.
It's worth noting there are a handful of allergens and sensitizers in the mix which is what takes this dandruff fighter down to 3.5 stars. One to avoid if your scalp reacts allergically.

Australian Tea Tree Anti-Dandruff shampoo is a combination product using both Piroctone Olamine and Tea Tree Oil. At first glance, it's a great match for mild to moderate Seborrheic Dermatitis tackling it with not 1, but 2 anti-dandruff active ingredients.
Firstly we have Piroctone Olamine, a common replacement for the mainstay of the anti-dandruff world – Zinc Pyrithione and complimenting this, Tea Tree Oil as an antiseptic.
The shampoo itself has many ticks… and Optimus visually gifts themselves these ticks on the outer carton – it's ok, we'll let them, they do hold true.  To an extent
The Australian tea tree anti-dandruff shampoo is labeled as SLS free, paraben free, dermatologically tested and contains no synthetic fragrances. Technically this is correct.  The shampoo is SLS free but isn't sulfate free – it contains ALS.  It doesn't contain artificial fragrances but, instead, contains Limonene – the main odor constituent of citrus.  And a known contact allergen, listed in the EU's list of 26 known contact allergens.
And then they use the word Organic….
I suppose it is marketing but it feels a little disingenuous to be.
No harm done though.  Highlighting this stuff is exactly why we're here…
So who exactly makes this stuff?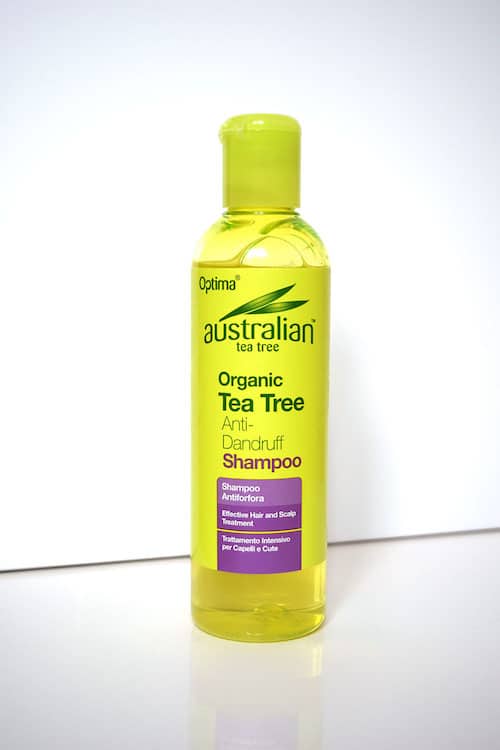 Optima is the company behind the very green branding of 'Australian tea tree'. The complete Australian tea tree range features everything from lip balms to blemish sticks to anti-dandruff shampoo. Out of 19 products harnessing the antiseptic nature of tea-tree oil, there's one answer to our anti-dandruff needs.
Does it work?
We'll take a deep dive into that soon.
First – who are Optima?
At their heart, Optima is a health and nutrition company with the tagline
the natural choice for a healthier lifestyle (since 1994)
Based in the UK, their website speaks to their commitment to using only the finest of ingredients and whenever possible from natural sources. The Australian tea tree range itself pulls on Optima's love of naturals, making a promise to only source tea tree oil from quality-assured Australian plantations.
It certainly has a feel-good backstory!
The shampoo itself comes in a trusty cardboard carton that's so green you almost don't need the word organic on the pack. The 250ml bottle is the perfect size for shower dosing, with a flip-top cap that's an ease to open.
Quick and easy to use – ticked. So how does the in-use part feel?
The Australian tea tree anti-dandruff shampoo is a great smelling, clear, gel-like liquid. The slightly thicker than usual consistency makes it very easy to keep a portion in hand while you pre-lather and apply. It goes on easily and it lathers up a treat making the spreadability part a winner.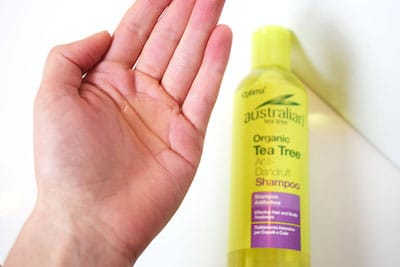 The scent is – you guessed it – tea tree… and it's a pretty good whiff of the stuff. There's no risk you'd be coming out of the shower with a head cold after using this.
As the shampoo washes out it certainly gives a solid clean. Almost a little too much.  It'd be great if you suffer from a classic case of oily seb derm.  However, I'd recommend steering clear if you have dry skin or scalp psoriasis.
If you have long hair it's also well worth replenishing the ends with a little conditioner.
Now we have the use part sorted – let's take that deep dive into the ingredients list.
First up the actives. As we touched upon before this committedly green bottle houses 2 – piroctone olamine and tea tree oil.
Piroctone olamine. It's an anti-bacterial, anti-fungal ingredient that helps knock off dandruff causing scalp residents. Industry testing by Spec-Chem shows it to be just as effective as the traditionally used zinc pyrithione with a 0.5% dosed shampoo decreasing dandruff count by 80% over 6 weeks of use. Pretty impressive. It's also referred to as the anti-dandruff agent having the highest safety, in fact, it's the only anti-dandruff agent that can be used in leave-on hair products. A great all-rounder.
Tea tree oil. It's a natural mixture of lots of different ingredients with just one being the all-star – terpinen-4-ol, catchy 'eh. As the Australian tea tree cardboard pack tells us, the tea tree oil contained in this bottle has a guaranteed minimum of 38%. Terpinen-4-ol kills mites, bacteria and fungus while also being an anti-inflammatory. Great skills for an anti-dandruff active.
A good look at the Australian Tea Tree Shampoo ingredients list reveals 6 known allergens:
Now, in addition to the betaines and sulfate, this shampoo contains one other surfactant:
Coco-glucoside. A very gentle cleansing agent, one that's called a non-ionic surfactant meaning it has no charge – no positive or negative ends. This makes it much more compatible with your skin. Alongside its sensitive skin friendliness, coco-glucoside also provides a long-lasting foam that helps make this shampoo extremely easy to spread.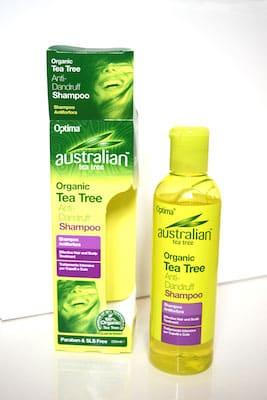 Feeling confused about the identity of Australian tea tree anti-dandruff shampoo? Us too.
On one hand, you've got the all-star piroctone olamine teamed up with the natural benefits of tea tree oil. On the other hand, you've got a sprinkle of known allergens.
It's like the shampoo was formulated by two totally different teams.
It's definitely on the fence and we'd say the shampoo for you if have seb derm and you're confident that you're un-sensitive to the allergens.  That said, there are other tea tree oil shampoos you may want to look at.